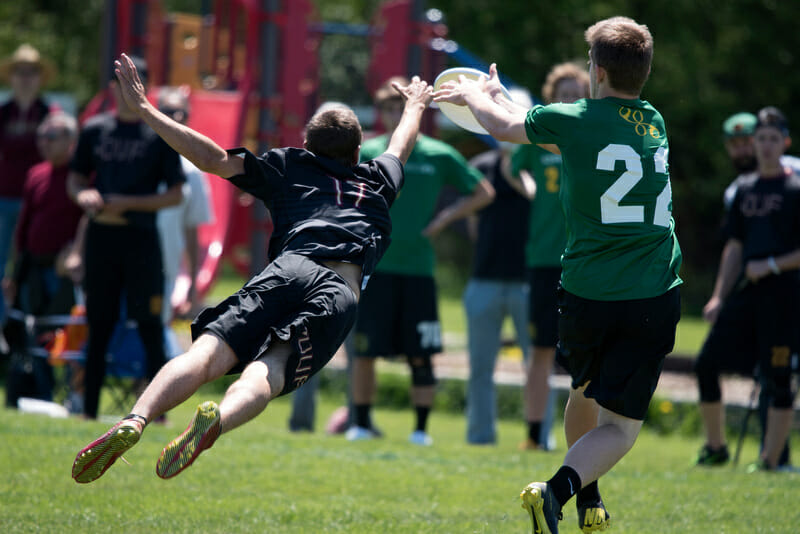 To continue the storybook rise of their program, Florida State DUF will have to beat the same team twice in the same tournament: Oregon Ego.
The weekend has featured continued improvement for DUF, in spite of a hiccup on Friday when they gave away a lead to North Carolina in pool play. Each of their captains are in the top ten in either goals or assists. Chris LaRocque has continued to make a case for himself as a Player of the Year candidate, tied for leading the tournament in assists with Carolina's Jon Nethercutt at 35 on the weekend. Andrew Roney isn't far behind in the same category, sitting at sixth with 19. Connor Holcombe has 22 goals for DUF this weekend.
The captains have led their team on defense as well, coming over to the D-line at crucial moments to grind out turns in man coverage. DUF has also used a junky 2-3-2, with a switch at half field, to slow down run-and-gun offenses like Texas A&M and UMass and force them to use the width of the field.
DUF's first meeting with Oregon looked, at the end of the first half, like most of their wins so far this tournament. With a lead at half,  they survived the punches of a late Oregon, stuck to their game plan and won 15-12. Depth on defense has given their trio of captains the rest they needed to push deep into the bracket, leaving Larocque and Holcombe confident about the matchup.
"We played pretty physical with them and they tend to get a little bit nervous when we play [like that]. They like to use all that space and we decided that we were going to be physical early in their cuts so they have to work really hard to get through a body instead of just into space," Larocque explained before his team headed back to the hotel to rest up.
Oregon's struggled to activate their deep game this tournament, relying heavily on the speed of their cutters to dominate the open side out of their horizontal stack. With Larocque joining his brother Drew and their excellent defensive role players, DUF will try to use their well-known physical play and willingness to lay out to challenge Ego and force them to look more dynamic than they have so far this tournament.
Oregon's 3-0 turnaround on Saturday, including a big prequarter victory over Minnesota, is another remarkable accomplishment for this perennial contender, especially considering that this afternoon's matchup will mark Ego's fourth straight appearance in the semifinals.
The team has now faced early elimination twice this season, with their 0-2 start on Friday bearing a stark resemblance to their surprise loss in pool play of Northwest Regionals. "We came together in the hotel Friday night and just talked about what we needed to do differently and come in with a different attitude. I think it helped us that we were in a similar situation at Regionals," said captain Trevor Smith of the team's effort to refocus.
Emotions have fittingly been at the heart of Ego's performance this weekend. With chance to break FSU and take a lead in pool play, consecutive technicals were assessed that allowed DUF have another shot and hold for the lead, and then another that left the Ego O-line stranded at the reverse brick — it was an emotional low that left the team reeling and the later floundered in a second loss to Maryland. Any success on Saturday would require team-wide calibration.
"Coming out Saturday morning the captains of the team really pulled it together emotionally, we are such an emotional team and they knew what it takes for us to perform," said coach Jay Janin.
Freechild heroics capped their win over Minnesota later Saturday, and the team capitalized on a mental collapse from Texas to knock Tuff out in quarters for the second year in a row.
As Oregon takes the field this evening, they'll need their emotions to stay positive and in check, and hopefully open up their deep game to test Florida State in space –otherwise, they may find themselves bodied out by the physical DUF defenders, ready to leave their feet for any disc within reach.
Finally, this matchup will test depth for both teams. DUF has the distinct edge, with seven more players suited up for this tournament, 24 healthy players to Oregon's 17. Expect DUF to try their best to tire out Oregon's thinner lines, and then capitalize with Holcombe in transition.