Oregon blew past Texas into semis.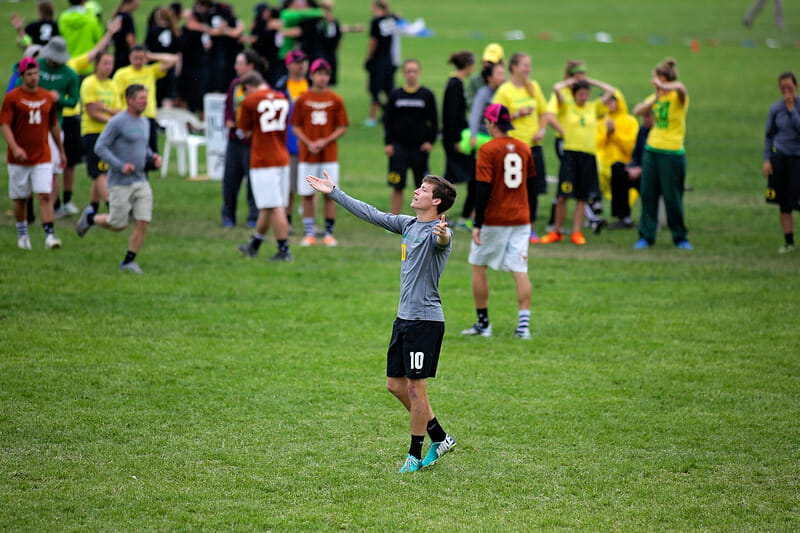 Entering the day, the matchup between Oregon Ego and Texas Tuff pitted a Texas team that had played all weekend with an unshakable confidence against an Oregon squad that had been barely hanging on by their fingertips. Sunday morning, those roles were reversed, as a poised Oregon team easily dispatched Texas from the tournament, 15-9. This is the fourth straight semifinals appearance for Ego, and their huge edge over Texas in big game experience definitely played a factor in getting them there.
Oregon started off on the right foot, as a stacked Ego D-line was able to break on the first point. An open Texas receiver flat out dropped a disc near his own endzone, which lead to a quick Oregon score from Chris Strub to Adam Rees to give Ego the 1-0 lead.
The teams traded holds for most of the first half, but there was a clear difference in demeanor. Oregon's offense was smoothly moving the disc up, around, and through the Texas defense, while Tuff was making difficult throws just to complete simple resets. Texas was playing jittery, which lead to unforced turnovers, drops, costly miscommunications.
Earlier in the weekend Texas had been able to connect on a lot of deep shots, but Oregon's coach Jay Janin made the decision to take that away and make Texas work the disc through their resets by having marks play straight up and keeping a defender deep as a last back. In addition to the deep help, Oregon's handler covers were making life difficult for Texas's resets and forced a level of execution that Tuff's handlers didn't have.
Tuff's captain and star player Chase Cunningham thought that nerves affected his team's ability to do that little things right. "I think it was mostly just us executing poorly," said Cunningham. "We came out tenser than we have the rest of the weekend. Friday and Saturday we were very loose, very confident, and that translated well into our play. Today we were just a little more tense."
With the score 2-1, Oregon would punch in another break by running the offense through Chris Strub. The senior D-line handler had a fantastic game on both sides of the disc. He did a great job of limiting Texas' Cunningham despite giving up eight inches, and his efficient offense allowed Oregon's D-line to get breaks without having to pull over O-line players.
Oregon's D-line broke again to take half at 8-5, and the impetus was now on Oregon's offense to finish off the game. They had been untouchable for most of the game; their only turnover in the first half was on a drop from Matthews who quickly redeemed himself by getting a layout point block and scoring to cement the hold for Ego.
In the second half Texas was able to break Oregon once, but it was too little, too late. Dylan Freechild played a slightly more subdued role in this game than in his dominant performance against Minnesota in prequarters, but he still had an important influence on the game. Nobody on Texas had the speed to stop Freechild in the handler space, and Dylan made himself available for automatic dumps and resets that kept possessions alive for Ego. This allowed Trevor Smith, Adam Rees, and Connor Matthews to find the downfield holes in the Texas defense.
With the score 14-9, Texas was out of it and the team seemed resigned to defeat. After playing so well all weekend, coming out flat in their first elimination game must have been disheartening. Oregon's offense cut through the Texas defense on the last point as they had all game, and Smith put the final nail in the coffin with an around backhand break into the endzone for Matthews.
Despite ending his season on a bitter note, Chase Cunningham was upbeat about Texas's performance this weekend. "I'm really proud of the guys that have stepped up this year. We lost a ton of starters the past two years, and a lot of people thought that we didn't have the potential to be one of the top 8 teams in the country," said Cunningham. "I have a lot of faith in this program to step up next year. Just because we lose a couple of guys, it doesn't mean we are out."
For Oregon, the victory will send them to their fourth straight semifinal. For a team that barely qualified for bracket play after an 0-2 start to the weekend, getting back to the semifinals must seem a little surreal. "Coming out Saturday morning the captains of the team really pulled it together emotionally," said coach Janin. "We are such an emotional team and they knew what it takes for us to perform." Ego will need to get ready, as they face a rematch with Florida State in the semifinals this evening.