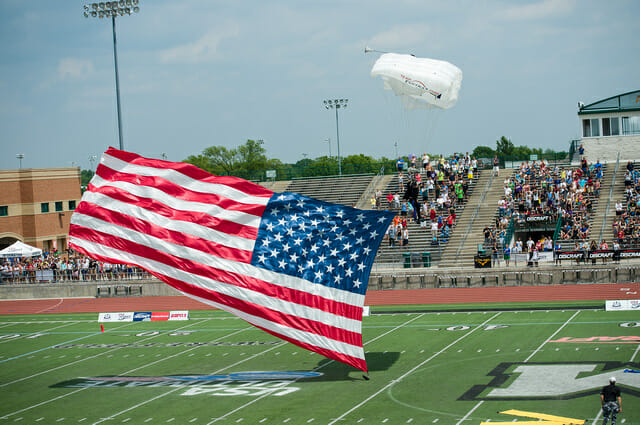 We are excited to announce the 2015 Ultiworld Men's All-America teams, honoring the country's best college players after an exciting season. The selection process included consideration of both the regular season and the USA Ultimate Series, including the College Championships.
Players will receive a custom VC Ultimate jersey as a tribute to their outstanding performance this year.
First Team
Chris LaRocque (Florida State)
The 2015 Ultiworld College Player of the Year, Chris LaRocque had a brilliant final season at Florida State. Beyond his versatile and balanced on-field skill set, he was the heart of the FSU team that reached the semifinals this season.
Dylan Freechild (Oregon)
Dylan Freechild had an exceptional 2015 season and, at times almost single-handedly, carried Oregon back from the brink of elimination to a fourth straight semifinals appearance and on to this team's first final. His game is just as lethal as it was in 2013, when he won the Callahan Award (if not more so), but he has grown to fit better in the team's system and win as a leader, not just a player.
Jon Nethercutt (North Carolina)
The biggest thrower in the college game and the Ultiworld Offensive Player of the Year, Jon Nethercutt was a patient captain in 2015, enduring a bumpy regular season and waiting to ignite at Nationals. He was simply unstoppable in Milwaukee, carving up defenses with his wide variety of throws and frequently touching the disc every other on O-line points. No mark could contain him and he was the most important piece of UNC's march to a title.
Chase Cunningham (Texas)
In a year where many overlooked Texas as a real contender, Chase Cunningham came into his own and led TUFF to a fantastic season, culminating in a win over Pittsburgh at Nationals and a quarterfinals berth. Cunningham used his height and athleticism to great effect downfield, but was just as impressive as an underneath cutter and a thrower, often providing exactly what Texas needed at any point. He willed this team to wins at points during the year and was a top five player at Nationals, without a doubt.
Xavier Maxstadt (UNC Wilmington)
Xavier Maxstadt was an unstoppable force during the regular season, gathering fuel from being cut (originally) from the Under-23 National Team and turning it into big throws, spectacular blocks, and a lot of wins. His play eventually earned him a spot on that U23 team. Though he struggled at times with consistency, the highs were so high that he was a lock for 1st Team All-America. He had plus throws from both the backhand and forehand side and often made jaw-dropping plays look easy.
Jeff Babbitt (Massachusetts)
Jeff Babbitt has already been honored as the Ultiworld Defensive Player of the Year, which alone could likely have landed him on this list. But add to his defensive skills the kind of offensive importance he had for UMass and you have a clear first teamer. Babbitt was consistently one of the toughest deep covers in college; he dominated all but a handful of matchups over the course of the season. As he continues to add skill and field IQ to his superior athleticism, he will be even more dangerous. He's already on the 2016 POTY watchlist.
Max Thorne (Pittsburgh)
Max Thorne isn't flashy. He's not going to make many stunning layout Ds. But he is one of the most purely talented offensive players in the country and plays the game with grace and style like you might see from Roger Federer in tennis. Thorne absolutely annihilated teams as Pitt's most important cutter — he could create with his legs and his throws. He was the #1 reason Pitt's offense was the best in the country for the large part of the year.
Second Team
Matt Bennett (Texas A&M)
A throwing wizard, Matt Bennett may be the leading edge of handler innovation in ultimate. In 10 years, it may not be enough to be excellent with your dominant hand; you'll need offhand backhands, scoobers, and more — at a variety of release points. That wave of change is already here, but Bennett is the poster boy. He made the spectacular look routine and wowed crowds at every tournament he attended. Combine his throwing prowess with an elite field vision and you've got a superstar handler.
Andrew Roney (Florida State)
Talk about Florida State might focus on Chris LaRocque, but Andrew Roney has been nearly as important to the team's success. From break throws to massive skies to strong defense, Roney embodied the well-rounded style of play at FSU and could have been a #1 option on a lot of teams in the country.
Pat Earles (Pittsburgh)
Pat Earles, the lefty assassin, looked at times this year to be Pittsburgh's MVP. He ruined marks routinely with his sweeping break side forehand and was clearly the most potent thrower for Pitt. With an attacking mentality and a competitive fire, Earles was the sparkplug for Pitt's offense all season.
Ben Snell (North Carolina)
It was a long road back to full health for Ben Snell, who suffered an ACL tear last year in late March at Easterns. Though his impact was limited during the regular season, we could see glimpses what he would do during the postseason. The team was a different animal with him on the field. He was their defensive rock at Regionals and Nationals and provided significant offense alongside Nethercutt as well.
Jack Williams (UNC Wilmington)
There is a solid contingent of people that believe Jack Williams was UNC Wilmington's best player this season. No pure deep cutter was as dominant as Williams, who constantly stretched the field and came up with amazing grab after amazing grab. It was Williams that often provided the momentum changing play for UNCW during their outstanding regular season. With more work on his throws, he could contend for a first team spot next season.
Dalton Smith (Texas A&M)
Matt Bennett may be the more exciting player to watch in the A&M backfield, but Dalton Smith is Mr. Reliable. Don't let that fool you: he's no slouch in the big throws department — his hammers were often launched 40+ yards — but he simply made the right play and kept possession of the disc. With his tuned cutting skills combined with his flourishing throwing skills, Smith was a superstar all season for Dozen.
Tyler Chan (Tufts)
The only player on this list that did not compete at the College Championships, Tyler Chan went somewhat under the radar this year because he played on a Tufts team that struggled to break into the elite tier. He also played in the shadow of Jeff Babbitt in New England. Still, Chan was the one guy on Tufts that no team had an answer for, and his inclusion as a top five Callahan finalist speaks to how highly players in the Northeast think of him. He has killer speed, strong throws, and the kind of well-rounded game that makes him a threat anywhere on the field.