A weak regular season didn't stop Scandal from dominating the postseason. What happened?
Going into the 2014 club season, defending champion Washington D.C. Scandal looked like an underdog to some preseason favorites, many of whom were overflowing with notable roster additions. Doubts about Scandal were only amplified with their lackluster performance in the regular season. Entering Nationals as the #4 seed, not many pegged Scandal as likely to repeat.
Instead, they dominated — especially in the semis, where they beat one of those hyped teams, Boston Brute Squad, by eight points (15-7). They would go on to defeat another higher-seeded team, San Francisco Fury, by two (12-10) in the final.
Washington's two earlier season losses to Brute Squad seemed to simply verify what the ultimate world thought they knew about Brute's roster coming into the season: there was too much talent for anyone to handle. At 14-10 and 13-9, the games were not especially close; Boston was always ahead and had given the reins to its depth near the ends of both games.
But exactly how did Scandal turn an average regular season into a definitive post-season triumph? And can the Scandal model be replicated? There are a variety of explanations for their improved performance at Nationals, especially in their semifinal against Brute:
Scandal made the right adjustments from their regular season losses and came up with game plans that teams, especially Brute Squad, couldn't counter.
Scandal's star-studded roster only came together at the end of the year.
The other teams underperformed against Scandal.
Scandal Made Smart Tactical Adjustments To Take Down Their Regular Season Foe
Scandal proved that they were intelligent and prepared, showing superior game plans and execution at Nationals and proving that they had learned from the regular season losses. Early in the season, Scandal looked confused and out of sync offensively.
Scandal's regular season end zone sets could never quite punch in goals and Boston's defense was able to keep them out of the center of the field for almost the entirety of both games. Below, Jenny Fey has the disc a few yards outside of the end zone and is prepared to put Scandal ahead but throws it right into Lien Hoffmann on an errant around backhand.
https://gfycat.com/FoolishOfficialAcornwoodpecker
Like the play above, Brute Squad's defenders pounced again and again on any short throw into the end zone. Boston's tight red zone D prevented Scandal from ever establishing an end zone rhythm.
https://gfycat.com/AdmirableHopefulBernesemountaindog
https://gfycat.com/QuarrelsomeColorfulBlueandgoldmackaw
Scandal's offense proved to be too predictable, simply using standard cuts to the corners from the back of the stack. Boston's defense easily stayed with DC's receivers, shutting them down and clogging any available cutting space. When they tried to mix up their looks with different cuts and angles, Brute Squad maintained their positioning and continued to rack up blocks.
https://gfycat.com/OblongFlashyDassie
With a break side cut, Jenny Fey targets the seemingly open cutter but throws it away. Boston's defense creates an especially small window with defenders crowding the disc only a few feet from the goal line.
When Scandal matched up against Brute Squad in the semifinals of Nationals, they recognized their traditional end zone set was not going to cut it. Boston had proved they owned their end zone line and could force Scandal to string it through the teeth of their defense.
To avoid the gauntlet that was the front of the end zone and to secure the goals they had lost to Boston's defense, DC's offense knew they needed to attack the back of the end zone. To accomplish this, they used a variety of unconventional and generally floaty throws. This adjustment proved incredibly effective and helped Scandal race ahead to an early lead that they would never relinquish.
Although many of these are risky throws, they turned out to be calculated risks that payed off for Scandal. Instead of playing into Boston's strength — their close range man to man D — Scandal kept Brute guessing and attacked the weakest point of their defense. Following some advice Lou Burruss laid out in 2011, "even if it is a risky gamble, why would you rather stay with a sure loser?" Simply put, Scandal identified their "sure loser" and implemented an adjusted game plan, giving them the upper hand offensively (or at least the advantage of surprise). Boston's defense could not cover the entire field and began to break down after DC's relentless pressure. By recognizing the fronting defenders, DC saw the back of the end zone was their easiest path to goals.
A willingness to take chances defined Scandal's victory over Brute Squad and this adjustment helped them capitalize on their early break opportunities. By the time they had taken half 8-3, it was clear Scandal had established the consistency they needed in the red zone.
Using The Width Of The Field
Even outside of the end zone, Scandal was still matched up against one of the game's strongest defenses. Boston built its run to the semifinals on the back of their D-line and was very impressive against Scandal's high powered offense.
Early in the regular season, Brute Squad's force sideline marks effectively trapped DC on the sideline and their skilled down field defenders kept DC's cutters unavailable in the center of the field.
That was an entire minute of play where Scandal did not throw to a cutter down field. From one of the best offenses in the game this was remarkable.  Brute Squad played shut down D across the board on DC's cutters, only giving them a few up line cuts and swings that gained yards. Scandal's throwers also looked off open cuts on the sideline in favor of holding the disc and looking for movement in the middle of the field. Fittingly, the minute of impotent offense ended with Octavia Payne growing impatient and throwing it away.
They are able to do this with smart poaches (Vicki Chang prevents any up field throw and leaves only a swing to the sideline open):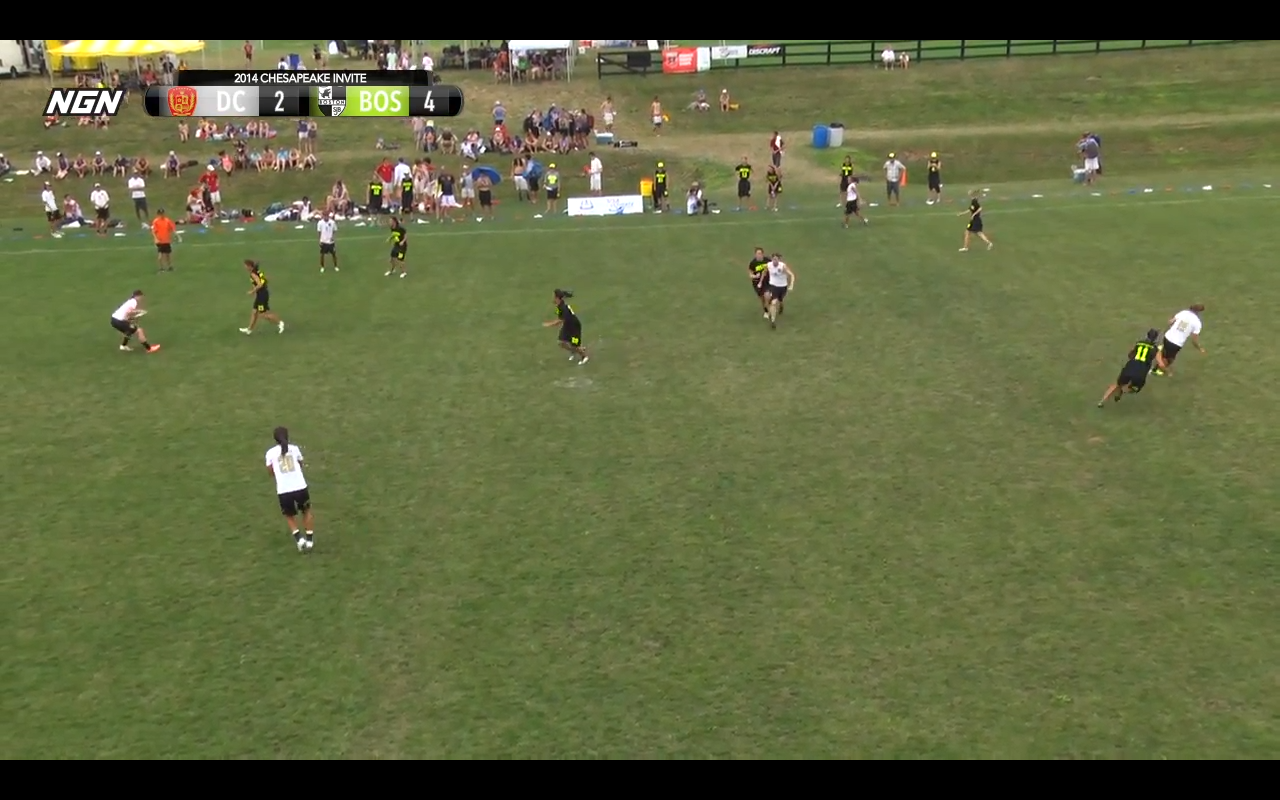 And tight down field defense (every Boston defender was within a yard of her mark except Christie Kim, who is poaching and forcing a swing):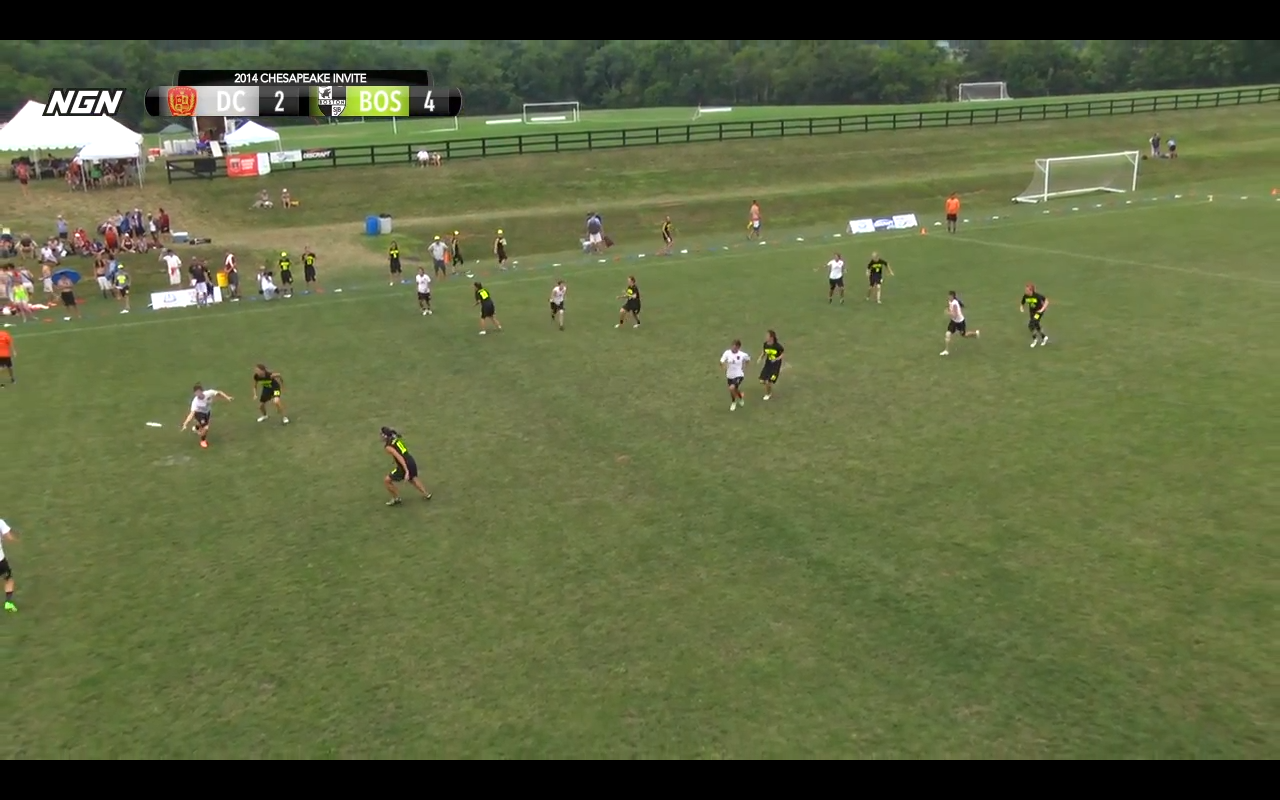 Plus a healthy dose of superior positioning (with the disc being swung and the force remaining flick). Every Brute Squad defender was in perfect position and was ready for any possible cut.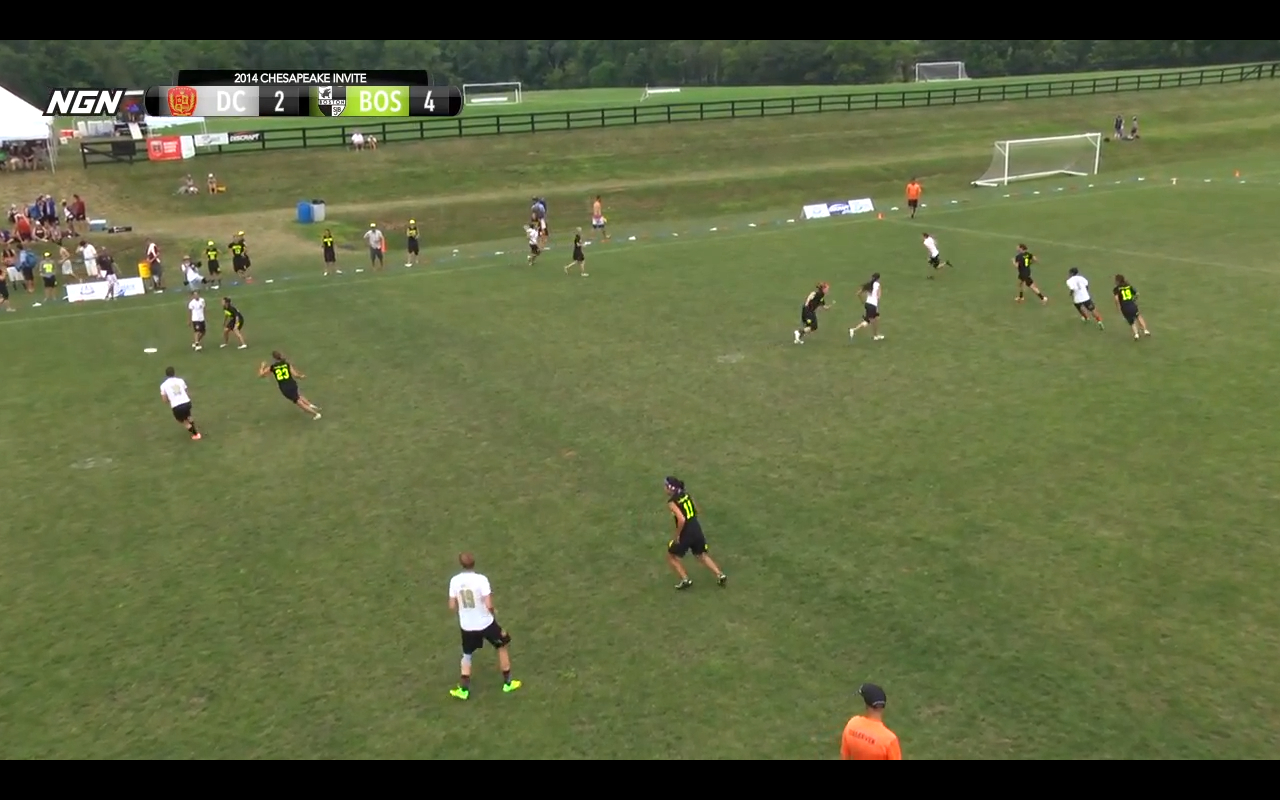 The only saving grace for Scandal was that their handlers were still able to work it around the field and gain yards with every swing. This was how they were able to score most of their goals with their handler movement being supplemented by the occasions they found a rare kink in Boston's defense or put up a huck.
These swings and up line cuts provided most of Scandal's offensive movement throughout their first two games against Brute Squad. They simply could not out run the Boston defense and were left with two losses because of it. It seemed like they would not be able to figure the Brute defense out and any future games would have a similar story line to their first two meetings. However, when it came time to play Brute again, Scandal looked prepared to deal with the tight defense and was prepared to use the sides of the field if the middle was unavailable. They moved quicker and more aggressively.
https://gfycat.com/WelldocumentedFarJohndory
Instead of looking off open sideline cuts as in the clips above, DC's handlers move the disc aggressively whenever they have the chance and force the disc up the sideline if need be. Gone was the disc holding and patience that they had used in their first two games against Boston. Scandal took, took, and took.
Even though Boston prevented most of the flow through the center third, Scandal's handlers took control of the game and proved they could move the disc with or without their cutters. Scandal pounded the spaces they were given, up the sideline, dismantling Boston's defense. By exploiting the sideline by finding cutters near the edges of the field and striking up line, DC eventually forced Boston to protect the sidelines and concede the center of the field.
https://gfycat.com/ScarceBriskHaddock
After a layout block from Payne, Scandal shows its earlier aggressiveness has paid off and easily works it throw the center of the field as Boston gives them the under cuts to the middle of the field they had denied for two and half games almost perfectly.
https://gfycat.com/WatchfulWellinformedBarbet
Contrast Scandal and Payne's mindset when faced with a sagging, soft mark to the approach taken against a similar mark by White earlier in the regular season. In the semis, Scandal was looking for an upfield cutter and trying to aggressively punish the sag, rather than simply swinging it around.
http://gfycat.com/FaroffAmusingAmericanbadger
Scandal's Roster Coming Together At The Right Time
Scandal's up and down regular season was in part due to their roster being in flux for most of the season and never reaching its full potential until they reached Frisco. Tournament after tournament, they didn't bring their A game and were hampered by injuries and absences. They were never able to find their groove against top level competition.
For the US Open and the Chesapeake Invite, Scandal was missing a few key handlers — what you would expect from a standard club team at any given tournament.1  Their real problem was that their lines didn't seem to quite gel enough to beat the highest level of teams, mainly Brute Squad, Riot, and Fury.  Scandal also did not have the mental edge that had propelled them to a title the year before. D.C. coach Alex "Dutchy" Ghesquiere concedes that his team was implementing new cutting schemes and was also"not mentally sharp or ready to compete [at the US Open as] it was our first tournament since our Nationals victory and we needed to find out we were underdogs again."
Scandal was a combined 1-6 against those top three teams leading up to Nationals. They had proven they could beat lesser teams but were still the odd ones out among the top four women's teams in the country.
D.C. really started to click at the Pro Flight Finale and found their rhythm. Despite playing with just 14 players and still missing much of their handling core — including Anne Mercier, Allison Maddux, and Payne — D.C. was looking better, even if they still lost to Riot in the semis.
Going into Nationals the team had found their chemistry, identity, and mental edge. "I felt very good about our defensive plan for Brute Squad in semis, and I felt even better about our mental preparedness," Ghesquiere said. His team did not disappoint and exploded to an 8-3 halftime advantage and never looked back.
A major factor of this rise in their level of play was that Scandal's stars began playing up to their potential. Mercier came back, and Maddux became a stalwart behind the disc. Alika Johnston blossomed into a club level star, one that became the 2015 College Player of the Year. And finally, Payne showed she was clearly more integrated into the offense; instead of throwing multiple unforced turnovers, she was punching in goals. She looked more confident and in control with her teammates, especially in crunch time.
There was a lot less of this:
gfycat.com/SophisticatedGlitteringChrysomelid
And a lot more of this:
Brute Squad's Poor Execution & In-Game Adjustments Helped Scandal
While Scandal played their game plan almost to perfection, Brute Squad came out flat in their most important game of the season. They had several drops, and forced difficult throws into tight windows more than once. Coupled with their inability to generate turnovers against Scandal's offense, Brute Squad helped to dig their own hole as much as anything else.
http://gfycat.com/SlushyElegantHarborporpoise
http://gfycat.com/ShrillNeatBlackbird
http://gfycat.com/LankyBossyIchthyostega
http://gfycat.com/ShockedExemplaryHermitcrab
Brute also failed to adjust their tactics accordingly when Scandal came out hot. They made slow adjustments on the defensive end, staying with their junk look until after halftime, when the game was already out of hand. Brute Squad's junk look led to easy swings for Scandal. While Brute attempted to stop up field throws by having the handler defenders sit in the up field throwing lanes, Scandal took what was given to them by quickly passing to open swings. The handlers threw quickly to open down field cutters when Brute's out-of-position handler defenders were too slow to recover from their poaches in the middle of the field.
Here, coming out of a contested stall, Jessie O'Connor swings the disc to an open reset, and Scandal moves the disc too quickly for the Brute defense to recover:
http://gfycat.com/FewAncientGallowaycow
However, when Brute defenders marked up in a more aggressive person-to-person defense, they were still ineffective in creating consistent pressure on Scandal players.
On the offensive end, Brute stubbornly kept their stack deep throughout the game2. Coupled with Scandal's relatively flat marks when the disc was centered, they effectively took away their own deep game. This created pressure on their cutters to get open consistently on under cuts, and on their resets to execute efficiently. Brute was unable to accomplish either of these, and their offense faltered.
Here, Scandal's tight handler defense forces difficult resets for Brute, and the stack is slow to move closer as the handlers are pushed further and further back (a consistent problem throughout the game for Brute). Meanwhile, Scandal effectively denies almost every under cut. Brute finally turns the disc over on a difficult upline look from Shira Klane to Emily Baecher after almost no upfield movement:
http://www.youtube.com/watch?v=S8EwrBa-w_U&t=32m8s
Scandal came with their A game, and came prepared for Brute Squad's game on both sides of the disc. Brute Squad failed to adjust accordingly, and it cost them their season.
Conclusion
Even more impressive than DC's versatility and execution was their willingness to change what wasn't working. Offensively, Scandal had a system, but when that system was suppressed by high level defenses, they learned from losses early in the season and, more importantly, adjusted their strategy for the games that mattered. Washington is at the top of the Women's division and has proved that they belong with their skill and intelligence, on and off the field.
The introduction of widespread video is changing ultimate. With video of almost all the teams at Nationals regularly available to coaches and captains, it is clear game-to-game adjustments and well-researched game plans will become the hallmark of great teams. As Lou Burruss asks, "Why not build a team identity that is flexible?" Using video-powered adjustments to build a flexible team could define more great teams going forward, and if they continue to use their intellectual prowess, look for Scandal to remain a great team.
---
At the US Open, Scandal was missing, among others, Mercier, White, and Maddux.  They were missing even more players for the Pro Flight Finale. ↩

This is difficult to confirm, as ESPN footage offers a limited view of the field. However, the camera consistently showed about ten to fifteen yards of empty upfield space in front of the thrower ↩