Seeds were almost unanimously held, but over a third of the games were extremely close. Find out about the big storylines to watch going into prequarters.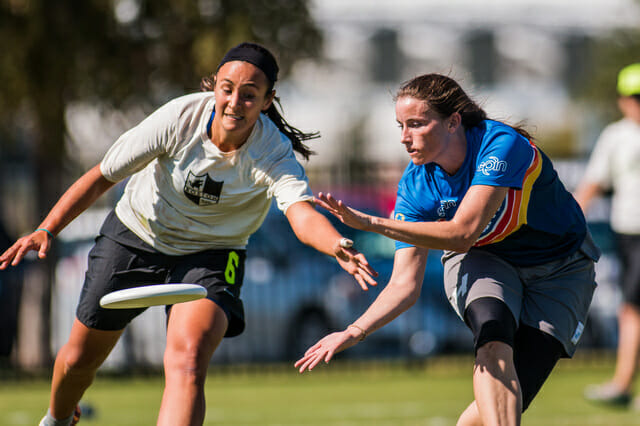 Day one of the Women's Division at the 2014 Club Championships had plenty of excitement. What it didn't have was results to back it up. Through day one, just a single game has gone to a lower seeded team. But there were seven victories by just a single point, and another two that were just two point margins. Make of it what you will.
What the tournaments makes of it is that the prequarters are decided. Three prequarters matchups are between teams just a single seed apart. One game is a rematch of last year – Ozone vs. Nemesis – and two are rematches of last year's quarterfinals – Showdown vs. Nightlock & Scandal vs. Capitals – in the slate of 9 AM games.
Here's a look at the storylines that emerged from Thursday and will color Friday, and beyond.
Domination from the Top Seeds
Boston Brute Squad and Seattle Riot were the two most impressive teams in the field this year and Thursday did nothing to soften that. Boston didn't have a first half point scored on them until the third round, when Ozone gave them a run until Brute Squad finished the game 15-10. Meanwhile, Riot had progressively wider margins of victory, beating their opponents by 6, 7, and 8 points.
Both teams bring the total package. They have great handlers, exceptional athletes, and quality defenders. The top seeds both have cohesive gameplans, strong cultures, and impressive leaders. Their paths to the semifinals look clear and are Championship showdown appears unavoidable.
Finding Molly Brown's Ceiling
It was a strange day for Denver Molly Brown. They got off to a shaky start against Florida Tabby Rosa, the team's last seed, before running over them. Then Chicago Nemesis had Molly Brown against the ropes, forcing the tournament's five seed to break upwind in order to preserve their opportunity to win the pool. To follow those games up, they battled Washington D.C. Scandal, holding the advantage almost the entire game before finally ceding victory to the Mid-Atlantic powerhouse.
The talent level on Molly Brown is clear, even if the starpower isn't. They are deep, strong defensively, and have some excellent handlers. Dena Slattery turned in an impressive day on both defense and behind the disc, and Paige Applegate seemed to come up with big play after big play. But the Nemesis team that almost knocked them off was destroyed by Scandal and barely parried the attack of Tabby Rosa.
So how far can this team go? Quarterfinals just doesn't seem good enough, and a repeat of last year's prequarters exit would be disastrous. But semifinals likely requires outplaying San Francisco Fury. In their two games against the other primary contenders, Molly Brown is 0-2. Can they bring their best when it counts…and will it be good enough?
Taste of Revenge
There are three chances for teams to offer retribution to the team that ended their season in 2013.
Atlanta Ozone and Chicago Nemesis, the tournament's 8th and 9th seeds, respectively, also met in this same spot last year, right down to their pool finishes. Nemesis was coming off a disappointing start to their weekend – although expectations were much different at the time – and Ozone was entering the bracket having narrowly edged Capitals in pool play. Chicago went on to crush Ozone with impunity. A repeat blowout would be a surprise, but this game could go either way.
A quarterfinal against Scandal was the last stop for Capitals last nationals. Malissa Lundgren and Kathryn Pohran kept Toronto in it, but they wound up being just another victim of D.C.'s tenacious defense and playmaking. There's no Lundgren or Pohran this year. Caps will lean on Darcy Drummond, who's dictated play for them unapologetically. Young speedsters like Kailee Sparks and Jordon Meron could have really tough assignments against the big fast Scandal downfielders.
Lastly, Showdown sent Cinderella back to the clutches of her stepmother when they squashed Nightlock 15-4 in the quarterfinals. The second year team ran out of steam after upsetting Molly Brown and Showdown was there to capitalize. Nightlock was the only team to get upset on the women's side, but Austin nearly suffered the same fate against Underground and almost dealt Traffic an upset of their own.
Neither team has looked consistent, which was to be expected from these squads, but the Texans' experience could give them a real edge. If they can contain Nightlock's continuation cuts, it'll aid in their success, as will Showdown efficiently starting their own O points with the clean isolation sets they love. Expect players like Bree Cahn, Claire Sharman, and Marika Austin to be tasked with taking the Forth twins and Mariel Hammond out of their offensive element.