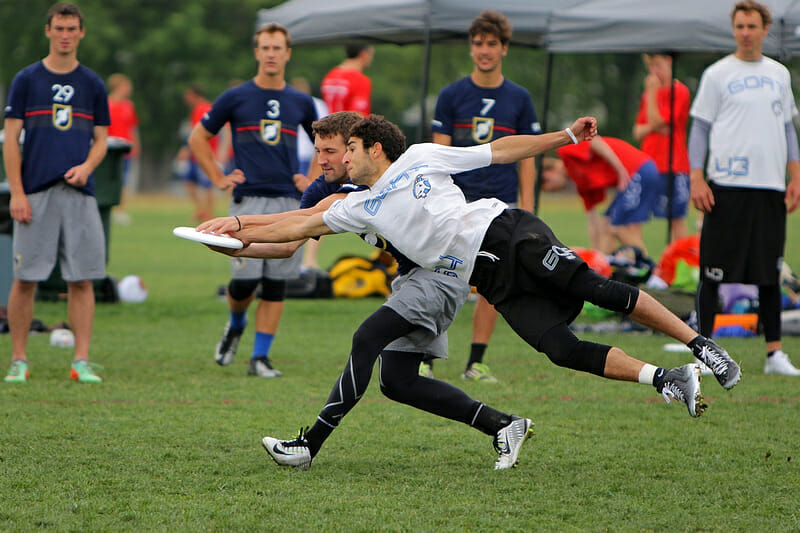 The semifinals at the 2015 US Open are set! You can watch one Mixed, one Women's, and both Men's semis on ESPN3; Ultiworld will have tape-delayed coverage of the other Mixed and Women's semifinals (available to subscribers).
Here's a look at each of the exciting Men's and Women's semifinals set for this afternoon.
Truck Stop Gets First Big Test Against #1 Revolver
The first Men's semifinal presents a matchup between the most dominant team of the decade thus far and a rising program looking to make the leap to legitimate title contenders this season.
Two time US Open champs San Francisco Revolver are back in the hunt for a Triple Crown Tour threepeat after cruising through pool play, emerging with the Men's Division's only spotless 5-0 record. Revolver possessed one of the best offensive lines in the division in 2014, and has been even more dominant so far this weekend.
A big part of their success can be attributed to the addition of Christian Johnson. The speed demon cutter from North Carolina adds an extra dimension to the Revolver attack, as teams concerned with the size of Beau Kittredge and Simon Higgins are rendered helpless by Johnson's ability to both stretch the field and get open in cuts at will. Often, it takes time for offseason acquisitions to get on the same page with an offense that already had great chemistry, but based on his play so far this weekend, Johnson is fitting right in.
Against Truck Stop we can expect to see Revolver's offense run through their dominate cutter core, as no team at the tournament thus far has had an answer for the Beau/Higgins/Johnson hydra.
Across the field, Washington DC Truck Stop has had some ups and downs this weekend, but displayed flashes of brilliance that reveal great potential.
In the semifinal against Revolver, a big key for Truck Stop will be consistent play. Against Ring of Fire and Johnny Bravo, DC was able to stake themselves to sizeable leads behind explosive play from their offense and smart adjustments on defense. In both games however, Truck Stop surrendered those leads during some rough stretches of play that showed key areas of their game still need work.
They can't afford the same lapses against Revolver that got them in trouble with Ring and Bravo, because the San Francisco juggernaut will make them pay. If Truck Stop can string together a full game playing their best, they can give Revolver a game. One way or another, this game will give us a good indication of how far away DC is from being the title contender they hope to be.
Different Looking Bravo And Goat Teams To Rematch In Semis
The second semifinal in the Men's division is a rematch of the thrilling showdown at Nationals last year between Denver Johnny Bravo and Toronto GOAT.
Despite the loss of several All-Club players, defending national champions Johnny Bravo haven't lost a step so far in this young club season. With their only loss coming at the hands of the surprising German national team Inside Rakete, Bravo took care of business against their domestic opponents. Size has been a big strength for Bravo this year, as they have loaded up their offense with players all at or above 6 feet tall, including the incomparable Jimmy Mickle.
There were lulls; it took a strong second half comeback to beat Truck Stop in the first round on Tuesday, but when Bravo brought their A game they looked as good as anyone all weekend. Against GOAT, they will look to press their advantage downfield and force a Mark Lloyd-less Toronto into sending jump balls up against Denver's towering defenders.
For GOAT, just reaching the semifinals this weekend is an achievement considering the roster losses they have sustained. They needed to beat Ironside in the last round of play on Friday to advance, and were able to pull out a very exciting win by breaking Boston on double game point thanks to an acrobatic circus catch from Isaiah Masek-Kelly (after a hand block from Remi Ojo on the goal line).
Masek-Kelly has been great for Toronto this weekend and shown glimpses of the dual-threat capability that make Lloyd so dangerous.
If GOAT is going to have success in the semifinal, they will need more than a great game from Masek-Kelly. In particular, they will need handlers who can consistently move the disc off the sideline and create advantageous angles of attack. GOAT has been forced into taking some low percentage looks at several points this weekend when their handler movement lags, and a big Bravo team will gobble up any high stall bailouts Toronto puts up.
Brute Squad Looking For Signature Win Against Fury
In the first Women's semifinal Boston Brute Squad gets the unenviable task of facing San Francisco Fury for a spot in the final. Brute Squad's reward for winning their pool is a matchup with arguably the greatest team in the history of women's ultimate, but at an elite tournament like the US Open there are no easy matchups in bracket play.
Boston won pool A with an impressive 15-10 win over fellow semifinalist Traffic, and then held off Scandal on double game point in the last round on Friday. After a nightmare semifinal loss to Scandal at Nationals in 2014, the win surely has Brute Squad feeling confident about their chances the rest of the weekend.
The Fury team that will meet Boston is coming off of something of a nightmare themselves, as they surrendered a 9-1 run to archrival Seattle Riot, eventually losing that clash 15-10. While losing to Riot must always sting, the silver lining for Fury comes in the form of their own 7-2 run they went on in the middle of that game, closing the gap to a mere two points at one juncture.
The vacillation between rapturous and miserable play was not unique to Fury; many teams are still trying to find their footing early in the season, but the semifinal may be decided by which Fury team shows up to play.
Top-Ranked Riot To Face Off Against Regional Foe Traffic
A Northwest regional showdown between Seattle and Vancouver will decide the second spot in the final on Sunday. Historically Riot has dominated the matchup, and with Riot coming into the game as the #1 team in Ultiworld's power rankings, Traffic finds themselves playing the role of the underdog.
Traffic may be comfortable in that role, however, as they came from behind on Friday to take down the defending national champs Scandal. Their high tempo offense was too much for DC to handle, and Traffic's cutters were able to win the downfield battle, resulting in a 15-13 win and a berth in the semis.
Pushing the pace benefitted Traffic against Scandal, but they should be careful what they wish for against Riot, especially after the Seattle team put on a stupefying display in the first half of their game against Fury. Relentless attack was the name of the game for Riot, as they abused Fury with hucks, big gainers on in-cuts, devastating breaks on the end line.
Where Riot ran into trouble were situations when the defense stopped their first in-cuts from initiating the offense. Traffic's handler defenders have played great all tournament so far, but they will need their cutter defenders to step up against Riot, or else they could risk getting overrun by the avalanche that engulfed Fury.