Can an improved roster continue the momentum of the Washington DC team?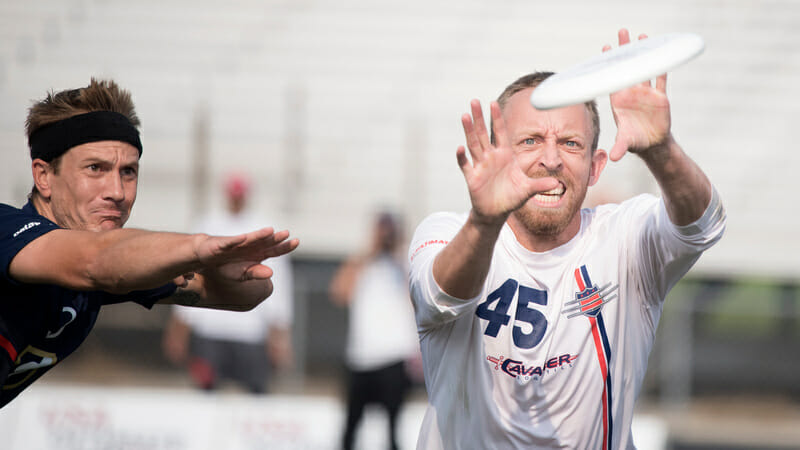 As one top DC club team takes a few personnel hits and steps backward, another brings in a monstrous rookie class and becomes one of the early season favorites, at least on paper.
Overall Indicators
2014 Nationals Finish: tied for 7th
2014 Mid-Atlantic Regional Finish: 1st
Peaked well in the postseason after a bumpy regular season
Opened 2015 season with strong performance at US Open, reaching semis
Neither DC semi-pro team continuing into postseason, allows team to focus on TCT
Positives
Excellent additions to the team at both ends of the roster
Talented offensive cutting core with Jeff Wodatch, Nicky Spiva, Peter Prial, and Tom Doi; adding Nate Castine and Seth Wiggins to a veteran set of handlers
Able to build on defensive schemes last year that generated handler pressure early and forced turnovers later
Concerns
Staying focused on developing themselves, not getting too concerned with Win/Loss columns during regular season
Increased difficulty in regular season schedule due to Pro Flight status
Contending with an improved Pittsburgh Temper for regional title
Season Outlook
The road to glory is newly paved and Washington D.C.'s Truck Stop is ready to gear up in 2015, after some rough riding in 2014. The MLU postseason rode shotgun for most of the club regular season, and team leadership was challenged to mitigate the focus on the semi-pro DC Current and a changing team attitude from the perhaps more combative Truck of old, and then roll everything into a cohesive club team. It was a heady task.
In spite of a lackluster showing at the Colorado Cup and a visit to Chicago Heavyweights that ended up mostly meaningless due to some freakish weather, Truck smoothed things over in September, cruised through Regionals, and went into overdrive at Nationals to leap into the Pro Flight for 2015.
In addition to adding Peter Prial (formerly of Boston Ironside) last year, Truck landed what compares to a complete custom engine upgrade in the offseason: Nicky Spiva (Atlanta Chain Lightning), Nate Castine (Seattle Sockeye), and Seth Wiggins (formerly of Sockeye and Portland Rhino) all join the team for the 2015, alongside a number other elite-level players with experience in other cities.
"It's just kind of luck of the draw and the stars aligning," said Truck captain Jonathan Neeley when we talked just before the US Open (the inaugural Triple Crown Tour event and the beginning of Truck Stop's season). Castine has spent recent years going to school close by in Arlington, VA, but rotations and summer work have kept him returning to Sockeye until this year. Spiva, a long time friend of Truck Stop veteran Markham Shofner, arrived in DC earlier this year to continue his work in education policy. With a number of Truck players leaving the area for similar real-life related reasons, 2015 left plenty of room for the "rookies."
Though Truck Stop has beefed up their lines considerably on both sides of the disc, Spiva's presence on offense completes a top-of-the-line cutting core that will give just about every defense in the division more than they can handle. He joins Prial, captain Jeff Wodatch, and veteran Tom Doi. Although each player has an area of expertise, this group is extremely fast and strong in the air, and it will be difficult to limit all of them at once. Prial and Spiva are both excellent throwers after the catch as well, and this offense will look to flow out when either of those two gets big gains underneath. Wodatch and Doi were two of the team's top goal-scorers at Nationals last year.
Castine joins a sneaky-athletic defense that honed in on creating handler pressure later in games last year. Neeley and the Truck Stop leadership expected to see their D-lines start to generate turns after a few reps last year, and while it may have taken most of 2014 for their sets to gel, many of the top defensive players return. Castine's ultimate IQ has impressed the team leadership early on, and while Neeley noted that his athleticism appears about "average for the division," the rookie from Seattle's "right place, right time-ness is elite—the cream of the crop."
Chief backfield conductor Alan Kolick returns to the team as a top handler on the O-line, and Markham Shofner will again bring his gun-slinging hucks and flick blades to Truck Stop.1 Calvin Oung, a regional standout like Doi who began making a name for himself last year, also returns to the backfield.
Castine will likely anchor the backfield for the D-line. In a change from last year, Oung and Shofner joined the D-line to start this season on defense with Castine, while Neeley switched to over to offense. Wiggins has been showing his veteran composure on offense as well, and saw plenty of backfield time on offense at the U.S. Open. Roles are, of course, all subject to change as the team continues to gel over the course of the season.
Newcomers or returners, pro or elite flight, what makes 2015 an exciting year for Truck Stop is a complete focus on the club season ahead. 2014's tryouts extended all the way into the Pro-Elite Challenge at the Chesapeake Invite, with rostered players spread between the MLU's Current and AUDL's Breeze. With the former honed in on a championship run, finding cohesion with a roster that pulled from both teams and shifting back from both leagues onto a club field may have stunted the team's progress early.
Both semi-pro teams are out of playoff contention now and whether the astral events that encouraged Truck's newest acquisitions also dictated this to help Truck Stop find their season focus early is no longer important. "Having a single focus is just a lot easier. It's really hard when your attention is split in half, or split onto two teams," Neeley explained, although he qualified that thought.
"I have teammates on Truck Stop who poured a lot into the Current season. I have coaches from the Current who poured all of themselves into the Current and I don't want to say that I'm glad the Current season is over. I don't want to offend people, I don't want people to feel like what they cared about is being discounted, but the reality we're working with is that the Current season is over. That is a reality that benefits Truck Stop. Everyone's focus is in one place," he said.
Players who continued on with the DC Breeze still had to negotiate flights from the US Open to Canada two weeks ago, interrupting the launch of their club season for one final shot at the AUDL postseason.2 With those doors closed, each and every player can shift their intentions over to a stacked club team, and the excitement in DC is palpable. The team has already seen big contributions on defense from Truck Stop rookie and DC Breeze captain Brad Scott, who tallied some big blocks and a handful of goals at this past weekend.
"I think that it would have been great to have gone on and defended the MLU crown, but the reality is that we're not doing that now, and I think guys are pretty ready to be solely focused on Truck Stop," Neeley said. "Guys were chomping at the bit for tryouts and practices. A lot of guys have that excitement."
Pro Flight status for Truck Stop, although it ups the season's expenses, also locks the team into a high caliber regular season, where every point of the US Open and Pro Flight Finale will pit DC against top-line competitors. That brings a consistency to the schedule, and Neeley believes that the increased challenges are helping rev Truck's engine. "It has guys excited to have some external push to go even harder and put even more into what we are as a team. It's really refreshing," he said.
With a run to the semifinals at the US Open now in the books, Truck will look on down the fresh pavement of the 2015 season, and prepare to roll into high gear.
Likely Ceiling
Semifinals at Nationals. This team has the talent and experience to go very deep into the postseason.
Likely Floor
Prequarters exit. Success early and in the regular season hasn't always meant victory in Frisco. Truck Stop has battled a fiery set of emotions in the past and they'll need to manage outcome expectations to stay focused on the season-long plan.
---
Fun Fact: despite being known as a smaller handler, Shofner was second in goals-scored for Truck at Nationals in 2014. The Top Three: Wodatch (13), Shofner (11), Doi (10). ↩

A loss to the Montreal Royal ended those hopes, after the team kept themselves alive with a big win over the Ottawa Outlaws the day prior. ↩