The South Central blueprint remains the same in 2015.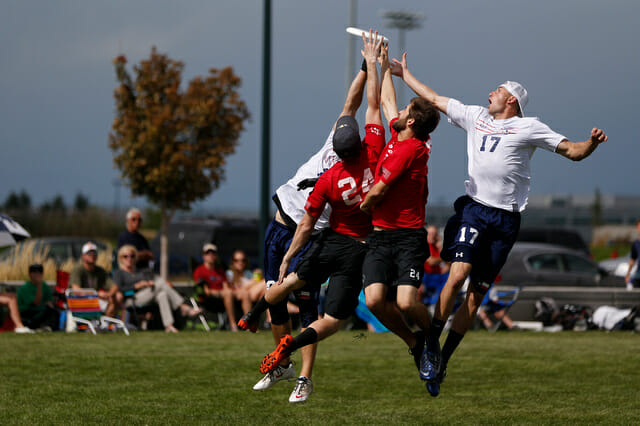 Disclosure: The author plays for Riverside, a team competing in the South Central Regional.
South Central Men's Regionals. Two bids. Two powerhouses. A handful of teams battling for a spot in the game-to-go.
You could have written this regional preview in May. Doublewide and Johnny Bravo take the top two spots, and everyone else ends up fighting for third. Funny you should mention that.
However, there are a slew of hungry teams waiting in the wings. There's no question Bravo and Dub are the two favorites, but being an underdog is all about being ready to take advantage of your opportunities. Which favorite is the most susceptible to an upset, and who among Plex, H.I.P., and Inception is the most prepared to pounce on their chance?
The Favorites
Austin Doublewide
The story of Doublewide's 2015 season has been about waiting. Waiting for their big pieces to get healthy, waiting for their new stars to gain chemistry, and waiting for the entire team to be present at a major tournament. As of right now, we are still waiting.
Don't get me wrong, Doublewide didn't have a bad season. However, their combination of mostly winning games they were expected to win and a handful of head scratching losses doesn't necessarily instill a lot of confidence. We knew they would take time to warm up — they got a pass after an early stumble at the Elite-Select Challenge against Patrol. However, they followed that up with losses to Pony, Florida United, and Sub Zero at their next two tournaments.
Those aren't bad teams, and Doublewide was forced to play in some particularly nasty weather at the Bro Flight Finale. An injured Kurt Gibson surely didn't help matters either. However, captain Ryan Purcell isn't making any excuses about weather or absences. "For being a team full of vets we didn't respond well to the challenges of the situation with our play on the field," he said.
While some might think Doublewide won't be able to pull it together based on their disjointed regular season, they would be wrong. This team has one of the most experienced rosters in the country, something they have long espoused as their biggest strength this season. Expect Doublewide to come out focused, energetic, and healthy. They should storm through pool play without a hitch and they should see Bravo in the finals on Sunday.
Purcell and the Doublewide leadership don't like results-based goals, but conceded they do have one: taking back the South Central crown. The anticipated final between Bravo and Doublewide will be a treat, surely one of the best games at any Regionals in the country.
Denver Johnny Bravo
Bravo's 2015 season was good. They did almost everything that they needed to do, winning the games they should win, and losing a few games to some solid teams. The expectations on Denver this year were a bit lower, but they have clearly met and perhaps even exceeded those expectations.
Their personnel losses in the offseason, which were projected to drop Bravo more than a couple rungs down the ladder, didn't hurt them nearly as much as expected, thanks to Nick Lance and Jimmy Mickle's willingness to be flexible and do whatever it takes for the team to win. The two stars have been everywhere for Bravo, playing on both sides of the disc. Lance, especially, has shouldered a heavy load, playing nearly every point of crucial games. Thankfully, Mickle and Lance are young, and have remained relatively injury-free, because up to this point in the season, they have been the engine that keep the disc moving for Bravo.
Another plus for Bravo is the return of Eric Johnson and Bart Watson for the postseason. The rich just get richer, huh?
Eric Johnson gives Bravo an athletic defensive handler with big throws (perhaps their biggest need at the moment), and Watson's experience should allow the offense to run more smoothly without relying too much on Mickle. Those two new additions, snuck in just before the roster deadline, should do wonders for the legs of Mickle and Lance over the course of a tournament.
As said above, Bravo hasn't faced Doublewide all season, and unless something dramatic happens, they won't be facing each other until the last game on Sunday. There is a lot of familiarity between these two teams, and we shouldn't expect anything less than last year's DGP thriller.
In The Wings
Houston H.I.P.
If you don't like HIP, you probably don't like fun. These guys aren't a team in the traditional sense, but rather a collection of good friends, who just happen to be really good at ultimate. Thomas Slack, Mitchell Bennet, Joel Clutton, Dillon Larberg, Chris Brooks, Reid Bacon…..and to top it all off, the most innovative thrower in the game right now: Matt Bennett.
Matt Bennett refers to their loose demeanor as a "switch" that they can turn on and off at will, whether that be between games, during timeouts, or even in the middle of a point. Bennett leads by example, chattering nonstop during points. Not trash talk, really, but genuine friendly conversation. All the while, he plays his innovative "pain in the ass" style of ultimate (as the Inception leadership charmingly put it) that leaves defenders with their jaws on the ground, and spectators wishing they had been filming his last throw.
They play like a pickup team, but their results don't look like one. They have lost only one game all season to a Men's team1 at the hands of Soho at the Select Flight Invite. A close win over in-region rival Inception in the semis of the Select Flight Invite and a dominant six point win over Dallas Plex at Sectionals prove they are probably the favorite to take third in the region. But they don't want to stop there.
With the talent they've managed to draw from Texas and Texas A&M (robbing Doublewide of at least a few players), as well as their intangibles and chemistry, HIP probably has the highest ceiling of any of the Select Flight teams in the region. They want "to prove that a team that can have this much fun can be [this] good." It would take a clean and miraculous game from Bennett and company to take down the likes of Doublewide or Bravo, but if anybody can pull it together, it's Matt Bennett. This team has evolved beyond the Matt Bennett show, but if they want to beat one of the big guys, he is going to have to be heavily involved and play some sublime ultimate.
At the same time, their relative youth and fun loving attitude could easily come back and bite them in the ultra-competitive arena that is a Regionals game-to-go. They haven't played a team like Bravo or Doublewide yet this season. If they can strike the fine line between loose and careless, they've got the best shot at playing the David to Bravo and Doublewide's Goliath.

Denver Inception
Inception is SO close to breaking through, and has been for multiple years. Their two point loss to Doublewide at last year's Regionals is the closest any of the challengers have come to upsetting one of the two reigning qualifiers. They are a model of consistency, always playing good ultimate, and rarely playing beneath themselves.
They have played a brutal schedule, traveling all over the country, and playing the best teams they can; for the most part, they've held their own. Until very recently, Inception had the edge in their matchup against Houston, but this year, for the first time, HIP pulled out that win in Arkansas. Could this be a sign of the tide turning?
Inception's leadership admits they left that game in Arkansas with a newfound respect for HIP, but don't expect to see them roll over in Tulsa. If their game in Arkansas was any indicator, expect to see the intensity shoot through the roof.
One of the leaders in terms of intensity is Mark Rauls. While he might not have played for Colorado Mamabird this past season, you might remember him from their 2014 championship run, where he was an integral cog in their offense. He takes an even bigger role on Inception. He is all over the field, skying, bidding, and spiking with attitude, all while giving up an average of at least four inches to the guys who are guarding him.
Beating big brother Bravo would be oh-so-sweet, but unlikely at the moment. Their talent pool draws from the same circles, so most of the Inception hotshots would be playing Bravo if they had the chance.  They had a shot at taking down Doublewide last Regionals, but Austin has upgraded their roster significantly since that game. If Inception can catch them in one of their funks (which they've had a few this season),they will have a shot to beat them, but Doublewide would need to have a pretty rough game.
Dallas Plex
Dallas Plex did not start the season like they wanted. Bad losses to Prairie Fire and Condors at their home tournament, and fairly mediocre performances at the Elite-Select Challenge essentially ensured they weren't going to be in contention for a third bid, despite their strong schedule. Many wrote off Plex as the 4th or 5th team out of the South Central.
Then, the Select Flight Invite happened. They won their pool and came back against HIP and Condors with a vengeance, notching one point losses to both of them. While still losses, they proved that they will be right there with them as the dust settles in the South Central. Sectionals raised a bit of a question mark, as HIP demolished them in bracket play, and Space City took them down in the second place game, but I would imagine Plex was more than content qualifying for regionals. That game meant a good deal more to Space City than it did to Plex.
Andrew Amerson (formerly of Doublewide) is a big target downfield for Plex, with lefty handler Kevin Christian bombing it deep and breaking marks to keep their offense moving. On defense, Matt Costello is their spark plug. He was given the nickname "Yeti" for a reason, and he provides much of the fire behind Plex's aggressive D-line.
In terms of upset potential, the same logic that applies between Bravo and Inception applies with Plex. Doublewide draws from nearly the same talent pool as Plex does, so you won't be seeing too many guys who could have had a shot on Doublewide playing on Plex. You can see that in the 11-5 shellacking that Dub put on them in Ohio.
The Next Tier
Houston Space City Ignite
This program out of Houston has not had one of their strongest years, after a few new splinter teams robbed them of their usual depth. Their marquee win came against Plex at Sectionals, but as discussed above, that doesn't seem to be something to read into too deeply. Don't expect any close games against Bravo or Doublewide, but they could claw their way up into the 4th or 5th place spot in the final standings.
Fénix
We've written earlier about Fenix, the team out of Mexico City that elected to play at Sectionals. Well, they qualified for Regionals with a gutty double game point win in the 5th place game, and will be driving to Tulsa from Mexico. These guys are just happy to be here, but don't let that fool you into thinking they won't be fighting at Regionals. They instantly raised the intensity and spirt of every game they played at Sectionals. USAU is lucky to have them competing in the series. They might be traveling with a shortened roster, but I guarantee they've got a few more good games left in them. No matter where they end up, Fenix can be proud of what they accomplished this year.
Tune Squad
This is a small but skilled roster of Texas and Trinity players. They have good talent and athleticism, but their depth and small roster might hurt them this late in the season. Historically, they perform well in pool play, but their legs start to catch up with them on day two. If they can perform well enough in pool play, they might hang onto the 6 or 7 spot.
Riverside
One of the older club teams in the country (1989), their roster consists of transplants from smaller college programs, a few who played no college ultimate at all, and a collection of Texas State players. They won't be beating Doublewide or Bravo, but could potentially fight their way up to the 6th place spot.
---
They had two losses to the Masters team Tejas back in June ↩