The first WUGC tryouts in Phoenix set a high bar for the east coast tryouts.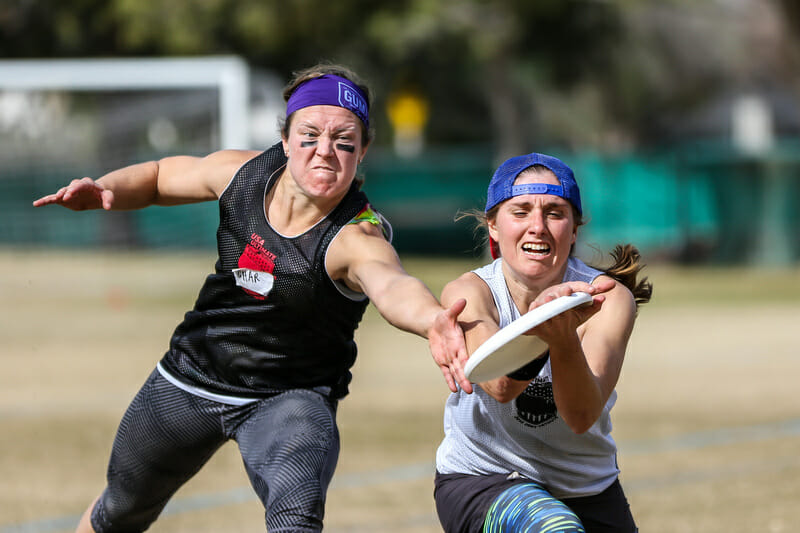 There was no rest for any weary National team tryouts come Sunday morning in Phoenix. The coaches threw the tryout pool right back into a gauntlet of grueling drills and rotations after warm ups to measure how well players could execute while tired. 3-on-3 and 5-on-5 simulations once again forced players into isolation, giving them more space than normal to operate and compete.
The women competed in reset drills before transitioning to 5-on-5 simulations that started with the disc on the sideline, testing their ability to execute Tsang's patterns. Fatigue was apparent from the outset; Ultiworld recorded five turnovers in the first minute of that initial 5-v-5 contest.
The men were treated to full-field 3-on-3 scrimmages without any restrictions. Between that challenge and the ensuing 5-on-5 play, Johnny Bravo's Jackson Kloor reeled in the most impressive grab of the weekend: a full-speed, full-extension left handed grab on a zooming huck.
Mixed simulations paused briefly before lunch when Jimmy Mickle injured his ankle attempting to defend a deep huck to Madison Club's Kevin Brown. Brown had position and began to elevate, but Mickle accidentally planted his jumping foot into Brown's jumping foot. Both players left the field after that play but returned to competition in the afternoon. Mickle, while still an imposing force, lacked consistency at times.
Injuries impacted the male tryout populace to a greater degree on Sunday. Jacob Janin's foot was too injured to run; Christian Simpson couldn't walk very quickly with his hamstring injury; Simon Higgins had to shut things down after his hip flexor stopped cooperating; Ben Lohre was sidelined later in the day due to a knot in his hamstring; and Byron Liu pulled a calf muscle before the day ended. Dylan Freechild, having experienced a minor hamstring pull on Saturday, fought through the nagging difficulty to compete all Sunday long at his trademark blistering handling pace.
RELATED: Day One Recap + Video Highlights
While some individual match ups on the mixed pitch sparkled (like Sam Kanner against Lohre), the mixed scrimmages, as a whole, never reached the intensity of the single-gender scrimmages. It's difficult to diagnose the precise cause. Were the players having trouble adjusting to their new teammates and settings? Did the coaches establish the right framework to foster intense, competitive mixed environments? Did the players simply not "bring it" when they stepped onto the mixed fields? It will be interesting to see if this trend recurs in Orlando.
An afternoon cross-wind challenged the women's throwers in their final competition, but the group's collective energy fueled their competitive drive through lengthy points. One particularly long point pitted Fury's Maggie Ruden against Riot's Hana Kawai. Kawai skied a pile once, but Ruden got the best of Kawai twice, and Ruden's second block, utilizing aggressive body positioning on a hanging deep look, set up the score that brought the marathon point to an end.
Here's how players described the final men's scrimmage:
"A dog fight."
"The best ultimate I've ever played."
In this setting, there are no "easy" match ups or rest points – and in reality, few were looking to switch or poach off their assignments. Club division rivals, like Johnny Bravo's Ryan Farrell and Revolver's Lucas Dallman, were barking supportive directions to their scrimmage teammates and fully invested in their success. Revolver's Nathan White stood out with an incredible block and confident offense.
While not the most exciting detail, it's hard to overstate how taxing this weekend was, especially for the men. In the morning sessions alone, some players recorded as many reps as they may log in an entire tournament or practice weekend. It's important to test the players' performance amidst exhaustion and pressure, but as more overuse injuries cropped up, some players began to vocalize their frustration and injury concerns in passing. Such are the challenges associated with battling at one of the most competitive tryout experiences the country has to offer.
Making Their Cases
The Rehders, Griffiths, Rasmussens, and Desmonds of the world will certainly represent America in some fashion in London. The below players, who are undoubtedly skilled but may not have been 'locks' heading into the weekend, made notable impressions.
Women
Kristen Pojunis: This U-23 veteran played without fear throughout the weekend. She took tough match ups, used her frame to body out on defense, and dictated offensively.
Katie Ryan: A well-known entity in the Mid-Atlantic region, Ryan had a nose for the end zone in women's and mixed scrimmages. She wasn't just scoring; she was consistently beating her marks to the force side cone.
Marisa Mead: "Jolie" showcased her versatility in multiple scrimmages. Whether she was covering downfield grinders in the women's scrimmages or distributing to men in the mixed scrimmages, she frequently functioned as the necessary puzzle piece for her team.
Men
Henry Konker: The Johnny Bravo captain had one of the most complete weekends of any men's player. He was a ball hawk against deep shots, and he took shots he knew he could convert, ending the weekend with a high completion percentage.
Nathan White: If he wasn't on your radar after winning a U23 gold medal or shadowing Matt Rehder closely in the 2015 national final, he should be now. White used his size to match up with Rehder and other big men, and he made plays in traffic on both sides of the disc.
Patrick Baylis: There were multiple smaller, incredibly agile handler defenders making handlers' lives difficult. But Baylis' defensive positioning and offensive poise separated him from the pack. He worked tirelessly to prove that his size was not the disadvantage it might appear to be at first glance.
Balancing Act
To be a fly on the wall in the coaches' room after this weekend…
How do Ghesquiere, Tsang, Henderson, and staff go about (a) cutting roughly 2/3 of the country's best players after next weekend and (b) dividing the nation's talent among the teams in an equitable and agreeable manner? None of the coaches want to acknowledge or dwell on the latter challenge – they want to emphasize the great cooperation and mutual interest in fielding the most competitive and balanced teams possible. But USAU's stated commitment to equitable division of talent will force mixed and single-gender coaches to bargain and negotiate over coveted talent. While tryouts can select the teams for which they wish to be considered, they cannot officially indicate preference between teams before or during the application, tryout, or selection processes.
Is a Beau Kittredge even on the table for the mixed coaches? Would Tsang have to give any ground to ensure he keeps an Anna Nazarov? How much overlap exists between the talent priorities of Henderson's staff and Ghesquiere's or Tsang's?
And just remember – half the country hasn't even taken the field yet.
RELATED: Interviews With Mixed Coach Jake Henderson, Men's Coach Alex Ghesquiere, Kelly Johnson, and Ryan Farrell
Ultiworld's Team USA tryout coverage continues next week in Orlando.