A look back on Saturday's action in Phoenix.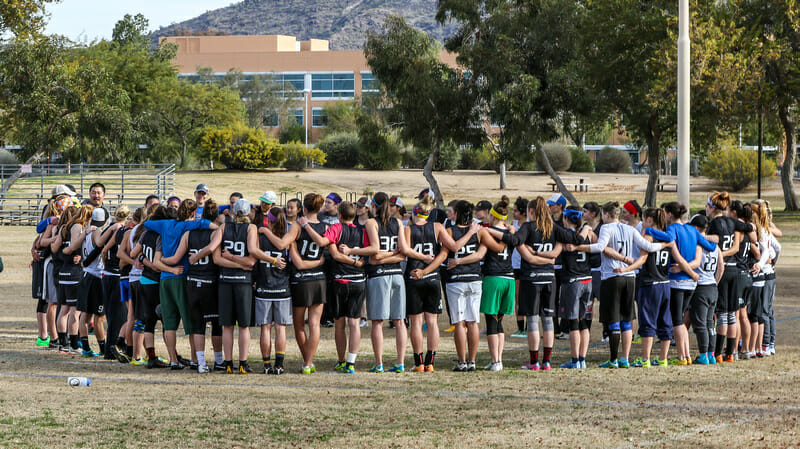 You know when you're on the track, you've just finished your final sprint, and there's that little voice nagging you to run one more sprint, even though your legs and lungs are on fire?
On Saturday morning in Phoenix, there was no little voice – the unrelenting pace of the morning drills at tryouts for USA Ultimate's national teams did the job just fine.
To squeeze as many reps into the morning session as possible, coaches Alex Ghesquiere, Jake Henderson, and Matty Tsang divided the tryouts into larger groups that were broken into smaller pods – just large enough to keep a drill functional, but still small enough to keep players constantly moving, with very little rest time. 7 Figures' Kristen Pojunis ferociously chopped multiple break throws to the ground in the early going, while Johnny Bravo's Ryan Farrell, whose voice could be heard all day, shouted directions to his fellow markers per the most threatening throwing lanes.
Over any given period of time, players could be rotating between a lengthy marking drill, a continuation hucking drill, and a variety of 3-v-3 simulations. The most taxing 3-v-3 simulation required male tryouts to complete a full-field handler weave pattern against full-speed defense – again, with little or no rest between reps. In these movements, the freakish quickness and agility of a Byron Liu, Dylan Freechild, or Walden Nelson shone through, but everyone's endurance was tested.
The most explosive 3-v-3 simulation required offensive units, not limited by handler weave patterns, to score in four passes, forcing many final-pass deep looks. If any hucks hung, Cassidy Rasmussen and Russell Wynne closed the gap to tally blocks or challenge catches. Sarah Griffith's ankle-breaking cutting and Calise Cardenas' textbook defensive footwork stood out in the women's reps, which were unconstrained by the four-throw shot clock. All of these exercises repeatedly forced players into isolation, providing ample opportunity for tryouts to compete and coaches to evaluate.
The afternoon sessions focused exclusively on scrimmages for each division, with players rotating between fields after their small groups completed shortened games. At the beginning of each scrimmage, the coaches offered a few thoughts about general structure, but they left subbing and play calling to each unit. Kelly Johnson and Sam Kanner were especially vocal within their squads, leveraging their defensive guidance and energy for their teams' benefit. Danny Karlinsky, Rasmussen, and Alex Snyder, among others, called strings for their offensive units.
The mixed coaches ran two simultaneous savage scrimmages, while the men's and women's coaches elected to run one scrimmage with at least one line of substitutions for each team.
The firepower of the west coast dynasties was on full display in the women's scrimmages, with many Riot and Fury rivals aligning. Team ERIC All Star teammates Lisa Pitcaithley and Johnson connected deep at the outset, while Johnson also ran in sets with Anna Nazarov, a frequent assignment for her during Fury-Riot battles.
As the day wore on and fatigue set in, errant throws began plaguing and extending the length of specific women's points – so much so that Tsang brought the tired opponents in to make a concerted effort to refocus.
After each men's team held to start their first scrimmage, Henry Konker's handblock of a Jeff Wodatch backhand huck attempt paved the way for the first break and brought the sidelines to life. Vocal personalities only amplified the intensity, but the competitive atmosphere and play never turned unsportsmanlike.
Men's players didn't commit many underneath or short range turnovers in their single-gender scrimmages. In the three plus hours of that competition, Ultiworld only tracked one layout block on an under cut, courtesy of the speedster Wynne. Sure, there were a handful of throwaways, but more frequently, the throwers were so judicious that defenders didn't get many high-quality chances at underneath blocks. By the same token, the defensive marking, by the likes of Pat Baylis, Liu, and others, was so sound that many throwers didn't bother attempting throws into tight underneath spaces.
Coach Henderson acknowledged that it took players several reps to adjust to the flow of the mixed scrimmages after rotating over – but he also pointed out that every group still reached a high level consistent with national team play before their scrimmage rotation completed.
Quick Hits
Some familiar faces are helping evaluate the talent at this tryout. The head and assistant coaches are relying on the help of special advisors that comprise each team's selection committee, including Martin Aguilera, Dylan Tunnell, Dominique Fontenette, Beth Nakamura and Angela Lin. While the advisors expand the coaching staff's evaluative capabilities, they also provide an opportunity to introduce respected leaders to international coaching experience, noted Aguilera, a veteran of multiple U23 teams.
The injury bug did find its way to Phoenix. Prairie Fire's Christian Simpson (hamstring), Rhino's Dylan Freechild (hamstring) and Jacob Janin (foot), and Sockeye's Phil Murray (leg) experienced injuries that kept them out of some or all competition.
Neither Ashlin Joye nor Robbie Cahill were present at Saturday's tryout.
Video Recap
WUGC Tryouts | Saturday Recap | Phoenix | Team USA
**Editors note: An earlier version of this story had listed Nancy Sun as a special advisor on the selection committee; Nancy is the Mixed team's Assistant Coach.