The rise of DC and the disappearance of Rochester will have big impacts on the East.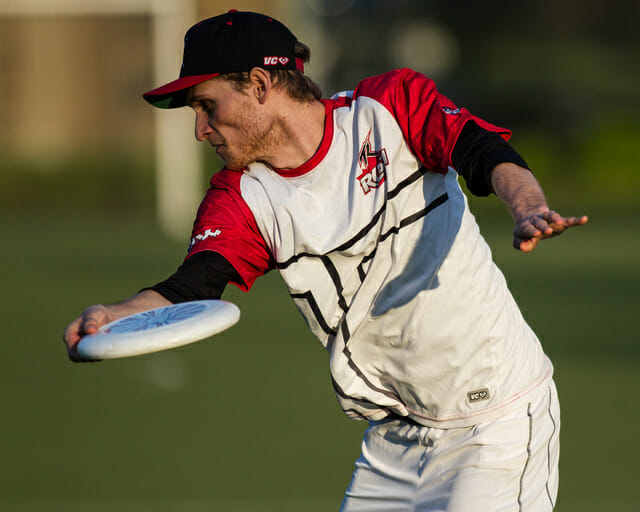 The AUDL East has changed dramatically since 2013 when the current composition of the division took shape. We've seen out-of-region superstars come and go. New, competitive teams have been added while some teams that struggled are no longer around. But in 2013, 2014, and 2015, Toronto always won the East and New York always finished second. That pattern very well could continue in 2016, but this year those teams face a tougher challenge for the top spots than ever before.
Championship Contenders: Toronto & DC
Toronto has been a perennial championship contender every year of its existence. The Rush have won one title, and have been defeated by the eventual champion in the playoffs in the other two years. With key players returning from injury and some nice new additions, Toronto looks better than ever.
But there's a chance that better than ever still might not be good enough to get out of the East in 2016. The DC Breeze may not have the kind of AUDL history that Toronto does, but this team is stacked. After a year in which DC surprised many by going 7-7 with a team that thrived on its depth, the Breeze have added some of the top players in the game. Brett Matzuka, Jonathan Helton, and Bob Liu are coming over from the Chicago Wildfire to play with DC this year. And local talent like Alan Kolick, Nicky Spiva, Tom Doi, Jeff Wodatch, Markham Shofner, and many others are playing with the Breeze this year as well.
With five players from the Breeze playing for Team USA, and the majority of the team coming from Truck Stop, which gave Revolver its best game at Nationals last year, the Breeze are the real deal. This team has both top end talent and the kind of depth that any team in the AUDL would be jealous of.
Of course there's a reason Toronto has won the division three years running. The Rush are returning 21 players from last year, and adding three players from the Boston Whitecaps, the team that won the MLU Championship in 2015. And despite losing Mark Lloyd for the whole season last year and defensive standout Jonathan Martin for the last half of the season, the Rush still managed to win the East convincingly. Their games with DC should be barnburners.
This is a team that thrives when its O-line is scoring in 3-4 throws. Toronto has a number of set plays that allow players like Isaiah Masek-Kelly and Cameron Harris to be the primary throwers or receivers. Even in the two games that the Rush lost last season, their O-line still converted over half of its possessions into goals.
If there's one area that needs improvement, it's probably their D-line, or more specifically, their D-line offense. During the regular season, Toronto's defense was the second best in the league at converting breaks. But that was against fairly week competition in the East, in a division that is much stronger this year. 
Looking at a couple key games from last year shows a different story. In their Week 5 game against New York, Toronto was entering with one loss while New York was undefeated. It was a high stakes game. After the first half Toronto was trailing by one. Their D-line had forced a solid nine turnovers, but had only converted two of those into goals. In the second half they actually forced fewer turnovers, just eight, but converted seven. They ended up winning by three.
In their semifinal game against the San Jose Spiders, over the first three quarters, Toronto's defense forced twelve turnovers. That's a respectable number; in fact, it was more than the San Jose D-line had forced at that point. But the Rush defense only converted once. By the time the Rush defense managed to get a few breaks in the fourth quarter, the game was already out of hand. They lost by five.
It's not clear how Toronto will divide its lines this year, but it's easy to see how their new imports could be beneficial. Rusty Ingold-Smith, Alex Simmons, Will Neff, and Justin Foord would all be valuable additions to the defensive unit. Even if one or more of them ends up playing on the offense, it would allow Toronto to shift some of its current O-line players over to D.
This is the most talented edition of the Toronto Rush yet. But DC is a major threat and there's another team in the East that improved this offseason as well.
The Third Place Favorite: New York
While being seen as most likely to finish third in the division isn't likely to be taken as a compliment, New York got better this offseason and is in a class above Montreal, Ottawa, and Philadelphia.
The Empire have long been known for their defense, and that doesn't figure to change this year. "Our culture is the most important thing we have as a franchise," said Empire head coach Tom Gibbons. "Our player personnel strategy of building a faceless mob with players who, regardless of what their past or pedigree is, can be successful in our system and understand what it means to be a part of the Empire." New York knows Toronto well, and will usually throw some junky looks for at least the first half of the field to disrupt pull plays that Toronto typically runs. But the Empire also run a lot of straight man defense, relying on athletes like twin brothers Mike and Ryan Drost to outwork their opponents to get the disc.
New York is returning 18 players from last year, and adding another seven players from PoNY. Chris Mazur, Sean Keegan, and Ben Faust figure to be important additions to the New York offense, while Chris Kocher should be another fine addition to the defense. Coming over from three years with the New York Rumble in the MLU, Mazur should have no problem fitting into the Empire offense. He's playing with many of his club teammates, and the Empire typically aren't shy about looking deep and neither is Mazur. "We've added new guys on each side, and with that comes an increased ability to mix it up with a variety of looks and different tempos," said Gibbons. "Same Empire theory, just adding some new variables."
While New York has never beat Toronto, the Empire have often played the Rush very close. Last year in the regular season, New York lost by three in Toronto, and only by two at home. So despite their 0-10 record against Toronto, it's a challenge that can be overcome.
Contenders for the Playoffs: Montreal and Ottawa
Despite the fact that Ottawa went 3-0 against Montreal last year, Montreal is the team that made the playoffs. That's because unlike Ottawa, Montreal was able to manage upsets against both Toronto and New York during the regular season. Of course once Montreal got to the playoffs they were unceremoniously trounced by New York, 20-33.
The Royal play a different kind of ultimate than anyone else in the East. On offense Montreal thrives when it is moving the disc quickly. It's not a team that has as many big throwers as New York, DC, Toronto, or Ottawa, but when Montreal is looking for those quick, short passes for easy yards it is at its best. Montreal is adding one big thrower from the now-defunct Rochester Dragons in Kevin Quinlan. Quinlan played four seasons with the Dragons, and in only seven games last season threw 49 assists. Quinlan will have a familiar target in Dave Ferraro on the team, since Ferraro led the Dragons in goals back in 2014. Ferraro will provide another great deep threat on the team, alongside Yoland Cabot.
Cabot led the team in goals and assists last season and was the most frequent deep target on the team. Hucking to Cabot is a great strategy when it's to space and the speedy Cabot can chase it down, but when those hucks float it serves as a reminder that the rest of the division is taller and more athletic than the Royal. It shows on offense, but it's most apparent on defense.
The Royal play zone defense more than any other team in the division, Montreal will frequently run a more traditional three man cup in addition to junk looks. At its best the Royal zone makes throws look open that aren't, resulting in easy turnovers that generate fast break opportunities. At its worst, it still slows the other team down. It also allows Kevin Groulx, Montreal's best deep defender, to hang back and prevent the hucks that Montreal gets burned on when playing man defense.
Last year the Dragons nearly upset the Royal in Montreal because the Dragons hucked early and often against the man, regularly relying on their players to sky the Montreal defenders. And while it was a problem they could overcome against Rochester, they couldn't against Ottawa. The Outlaws were a very difficult matchup for Montreal, in no small part because of tall cutters like Andrew Ouchterlony who were able to pull down hucks even if they were out of position.
An even bigger factor is Derek Alexander.
"Derek probably has the biggest bag of tricks of any elite thrower in the game," according to Ottawa captain Karl Loiseau. "He has so many different release points, release angles, tremendous extension on his throws, and great quickness and balance when moving from one throwing option to the next." Alexander led the Outlaws in assists and threw 280 more completions than the next person on the team. He was able to put the disc to almost any space on the field for the athletic Outlaw receivers to chase down. And there may not be another handler out there who presents more problems for teams trying to play zone defense. Twice last year the Outlaws converted over 60% of their possessions into scores against Montreal, and the other time Ottawa still converted over 50%. Montreal was never able to slow them down.
Ottawa's real problems last year came against New York and Toronto. Toronto's defense was really able to bother Ottawa. There were no easy under looks, and once Ottawa got taken out of its preferred method of scoring in 3-5 throws it was much easier to frustrate the Outlaws offense and force a turn. Ottawa was able to use its athletic advantage over Montreal; no such advantage was present for them against New York. Of their five games against Toronto and New York, Ottawa lost each by four to seven points. The Outlaws can hang with those teams, but it doesn't seem like they can beat them.
Montreal has demonstrated the ability to beat the top teams in the league. And some of Ottawa's struggles last year had to do with being the only expansion team in the division. With practically their whole team returning, the Outlaws will be better this year. That said, with the top of the division improving so much this year the playoff window for both of these teams is just barely open.
Maybe Next Year: Philadelphia
Philadelphia is in a tough spot. The rest of the division is improving, and it doesn't seem like Philadelphia did much to keep pace this offseason. Other teams are drawing the top talent in their city and beyond, and Philadelphia doesn't have that luxury. 
But the Phoenix have an aggressive defense, and were able to stay in some games last year. Rochester was the only team Philadelphia beat, though the Phoenix had a close three point loss to Ottawa and New York. The Phoenix also lost five games by ten or more points. It's likely going to be more of the same in 2016, but Philadelphia could surprise and catch a team off guard at some point to get a win or two.
Outlook
Without Rochester in the East, everyone's schedule just got tougher. DC and Toronto are the class of the division, and it should be a very close race throughout the season for that crucial first round bye. And we may not know who clinches that final playoff spot until late in the season. Over the last weekend in June and first weekend in July, New York closes their season with two games against Ottawa and one against Toronto. It could be an exciting finish in the East this year.
Projected Standings
DC (11-3)
Toronto (11-3)
New York (9-5)
Ottawa (6-8)
Montreal (5-9)
Philadelphia (0-14)