A brutal year for the Ohio Valley with just one bid despite featuring many quality teams.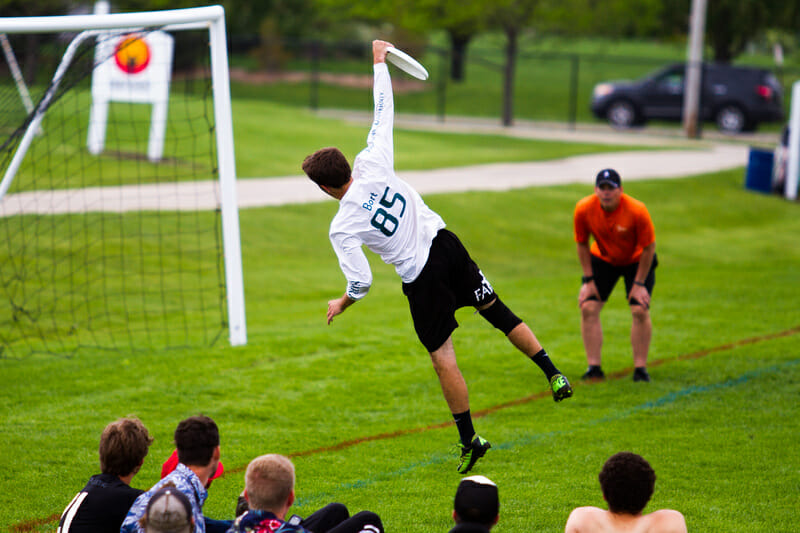 In any given season, there are a few regions that seem underrepresented at D-III Nationals. This year, the Ohio Valley is one of those regions, with three teams in the top 20 (#8 Franciscan, #19 Oberlin and #20 Messiah) yet only a single Nationals bid. Only three other regions had three or more teams in the top 20: South Central (four), Great Lakes (three) and Atlantic Coast (three). All three received multiple bids to Nationals.
As a result, this weekend's regional championship in Oberlin, Ohio, is going to be a challenging set of games for every team. With Franciscan, Oberlin, and Messiah set as the favorites to represent the region at D-III Nationals, there are certainly a handful of teams that could surprise and upset in bracket play on Sunday.
THE FAVORITES
Franciscan Fatal
Ranking: #1 Ultiworld, #8 USAU
Regular Season Record: 16-5
Tournaments: D-III Midwestern Invite, Layout Pigout, D-III Easterns
The reigning D-III national champions, Franciscan Fatal came into this spring season with the highest of expectations. A 31-0 undefeated record last year, culminating in a 13-9 victory over Brandeis in the final, gave the program the most successful season in the history of D-III ultimate. With only a few key players graduating and six all-region players returning to the squad, they were the consensus pick to repeat and win a second straight national championship.
However, things did not go as planned: Stephen Babcock and Tony Bort were unavailable for the spring season (they will, however, be available to play at D-III Nationals if the team makes it) and Jay Ratacjzak only recently rejoined the team at Conferences after missing the regular season. JP Bort was also injured at D-III Midwestern Invite and hasn't been at full strength since. That left Fatal with only two of their original top six players: Tommy Koch and Dom Schuster. Certainly they make up one of the best duos in D-III ultimate, but they are not surrounded by the experience and talent to which they have been accustomed.
Despite the losses, the team took on an enormously challenging schedule in the spring, attending three of the most competitive tournaments of the season. Developing a squad full of youth and potential against some of the top teams, they struggled and fell in the semi-finals of D-III Midwestern Invite and continued to struggle while exiting in the pre-quarters of Layout Pigout. However, their preparation paid off in a dominant weekend at D-III Easterns, in which they notched some quality wins over elite teams en route to a tournament title. With JP Bort still out with an injury sustained in February, Koch and Schuster led a much more experienced and developed team through a challenging schedule that culminated with a re-match of the national championship game from last year; this time around, Franciscan beat Brandeis 15-10.
With Jay Rataczjak back for the Ohio conference championships, the team went undefeated. They did not do so without a few scares along the way, however — both Wooster and Ohio Wesleyan took half against them over the weekend, forcing Fatal to mount second-half comebacks to win the games. 
"Going into Conferences, I think we underestimated every team we played," said Koch. "During a couple of the closer games, it was just a matter of time before we realized that we are not invincible … we are not going to go into Regionals with that same mentality of invincibility."
We haven't seen this Fatal team at full strength all year. With JP Bort returning this weekend, they will have four of their six all-region players back after playing with two for the majority of the season. While this bodes well for the program heading into regionals, the shaky games at conferences show that they are indeed not invincible. With everyone in the tournament gunning for them, it will be interesting to see if they can step up and solidify themselves as the regional champions for a second straight year.
Oberlin Horsecows
Ranking: #19 Ultiworld, #19 USAU
Regular Season Record: 7-7
Tournaments: River City Tune Up, D-III Easterns
The Horsecows have been a tough matchup at Regionals for years, but have never been able to earn a bid to D-III Nationals. However, the hosts of this year's regional tournament may have their best chance yet. With better depth and top-to-bottom skill than in past years, the Horsecows were able to finish the regular season with the highest national ranking in the program's history. "It's hard for me to name one guy without feeling like I should name ten … We've worked really hard this season on building our floor, as opposed to our ceiling, which is different than in years past," captain Jason Freedman said in regards to the team's newfound depth.
He credited offensive standouts Ben Rabin, Jacob Gilbert, Conrad Schloer and Henry Rice for anchoring the team's offense, and praised the defensive abilities of Eli Steiker-Ginzberg and Ty Wagner (who missed Conferences with an injury, but should return this weekend at Regionals).
Their spring season began at River City Tune Up, with the Horsecows notching wins over Penn State and West Chester, taking third on the weekend. D-III Easterns, however, was the tournament that really solidified the team as a nationals-level contender. Winning games over Air Force, Occidental, Haverford, and Mary Washington while losing close games to top-ranked teams like Davidson, Franciscan, and Elon, the Horsecows showed that they could play competitively with any team in the nation.
Carrying that momentum into Conferences two weeks ago, the team comfortably took second place before faltering in the final against Franciscan.
"We felt great at conferences, though not perfect … [it was] the first tournament where we were really able to use our full depth throughout the weekend and take care of business against lower-ranked teams," said Freedman. "It was frustrating to see that mentality falter a bit in the pressure of the final, but to us that just means we still have room to grow and reach our true potential."
These Horsecows will need to peak this weekend to earn the region's sole bid to D-III Nationals, and should be fun to watch as they utilize their bevy of talented players to give each and every opponent a challenging game. Freedman offered a piece of advice to those keeping up with the team, saying, "We haven't yet had a game this season where we run tight lines down to our top 12 or so players. Watch out for that this Sunday."
Messiah Falcons
Ranking: #20 USAU
Regular Season Record*: 13-8
Tournaments: Bring the Huckus, Rip Tide, Garden State
The Falcons (formerly Mammoth Rebellion, before they partnered with their university's athletic department in the fall) have achieved consistent success at regionals, finishing in the top three of the region in three of the past four years. Falling to Franciscan in the game-to-go to D-III Nationals last year, the team will be hungry to redeem themselves and take the title in this go-around.
Talking to head coach Charlie Hoppes (who also coaches the open club team Philadelphia Patrol, who made Club Nationals for the first time in history this past summer), he remarked about how the team has impressed him time and time again over the course of the season. "We lost 10 A team players last season to graduation off of our regional runners-up team … We also lost 5 B teamers to graduation. Definitely felt like a season we would have to struggle through and be rebuilding the whole way, but we've played with and beaten very good teams all season," Hoppes said.
The Falcons didn't attend any of the premier D-III tournaments over the course of the spring, but still managed to find competitive and challenging tournaments that helped develop the entire team. A 13-8 record against solid competition at Bring the Huckus 6, Rip Tide, and Garden State 6 resulted in a dominant performance at West Penn Conferences, in which the Falcons won every game handily to take the section's sole bid to Regionals.
Losing first-team all-region captain Ethan Peck (who also plays under Hoppes on Philadelphia Patrol) to graduation was a huge knock coming into the year. However, the team has stepped up to fill his absence: Christian Becker made second-team all-region last year, and has continued to improve and lead the team throughout the course of this season; Aaron Olney (all-freshmen last year), Trevor Landis and Mark Larsen have become great role players, among others; and the team boasts a talented freshmen class, including Philadelphia Force (Mixed YCCs) player Colin Campbell. "It's really a team based around depth … very strong mentally, with lots of role players who do little things enough that it adds up to be big," Hoppes said of the team.
We'll have to see if their depth can carry them to another finals appearance this weekend, and if they can take home the regional championship this time around.
THE DARK HORSES
Haverford Big Donkey
Ranking: #32 USAU
Regular Season Record: 5-9
Tournaments: Layout Pigout, D-III Easterns
Haverford Big Donkey should have a category of their own that is in between "favorites" and "dark horses;" they have shown great potential throughout the season, but are seldom discussed on the national level in D-III. Finishing third at Regionals last year, they returned strong this year looking to improve. However, their potential has been limited by their lack of consistency over the course of the spring. Wins over Occidental, Union, and Bowdoin as well as close games against Davidson and Oberlin have been impressive; however, big losses to Williams, Air Force and Franciscan have brought doubt to what Big Donkey can achieve this weekend.
Calvin Trisolini (Carolina Friends, Philadelphia AMP) returns with a skilled team that could play upset this year if they play to their potential. Look for them to play deep into bracket play on Sunday and give the top-ranked teams competitive games.
Xavier BLOB
Ranking: #49 USAU
Regular Season Record*: 9-12
Tournaments: T-Town Throwdown, D-III Midwestern Invite, Music City Tune Up
BLOB is a program on the rise, after not being highly-ranked in the region in past years. Entering this weekend as the five-seed, they are certainly not the favorite to take the single bid to D-III Nationals but have the talent to play competitively. A rocky regular season that featured few encouraging games, they placed third at Ohio conferences with wins over Wooster and Ohio Wesleyan. They'll look to peak at Regionals, and could make a significant run in bracket play on Sunday if they do so.
Look for captains Jake Lamier and Danny Herold to make some plays for the team this weekend as they aim to surprise the region.
Ohio Wesleyan Firedogs
Ranking: #70 USAU
Regular Season Record*: 7-9
Tournaments: Big D in Little D, CWRUL Memorial
The Firedogs, like Haverford, are a team that has shown signs of excellence, yet has just as many examples of mediocrity. An inconsistent regular season showcased some impressive wins over Texas State and North Texas, but disappointing losses to Dayton, Wright State, and Trine.
However, an encouraging performance at last weekend's Ohio Conferences has given them some momentum headed into the weekend. Entering the weekend seeded eighth, they finished fourth and even managed to build a 9-5 lead in the semi-finals against Franciscan before Fatal came back in the second half.
Their offensive movement seems to have diversified in that they can effectively move the disc up the field, allowing their handlers to take easier shots on hucks downfield. Captain Sam Schurer (first-team all-region last year) should be one to watch, as his tremendous throws allow him to keep the O-line flowing and to convert breaks off turns on the D-line. Alec Weyneth and Kyle Murray will also look to lead the team on both sides of the disc.
If the Firedogs can replicate their first-half performance against Franciscan from conferences, they could surprise on Sunday.
Wooster RamJam
Ranking: #60 USAU
Regular Season Record*: 6-10
Tournaments: D-III Midwestern Invite, Rubber City Rumble, Illinois Invitational
Qualifying for Regionals for the first time since 2012, RamJam will look to take advantage of the opportunity. After a rough Saturday at conferences in which they went 0-3, Wooster was able to battle back and take fifth overall. Look for captain Dan Lynch to carry the team on both sides of the disc, with Michael "Sprinkles" Herman and Emilio Bartlett playing important roles as well.
Like the Firedogs, Wooster was also able to take half against Franciscan, this time in pool play. Playing closely with Valparaiso, Xavier and Alabama-Huntsville earlier in the season, Wooster shares a similar potential to make a run in bracket play on Sunday. At the very least, this weekend will serve as great experience for a young team with only two seniors.
THE REST
Kenyon Serf
Ranking: #57 USAU
Regular Season Record: 6-6
Tournaments: DiscThrow Inferno, Lorton Hears a Huck
Qualifying for D-III Nationals two years ago, Serf has declined a bit over the past few years. Still competitive in the region, they boast a few impressive players in Dom Camperchioli and Alex Piper. However, they shouldn't be expected to play much more than a spoiler on Saturday before an early exit from bracket play on Sunday.
Cedarville Swarm
Ranking: #52 USAU
Regular Season Record*: 7-6
Tournaments: D-III Midwestern Invite, ONU Spring Invitational
Another D-III Nationals qualifier from two years ago, Swarm has suffered the same fate as Kenyon. They have been competitive with mid-level teams all season, but haven't shown an ability to compete with top-level programs. Look for them to compete on Saturday but be outmatched on Sunday in bracket play.
Swarthmore Earthworms
Ranking: #73 USAU
Regular Season Record*: 14-6
Tournaments: Bring the Huckus, Layout Pigout, Garden State
The Earthworms finished sixth at Regionals last year and haven't done much to show that they can improve upon that performance this spring. Finishing second at East Penn conferences, they played competitively with Haverford in an 11-12 loss. Look for them to break seed this weekend as they should give the region some competitive games in pool play.
—
*I have decided to include games that were considered illegitimate by USAU in these team's records, because none of the teams in the Ohio Valley region were the cause of these games being deemed illegitimate. Therefore, I feel that these records more accurately represent their regular season performances.