New Toronto team to take Capitals place in TCT; other players to focus on building up local communities in Ottawa and Waterloo.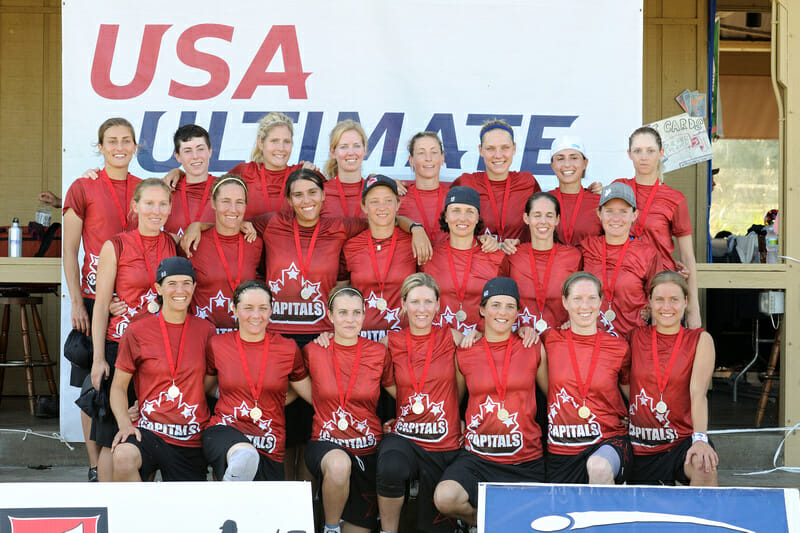 After ten seasons competing in the USAU Club Series, the Capitals — made up of women from Toronto, Ottawa, and Waterloo, Ontario — have decided to disband for the coming season.
Originally formed to pool the talent of three of Ontario's largest ultimate communities to participate in the UPA Club Series, the players have traditionally competed locally through the Canadian club series in the summer and then combined only in the fall for USAU's series. Over the course of their existence, the Capitals have been one of the top programs in the women's club game, including a runner up finish in 2010 and two other semifinal appearances in 2009 and 2011.
This year, the players will return to their regional teams and focus on building up the depth of talent in those cities, as initially discussed in the Spring 2016 issue of UCM, the magazine of Canadian Ultimate.
The increasingly prescriptive structure of the Triple Crown Tour was also a factor in the decision, as the Capitals' required 2016 tournament — the Elite Select Challenge in Columbus, OH — falls on the same weekend as the Ontario Regional championships for the Canadian club series. Forced to choose between the two, players decided their primary allegiance was to their respective Canadian teams.
The Capitals are not completely forfeiting their Elite Flight status, however. The spot will be inherited by a new team from Toronto — the largest of the three contingents from the previous Capitals roster — who will compete under a new banner: 6ixers1. Nine players from last season's Capitals roster carry over.
"We still have some of our big guns, but we also have a large influx of talented, athletic local rookies coming in that we are really excited about," said 6ixers captain Jordan Meron.
Toronto is hoping to build up a solid two-tiered program, with the 6ixers continuing to focus the city's elite talent on the TCT and a second competitive team that will focus exclusively on the Canadian Ultimate Series. The Toronto teams held a combined tryout process and the leadership for the elite program has provided ongoing support for the competitive team. The coaches of both teams are all former Capitals players, so both teams have seasoned veterans to lead them.
Ottawa's Stella operates a similar A and B team structure, but the top team's former Capitals players will not compete in the TCT with 6ixers. The smaller Capitals contingent from Waterloo will return to PPF Ultimate — the 2014 Canadian National Champs — to compete in the Canadian Series.
While this season the Triple Crown Tour will prevent the 6ixers from competing domestically, the team has not ruled out returning to the Canadian Series in the future.
"Ultimate Canada is aware of this conflict and they understand our reasoning for choosing to participate in the TCT," said Meron. "As a team we do hope to be able to participate in both the TCT and the Canadian Series next year."
---
USAU has already approved the name change for the new team. ↩