Harvard makes a late push to topple Georgia.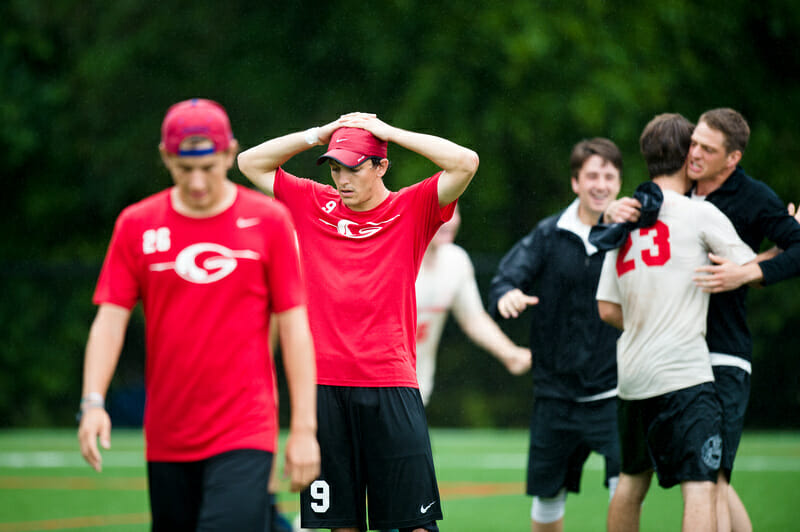 A steady rain fell for most of the quarterfinal round this morning, as Harvard edged out Georgia on double-game point 14-13 to advance to a semifinal matchup against North Carolina. Though offensive and defensive players shifted some throughout the game, the game featured a battle of attrition between each team's top duo: Harvard's John Stubbs and Mark Vandenberg and Georgia's Sam Little and Nathan Haskell. Among the four, they rested less than a point a piece.
"I'm certainly tired," said a smiling Stubbs in the post-game rain. "Now we have our work cut out for us, getting ready for the next game and resting up."
Georgia held a small lead for the entire game. At 13-12, Jonah Hahn broke free in the endzone for a pass from Stubbs to level the score at 13-13 and push the contest to double game point.
Halfway down the field and with Jojah churning hard to find open space, Red Line's Dave Reshef went flying to defend an in cut and smacked a Jojah pass out of bounds for the turn. Vandenberg (three goals, seven assists) engineered a remarkably patient D-line offense to just outside the end zone, setting up the open side flick that landed in the hands of Ben Scharfstein for the win.
Stubbs still managed to record three goals and three assists in a game when he barely left the field. He was completely occupied by Jojah's Little, his defensive assignment, at every moment for the 27 points played.
"Sam's a terrific player. He's a great defender, he's a great offensive player. He has really quick changes of direction that get him open really quickly and his throws are money," Stubbs said. "When you're guarding a great offensive player, that player is, mostly likely, also a great defender. Sometimes you do neutralize each other."
Little recorded four goals and one assist, dynamically pairing with the sophomore Haskell to run the show for Georgia on offense, and guarding a slim lead all the way until to the double-game point finish. Though Stubbs appeared on the stat sheet just a bit more, Little ran the Harvard star constantly on both side of the disc.
"John's an incredible player. I think going into the game we had…for me going into the game guarding him was a bend don't break because you're never going to generate too many Ds on someone like Stubbs. I'm just [grateful] that I got the privilege of guarding him on this stage and got to see him at his best," Little said.
Haskell, a sophomore, nearly matched Vandenberg's on-field stewardship with one goal and six assists. The 20 year-old was fearless in the disc despite the wet conditions, setting his receivers up with hucks, arounds, and hammers for goals. Haskell shone as one of the brightest stars and looks ready to take over for Little, whose run with the team ended when Scharfstein landed in the end zone.
In first half that was defined by a warm, heavy rain, Georgia created a one break separation at 6-4. Harvard's defense was never without a chance or two to make up the ground, but for the majority of the half, and even with Stubbs and Vandenberg on the field, the D-line's offense continually gave the disc back to Jojah and allowed Haskell to find the end zone.
"That was extremely frustrating," Stubbs said. "I had a lot of errors. Everybody was just dropping the disc. Their [offense] was dropping the disc, our [offense] was dropping the disc."
Georgia took the extra chances from those Harvard turnovers and pushed the game to 7-5, before Vandenberg geared up and engineered a two goal run to make the score 7-7. Jojah took half when Haskell hit Sheyar Ali in the ensuing point for 8-7.
In the second half, as defenses started to tire, each team's offense dug in and traded until the final point. Reshef's block was unquestionably the play of the game, the shining example of Harvard's defensive effort which severely limited Georgia's excellent deep game by backing cutters and challenging unders.
"The biggest thing is that legs became more important with type of play and [the game] became a battle of attrition and a battle of the legs. And Dave did win it with the legs," Stubbs said.
As Harvard celebrated and prepped quickly to get out of the rain and rest up for a long wait for their semifinal, Little gave an impassioned final speech to his teammates, who teared up openly as their standout performance at Nationals came to an end.
Not enough can be said of Jojah's weekend, despite the quarterfinal exit. The Athens team opened the tournament with a bang, handily beating the championship favorite UMass to start pool play and locking up the pool early.
"I'm really proud. A word that we've been using a lot is resilience. We definitely underplayed at points in time, but we never felt like it was anything execution-wise. It was just mental errors that would definitely haunt us in the past because this team was just so strong," Little explained after his team broke their huddle.
"Our captains, Sebi and George, and our coaches, Ben and Nate, have just done a great job of making us a mentally strong team," he said. "I'm really proud and honestly…I'm upset because I know I don't get to play with these guys, and I'm also upset because I know the trajectory they're on for the next couple of years and I just wish I could be a part of that."
That trajectory will be stewarded by young stars Parker Bray (torn PCL) and captain Sebastian Di Francesco (torn ACL), who were both sidelined during the quarterfinal run. While Harvard pushes to bring home the title, Georgia will head home knowing that they have a bright future ahead of them.