Can Stubbs and Vandenberg keep it going for Red Line?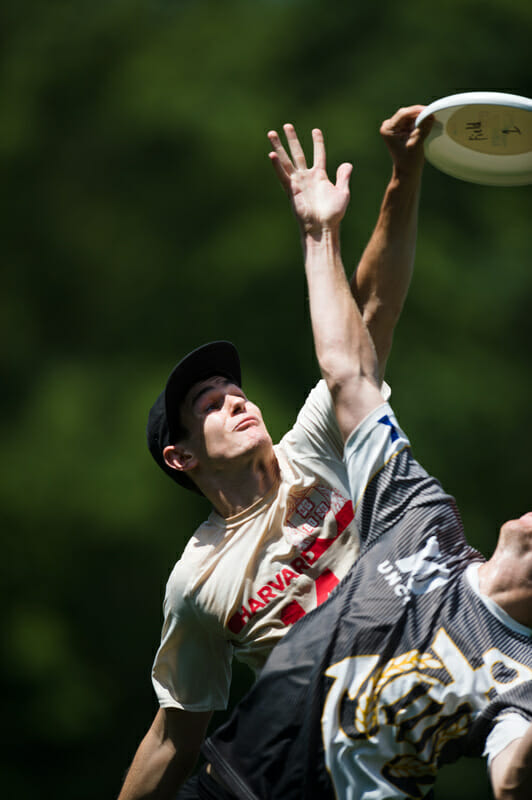 This article is presented by Spin Ultimate; all opinions are those of the author. Please support the brands that make Ultiworld possible and shop at Spin Ultimate!
After tumultuous pool play performances from both squads, Harvard and UNC are set to square off in a surprising semifinal. A double game point quarters win for Harvard will test their conditioning, as John Stubbs and Mark Vandenberg played nearly every point.
UNC shared the load defensively against Auburn, but Matt Gouchoe-Hanas and Aaron Warshauer have carried most of the offensive weight for Darkside. These teams have yet to meet this season, but the matchup has potential to be a classic. 
The X factor for Darkside has to be their ability to convert break chances. UNC converted five of their fifteen break chances against Auburn, but some of those came as short field goals. After a turn, JD Hastings and Nathan Kwon ran the backfield of the offense, while they attempted to open up deep space for Vikram Sethuraman. Those three had success against Auburn, but Harvard is a different animal. 
As for the semifinal gameplan, UNC head coach Mike Denardis is clued in on what Red Line like to do. "I've seen their system the last couple of years," Denardis said after their quarterfinal win. "We have to think about how to best stifle their resets." Against Auburn, Kwon and Hastings successfully executed that plan. Don't be surprised to see Kwon, one of the best handler defenders in college, on Vandenberg for the majority of the game.
The crux of Harvard is how often Stubbs and Vandenberg are forced onto the D-line. While UNC has very little overlap, Harvard will have to run their big stars on some of the Darkside threats, especially Warshauer. With the top players playing both ways, it could be difficult to put a full game together on both sides of the disc. Quick UNC holds could be detrimental to the Red Line Offense's recovery between points. 
Harvard will have had plenty of time to regroup after their big win, and the strategy for preparation should remain relatively the same. "Every point we play is a 0-0 game to one," Harvard coach Mike Mackenzie said after their prequarters victory. "No matter who we're playing, no matter what we see." UNC will give the Harvard D-line opportunities to break, and in those situations they'll be looking to their offensive standouts to run things. Harvard may have to find out how many points John Stubbs can play before he can't go anymore.
If the game comes down to the top few playmakers, Harvard has the clear advantage. If it comes down to depth, North Carolina has it. The first few points will be a clear indicator of the matchup, but only a complete game will see one of these teams into the final.