UNC will face Harvard in the semis.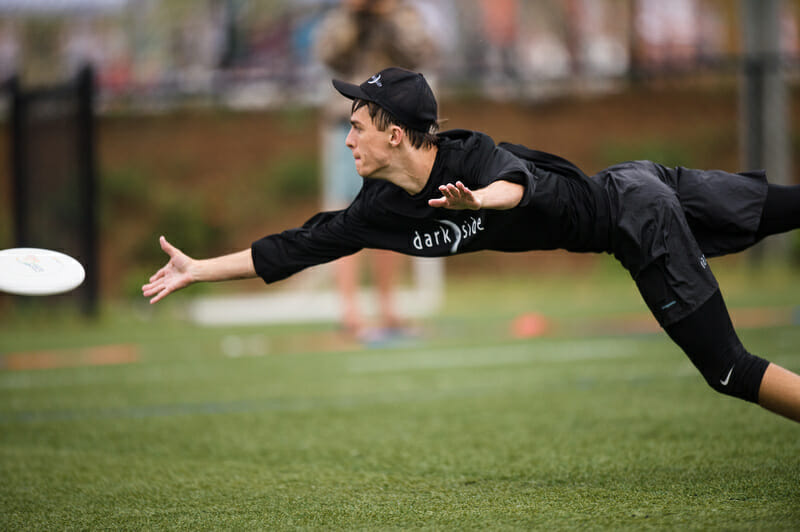 This article is presented by Spin Ultimate; all opinions are those of the author. Please support the brands that make Ultiworld possible and shop at Spin Ultimate!
This rebuilding UNC Darkside team is now fully evolved.
In every game this tournament, UNC has inched closer to their best possible form. Against Auburn, they got there. UNC won individual matchups all the way down the line and stifling handler defense threw off an Auburn offense that beat two of the men's semifinalists. UNC held off Auburn late to take a 15-13 win over the impressive Southeast team.
Several offensive holds opened the game, with offenses running surprisingly smoothly in the heavy rain. UNC definitely created pressure early, giving themselves enough opportunities to break. The achilles heel of UNC so far had been their D-line offense, but some strong play from Aaron Warshauer and JD Hastings delivered their best performance of the tournament thus far.
With Darkside leading 3-2, freshman Marc Rovner got a huge layout block to give North Carolina their second break chance of the game. A Hastings huck gave UNC their first break of the game. The panic set in for quickly for Auburn, when Rovner blocked a hammer on the ensuing possession. Some more smooth offense found Rovner, who threw the assist. The Darkside freshman registered two blocks and an assist in two points, almost single handedly giving UNC a 5-2 lead. "Just another one of our freshman," UNC head coach Mike DeNardis said after the game. "Just throw him into the pile."
UNC went on to capture an 8-5 halftime lead. Auburn gave UNC seven chances to break in the first half, and UNC converted twice. The Auburn offense was set up very deep in the rough weather, allowing UNC to pressure the unders unafraid of a deep attack. Forced hucks manifested as turns and a deep look from the UNC defense would make them march down the field all over again.
"We got sucked into throwing it deep against some help defense," Auburn coach TJ Martin said after the game. Switching downfield was a big part of the Darkside gameplan, but the backfield was a different story.
Unlike in their previous matchups, Nathan Kwon and JD Hastings had only one matchup for the whole game. Kwon took Auburn Handler Evan Boecking, leaving Hastings to cover Ryan Landry. The downfield switching and the backfield lockdown man forced Auburn to make uncomfortable decisions. And seven turns is more than enough for a UNC defense that's finding its rhythm.
In typical Auburn fashion, they wouldn't go away. A quick hold out of half was followed by two quick breaks to tie it back up. Both Ryan Landry and Evan Boecking began playing their fair share of D-line points, to some success. For the first break, Ryan Landry ran Gouchoe-Hanas up and down the field before setting up Auburn youngster Dusty Register to throw the goal. The game was tied at eight when Garris Bugg threw a beautiful high release flick for Auburn's second straight break. Like they've done all weekend, Auburn was a team of breaks and momentum. "The thing that I'm most proud of is that we never changed who we are," Martin said after the game. "We didn't change who we were when it came to our style and embracing our energy."
But the Auburn run was short-lived. Tight pressure forced three Auburn turns, and on the third, Darkside capitalized. Kwon ran a swift handler offense off of the turn, and UNC took a 10-8 lead. On the following point, a wet disc slipped out of Boecking's hand, giving UNC a one throw score for another break.
Aaron Warshauer was the biggest threat for UNC down the stretch, with Auburn forced to back him and force him under. With the disc, he was just as dynamic, finding downfield cutters and immediately reasserting himself as the back of the stack. With the 13-11 lead, Rovner made another run-through block on a poached Auburn swing. UNC was off to the races, breaking for a 14-11 lead. "Dennis [Tarasi] did a really good job analyzing who their threats were," DeNardis told Ultiworld. "Those were the matchups we had all game long."
Auburn faced their final chance down 14-12. With their D-line getting ready to pull, they stood shoulder to shoulder with arms wrapped around their teammates. Again, in typical Auburn fashion, they weren't ready to be done. Blake Galloway made the play of the game when he blocked a Dain Nielsen backhand with a quick layout. A few throws later, Eric Sjostrom scored the goal with Warshauer right on his back. On the following point, just before the rain picked back up, the UNC offense woke up to the pressure of the situation. A huck to freshman Elijah Long sealed it for UNC and ended Auburn's magical run. If it weren't for a slow start, Auburn might have written a different story: they finished the second half going a perfect four for four on break opportunities.
Auburn finished a strong Nationals run with wins over two eventual semifinalists. The rise of their program has changed the landscape of the Southeast region. As for Darkside, they'll face Harvard next to keep their dream of a Nationals repeat alive with a chance to advance to their third straight national final.