A Nationals rematch and a preview of Northeast Regionals.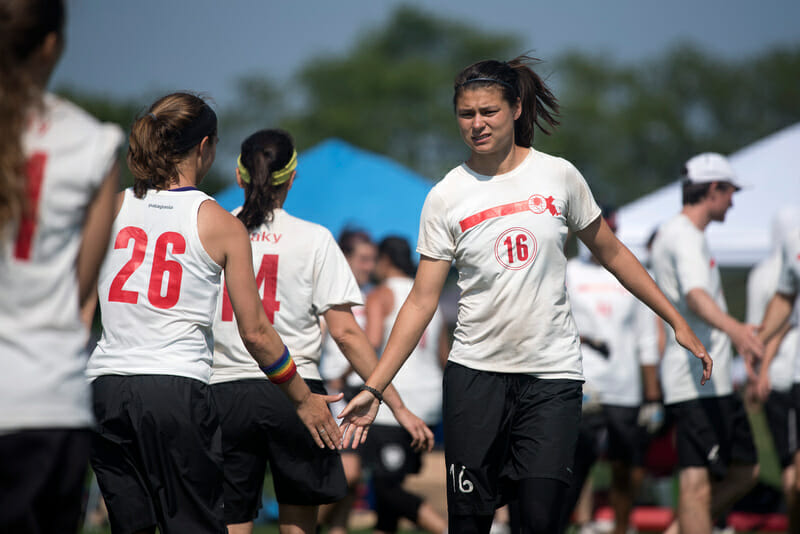 This post is presented by Disc Store. All opinions are those of the author; please support the brands that make Ultiworld possible and shop at Disc Store!
PROVIDENCE — Could the teams we see in the semifinals here at the US Open be the teams that we see in the same round at the National Championships in October? We've still got a lot to learn about the teams, but let's look at how they got here and what to expect in their matchups tomorrow morning.
Seattle Mixtape v. Minneapolis Drag'n Thrust
Any team sitting unbeaten at 5-0 after pool play is expected to be looking in mid season form and to be playing near their potential. That is not the case for Seattle Mixtape. Last year's national finalist had a slow start in everyone of their games against elite competition, falling behind at half to NOISE and Slow White. Seattle prevailed by finding rhythm in their offensive line and intensity on defense.
When they decide to flip the switch, they are scary good with Khalif El-Salaam shooting bombs left and right to Claire Revere and Jesse Bolton. Lexi Garrity has capably anchored the D line as a wave of athletes and adrenaline drown opposing offenses.
Yet the switch has been off at the starts of games. That has put Mixtape in close games with teams well below their skill level, including two 2-point games against NOISE and Wild Card. A strong team like three-time defending National champion Minneapolis Drag'n Thrust could take advantage of another poor first half to bury Seattle.
A victim of the unfortunate date of the U.S. Open, Mixtape is missing a handful of men and women because of prior commitments and the icon of northwest ultimate: Potlatch. The travel fatigue, jet lag, and lack of depth has proved surmountable for Mixtape to this point, but their legs may feel heavier tomorrow morning. Without late arriving reinforcements, Seattle will need to find strength in their system to play their aggressive style.
Drag'N Thrust has also played through some early bumps, and even a loss to Metro North. They have been sluggish and outright bad in the first half of some of their more hotly contested games. But they have found a way to turn it on later in the game. Today on the showcase field, they went down 7-1 to Philadelphia AMP before rallying to win 12-11 on double game point. They started to mount a comeback against Metro North yesterday after another slow start, but they couldn't get all the way back.
Drag'N operates most effectively when they are pressuring cutters on defense and getting to the break side on offense. Jay Drescher provides a fiery centerpiece for their defense with his play making ability on both sides of the disc. Erica Baken, Austin Lien, and Jacob Lien provide a lot of the key throws, while Mike Clark, Sarah Anciaux, Sarah Meckstroth, and Brian Schoenrock do the legwork in the cutting lanes. They have bold creative throwers who will challenge defenses with unexpected high releases and hammers, particularly from Drescher and Jacob Lien.
A rematch of the 2015 national championship game, Drag'n v. Mixtape will set the tone for the remainder of the mixed season. Both teams have been not performing at their peak but expect that this game will renew this rivalry for 2016.
Drag'N Thrust v. Mixtape will be livestreamed by ESPN3 at 10 AM Eastern.
Metro North v. Slow White
The biggest surprise in the Mixed division so far is the strong play from Metro North. As the number six seed and number seven ranked team on Ultiworld's preseason power rankings, the New York team stayed under the radar heading into the U.S. Open but they came out hot and never looked back. In the first round on Friday, they capitalized on execution errors from Drag'n Thrust and frankly outplayed the best team in the mixed division.
With the confidence of a close win under their belts, New York looked sharp throughout the rest of pool play. They were challenged again when AMP remained close en route to a 15-13 win for Metro North but the rest of their games were handled efficiently. Going 4-0 they clinched their spot in the semis and were able to rest against the Polar Bears before their semifinal game tomorrow morning.
Metro North is missing a few key pieces, but still has some players headlining their play thus far. Eugene Yum, Lauren Doyle, and Seth Canetti handled a lot of the offense's backfield work, while Vincent Fiacco's throws keyed the defensive unit after the turn. Sean Murray, Erin Ivers, and Teddy Mason provide the team's top downfield targets, with Murray's versatility and experience, Mason's size in the deep lines, and Ivers' ability to find room in the endzone all proving vital.
In any given season, the balance between the two giants of Boston mixed ultimate fluctuates as some years Wildcard brings together the best roster and in other years Slow White is clearly the more dominant team1. This year, the pendulum has swung firmly towards Slow White. This Boston squad has brought together veteran talent like Steve Sullivan and Rosie Ano with ex-Ironside players Miles Montgomery-Butler, Tannor Johnson, and Ben Katz. This iteration of Slow has its collective eyes set on nothing less than a national championship in October. Ranked as the number three team in both Ultiworld's power rankings and the tournament seeding, Slow knew they would need to fight through the national finalists from last year. Now, though, they will face Metro North, a regional rival on the rise.
Slow, when they've been firing on all cylinders, has been a grinding offensive team that will take good looking shots. They have a plethora of athletic cutters that make it easy on their handlers to work the disc through. On defense they will usually play physical person-to-person defense and force teams to work for every pass. A promising sign for the rest of the season could be that most of their errors were unforced drops and throw-aways that will be minimized as the season progresses and their chemistry grows.
This match-up will be a preview of a possible Northeast regional final and give the winner a confidence edge throughout the rest of the season and into the series. Slow White will look to prove that they can execute and remain focused against a tough challenger. Metro North is looking to earn a win over their rivals to the north. Slow White bested Metro North last regionals but if Metro North can continue to play up to their potential, this rematch could shape up for a different result.
Slow White v. Metro North will be filmed by Ultiworld and made available in the Ultiworld Video Subscription.
---
and this doesn't even mention the now-defunct Ghosts ↩