Vote for the best team of the past decade.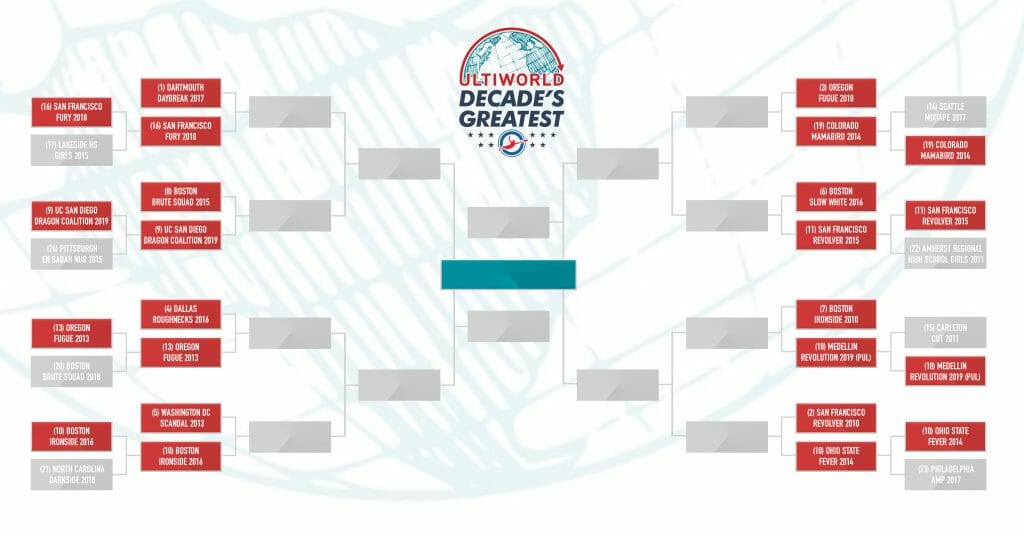 Ultiworld's "Decade's Greatest" series is presented by Greatest Bag. Get the greatest bag in ultimate at GreatestBag.com!
The decade had its share of dynasties with extended runs of excellence, while other teams had one or two outstanding seasons. The super programs are the ones you already know. But which team in which season was the best of the decade? We've culled the list down and are leaving it in the hands of our subscribers to decide.
We reviewed full-season results from every meaningful competition in North America from 2010 to 2019 to select 24 of the most dominant single-year teams of the decade. We excluded national teams — shout out to the 2010 WUGC Canadian National Team, the 2015 U24 Mixed US National Team, and 2010 WJUC US Boys National team — whose critical competition is simply too brief to really get a true sense of their greatness. Championships were highly valued, albeit not required for consideration. Our final field is composed of entrants ranging from high school squads to elite semi-pro outfits and nearly everything in between. The question is not who would win in a matchup between the two, but rather which team was more dominant and successful compared to their competition. Did Oregon Fugue's 2013 team crush their college peers to a greater degree than Boston Ironside did to their club men's opposition in 2016?
Our top eight seeds received byes, while the bottom 16 battled it out in a play-in round. With the first round settled, it's time to decide our prequarter matchups!
The Teams
For full write-ups of every team, head to the first post in this series.
Matchup 1: Daybreak '17 vs. Fury '18
#1 Dartmouth Daybreak1 2017 (D-I Women's)
#16 San Francisco Fury 2018 (Club Women's)
Despite a small social media campaign for the Seattle youth players, Fury moved on from the play-in round by a 60-53 vote tally. San Francisco will now face Dartmouth 2017, whose super-powered college roster has fed into Fury's foils and rivals, Brute Squad and Riot. Will Jack Verzuh have their revenge after their high school club was eliminated?
Matchup 2: Brute Squad '15 vs. Dragon Coalition '19
#8 Boston Brute Squad 2015 (Club Women's)
#9 UC San Diego Dragon Coalition2 2019 (D-I Women's)
UCSD scored a lopsided victory in round one over the Pittsburgh men, with nearly 75% of the votes. That gives them a lot of momentum for a matchup against Boston's 2015 national title team. The East vs. West theme is familiar for both teams, who needed to defeat a team from the opposite coast to earn their gold medals.
Matchup 3: Roughnecks '16 vs. Fugue '13
#4 Dallas Roughnecks 2016 (AUDL)
#13 Oregon Fugue 2013 (D-I Women's)
Both teams won their championships in convincing fashion, and only a slip-up in the regular season that did little to impact their season held Oregon back from matching Dallas' undefeated season. Both teams felt unfair during their runs. Fugue knocked off Brute Squad 2018 by just one vote in round one; every vote counts, so consider carefully.
Matchup 4: Scandal '13 vs. Ironside '16
#5 Washington DC Scandal 2013 (Club Women's)
#10 Boston Ironside 2016 (Club Men's)
Ironside loves a close matchup, as they beat Darkside's 2018 title team by just one, like they did Revolver in their championship final. They now face Scandal, who also overpowered a divisional powerhouse from the Bay Area on their way to their first title. Which of the two first-time champions was the most impressive? Do you favor Ironside's stronger regular season or Scandal's Nationals dominance?
Matchup 5: Fugue '10 vs. Mamabird '14
#3 Oregon Fugue 2010 (D-I Women's)
#19 Colorado Mamabird 2014 (D-I Men's)
Mamabird advanced to face a new Northwest foe after dispatching Mixtape 2017 by a tally of 60-50. Did it help that a typo listed them as "Mamabird 2104"? We'll never know. They'll have no such benefits against Fugue, who walloped nearly every team they played in 2010, really taking it up a notch at Regionals and Nationals. Can the might of Mickle stand up to the onslaught of Oregon?
Matchup 6: Slow White '16 vs. Revolver '15
#6 Boston Slow White 2016 (Club Mixed)
#11 San Francisco Revolver 2015 (Club Men's)
Revolver took care of the Amherst 2011 team without breaking a sweat, with over 70% of the votes in the play-in round matchup. They'll be fighting against someone their own age this time in the form of Slow White 2016. Triple Crown winning Revolver faces a Boston club that nearly accomplished the same feat. The resumes are very similar here, so it could be the closest matchup of the round.
Matchup 7: Ironside '10 vs. Revolution '19
#7 Boston Ironside 2010 (Club Men's)
#18 Medellín Revolution 2019 (PUL)
Revolution scored the biggest blowout of the first round, sending CUT 2011 packing by a wide margin. That sets them up with Ironside's 2010 one-loss runner-up club. Can the impressive performance of Boston in every game prior to the final overcome an undefeated champion from the PUL's pilot season?  A team from the first year of the decade versus a team from the last!
Matchup 8: Revolver '10 vs. Fever '14
#2 San Francisco Revolver 2010 (Club Men's)
#10 Ohio State Fever 2014 (D-I Women's)
Fever advanced comfortably past AMP 2017 in the play-in round. That means they'll be up against Revolver's title team that began the decade. Ohio State's first and only program championship is in stark contrast to the Revolver dynasty, but that magical year felt historic as Fever won a title within their state, just a couple hours from their campus. But is it enough to overcome the double peaking Bay Area powerhouse?
The Voting (Round 2)
With the bracket laid out, we now turn the decision over to our subscribers! Which team, relative to their peers, was the best of the decade? Voting for this round closes at 12 noon Eastern on Friday, July 10.
---
At the time, the team was "Princess Layout." ↩

At the time, the team went by "Psychos." ↩
Bonus Content for The Decade's Greatest: Best Single-Season Team Round 2 is only available to Ultiworld Subscribers
Already have a subscription? Log in
Whether you visit Ultiworld for our reporting, our podcasts, or our video coverage, you can help us continue to provide high quality content with a subscription. By becoming a subscriber, not only do you receive benefits like bonus content and full article RSS feeds, you also help fund all of Ultiworld's coverage in general. We appreciate your support!