Madison beat Sockeye at the US Open with some unusual offensive and defensive looks.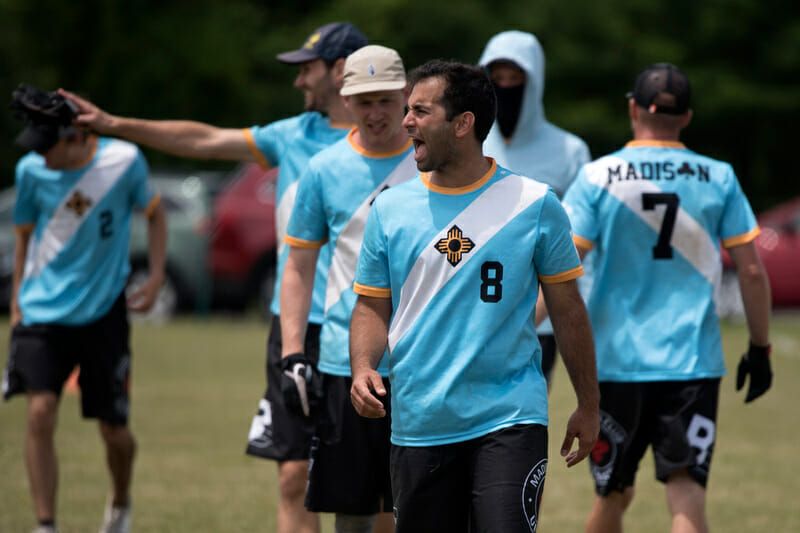 Seattle Sockeye entered the Pro Flight Finale as the top ranked team in the country with a solid start to their season and a star-studded roster that had yet to fully play together. Prior to their dismal showing in Vancouver a couple weeks ago, only two teams had been able to solve the Fish so far this season — Chicago Machine, another team that seems a plausible title contender, and surprisingly (at least at the time), Madison Club, in the first game of the US Open.
So how did the unheralded, scrappy squad from Wisconsin knock off one of the division's big boys?
Taking Advantage Of Shifting Marks
One of the hallmarks of Sockeye's playing style is their high-pressure defense, and a key part of that is their intense, constantly shifting marks. Seattle often tries to challenge whatever throw is about to go up, rather than being strictly disciplined about protecting one specific area of the field. This act of cheating over to challenge a dump or swing pass can create some frantic, high-stall situations for an offense, but also makes Sockeye vulnerable to dangerous break throws.
At the US Open in July, Madison took advantage of these active, shifting marks by timing a downfield cut opposite their primary dump cut, ensuring that the thrower always had a second dangerous option against a mark that shifted too far. Here, Madison run a "dump & go," but there's another downfield cut to the opposite side of the field at the same time. When the marker overcommits on a fake to prevent the continuation open side pass, Madison has an open option to work the disc back to the break side.
dump & go, hits break side instead when defender overcommits
Here's another example on game point; this time, it's the player in the front of stack position who makes the break side cut to attack upfield when the marker aggressively shifts too far late in the stall count.
Front of stack attacks break side
Oh, and I just have to highlight this outrageous high-stall, off-hand swing. Watch as the Sockeye marker shifts almost 180 degrees around the Madison thrower during the course of the stall count. By faking toward a backfield dump, Madison opens up a lane to hit a secondary dump cut on the break side — with a very cheeky throw — which opens up a wide open look to the endzone, even if there wasn't an available continuation cut.
Thrower-Led Offense
Sockeye's defensive aggressiveness is not limited to just their marks. Another immediately apparent element of Sockeye's defensive approach is their willingness to actively poach, switch, or help on defense, trying to clog active lanes and relying on their big, fast athletes to be able to close open spaces back down once a threat is stopped.
Madison responded to this challenge by generating much of their offense with their throws. By attacking early or to unexpected spaces, Madison kept the disc moving and took advantage of the separation Seattle's defenders gave them as they protected more typical spaces an offense will attack. It also meant Madison weren't putting the onus on their cutters to take on Sockeye's individual defenders in isolated one-on-one cuts or beat their defenders in contested plays. Let's look at some examples of what I mean.
I love this first throw. It shows both a shared commitment to a strategy and great chemistry, to pivot and throw before the cutter even moved. They just know it's going to work. Of course, because the defender isn't expecting this throw so early, the potential block just doesn't happen despite relatively tight coverage and Madison generates a look upfield to cutters on the breakside.
When Sockeye tried help defense, Madison had answers. Here's a cross-field deep throw, taking advantage of a force-side lane poach by quickly getting the disc into a spot that no defender can reach. It's not necessarily "pretty" offense, but it's really effective.
A similar concept applies here. Madison are moving the disc downfield, and Camp is poached off of by a defender trying to get a sneaky block right in front of the thrower. Camp moves away from the disc, across the field; note how he points into the space, telling the thrower where he wants it. Throwing a blade at someone's back isn't seen often, but Camp has plenty of time to turn and catch simply because of the space afforded by the Sockeye poach.
When you're outgunned by an aggressive or athletic opponent, trying something they aren't expecting is a great tactic. Madison had a bunch of turnovers in this game due to some rather unconventional shot selection, but when they worked, they provided a much-needed release valve for Sockeye's smothering defense.
This IO flick into space isn't something I can remember seeing much before, so it's little wonder that Sockeye weren't ready for it. It's wide, into space, and gets Madison power position. +1 for inventiveness.
Downfield Poaching
Madison also found ways to punish Sockeye with their own defensive strategy. Again, wary of the danger of leaving Seattle's big, strong cutters isolated in space, Madison consistently looked to poach downfield to provide help to their one-on-one defenders.
You've probably seen this clip of a footblock being caught again by the thrower, but pay attention to the Madison defenders in the foreground in the seconds leading up to that crazy moment.
The start of this set looks like a junk set, with defenders spread to guard the space. But notice how, as the disc moves, you see the active Sockeye players being guarded one-on-one, while everyone else is seeking to clog lanes and generally disrupt the offense. This kind of "person plus" defense is built around the idea that isolated cutters are just too difficult to stop one-on-one, and it is the responsibility of everyone else to help out as much as possible.
The same principle applies here. Madison #8 (Andrew Meshnick) is "marking" Mike Caldwell, but cheats off him into the middle of the field, clogging the active upfield lane and leaving MC alone in a space where he isn't going to hurt the defense. This allows Meshnick's teammate (Kevin Pettit-Scantling) who is guarding Matt Rehder to stay deep of the massive receiver without entirely conceding an easy in-cut. As Rehder comes under, Meshnick sneaks in front of him for the layout D, leading to a quick break. Meshnick is ~20m from Caldwell at the time he gets the block, punishing Sockeye for moving the disc too slowly.
Handler Switches & Poaches
Sockeye are famed for their small-ball offense. You'd think that most teams would refuse to use any kind of zone set against such a powerful set of handlers, but it's worth highlighting that Madison used a variety of different zone looks as well as their downfield poach schemes throughout the game. By sticking to their gameplan of disrupting flow, they were very successful and never allowed Sockeye to settle into any offensive rhythm.
One thing they did especially well was "Buzz Switching" on handler movement, a name coined by Sockeye during one of their many battles against the Buzz Bullets to refer to the seamless switching used by the Japanese champions to neutralize some handler movements. Here, twice in a row Sockeye run a reset behind the disc, aiming to generate break side continuation, and on both occasions Madison easily stop it with switches.
Buzz switching on the Sockeye behind dump
Another trick they might have borrowed from Buzz is the way that they cheat into the lane, briefly, before returning to play pressure defense on the dump. Here's one example where Madison poaches in the lane for two seconds — enough to stop the first open cutter from getting the disc — but returns to guard the dump before the Sockeye thrower actually looks for the reset. The result? Seattle doesn't get to hit the cutter, and turns to find the dump still marked out. This kind of "+1" defense was talked about a lot by Lou Burruss, but is still rarely seen at an elite level.
poach in lane for 2s then tight on dump
While neither of these handler defensive strategies frequently result in blocks, they do force an offense to throw more passes and disrupt consistent upfield flow, which can be increasingly frustrating, even for the best teams. Given that Madison scored three in a row at the end of this US Open matchup to earn the win, maybe their strategic choices kept Sockeye guessing and finally bore fruit right when required.
***
Sockeye remains one of the smartest and most talented teams in the club division. They will no doubt be hard at work to correct the strategic and execution errors that led to this loss as well as those suffered in Vancouver at the Pro Flight Finale. Still, by taking advantage of Seattle's aggressive marks and switches as well as smartly poaching both downfield and around Sockeye's handlers, Madison provided a blueprint that may help other opponents gameplan for Seattle.