Players from all three divisions calling for changes to external media partner requirements.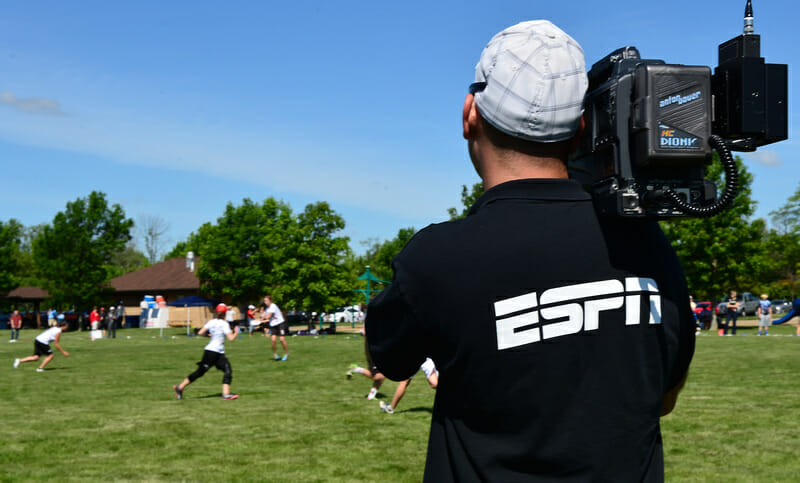 A consortium of elite club players — dubbing itself the Gender Equity Action Group — has released a statement encouraging USA Ultimate to further strengthen its gender equity policy, particularly in the area of broadcast media coverage.
The group — comprised of players on Johnny Bravo, Ironside, Machine, Revolver, Sockeye, Truck Stop, Brute Squad, Fury, Molly Brown, Nightlock, Riot, Scandal, AMP, Drag'N Thrust, Seattle Mixtape, and Slow White — makes a distinction between equality and equity with respect to video coverage. Currently, USA Ultimate's gender equity policy requires that an equal number of Men's and Women's Division games must be broadcast; the group takes issue with the lack of equality "in terms of accessibility or timing."
While not explicitly stated, this appears to take issue with the fact that ESPN3 showcases both Men's semifinals and only one Women's semifinal at the US Open and National Championships, and that USA Ultimate generally schedules Men's Division games in primetime slots.
"To achieve true equity," the group writes, "media coverage and USA Ultimate policies must prioritize visibility of female athletes over male athletes to compensate for the ways in which women have been historically and socially disadvantaged."
They add that USA Ultimate has "regressed in its approach to gender equity by preferencing coverage of the men's division over both the mixed and women's divisions" in pursuit of greater visibility for the sport, the #1 tenet of the current strategic plan.
Here is the group's list of stated beliefs:
No athlete is inherently less valuable based on gender and that, historically, female athletes have not been equally valued.
Equitable coverage symbolizes a commitment to eliminating institutionalized sexism pervasive in sport culture, and that a shift towards true equity in coverage will shift the conversation surrounding the value of women in our sport and inspire more women to participate in ultimate.
USA Ultimate, as an organization that represents its members' values and shapes the future of ultimate, has a duty to act equitably in an aim to reverse gender-­biases in our sport.
By investing in equitable coverage of female athletes, our sport will find a new path towards growth that does not inherently favor male athletes.
USA Ultimate's recent media agreements lack the transparency and equitable coverage necessary to elevate our sport toward its highest potential.
Success of USA Ultimate's vision for the sport depends on the wide support of its membership base, support which we believe is dwindling as trust has diminished in USA Ultimate's commitment to gender equity and lack of transparency.
Visibility should not come at the expense of equity and no broadcast partner is worth compromising our values.
The statement goes on to suggest new language for USAU's Gender Equity Policy (changes shown below in bold):
In an attempt to strengthen the ultimate community and ensure that the sport of ultimate remains an inclusive and welcoming sport for female athletes, USA Ultimate endorses a policy of gender equity. USA Ultimate will ensure that equitable coverage and promotion of women's divisions of play (women's and mixed) is equal to that of the corresponding men's division, and encourage require outside partners and vendors to achieve gender equity in their coverage of and marketing to ultimate. As long as the number of female players lags behind the number of male players, USA Ultimate will implement targeted outreach programs that strive to increase the number of female players and ensure equitable coverage of female players.1
The group wants to influence the ongoing discussions with external media partners in advance of a new broadcast contract; the ESPN3 contract expires at the end of the year.
The group asks for a response from USA Ultimate within a week of the submission of this proposal, which was sent to Colorado Springs yesterday afternoon. Their statement also suggests that more concrete requests about adjustments to USAU's gender equity policy are forthcoming.
---
The group's GEP suggestion does not include the addendum from 2013: "USA Ultimate, in order to promote and encourage the growth of female play in USA Ultimate competition, recommends the creation of comparable teams of each gender. In situations of unequal opportunity, reasonable accommodations should be made to include female participants." ↩