A new, relatively low-cost ultimate brand enters the uniform market.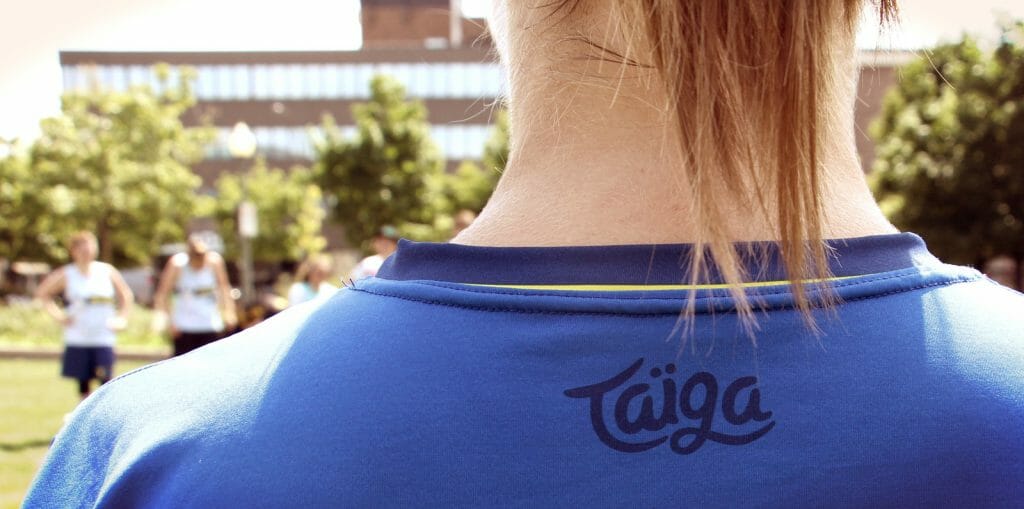 Disclosure: Ultiworld was compensated for writing this product review. All opinions are the reviewer's own and are not subject to approval from the Taiga Ultimate.
I'm not going to hide it, I tend to be pretty brand-loyal in terms of my ultimate gear. I know what I like and it takes a lot for a new brand to work their way into my rotation. But, I'm also loyal to the ultimate community and therefore all about giving companies inside the community the chance to step into my jersey rankings.
Last month, I received a few demo samples of jerseys and shorts from Taïga Ultimate, a new Montreal-based ultimate apparel company. Time to find out if I'll have to start making room for them in my closet anytime soon.
Team Jersey
Fit: 4.5 / 5
Being right on the cusp between sizes,1 I received two jerseys in a women's size medium and small. Both actually fit well, but I'd probably choose the medium — I'd rather a jersey by too loose than too tight.
I usually hate the fit of women's jerseys — the necklines are too tight, the sleeves are too short, and the torso length seems specifically designed to show some skin any time you extend your arms or jump in the air, things that tend to happen with some frequency while playing ultimate. Thankfully, these didn't fit like typical female jerseys; they fit more like a slimmer version of a men's jersey, which I prefer. They're also long enough to still cover your stomach if you're jumping or laying out — even the small, which was half an inch shorter than the medium.
Taïga prides itself on offering "customization at every level," offering to customize jerseys and shorts between sizes — perfect if you're that tall skinny guy whose jerseys are never long enough.
Feel: 3.5 / 5
The Taiga jerseys are made of 90% ultra-polyester fabric and 10% spandex, meaning they have a similar feel to most other synthetic jerseys (as opposed to cotton) and have some stretch to them. They're a little heavier than many other ultimate jerseys I've worn, but they seem to still be very breathable — I didn't notice them feeling any heavier or worse after absorbing a full-practice's worth of sweat and dirt.
Another big plus is that they have no tags inside to bother your neck or side, just light grey writing on the inside of the armpit — a unique placement for size and washing information, which I've never seen on any other jersey.
Shorts
Fit: 4 / 5
Among women, there seems to be two preferences as far as shorts go: the more traditional long shorts which have been the standard offered from most ultimate-specific companies and shorter, soccer-style shorts (Fury and Schwa, among others, have made the switch to these recently). Taiga's shorts fall into the former camp: on me, at 5'6", they hit just below the knees. Taiga claims to have intentionally made them longer "to protect your knees," although I'm not sure how much the thin fabric would help with that; whenever I hit the ground, no amount of shorts have ever been enough to guard against turf or grassburn and I'm not sure I trust these to be the first.
Again, Taiga does offer "customization within sizing" though — meaning that you can request longer or shorter shorts without moving up or down (waist) sizes. This seems like it'd be a huge benefit for mixed teams, where sizing preferences probably differ a lot.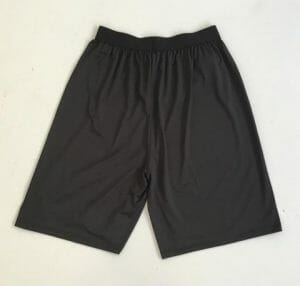 The elastic waistband is another thing that Taiga highlights in these shorts, emphasizing that they'll "stay tight on your hips and you won't even feel a thing." I like that the waistband is super thin and doesn't have a drawstring — other shorts have bulkier waistbands that hurt to land on when you lay out.
A friend who tried on these shorts did have one small complaint: the waistband is pretty tight, so you can't just easily slip out of your shorts — potentially a concern at the end of a long weekend when you're too sore or tired to even bend over. Seems like only a minor inconvenience to trade-off for the shorts staying on while you play.
Feel: 5 / 5
The material is made of recycled polyester. They feel like a much lighter version of the Five shorts, which I think is a plus — I feel weighed down in heavier shorts, especially when it's hot or rainy. It almost feels like you're not wearing any shorts at all, which, for me, is a plus in extreme heat.
I haven't yet had a chance to play in these in the rain or colder weather, so I can't comment on their drying time — but I'd imagine it's a lot quicker than other heavier shorts. The shorts also stood up well in the wash — no pilling, loose stitching, or loss of color.
Some of my friends who tried these on said they ranked up there with the most comfortable shorts they've ever tried on. While they're not as light as the minimalist-style Patagonia shorts, they're much more stretchy — an important factor to consider when you're getting super low on the mark and don't want your shorts getting in the way.
Other Products
In addition to team kits, Taiga also makes tanks, reversibles, and hats, though I did not sample any of these products and can't offer an informed review.
Design
Taïga offers full sublimation, screen printing, and embroidery options in-house. While I didn't work with anyone on designs (I received demo jerseys and a random set of shorts), Taïga seems to love and truly enjoy their customization process. Taking into account a captain's perspective of designing a uniform — the slow design process, strong opinions from everyone on the team, and back-and-forth communication with uniform providers or screenprinters — Taïga aims to streamline the process. Their website allows users to lay down the basics for the foundation of their design — choosing the color(s) as well as placement of designs, names, and numbers. In a text box, you can provide detailed information for their in-house designer to do more complex work like sublimation. When you're finished with an initial design, you get a unique ID number to share with your team; from there, other members can add tweaks or feedback on colors or fonts, each creating a new design. Teammates can then vote on a final design from whatever options have been added.
Once a design has been chosen, even the ordering process seems streamlined: instead of one player fronting potentially thousands of dollars, each player submits and pays for their own order. This is a huge benefit for college teams who may not have the budget to front that much money — and will certainly save the captain months of hounding their teammates to pay them back. Once the final order is placed, you receive the whole order in one package four weeks later.
Pricing
For full-sublimation, short-sleeve jerseys start at $42 plus tax; shorts are $38 plus tax. Spot sublimation for jerseys and shorts is $34 and $28, respectively). These prices seem to be actually a bit cheaper than other popular ultimate apparel companies, making Taiga a good value if your team insists on going the sublimation route.
***
Overall, I am pleased with the Taiga products I tested. While I'm not sure they will make me completely re-think any of my current brand loyalties, I would not be disappointed to have more of their products in my rotation. I hope they can carve out a market within the ultimate community.
---
For reference, I'm 5'6" with a thin frame. ↩