Riot has all the hallmarks of a pool winner, but after that, all bets are off for young programs with big dreams.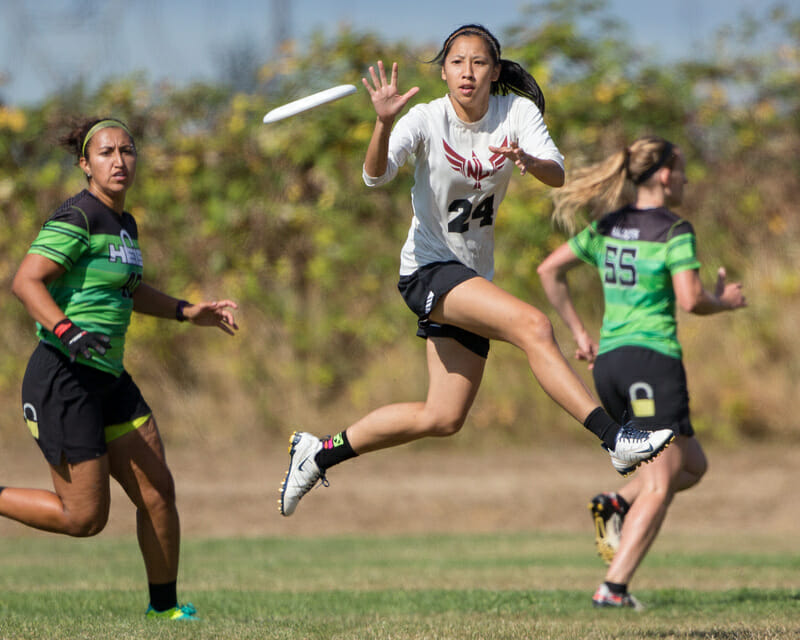 Ultiworld's coverage of the 2016 Club Championships is presented by Spin Ultimate; all opinions are those of the authors. Please support the brands that make Ultiworld possible and shop at Spin Ultimate!
Pool play at Club Nationals has not exactly provided many surprises over the last few years. Last season, all but two teams finished pool play in accordance with their pre-tournament seeding. This year, though, Pool A does provide a fair bit of intrigue.
Pool A, of course, features the number one overall seed in Seattle Riot, a team looking to cap off an exceptional regular season with its first club championship since 2005. The pool also features something of a rivalry in San Francisco Nightlock and Madison Heist.
Quebec Iris rounds out the group as the pool three seed; the French-Canadian club provide a nice story for the pool as well, making Nationals for the second time in their two years of existence.
Pool A is filled with multiple potential storylines. It holds not only the favorite to win the championship, but a favorite with a well-documented history and storyline to boot. Pool A also contains three young teams trying change the perceptions around them and further develop the foundations of their programs. The possible outcomes for each of the teams in the pool are as varied as they are in any pool and all four teams are ones to follow closely all weekend long. Before the teams settle it out on the field in Rockford on Thursday, here is the lowdown on each team in Pool A.
Seattle Riot [Pool #1, Overall #1]
Riot enters as the heavy favorite to win the pool and the favorite to win the whole tournament. The Rioters claim a well-earned number one overall seed behind a stellar regular season.
The team has lost two games all season and both of them came back in July at the U.S. Open, when the team was not at full strength. Since the return and acclimation of the team's great number of squad members who had been abroad for WUGC duty, Riot has not lost a game and took the crown at both the Pro-Elite Challenge and the Pro Flight Finale.
Truthfully, Riot should have little trouble winning the pool and locking up a berth in quarterfinals, foregoing prequarters thanks to the new tournament format. The talent on the Seattle club's roster is unparalleled in the group, and it might prove to be unparalleled in the whole division.
Both sides of the disc feature world class players and household names. Players like Rohre Titcomb, who will pull the strings as the primary handler on offense, Sarah Griffith, a near-uncoverable cutter, and matchup nightmare Jaclyn Verzuh, lead a star-studded roster.
But Riot's overwhelming success this season is not down simply to its level of individual talent. "The thing that has been so exceptional this year has been that we have been able to utilize our depth in a way that we haven't been able to in other seasons," says Titcomb, "Everybody is competing. That's what allows us to be successful late in tournaments and in those big games. … There are so many people who can step in and have impact, and share that load across the entire team."
Titcomb credits that success to the team's switch to a vert stack offense as well as another year of gelling as a unit. Riot has ridden those two things to its first number one overall seed since 2010. Riot knows better than any team, though, that such feats mean nothing if a championship is not won.
Last season Riot finally bested its longtime foil San Francisco Fury with a swashbuckling performance in the semifinal round. As it turned out, though, the exorcism of those Fury demons proved to be for naught. After a bright start in the final, Riot were overrun by Boston Brute Squad and the club's title drought extended to 10 years.
Riot has obviously had impressive seasons come up short in the past, but this year feels different, Titcomb says. That difference comes from a heightened urgency in the now caused by the team being separated at the beginning of the season. "I think it feels different in that we have an urgency. It feels like people are like, 'Alright we have a job to do. I'm not here to fuck around.' [We've had] an urgency around improvement that has really benefitted us."
In the past, Riot has perhaps placed too much emphasis on a single game or single opponent, Titcomb admits. In order to overcome that this year, Riot will have to strike a balance between playing up for the big moment and getting bogged down by the weight of it.
Titcomb says finding that balance is all about attacking each moment of each game individually, regardless of opponent. "Coming in as the one seed, you want to have swagger," she says. "Yeah, we beat everyone at the tournament and we can do it again. But there's also the obvious need to temper that with a reality check. Just because you beat a team once doesn't mean you're going to do it again. When I think about Nationals, [I think,] 'great, we know what we're capable of, but we have to go and show it again. It's not enough to think you're a great player, you have to go and be a great player, right now, this point, this game, every single point until our season is over."
Riot is perfectly poised to end their title drought this season. They have the talent and experience and they appear to have the right mentality. That will not be known for sure, though, until Sunday.
Likely Ceiling: National Championship
Likely Floor: Semifinals
San Francisco Nightlock [Pool #2, Overall #7]
Nightlock is celebrating its fifth year as a club with its fifth year at Nationals. The team has finished tied for seventh each of the past two seasons and will seek to top that finish this year and take the next step as a program with an aim at a place in semifinals.
Nightlock opens their tournament by playing Heist and then plays Iris in round two. Those two games will likely determine who finishes second in the pool and set up a theoretically easier matchup in prequarters. For a team that wants to break into the next tier in the women's division, getting off to a strong start in pool play will be essential.
The Bay Area club will strive for that new zenith by playing with a gritty energy that the team has used to define itself since its inception. Nightlock aims to bring a single minded focus to Nationals, playing sound all-around ultimate and and relying on its entire roster of solid players rather than depend on a handful of stars to carry them.
That said, they do have a handful of players to keep an eye out for in particular. When at her best, Briana Cahn is perhaps Nightlock's best player. She attacks with her legs, but improved throws have allowed her to set up more continue options and give-and-go's. Claire Sharman provides an invaluable consistency and dependability for her teammates and is rock solid on defense. Emmy Kolanz and rookie Bethany Kaylor have put together noteworthy seasons as well for San Francisco.
Nightlock will need high-end performances from its entire roster if they are to disrupt the balance of power in the division. But the team knows it cannot get ahead of itself either. Says coach Liz Penny, "For us, it's about growing the program by deploying sound ultimate play-by-play, and game-by-game, while also riding the mental and strategic edges of Nationals with flexibility, verve, and a mental game worthy of the one through four spots [in the division.]"
Winning the pool will very tough for Nightlock, even if they are able to employ that mentality, but second place in the pool is very much up for grabs. If the club is able to grab that second place finish in the pool and win its prequarter, then all of a sudden semifinals are just one game away. Nightlock has been in that position before, but will try to change the outcome and the landscape of the women's division this time around.
Likely Ceiling: Quarterfinals
Likely Floor: Done on Day One
Quebec Iris [Pool #3, Overall #12]
The darlings of last season's club championships, Quebec Iris returns to the show for the second time in the club's two year history. Iris snatched Toronto 6ixer's bid in the Northeast and enters as the pool three-seed and tournament 12-seed.
Iris entered Regionals as the five-seed in the Northeast but put together an impressive weekend to secure the team's spot in Rockford. The Quebec ladies lost just one game — to eventual regional champs Brute Squad — and were 4-0 against the other higher seeds in the tournament. Most impressive of all, Iris defeated a strong Toronto team not once but twice, including a relatively comfortable 15-11 win in the game-to-go.
The season got off to a rough start for Iris. With many of the team's top players in London for WUGC, the team brought a young squad to the U.S. Open and went winless. The roster grew closer to full strength throughout the season and a second place finish at the Chesapeake Open showed their potential.
The team finally fielded its optimum roster at Regionals, where they looked like a team capable of winning a game or two in pool play at Rockford. Any wins in pool play would be an improvement on their Thursday performance from a year ago, when Iris went oh-fer against Molly Brown, Traffic, and Nemesis.
But improving on last year's results is not really Iris' goal this year. "Honestly, we won't change anything [from what we did last year]," said Iris head coach Mathieu Bordeleau. "Yes, it is our second year, but those amazing programs [Riot, Fury, and Brute Squad] were built on the long run. We are still implementing our team's culture and values. So our objectives are more about that than the final result at the end of the week."
With that said, Bordeleau still likes his team's chances at winning games this weekend and in pool play. "The only thing I want is to my players to believe that they belong there, that they belong with those teams. Our message is to live in the moment, in the present, Not in the past nor in the future. If we manage to do that collectively, we will have great games!"
With players like Audrey St. Arnaud and Jessie Grignon-Thomas — important players on Team Canada's women's team at WUGC — and Marie Genest, Iris certainly does belong on this stage. Sophie Dagenais, in her first year of playing competitive ultimate, was second in the division in scoring at Nationals a year ago and she will be a downfield terror this season as well. Audree-Jeanne Beuadoin is a lockdown handler defender and an important player, too.
So while Iris focuses on the development of a winning culture for the future, they still have the ability to win games at Nationals right now. With their fast-paced, entertaining offense, Iris will surely entertain this weekend in Rockford. If they play as well as they did at Northeast Regionals, then they could garner some wins to build that bedrock of success that they are striving for while they are at it.
Likely Ceiling: Quarterfinals
Likely Floor: Done on Day One
Madison Heist [Pool #4, Overall #13]
Madison Heist, like Nightlock, is in its fifth year of existence and is making its fifth straight Nationals appearance. Though the bottom seed in the pool, Heist will like its chances of logging a win or two on Thursday. Heist has yet to play Iris this season, but are 1-2 against pool two seed Nightlock, with all three of those games being decided by one point.
Nightlock, actually, represents something of a rivalry for Heist. The two have now been paired in the same pool for four straight Nationals, and with both teams having been formed in the same year, the two teams represent interesting measuring sticks for each other.
"Our teams started in the same year, and it really is kind of a neat tradition to keep seeing them at the biggest and most important tournament of the year," said Heist captain Rose Glinka. "We've created a solid rivalry, I think both teams welcome the battle, and we generally find ourselves in some intense and high-energy matches."
This year, the rivalry game could be the key game of the pool. With the three teams behind Riot conceivably capable of finishing in any order, the friendly rivalry match will carry as much weight as it ever has on Thursday.
Unfortunately for Heist, they have not been at full strength all season long, and that will continue this weekend. Robyn Wiseman, who was named to the Team USA mixed roster for WUGC, has been out for the season with an ACL injury. Heist still boasts a fine amount of talent on the roster though.
Georgia Bosscher represented the club on Team USA's women's team this summer and is a stellar athlete. Also a solid thrower, Bosscher is an elite distributor of the disc and will be crucial to Heist's success this weekend. Liza Minor, Heist's other captain, will be critical this weekend, too. Minor's speed as a cutter opens up the field for the rest of her team. Her confidence, aggression in the air, and overall competitiveness set the tone for Madison. In the backfield, Emily Langland, Liz Gronnert, and Kayla Emrick do the dirty work, though Langland is skillful at finding upline space of her own.
Heist has had an up and down year to this point, but they have made it to the big stage and have a good chance at making it to prequarters. Glinka made sure to note the team's excitement at playing in a tournament that is geographically close to home, and with little to no pressure on them, the team could come up with a surprise or two this weekend.
Likely Ceiling: Quarterfinals
Likely Floor: Done on Day One