The anatomy of Brute Squad's comeback from trailing 10-8 to winning 12-11 in the National Championship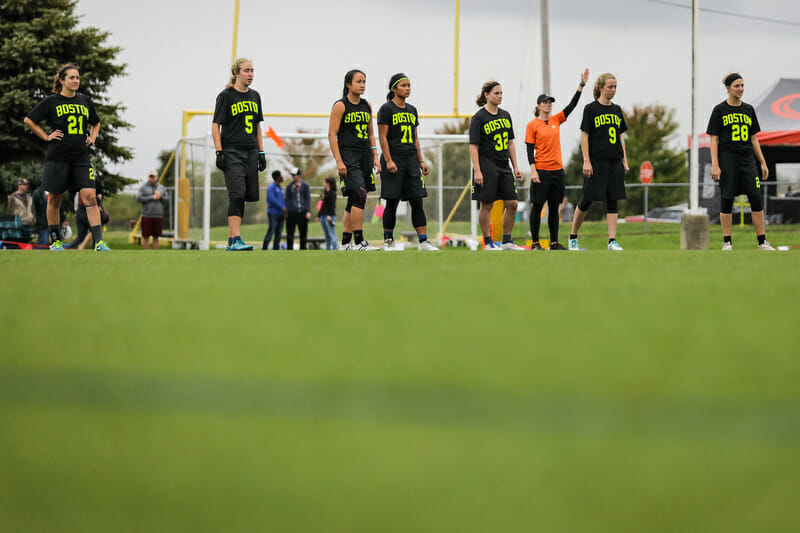 Ultiworld's coverage of the 2016 Club Championships is presented by Spin Ultimate; all opinions are those of the authors. Please support the brands that make Ultiworld possible and shop at Spin Ultimate!
When Rohre Titcomb dropped her hips and delivered a pinpoint low-release inside forehand past the chasing left hand of Claudia Tajima, it found her Riot teammate Calise Cardenas in the endzone, putting Riot up 10-8 in a game to 12. Brute Squad was in a nightmarish hole, having just conceded a break and moving to the brink of relinquishing their title. It was the second time in three points that the Seattle defense had punished unforced miscues from the Brute Squad O-line. Now, the game looked nearly in hand for Riot as Alyssa Weatherford signaled to pull.
We know what happened next. Brute Squad roared back to life, pressuring Riot's offense into errors they couldn't afford and mercilessly striking once they got the disc. Three straight Boston goals later, Seattle found themselves in need of a hold just to keep their championship dreams alive. In a span of three minutes of action, Brute Squad fought themselves back into championship position. Each team held in a single possession on the game's final two points, clinching a second straight Championship for Boston.
How in the heck did they do it?
Defensive Depth
There are plenty of differences between Brute Squad and Riot, but one of the most obvious was their substitution strategies. For Boston, their offensive and defensive units were fairly strict, while Riot ran a pod-based approach that grouped players together but asked them to step up in various situations. And while both teams use their depth as a weapon, it was Brute's late game trust in their bench that helped them stay fresh.
With Seattle holding a 9-8 lead, Riot sent out Kelly Johnson, Angelica Boyden, Hana Kawai, Sarah Griffith, Jaclyn Verzuh, and Calise Cardenas. They lined up across from Boston's mostly-standard offensive personnel: Leila Tunnell, Amber Sinicrope, Claudia Tajima, Lien Hoffmann, Laura Bitterman, Becky Malinowski, and Molly Hallweaver. Despite just a single turn, what ensued was tied as the game's second longest point.1 Both offenses worked the field with hard cutting against person defense. Riot dictated in the cutting lanes — especially Hana Kawai versus Laura Bitterman — and Boston's offense lagged until Titcomb's forehand break throw earned them the two point lead.
It's what comes after that point that changed the game. That core Boston offense didn't take the field again until double game point, well-rested and focused. Four players from that Riot line got two points off before they went on for three straight, not leaving the field until their season was over. Brute Squad sent out their D-line on offense — a common strategy they have used all season — and got a turn-free hold. Some new legs went on, and aided by a Verzuh red zone miscommunication, wound up lining up a break thanks to Angela Zhu's interception on an inaccurate Julia Snyder break throw.
"We faced a lot of adversity as a team and as individuals, so it was another opportunity for us to come together as a collective and stay mentally tough and know that we could do it," said Sinicrope, one of the longest tenured vets on Boston. "Trust our teammates and trust all 27 players and our coaches to do what they do best."
Boston then turned to an entirely fresh seven, comprised of some height and experience, that worked together to run the Brute Squad four-person cup zone. It paid dividends almost immediately, yielding a break and putting the pressure on Riot by taking an 11-10 lead. Riot swapped three players on the line, sent the same group back out, and with added poise, they calmly outwitted the Brute Squad zone, forcing a transition that opened up space for Cardenas and Griffith to connect.
Now, it is double game point. Double season point. Double championship point. Riot's line: Boyden, Griffith, Kawai, Johnson, Titcomb, Charlie Eide, and Fiona McKibben. While McKibben and Eide were fresh, the remaining five had played an average of almost ten points each — over 26 minutes of game time, almost half of those minutes in the game's shorter second half — and four of them had been on for two straight points.2 Brute Squad's seven: Tunnell, Tajima, Sinicrope, Hoffmann, Malinowski, Bitterman, and D-line star Kami Groom. That group averaged around eight points a piece in the final and under 24 minutes of play time leading into the game's final point. Aside from Groom, they had just been resting for quite some time.
What followed was a clinical finish from Brute's O'line.
Given the relative freshness of Boston's legs compared to Seattle's at the most critical junction of the game, it makes sense that Brute Squad was able to outrun Riot to the open side for nearly every completion of the game's conclusive possession, including the title-clinching score.
The Changeup: 4-Person Cup
When you talk about Brute Squad's strengths, there is nothing more front of mind than high-pressure person defense. This is a team that spends most of their defensive points breathing down cutters' necks like wolves on the prowl. They devour the composure of the offense, creating block opportunities for their downfield speeders and force misthrows with buzzing marks.
Yet, with the game tied 10-10, Boston whipped out a defense they had yet to utilize in the game. In fact, they hadn't even really used it or worked on it much until the lead-up to Nationals. But it had its slot in the rotation and it worked like a charm.
"We threw it in as a way to mix up, especially when we were going upwind to try to get some short field turnovers and it was really successful," said Brute Squad coach Ariel Jackson. "We kind of had a small rotation of players that did it and so they were really able to refine it."
That's as succinct a description of what happened as you can get.
A great pull from Dory Ziperstein allows her and the rest of the defense to set up in great position while the Riot vertical stack tries to reorganize. The Seattle backfield scrambles to get into position while facing down Vicky Negus, Aly Heath, Sarah Cook, and Ziperstein. They wall up in front of Titcomb and Boyden, forcing them towards the forehand sideline. Perhaps frantic, surprised, fatigued, or some combination, Boyden casually releases a forehand too high and Titcomb's fingertips are all she can get on it. Even if this throw had been caught, Riot's offense would have been pinned to the sideline in a compromising spot just a few yards away from the coffin corner.
After the turn, Cook picks up with Titcomb on the mark, indicating a forehand force back to the middle of the field. Her mark is desperate to get a block as she slides further and further into the forehand lane. Cook wisely moves the mark with great fakes, even drawing her eyes to the middle of the field, and opens up space for an around backhand break that gives Boston the lead.
The very next point, Boston somewhat brazenly throws out a nearly identical line running the same zone. This time, Riot confidently unravels the look. The second time, they knew it was coming. A team that smart dissected the defense on the fly, so maybe it was only good for the one turn anyway. But it was exactly what Brute needed and the coaching staff wisely saved it for just the right time.
Clutch Efficiency
With the game on the line, Brute Squad willed the final points to be contested on their style of play. Predicated on stout defense and offensive efficiency, Boston cast aside the grinding matchup the game had become. To this point in the game, the tempo had favored Riot and helped them gain their advantage. Now it was time to play Brute Squad ultimate.
A brief look back at the semifinals shows you the results of this recipe. Brute Squad had 15 turns in the first 17 points of their semifinal versus Molly Brown. At that point, they were up 9-8, having just been broken. In the game's final six points — five of which were scored by the future champions — they conceded possession just three times. The same cannot be said of Riot's semifinal against Fury, which was marked by wild changes of possession from start to finish.
On Sunday in the final, Boston had 20 turnovers through the game's first 18 points, an even higher rate than against Molly Brown. And it was working for Riot, who owned a 10-8 lead. Over the final six points of Brute's resurgent comeback, they had just one turnover. Over that run, Seattle had three of their 22 total turnovers.
Not only did Riot give up the disc, but they did it in truly painful field positions. As shown above, Boyden's throwaway against the zone set up Boston in the red zone. The other two turnovers: Verzuh's goal line throwaway that would have put Riot up 11-9 and Snyder's throw that was intercepted by Zhu in Boston's attacking half. That's a turnover with no stoppage in play, no less.
Once the game was on Boston's terms, they regained control. Much like the disc, they refused to relinquish it. With that attitude, they retained possession of one more thing: the national title.
---
It should be noted that part of this was due to a contested foul call by Rohre Titcomb against Kami Groom that otherwise would have been a first throw Riot turnover ↩

The loss of Qxhna Titcomb to injury should not be overlooked, as it taxed the Riot handlers over the course of the whole tournament ↩