Minneapolis has two teams in Pool C, one is the clear favorite and the other no one saw coming. How will Cincinnati and Boulder mix in?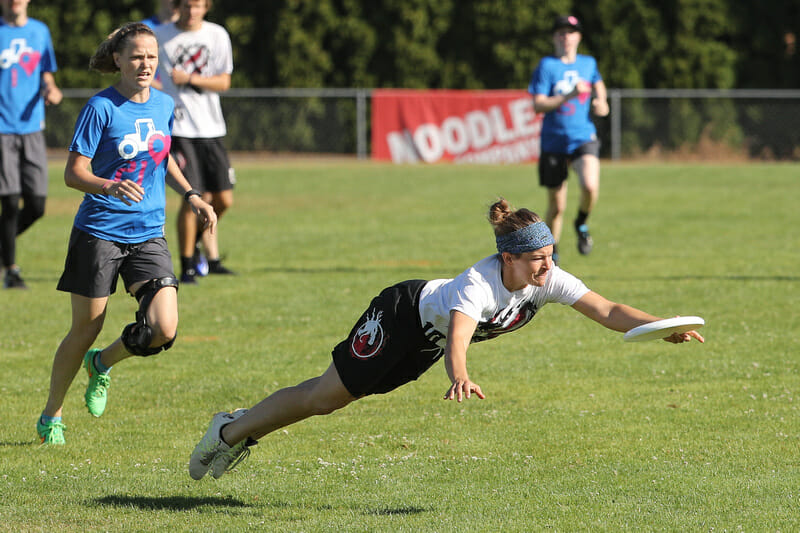 Ultiworld's coverage of the 2016 Club Championships is presented by Spin Ultimate; all opinions are those of the authors. Please support the brands that make Ultiworld possible and shop at Spin Ultimate!
Minneapolis Drag'n Thrust [Pool #1, Overall #3]
Minneapolis Drag'n Thrust heads to Rockford looking to bring home their fourth national championship in as many years. Their star-studded roster is filled with talent, experience, and leadership. Minneapolis has an incredible strong D line that is able to keep them in any game, as we saw when they went down 1-7 versus AMP but came back to win the game at the US Open early this season. In addition, their experience playing on this stage and mental toughness can't be ignored.
Drag'n Thrust only has one victory over a top-7 team (the aforementioned matchup versus AMP) and hasn't been in the finals of a single TCT tournament in 2016. They've lined up against Love Tractor once prior this season, winning 13-9, and handedly beat No Touching twice (12-4 and 13-5). Drag'n Thrust and Steamboat will face off for the first time in 2016 during pool play on Thursday. Drag'n Thrust has a tendency to peak at just the right time and knows what it takes to win at this level.
Likely Ceiling: National Championhip
Likely Floor: Quarterfinals
Cincinnati Steamboat [Pool #2, Overall #6]
Cincinnati Steamboat has had a strong overall season. With an impressive 28-1 record, including winning the Elite-Select and Select Flight Challenges and beating a tough UPA team to earn the Great Lakes' only bid. After beating Love Tractor earlier in the season at the ESC, LT dealt Steamboat their only loss of the season at the Pro-Elite Challenge in July. The two teams will face off in the second round of pool play on Thursday.
Cincinnati relies on the chemistry and flow of a core of O line, which can be hard to slow down. They have a primarily male handler corps that will take shots into small windows for female receivers to make plays on, such as these two examples from their season recap video:
Jeff Kula and Tim Settles will dominate Steamboat's touches behind the disc, both capable of cheeky breaks and laser hucks. Nancy Haskell and Brittany Winner stand out among their cutters, but will earn blocks with their athleticism as well. Ryan Gorman is their do-it-all player, though, often going from one end of the field, as the deep in their zone, to the other, using his speed and height to reel in goals.
Check out Winner juke her defender into the next zip code to earn this goal from their regional finals win over UPA:
Throughout the season, they have been successful adapting their defensive strategies for their opponent and game situation. They've been tested a number of times throughout the season, including facing a talented UPA team at regionals to solidify their spot at nationals, and hope that this will prepare them for the high-pressure stage in Rockford.
Likely Ceiling: Semifinals
Likely Floor: Prequarters
Boulder Love Tractor [Pool #3, Overall #10]
Boulder's Love Tractor is making their second consecutive nationals appearance after an up and down. Tractor had a strong showing at the Pro-Elite Challenge, winning the tournament in their hometown, but struggled down the stretch at the Pro Flight Finale and again at South Central Regionals. Boulder has faced Minneapolis Drag'n Thrust once in 2016, at the Pro Flight Finale, where they lost 9-13. They'll look to settle the score with Cincinnati Steamboat, after splitting games with them 1-1.
Love Tractor has a solid team mentality and will hope to learn from their nationals appearance last year. They'll rely on the impressive and consistent play of former Bravo captain, Jack McShane, on both sides of the disc. David Protter and Mia Zutz will continue to play solid D – slowing their opponents and keeping LT in any game.
Likely Ceiling: Quarterfinals
Likely Floor: Done on Day One
Minneapolis No Touching [Pool #4, Overall #15]
Self-proclaimed "people who didn't make it past tryouts" and "masters who didn't want to the club season seriously," No Touching comes into Nationals as an unknown. Hailing from Twin Cities, Minnesota, No Touching knocked off a strong CLX in the game-to-go for the Great Lakes.
While what to expect from No Touching is something of a mystery, we know that they like to isolate their women downfield and rely on the handling skills of their men. We also know that No Touching has an older roster with more than 16 players qualifying for masters or grandmasters. As a result, they rely on team D to help alleviate some of the mismatches of more youthful opponents. While they rely on contributions from many players, do-it-all standout Sam Valesano is sure to make some noise on both sides of the disc and up and down the field.
No Touching has faced off twice against Drag'n Thrust in 2016, both meetings ending in favor of Drag'n (4-12 and 5-13). No Touching will line up against Love Tractor and Steamboat both for the first time in Rockford.
Likely Ceiling: Prequarters
Likely Floor: Done on Day One