USAU has responded to concern about the new YCC rules.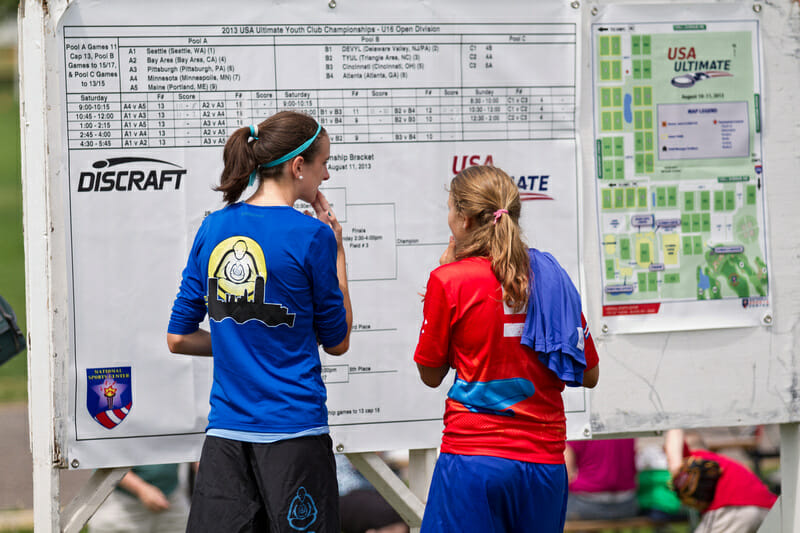 USA Ultimate continues to recap its Competition Working Group meetings that help set the agenda for the upcoming year in each division. Here is a summary of the changes and suggestions from the Youth Working Group.
After major changes to eligibility requirements were announced for the Youth Club Championships (YCC) last week, the Youth Working Group spent much of the weekend working to clarify the new rules and specifically designate exceptions and the process by which players can apply for one. Many youth organizers around the country were upset about the new rule that requires players to have competed in their USA Ultimate-sanctioned state tournament in order to be eligible for YCC in the same year.
The Youth Working Group updated the 2017 Guidelines and released a statement with more explanation of why the changes were made. Here are some important highlights:
"The intention of the new guidelines is to encourage an increase in interscholastic play at the state level, as well as general support of youth development programs…We recognize that more robust State Championships require growth in youth memberships. Incentivizing local organizations and teams to participate in USAU programs, which require USAU memberships, allows USAU to financially sustain and advance youth development nationwide."
"All players who participate at a USAU State Championship or approved Qualifying Event" are automatically eligible for YCC.
The following players are also automatically eligible after completing an exception form: "players who attend a high school that sends their top team to…a USAU State Championship or approved Qualifying Event;" players not yet in high school; and players who attended YCC 2016, have graduated from high school, and do not turn 19 before June 1, 2017. (This grandfathers in most college freshmen.)
The following players may be eligible after completing an exception form and getting it approved: players from an area that does not host a USAU State Championship; players that are from an area that struggles to reach roster minimums, "especially in girls and mixed;" players that are in "non-traditional school settings;" and players from schools that do not have a team but "are actively working towards a school-based program."
"Players are encouraged to apply for exceptions; many will be granted. Additionally, compiled data from the [exception] form will directly shape youth outreach and policy moving forward."
It is not clear whether the new rules will permit states that host their own Championships not sanctioned by USAU (e.g. Washington, Vermont) to send players that compete only in the locally-run Championships to YCC.
Other discussions from the working group included the following:
With YCC and the US Open overlapping in Blaine, MN, this August, the YWG is looking for "opportunities for youth teams to watch showcase games" from the Club Division.
They are considering "strength-based divisions at YCC, with opportunities for teams to move up or down across divisions based on their play at the tournament."
They are considering "rules for international teams' participation at YCC…to balance the unique opportunity for international experience with competitive fairness of domestic youth club competition."