Many of the east coast's best teams are taking the field in the year's first major event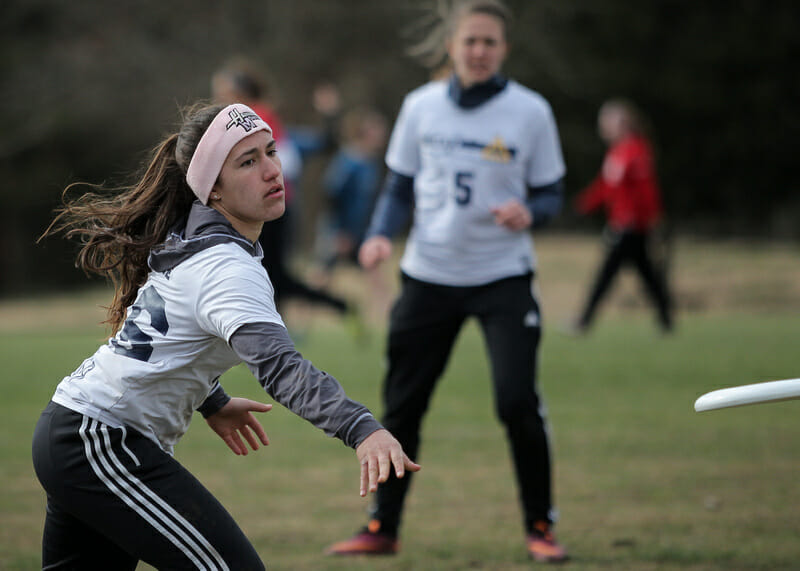 Ultiworld's women's reporting on Queen City Tune Up 2017 is presented by VC Ultimate as part of their season-long support of our women's coverage. All opinions are those of the author. Please support the brands that make Ultiworld possible and shop at VC Ultimate!
As the calendar flips to February, it is time for Queen City Tune-Up, one of the landmark events of the women's season. While Florida Winter Classic and Santa Barbara Invite were nice appetizers with a handful of ranked teams, QCTU features a rich batch of competitors and potential strength bid winners. Multiple regions predicted to be on the bid bubble have representatives in the field and some teams with eyes on a top 10 slot in the Power Rankings have a chance to take a stand.
Tournament Profile
Date: February 4-5

Location: Charlotte, NC

Weather: Highs of upper 40s to lower 50s, 7-10 mph winds

Top 25 teams: 9
Pittsburgh, Michigan, and North Carolina Vs. The Hype
#9 Pittsburgh Danger, #10 Michigan Flywheel, and #14 North Carolina Pleiades are the three highest ranked teams in attendance that haven't taken the field yet. For all three, there's been an increase in expectations.1 This weekend stands as a chance to justify them.
You can't deny that Pitt's a team on the rise. Last year, they captured the Ohio Valley title for the first time and acquitted themselves nicely at Nationals. Along the way, they had notable performances at elite events; this wasn't a team that got hot, they were legit. In fact, they kicked it all off by getting to the final of QCTU.
Now, with most of last year's roster back, including the powerhouse duo of Carolyn Normile and Linda Morse, Pitt's thinking about more than just bursting onto the scene. Last year, they traveled to Charlotte as the No. 12 seed; this year, they arrive as the first seed. While they don't have the third point in last year's triangle of Normile, Morse, and Vaughan Skinker,2 their wealth of returning talent points to a team that will be deeper and able to win more matchups down the line. Katie Cleveland, Caterina Pagano, Sarah Russek, and Megan MacGillivray are all back in the fold. Expect freshman Jessie Sun and sophomore Katie Schreiber to be impactful this year.
No. 3 seed Michigan Flywheel shares a lot in common with Pitt. They went deep into the bracket at this tournament last season, falling against Pitt in the semifinals. Flywheel's got their biggest names and key contributors back: Hannah Henkin, Tracey Lo, and Leah Bar-On Simmons. Lo and Henkin are lethal as one of the women's divisions top handler duos, and Bar-On Simmons provides the juicy target downfield.
But like Pitt, it's the names down the roster that could make Michigan really shine. Returning are Nina Janjic, Grace Denney, Liz Benedetto, Brittany Wright, Amy Stoddard, and Phoebe Hopp. Vivian Chu's come over from Illinois to help replace some of the experience Michigan lost last year. They spent 2016 developing stronger cutters to go with their expert throwers, and now they've got a wealth of capable targets.
It's a little bit different for North Carolina Pleiades. The No. 5 seed didn't have the breakout success of Pitt last year, nor the consistent recent strength of Michigan. This year's talented squad would love to end their four year Nationals drought. And this team's rising expectations has more to do with the emergence of stars.
UNC is led by the indomitable Jenny Wei, a valkyrie in the deep lanes, and very capable at attacking from other parts of the field. Seeing where North Carolina is using her will be interesting, as they have options to use her as a cutter or handler. That's helped by the addition of Lindsay Soo, who played with Wei on the All Star Ultimate Tour this summer, and was one of the top D-III players at Wake Forest. She's a big target downfield and tough defender. Elisabeth Parker, Joy Chen, and Vany Nguyen will be tasked with managing the handler duties, and their continued development will help North Carolina manipulate their personnel to fit their strengths. If sophomore Bridget Johnson can demonstrate she's ready for more responsibility, that only aids Pleiades' cause.
The field isn't going to give anything to these three. There's a fair chance one of them surpasses expectations and another falls short. And while each has their own path to success this season, their starting points have a lot in common. North Carolina has the additional pressure of gunning for a second bid for the Atlantic Coast. Time to see who is ready to get started and who is falling behind.
Slow Start All Part of the Virginia Plan
If it ain't broke, don't fix it, right?
#11 Virginia Hydra has been dominating in their region for five years now, but they capped out in quarterfinals at Nationals time and time again. In 2015, they won QCTU, and they made semis in 2014. But 2017 was the best season in team history and it started with an unnerving QCTU flop where they didn't even make it to the quarterfinals. It's shocking news, but it turns out you don't make it to semifinals at Nationals in early February.
That's good news for UVA, who didn't lose any games at Winta Binta Vinta Fest a few weeks ago, but certainly lost some clout. An inefficient offense made for some close games in bracket play: they needed a second half comeback to beat UNC Wilmington and just held off Liberty on double game point in the final.
"Overall, I think we looked a little rusty; we made some uncharacteristic drops, we lost our cutters on defense, we threw some ill-advised passes to some poor cuts, etc." said Hydra coach David Allison. "We had one practice prior to this tournament so I certainly didn't expect a polished product, but I think as a team we all expect better."
The team tried to make some on-the-fly adjustments and employ new tactics, Allison added. He threw some complexities at the team in an effort to test them mentally while they were simultaneously exerting themselves physically. It pried the team's focus apart a bit and lowered the level of their execution.
Ultimately, however, Allison is hoping it made the team better. He heaped praise on the teams they faced, so maybe the competition level was higher than it appeared. Virginia probably won't come out as flat in Charlotte this year as they did last year; WBVF was canceled last year, robbing UVA of their typical season opener. However, Allison and his charges have always had the bigger picture in mind.
The Southeast's Quest for National Relevance
As a region, the Southeast has not been very strong nationally, with one exception: Central Florida. You take away UCF, and the Southeast hasn't had much else to offer on the national stage over the past six years3. Well, Central Florida's basically out of the picture.
The past few months, however, have given rise to hope for fans of the maligned region.
#18 Georgia Tech Wreck received a lot of press leading into the season, and will start their year in Charlotte. They've earned a lot of praise, finishing second in the Southeast last year, and returning nearly everyone. But the modern program still has yet to notch a signature win over any notable out of region competition.
Meanwhile, #20 Florida Fuel burst onto the scene with an appearance in the Florida Winter Classic final against Dartmouth. The hometown team put up an impressive game and fought their way into contender status. Like GT, they return a strong group of players, both cutters and handlers, but have not scored signature victories.
Both teams enter this weekend with a chance to become the favorite to take the top spot in the Southeast. Georgia Tech, the No. 7 seed, was down as the 15th seed this time last year; Florida's No. 6 seed speaks to the ballooning perception. But now they need Ws to support the thesis that they can make the Southeast a real part of the bid conversation and take Central Florida's spot in the national landscape.
Each of these teams has good depth, but also some standouts who will have a big impact at QCTU. Georgia Tech gets a lot out of mileage from Julia Ting, Taylor Hartman, Ashley Brown, and freshman Ollie Peterson, all capable of splashy plays downfield and going toe to toe against most teams' top players. But they've worked to cultivate depth, and the products are players like Bridget Nabb, Dana Rose, Allison Wong, and Jennifer Yu. Their offense is fairly versatile, and they've been known to run junk looks to fluster opposing offenses.
Fuel made a big statement at Florida Winter Classic in making it to the final. They looked strong going through #22 Vermont to get there and gave Dartmouth a real push. Kelsea LeBeau earned a lot of props with her ability to stretch the field with her backhand, but UF got big plays from Tori Taylor, Courtney Testa, Lucy Berman, and Danielle Cordes. Those five will be asked to take on a lot of Florida's toughest matchups. Typically a team built on discipline, new coaches Dustin & Kate Travaglini have the team turning more to their speed on offense and have a sharp focus on tight marking.
While both teams will be internally focused, they'll actually really need each other to perform well. If one has a great weekend but the other stumbles, the Southeast could have their one bid fears come to fruition. But if they finally knock out some big name fighters, the Southeast could become rife with unfamiliar opportunity.
The North Central Battle Begins
Many expect the North Central to extend their streak of one bid years to four in 2017. There are a few holdouts – two of our writers predicted they'd earn a strength bid in our College D1 Women's Primer – but the early power rankings don't share that optimism. Wisconsin Bella Donna and the Minnesota Ninjas, formerly the last two teams in the top 25, have fallen out while inactive, leaving #21 Carleton Syzygy as the lone holdout.
It was last year's QCTU that rearranged the order in the region last year. Carleton was the season's first shock upset, falling 10-5 to Case Western Reserve and then taking an L to Colorado College. They fell from #16 to unranked and never returned. Meanwhile, Minnesota made a big splash, going 6-2 and finishing 5th at the tournament, and remained the top ranked team in the region until Wisconsin usurped them to take the only slot to Nationals.
This year's seeding has the teams clumped together, but still No. 9 seed Carleton ahead of No. 11 Wisconsin and No. 12 Minnesota.
The positivity around Carleton stems from more polished talent. Many of the teams core members are back and better for a season of hard knocks. Caroline Sheffield, Claire Thallon, Katie Ciaglo, Claire Rostov, Emily Kampa, and Emma Nicosia all played heavy minutes in 2016, except Ciaglo, who might be the most talented of the group but has not been able to stay on the field. Rookies Emma Gauthier, Maya Powell, and Emma Goidel immediately make the team stronger; Gauthier's one of three Carleton players to get a U24 tryout invite. There's not a shortage of talent for Syzygy, but their struggles with execution last season doomed them, and will need to be shored up for this season.
But Wisconsin is knocking on the door. The big news for Bella Donna is the enrollment of Brittney Kokinos. She's finally going to play with the team and has been playing well for Heist the past few club seasons. Considering the team lost last year's top cutter and top handler – Lo Guerin and Anna Hrovat-Staedter, respectively – who were probably also their best two defenders, they could use an infusion of talent. Anneke Vermaak gets the keys to the offense, while Caitlin Murphy, Sarah Mondschein, Jackie Welsch, and Sabrina Hoffman should see expansion in their roles.
Minnesota suffered from college ultimate's natural attrition, losing 15 total returners, including All-American Sarah Anciaux and Greta Regan. That means Makella Daley, Louise Beck, Ellie Sjordal, Kayla Blanek, and Hannah Cowan now run the show for the Ninjas. Surely, they are glad to have gotten an experienced new cutter: Sarah Espinoza, formerly of Florida. And for the second straight season, they'll bring in a handful of rookies with youth experience. It might not be their year this year, but the future looks bright.
A Lower Seed Triumphs: An Annual Tradition
Like out of bounds pulls and some rookie forgetting to pack extra underwear, a surprise performance from a lower seed at QCTU is an early season tradition. In 2014, No. 10 seed Northeastern marched to the final and No. 13 seed Kansas upset Georgia; both teams made it to Nationals that year. In 2015, No. 14 seed Michigan reached the final, while No. 12 Florida State, No. 11 Georgia, and No. 10 Dartmouth won their pools4; FSU and Dartmouth reached Nationals that year. Last year, it was Pittsburgh, and if you read the whole article, you know how that story goes.
So who might rise up the ranks this year? Wisconsin and Notre Dame are the highest double digit seeds and both likely candidates, but that's too easy. No. 18 seed NC State fits the bill pretty nicely. Remember when they landed a top recruiting class in 2015? Well, Katie Cubrilovic and Danielle Sawyer are well into coming into their own as formidable throwers, and Ashley Powell is back for another year, too. Mary Clark Worthington could also be in line for a stronger year, and all of that could help NC State score upsets.
There are others with potential. UNC-Wilmington continues to play the gritty playmaking style that has become to their Atlantic Coast signature, and made semis at Winter Binta Vinta Fest. Georgia still looks like they are developing, in search of a top cutter, but have some depth and athleticism. Penn State surprised last year and could do so again.
Filming Schedule
Ultiworld will be filming seven Women's Division games at QCTU this year! Access will be available to subscribers. Teams can get a Team Pack at an Early Bird price through Sunday.
Saturday (subject to change)
9:30 AM – #19 Tufts v. #21 Carleton
11:00 AM – #11 Virginia v. Notre Dame
12:30 PM – #10 Michigan v. #20 Florida
3:30 PM – Wisconsin v. Penn State
Sunday (subject to change)
9:30 AM – Quarterfinal
11:30 AM – Semifinal
1:30 PM – Final
---