Lots on the line at the Northwest Challenge.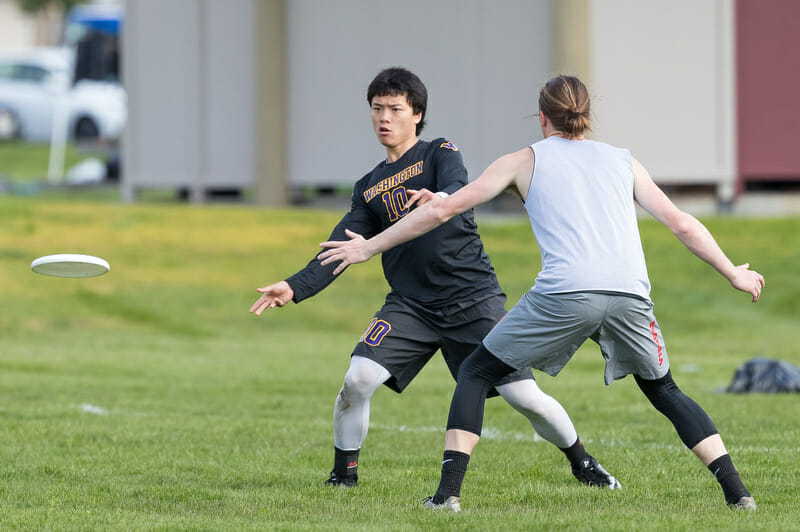 SEATTLE — While the sparks fly in the Women's Division amidst the regular season's most competitive field, the games on the men's side at Northwest Challenge might still ignite some curiosity for those keeping a keen eye on on the bottom half of the bid picture. With no bracket play on the schedule, the team with the strongest record will be the de facto champion. BYU could win a tournament without playing on Sunday!
2016's marquee attendee, Oregon Ego, will be off at Easterns next week. That leaves the rest of the Northwest's top regional contenders to scramble for some valuable late-season wins, attempting to stake out a new position ahead of the bid cutoff.
Math's not my speciality, but I wanted to know who stands to get the most out of a big weekend here in Seattle. So I talked to Ultiworld's resident rankings wrangler and chief number cruncher, Cody Mills, to get his best read on the field.
With the postseason less than a month away, here's what to watch for in the bid picture weekend, guided by some algorithmic sensibility.
Best Bid Shot: UBC And Northeastern
British Columbia
The UBC Thunderbirds look a whole lot like the wily, fast, explosively talented team they were last year in the midst of the point. Instead of the tricky high release flicks and off-balance throws of Peter Yu, Hugh Knapp has been commanding the backfield with booming throws, while cutters like the speedy Kyle Chan, leaping Alan Greer, and others own the deep space. This team hung with Colorado punch for punch at the Stanford Invite all the way to 11-11.1
As the third seed overall this weekend, UBC drew Washington (the tournament's one seed) for the final game of the pre-set schedule on Sunday and are avoiding a tough matchup with the two seed BYU. Given their talent, an undefeated run through that game isn't out of the question.
UBC enters Northwest Challenge at #19 for USAU, the last team inside the bid cutoff. With only 14 games on their record, they've got some winning to do to stay there.
Cody's Take: They can't get upset and can't get blown out by top teams if they want to keep the bid. If they play close with the top teams and soundly beat the bottom ones, they're in.
Northeastern
Though they lack a statement win over a team near the Ultiworld Top 25, four seed Northeastern will arrive here in Seattle with a shiny 14-1 record and a tournament title from Bring The Huckus. They've managed to win 12 of those games by 3+ points.
Northeastern also sits at #23 in the USAU rankings, just half a dozen ladder rungs down from snagging another bid for New England. Without having tested themselves against top quality teams, gauging their chances this weekend is tough, but a respectable weekend would look nice, and a big weekend with some upsets and a strong record could just do the trick.
Cody's Take: If they beat the bad teams by good margins, upset a top team, and play close with the other top teams, they may sneak in. Every goal counts.
Win And Stay In: Washington And BYU
Washington
Even after tough weekend at the Stanford Invite, Washington's hard work in the early season paid off. Though they slipped in the Ultiworld Top 25, their big wins over lower tier teams have put together a solid enough record to keep them well inside the bid window.
That's due in large part to an overall improved and more aggressive defense and a fantastic 2017 so far from Dongyang Chen. Chen and Steven Benaloh have been two constants on a team that's so far had to limit the rest of its top talent this year due to lingering injuries.
UW still won't quite be at full health this weekend, but they'll be returning from a much-needed Spring Break. While that means they won't have practiced in over two weeks and will get a quick shock to the system 10 AM Friday morning against Oregon State, it also means that their healing talent2 will be coming off a nice long rest period.
The Sundodgers have a tough schedule ahead of them: they play BYU, UBC, and Northeastern (the three teams ranked immediately below them), while BYU and UBC do not have to play each other.
BYU
The injury bug took more than a few bites out of BYU CHI recently, which doesn't bode well for their first shot a tournament title in 2017. In a rough turn of events, Bob "Dad Bod" Bodily broke his foot a practice last weekend and is shut down for the season. According to coach Bryce Merrill, Bodily leads the team in points played per game, touches, and assists. Devon Terry, leading the D-line in blocks and goals this season, is also out.
Even so, BYU could easily turn in an unblemished record this weekend. They have the deep game to keep smaller teams scrambling, the fundamentals to resets needed for long points against zones in bad weather, and the bench to send player after player onto the field to contribute.
The team has had their sights set on Northwest Challenge while surging towards it with big wins at Warm Up and Centex. Since the postseason lacks much meaning for this talented group (and they still haven't decided if they're headed to Conferences), this weekend will effectively serve as BYU's final act of 2017. Their play has landed them squarely in bid range at #13, though that won't matter for allocation due to a new regular season rule implemented this year.
For all the grinding hard work, tough athleticism, and dedication to smart ultimate, BYU will step into the spotlight in Seattle playing for pride.
Cody's Take (UW and BYU): Bids are theirs to lose. They need to average less than 1500 in their games. These teams can afford an upset loss, maybe two.
It Could Happen, Maybe: Oregon State And WWU
Oregon State
Oregon State has already logged an impressive 27 games on the season, and they've grabbed some well-deserved attention while doing it. The Beavers play excellent fundamental offense and have a variety of defensive looks that have stifled better teams for longer than a half.3
Unfortunately, that high volume of games heavily weights their ranking position, and they currently sit at #29 on USAU's board. Solid wins, by six or seven points, against similarly ranked teams this weekend won't get them enough to move up. They need an undefeated weekend, and beatdowns of worse teams.
Cody's Take: They need to average 2200 points a game. You can get 2200 by beating UW or BYU 13-9 or 13-8. They would have to win out and destroy every team doing it.
Western Washington
The situation is similar for the vert-stack savvy stylings of Western Washington. After a splashy debut at Santa Barbara Invite and a lackluster trip to President's Day, Dirt are right behind the Beavers at #30.
Western Washington has the speed and the smarts to hang tough with any team in the field this weekend. Anyone not locked onto the backfield of Zhi Chen and Dennis Casio is going to be in trouble. Dirt moves the disc well to the break side and knows how to slow down a pull play. Big plays from Ian Browning and killer consistency from Josh Kent will help along the way. This weekend should be much more about snagging statement regional wins for Dirt. A good performance at Northwest Challenge would embolden them for Regionals.
For now though, it'd take something beyond a decent weekend to push them past the bid cutoff.
Simon's Take: DO YOU BELIEVE IN MIRACLES?
Playing For Pride: Utah, UCSD, Brown, And Victoria
Utah Zion Curtain only has their trip to Presidents' Day Invite on the books – that's seven sanctioned games. ZCU is a big team—measured in height and size of sideline— and they like to play to their strengths. Aggressive deep shots got them to Raleigh last year, so surprising wins against unprepared opponents fit nicely with their team makeup.
In 2017, however, they haven't stacked up well against top talent. They took thumping losses to Washington and Colorado at Prez Day.
Cody's Take: Utah essentially need to win out and make sure they win big over the bad teams. They cannot afford a loss to a lower-ranked team.
UC San Diego makes the trip up to take on these Northwest contenders, in search of a big win to turbocharge their season and prep them to scrap in the Southwest's postseason. The Air Squids, stuck in the mid 40s on USAU's list, have the strength to snag that win, but it won't be enough to push them past more than two dozen other bid-seekers ahead of them.
Cody's Take: Same as Utah, except they already have 11 games.4
Brown has only seen the field at Warm Up so far this year, and it was a bumpy 3-6 outing. Mac Hecht and the rest of his team have now had a long time to recover, learn, and practice after their season debut. Their offense is sharp, but their D-line couldn't do much of anything earlier this year. We'll see if they've developed the depth of skill to manage some upset wins.
Victoria is finally back after a long wait since the Santa Barbara Invite back at the end of January. Since then, the team appealed the consortium originally nixed by USAU that would have allowed Malcolm Bryson and several other players from nearby Camosun to compete again this year. The appeal was reconsidered and the consortium was approved. Unfortunately Bryson—a breakout player for Furious George and Team Canada last year— has a nagging hip injury that will keep him off the field this weekend. Benjamin Burrelle and Trevor Knectchel will be in charge of a sneaky-good offense that could be tough to break.
Cody's Interesting Point About This Section: It's worth noting that every time two of these four teams play each other, the loser is done in terms of bid potential.
---