An insane field featuring 19 of the top 25 takes the field this weekend.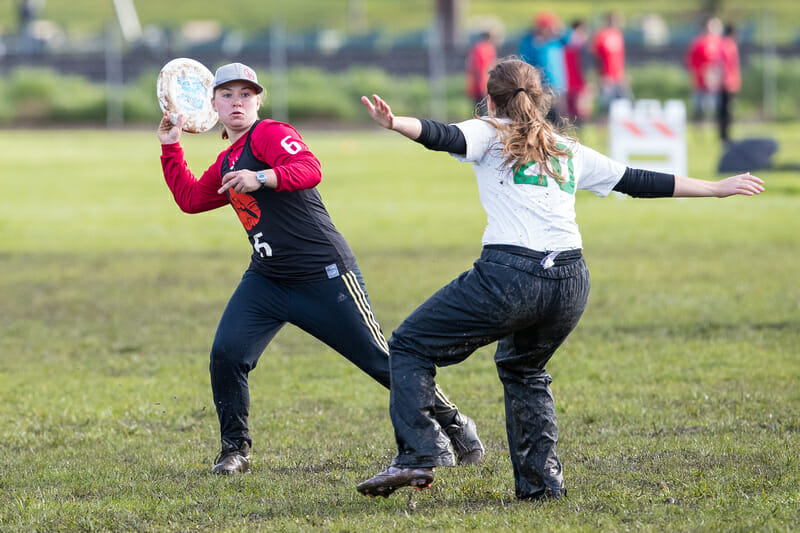 Ultiworld's reporting on the women's division of Northwest Challenge 2017 is presented by VC Ultimate as part of their season-long support of our women's coverage; all opinions are those of the author. Please support the brands that make Ultiworld possible and shop at VC Ultimate!
We could all learn a thing or two from the Northwest Challenge coordinators when it comes to building drama and hype around an ultimate event. You want talent? May we present three out of the top four ranked teams, and 19 of the top 25 ranked teams in the division. You want that popcorn-and-a-movie vibe? Check out the showcase game at Memorial Stadium Friday night. You want drama? This is one of the final weekends for bid-seeking teams to play out-of-region games.
From its "humble beginnings" as a 12-team event featuring a heavy dose of Northwest talent, this tournament has mushroomed into a 30-team, two-tier behemoth featuring teams from nine of the 10 regions.
Upsets are going to happen. Bid heartbreaks are just around the corner. By Sunday, we'll have a pretty clear picture of how the bid picture fits together.
With a huge field, I'm splitting my efforts for this one. Keep reading to get the 3000 foot view of Northwest Challenge, as we tour across the nine represented regions to discuss their representatives and what's at stake. Then check out the Official 2017 Northwest Challenge Team Guide — coming soon — for more team context and player details.
Notes On The Format
This year's Northwest Challenge allows women's teams to choose between two formats in Tier I – a three-day schedule or a two-day schedule. Ten teams – Pool A and Pool B – are in the 3-day format, and the remaining ten teams – Pool C and Pool D – will only play Saturday and Sunday. While the format gives more flexibility to teams who want to compete in Northwest Challenge, it does result in less regional diversity during pool play. Pool C (two day format) features three Southwest teams, while Pool B (three day format) naturally has more Northwest teams.
All pool play takes place on Friday and Saturday, and then Sunday is bracket play for everyone1. This format deviates from previous years' formats: last year there were power pools and in 2015 there were predetermined schedules.
Southwest
Current Bids: 4
This may be the Northwest region's hometown tournament, but they're no longer the biggest kids in the yard. The Southwest region has four bids to protect, and five of the top six SW teams are here this weekend to protect them.
"[This weekend] we want to continue to show that the Southwest region is the strongest region in the country!" said the California Pie Queens captains. "We'll be rooting for our Southwest teams all the way this weekend in out-of-region games, and of course play our hearts out when we play each other."
Considering their glut of bids, it might be good news for some of these Southwest teams that they're all in the same pools together. Stanford and UC San Diego are in Pool B, while UCLA, California, and USC are all in Pool C. They can play each other and avoid the risk of being upset by lower ranked teams. 2
In a region hungry to prove itself, #4 Stanford Superfly has the most to prove to themselves. They're undoubtedly a top five team and a semifinal favorite, but they didn't always play like one at Stanford Invite. They will focus inward on their own energy and fundamentals this weekend, hoping to return to the efficiency and skill of their early season in time for Nationals.
#5 UCLA BLU also failed to play up to potential at Stanford Invite, where their offense couldn't exert itself under pressure. BLU will bring a few new offensive sets to NW Challenge, but at this point in their season, they're working on the mental strength teams need much later in May.
The #6 California Pie Queens are in the same boat. It's late March, the regular season is almost done, and they aren't hoping to change – they're hoping to tweak and develop their strengths. In their first trip to the Seattle ultimate mecca, they're excited to prove why their region deserves the crown.
This will also be #20 UC San Diego Psycho's debut at Northwest Challenge. They opted to travel north instead of seeking sunnier tournaments for one purpose alone: another bid. UCSD sits just outside of bid-earning range and has one of the best opportunities to snag an additional bid for their region and dramatically increase their chances of qualifying to play in Cincinnati.
"One of our main goals for this weekend is to earn another bid for the Southwest region," wrote UCSD captain Rachel Ling. "We hope to do that by playing with intensity and maintaining our composure through (potentially) rainy and windy weather conditions."
The wind, rain, and potential mud are all very real threats to all the California teams in attendance. UCLA struggled in the muck on Sunday at Stanford Invite, as did Stanford on a particularly sloppy showcase field.
Northwest
Current Bids: 3
For the first time in recent memory, the Northwest teams are not the biggest threats at this eponymous tournament. Teams aren't walking into the dragon's lair to test themselves against the local best anymore. The pressure is on the natives.
But Northwest Regionals could be a battle fit for Game of Thrones if they leave Northwest Challenge without any more bids. UBC, Oregon, Whitman, and Washington are all Nationals regulars, and the Northwest region hasn't had fewer than three bids to Nationals since before the regions were redrawn in 2011.3 With Whitman barely clinging to a bid, there's potential for a dark day on the other side of the weekend.
If the Northwest does end up with two bids for the post-season, my money is on UBC and Oregon to take them. #3 British Columbia Thunderbirds was as polished, skilled, and quick as ever at Stanford Invite, and #7 Oregon Fugue improves by leaps and bounds at every tournament they cleat up for. #17 Whitman Sweets is also pulling their pieces together, but they only have one elite win to their name this year (over Michigan, 11-10). It's a rebuilding year for #19 Washington Element, and they're unlikely to pose a challenge for the bids this year. Brigham Young University moved up into Tier I after Western Washington had to drop out, and they'll get good reps against teams in their region that they don't often get to play.
The biggest shock of the season may not be that the Northwest region only ends up with two bids. The true surprise is that, for the first time in a very long time, the region may not deserve more than two bids.
Atlantic Coast
Current Bids: 3
The beneficiary of the deficit in the Northwest? Meet the three-bid Atlantic Coast.
Nobody is surprised by the play of #12 Virginia Hydra, a mainstay at Nationals and former cross-coast challenger at the Northwest Challenge. They are the No. 6 seed and comfortable as the Series approaches. Virginia wants to improve on a semifinals appearance at Nationals last year, and they will relish this opportunity to be tested.
#14 North Carolina Pleiades, on the other hand, has been a breakout team this season, and they have high expectations for NW Challenge.
"This is the first tournament west of the Mississippi that Pleiades has played in since 2014, and we are eager to see what we've been missing," said the UNC captains. "We are hoping to rise to the challenge, and will evidently learn a lot along the way about what else we need to improve heading into the Series."
The third team in bid contention is Liberty, riding high from results against middling teams and a one-point loss to Virginia. If UVA's ranking craters due to a terrible NWC, Liberty will likely fall with them. But Liberty is also playing this weekend at Bonanza, so the bid situation in the AC is very much in flux.
Ohio Valley
Current Bids: 2
One of the only regions that seems pretty settled, the Ohio Valley only has #16 Pittsburgh Danger representing them in Seattle. Ohio State did enough work at Women's College Centex this past weekend to secure their position. If Pittsburgh avoids a catastrophe, they'll both be heavy favorites to return to Nationals from the OV.
That means Pitt, traveling across the country to join the elite teams they've claimed their spot against, gets to focus on competing. They haven't had a chance to battle the west coast elite, or even much of the upper crust of the division. Of Pitt's 14 games, only six have come against top 25 teams. They've only faced one top 10 team. Now, they'll get #1 Dartmouth in pool play and, if they are successful, get exactly the kind of late season push required to prepare for what they hope is a deep run at Nationals.
New England
Current Bids: 2
Before I write another word about Dartmouth, I insist that you watch the 2017 Stanford Invite Highlight Reel. I'll wait.
Now that that's out of the way, you understand why I'm betting that Dartmouth goes undefeated this weekend. The talent baked into their top seven players could outmatch many elite women's club teams. Dartmouth's biggest opponent to date has been injuries: several players were out or playing limited points at Stanford Invite due to injuries incurred at practice.
The big question about Dartmouth this weekend will be if the breadth of their bench can earn wins, too. Coach Eugene Yun suggested at Stanford Invite that the team would be running more open lines for NW Challenge, and the Dartmouth captains have confirmed that that remains true. We can still count on more Jaclyn Verzuh and Angela Zhu highlights for the reel, but expect to hear some new names this weekend. Princess Layout doesn't have to worry about bids, so they can focus on depth instead.
Vermont, on the other hand, will be playing furiously to keep an extra strength bid for New England. They could give Tufts and Dartmouth tough games at Regionals, but their chances of upsetting either team are slim.
South Central
Current Bids: 2
Colorado is the first team from the South Central to make the trek to NW Challenge, opting not to attend Centex for the first time in several seasons. The shift is undoubtedly a bet on how high their ceiling can be this year. The South Central had one brief week with four bids after Kansas and Colorado State spiked in the rankings, but with only the already-ranked Colorado playing this weekend, all signs suggest that they'll stick with only two bids.
Colorado has looked better and better throughout the regular season as they tighten the screws in their offensive conversion rate. They're easily the second best team in the South Central, but they want to be much, much more. Kali has had top 5 aspirations ever since their 2015 semifinal appearance, and the size of their senior class hints that this has to be the year.
North Central
Current Bids: 1
Unlike last year, Carleton Syzygy doesn't have to stress about the ranking algorithm and whether or not the North Central will earn a strength bid. The North Central is still likely to end the season with only one bid, but this time around, Syzygy has played their way into being the easy favorite to advance. Their 3-3 record at Presidents' Day belies the easy offense and smart defense they deployed against top teams, and their style of play is well suited to their pool. They'll bring a few new defensive looks this weekend beyond their typical person D, and anyone who remembers the North Central Regionals last year won't be surprised that Carleton is excited for the weekend's rain.
"We've spent the past week practicing in the Pacific NW and it's been great to be outside re-learning how to play with the elements," captain Katie Ciaglo wrote. "Come Regionals it will be really important for us to be confident playing in bad weather, so it's been great to have the chance to dial in on our offensive focus outside."
Southeast
Current Bids: 1
Like many of the teams traveling to NW Challenge for the first time, this weekend will be the highest caliber of talent Georgia Tech Wreck has faced in several seasons. They are the first Southeast team to attend NW Challenge, but the long trip won't do much for their strength bid ambitions. Florida's recent losses have pushed them down in the USAU rankings, and Georgia Tech is well out of the top 30 right now.
Indeed, this weekend may be about more than bids for Georgia Tech; they'll cut their teeth against the country's best, and they'll prepare for a battle with Florida at Regionals.
Great Lakes
Current Bids: 1
The Great Lakes is used to the one bid life, but that won't stop the region's top talent from seeking out the best competition possible, days before the end of the regular season. Michigan and Notre Dame are both traveling to NW Challenge for the first time, and both teams are sitting just under the bar for a strength bid. Beyond bid implications, traveling west for the NW Challenge gives these Great Lakes a chance at the country's top talent:
"I mean, this is our last regular season tournament, as well as the most competitive tournament of the season," said Michigan captain Tracey Lo. "It's big. We don't have to win the entire thing, but there are teams we're excited to get another crack at… Execution definitely doesn't have to be perfect this weekend, but I'd like our mental game to be."
Michigan was the biggest surprise contender at Stanford Invite, and at their best they have a good chance for upsets during pool play, particularly in the rain or wind.
And Notre Dame?
Here's the haiku they wrote me when I moved to Seattle.
We really miss you
Seattle is far away
There's no Great Lakes there
Damn straight.
---
note that 3-day teams play their quarterfinals on Saturday ↩

This is bid-mongering on my part, not the Southwest teams. Each team expressed disappointment that they would not be seeing more out-of-region teams this weekend. ↩

The Northwest region hasn't had two bids since 2003, old region included. ↩