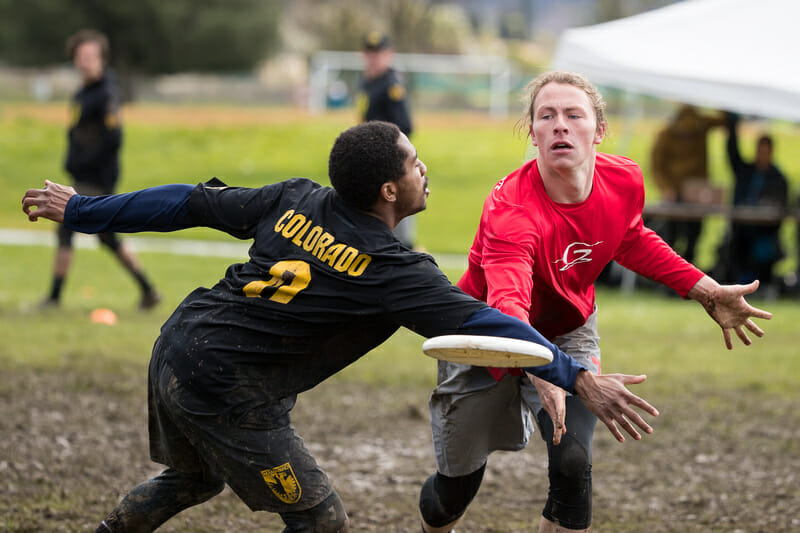 I was super busy on Monday so no Monday Mailbag was to be had. Luckily, I came through in the clutch for the Thursday Edition.
ASK ME QUESTIONS/SEND ME COMMENTS: Email ([email protected]) or Twitter.
***
Q (stolen from Reddit): In the most recent episode of Deep Look, Charlie Eisenhood mentioned throwing for the cycle. Can anybody tell me what throws make up the cycle?
-abochkod
A: Well, abochkod, I'm glad you asked. In baseball, there's an achievement called 'hitting for the cycle.' That's when you hit a single, double, triple, and a home run all in a single game. It's no small feat! There are about 1-4 cycles per year in baseball; it's about as common as a no-hitter.
When Keith Raynor and I were calling the Stanford v. Georgia men's game at Easterns (available for Full and Plus subscribers), Georgia's Parker Bray had an insane game that prompted us to ask if he might be able to "throw for the cycle."
After some deliberation, we determined the following criteria: In a single game, you have to throw a backhand huck, forehand huck, backhand break, forehand break, upside-down throw, and off-hand throw, all for scores. You can't double up (i.e., a break backhand huck can only count for one of the categories).1
So, at a minimum, you have to throw six assists in a game — also no small feat! But throwing for the cycle should be a rare and beautiful thing, like the Quin-Double (at least 5 Goals/Assists/Blocks in two categories in a single game) or the ultra-rare Quin-Triple (5 goals, 5 assists, and 5 blocks in one game). Someone should come up with better names for this stuff.
Really, ultimate is a sport that has a lot of amazing individual performances, much like basketball or baseball. There should be more exciting statistical achievements. The Thunder's Russell Westbrook just set the all-time record for triple-doubles in a season (at least 10 points/rebounds/assists/blocks/steals in three categories) and people are going nuts.
John Stubbs scored or assisted on every point of the first half of Harvard's semifinal against UNC at the College Championships last year. Yes, it was incredible, but there was no name for that! Brutal!
So let's get creative and start coming up with some new statistical categories. We can coin some awesome new achievements.
And let this post serve as proof that Keith Raynor and Charlie Eisenhood came up with "Throwing For The Cycle" in ultimate frisbee.
Q: I saw on Twitter that Southeast Regionals is going to use a different cap rule than usual. Instead of having a soft and hard cap, they will use WFDF's +1 cap. So with 20 minutes left in the round, the cap goes on: finish the point, add one to the highest score, and play the game to that score. A team must reach that score in order to win the game (so teams can't run out the clock like in traditional cap rules). What do you think of this rule?
– Jake M.
A: I absolutely love it. I think that one of the best changes we've seen to cap rules in recent years was the elimination of a time cap at USA Ultimate Championship events. Now, the cap goes on, they add two to the highest score like a regular soft cap, but there is no further time cap. Gotta score to win.
I personally find the current cap rules to be confusing and difficult to explain. Half the time, players and coaches don't even know the rules about things like overtime! This is a much more easily explained rule, and the distinction between WFDF-style +1 and USAU-style +2 doesn't really matter too much.
The best thing about it is the comeback mechanic. Sure, if a team is down five when the cap goes on, they're almost certainly going to lose. But they're not definitely going to lose. They just have to go on an epic scoring spree. At Southeast Regionals, with just one bid for each Division, how great is that inkling of hope going to be! The leading team can't just call a timeout and burn clock: the pressure is on!
The only real concern is that games could run too long, but that's already a possibility within the current cap system and round times at properly-run postseason tournaments should allow for games to extend longer than expected.
Q: Do you think the AUDL's new cable deal with Eleven Sports Network (whatever that is) is a big deal?
– Rob A.
A: One of my predictions at the start of the year was that someway, somehow, ultimate was going to end up on live television at some point during 2017.
Last summer, USA Ultimate CEO Tom Crawford was pretty bullish about the idea that USAU could get a game on live television, and, privately, AUDL executives were also upbeat about the possibility.
I think a lot of people will look at this deal the AUDL made and say, "Who cares?" Either A) I don't get cable, B) I get cable, but don't get this channel, or C) I happen to get this channel but just watch the games online because it's easier.
And that's fair. But the fact that a cable channel is interested at all — even one that is very motivated to fill air time as it expands into the North American market — is pretty remarkable. And for ultimate to grow as a spectator sport, it has to reach beyond existing ultimate players. People have to hear about it and say, 'There's a team in my city. Maybe I should check out a game. Tickets are super cheap.'
Do I think this is going to be a massive shift that makes the AUDL successful? Absolutely not. But a small sport like ultimate has to start somewhere, and getting a live cable distribution deal is an enormous moment for any sports league, no matter how small the channel. Eleven Sports has big ambitions and pairs nicely with ultimate as a fledgling startup.
---
Obviously, a "huck" is pretty loosely defined but probably would need to be at least a 35 yard throw to qualify. ↩