John Brown University has spent four years becoming one of the toughest D-III teams in the country.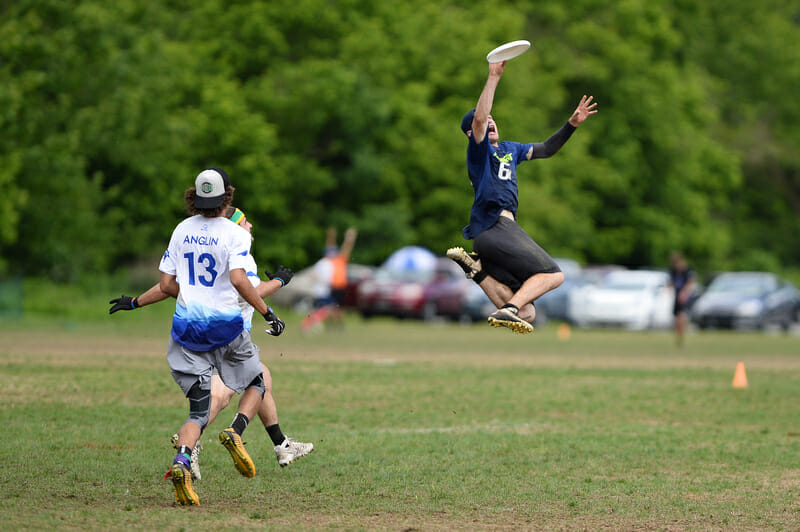 There's a common narrative in sports about teams learning more from their defeats than their victories. Take Michael Jordan's Bulls. In the late 1980s, the Detroit "Bad Boy" Pistons pioneered the "Jordan Rules," a defensive strategy aimed at physically punishing the Bulls star to limit his effectiveness; Detroit knocked Chicago out of the playoffs for three consecutive years and forced the team to work on dealing with a new level of physicality. Then, in 1991, with a new understanding of what it would take to face down the Pistons — and a newly developed triangle offense — Michael Jordan led the Bulls to a 4-0 sweep of the Bad Boys in the Eastern Conference Finals to start one of the greatest championship runs the sport has ever seen.
It's a story that transcends sports: learn from your defeats to overcome your weaknesses. "We learned" Jordan said in retrospect, "It took more than desire."
In the fall of 2013, John Brown University Ironfist went up against a split squad of Texas TUFF at Just Plain Nasty in Oklahoma. Ironfist got absolutely demolished, losing 13-2. For most Division III programs, a loss to an elite D-I program in the fall is not something to read too much into. For Ironfist, the game was a revelation.
"After the game, Andrew Goode and I talked to Chase Cunningham," recalled former Ironfist team president Jacob Moore. "He told us we needed to get more physical and improve our athleticism as a team."
Ironfist's experience in losing enlightened the team of the kind of conditioning and physical defense that elite D-I programs employ. They set out to correct their flaws and turn weaknesses into strengths. They were so serious about improving themselves that they grabbed Cunningham's phone number and continued to communicate with him to get ideas to improve their team.
John Brown has spent the last four years shaping their program to emulate what they encountered against Texas. Now, the rest of D-III is witnessing the results of that transformation.
***
Arkansas doesn't exactly have a reputation as being a powerhouse for ultimate. There is no real youth scene or high school state championship tournament. No Arkansas team has ever qualified for Club Nationals. In 2016, the state had only 132 registered USAU members.
Given that milieu, it's certainly not a place you'd expect to find a college program capable of sustained national success. So it's a little surprising that John Brown has become a mainstay at the D-III College Championships.
In the spring of 2013, John Brown qualified for their first ever D-III Nationals after overcoming a 5-2 deficit to beat Rice University 15-11 at South Central Regionals. "We thought we had arrived," Moore reflected on that first Nationals year.
The team prided itself in their defense, particularly its 2-3-2 zone. Ironfist's reputation as a gritty defensive program has strong roots in that year, with the team competing savage at one point in the regular season. At Nationals, Ironfist had a roster of only ten players and still nearly managed to earn a spot in pre-quarters. Up 10-8 on Wesleyan in a critical pool play game, Ironfist fell 12-10 in a heartbreaker that knocked them from contention.
"Wake Forest needed us to lose so they could get 1st in the pool. Claremont needed us to lose because if we won, they were last in pool play and went to consolation" Moore recalled. "There's no game I want back more."
There was no such thing as "good enough" for Ironfist. Their failure to get into the bracket at Nationals was symptomatic of some of the key weaknesses that plagued the team. But it took the blowout loss to Texas the next fall, however, for Ironfist to truly wake up to the fact that they had to change their entire approach to the game.
"We were used to physical play from our game-to-go against Rice," said Moore. "But Texas played physically for a purpose."
Ironfist's leadership recognized that their atheliticism and fundamentals were not where they needed to be. Their approach to practices became more deliberate. The team changed its expectations to hold its players accountable to new fitness and attendance standards.
"We expected our team to complete twelve rounds of a beep test after practices," recalls Moore.
Trying to eliminate risky decisions from the offense and value the disc, Ironfist disciplined themselves to develop throwing fundamentals across the board by running crossfield sprints for turnovers. They created a systemic focus on developing an efficient offense and an adaptable zone look to complement a defense largely committed to person defense.
It was during this period of recalibrating the team that JBU also found a star. Ethan Penner had the makings of a dominant cutter his freshman year, when he was the team's scoring leader at 2013 D-III College Championships. According to Jacob Moore, it was Ethan's ability to dictate the game that set him above other players.
Penner's ability to command respect and instill belief and confidence in the players around him elevated the play of his teammates. His steady presence allowed JBU to weather the losses of veteran players in 2014 and 2015. The stat lines for Penner speak to the kind of player he has become over the past four seasons: at Nationals in 2016, he racked up 19 goals and 22 assists.
"Penner is one of the rocks that has allowed JBU to not just be a one-hit wonder," elaborated Moore.
Speaking to Penner, his commitment to team and community go much further than ultimate and are rooted in his faith. "I want these guys to be incredible ultimate players… more importantly, I want them to be fully committed to their future wives, I want them to be incredible fathers, I want them to love others unconditionally, I want them to seek justice in the world, I want them to know what it's like to sacrifice their own desires for the needs of a group."
Penner's leadership embodies that of a mentor for younger players and permeated the approach that JBU took to teaching new players the game. With almost no draw of high school talent, the focus on player development has been critical for the sustainability of the program.
"The best way to learn a concept is to teach it," stated Penner. "This forces captains and veterans to continually grow in their own understanding of the game in order to teach the younger players, instead of relying on a coach to take care of that."
Ironfist's new approach to the game and determination to play better competition during the regular season has paid off with consecutive Nationals appearances every year since their first qualification. Yet despite four seasons of competing at the D-III college championships, John Brown has still never made the championship bracket.
"You can't really feel like you've done a whole lot until then," reflected Moore.
The reality of working so hard for a goal that has consistently been just outside of their grasp has imbued the team with a sense of humility.
"You take every moment seriously," said Moore. "When a team like Air Force shows up and plays to the semis their first time, it makes you wonder what you still need to do."
***
The 2017 regular season has been something of a culmination to the lessons learned since the 13-2 blowout loss to Texas. Three years into their transformation, JBU is now able to play to its experience on offense and athleticism on defense. This spring, Ironfist demonstrated a consistent ability to play deep into Sunday in the opening tournaments of the season, losing to Texas Tech twice in the semis and finals of Big D Little D and Dust Bowl, respectively.
Their convincing results set them up for their third and final regular season tournament of the year at Centex. The Centex field was a large mashup of excellent D-I caliber teams and regional caliber South Central programs. In the rain and mud, JBU found its form on Saturday, climbing to the top of Pool F in the Silver division of the tournament. Their Saturday success gave them a birth in the championship bracket, against none other than the University of Texas.
"It was cool to look at the quarterfinal matchups and see that we were the only D-III team in the championship bracket." reflected Penner. JBU took stock of Texas thanks to some pregame scouting and prepared well mentally to take on TUFF. "We made sure that we had the mindset of winning that quarterfinal, not just being in it," said Penner.
Despite missing stars Dillon Larberg and Joel Clutton, Texas was still a tough opponent. TUFF pulled ahead with an early 3-1 lead and put John Brown back on its heels. Ironfist responded by capitalizing on key turnovers from Texas' handlers and playing the kind of downfield defense they had worked so hard to develop over the years. After setting themselves up for a downwind break, JBU threw their patented 2-3-2 zone and got the break they needed on an unforced first throw turnover by Texas to put the game back on serve, where it would remain throughout.
With the game tied at 12-12 and JBU receiving the pull in a game to 14, they stacked their lines in an attempt to score the upset. A hold was followed by another line running 2-3-2. A layout block by Ironfist set them up for the final goal. They scored upwind on a backhand from D-line handler Grant Bruner, who played an integral part of JBU's comeback.
Ironfist stormed the field, knowing the significance of what they had just accomplished. Their multi-year focus on learning how to play at an elite level was capped off by one of the biggest upsets scored by a D-III program this season.1 The cycle was complete: the student had beaten the master in a program-defining win.
"I guess Chase Cunningham is like the godfather of JBU ultimate, whether he knows it or not," stated Moore after the upset.
"Most days of practice my first season, we played box game because we didn't have enough to scrimmage," reflected Penner. "We knew three drills and had no idea how a vert stack worked. In my time with Ironfist we have transformed from that, to beating a perennial powerhouse in TUFF. That should tell you how far our team has come."
***
If Ironfist is to overcome their past Series disappointments, 2017 certainly looks like their year to accomplish those goals. After their convincing tournament performance at Centex, John Brown shot to the top of Ultiworld's power rankings and entered the national title conversation. It has been an exciting spring overall for the D-III South Central, with the region earning three Nationals bids after a successful regular season.
John Brown begin their quest to make their fifth consecutive Nationals appearance at Conferences this weekend, where they should get a good look at Nationals-level competition in matchups against other top-tier D-III programs Colorado College and Air Force at some point.
With so much on the line for Ironfist — this being Ethan Penner's fifth and final year of eligibility — it will require more than desire to achieve their Series goals. With the program's transformation now appearing complete, John Brown may finally have what it takes not only to make the championship bracket, but to be the best team in the country.
---
Richmond over Harvard is also up there ↩