The Wildcats are the first New Zealand men's team in over a decade to reach the final of Australian Nationals.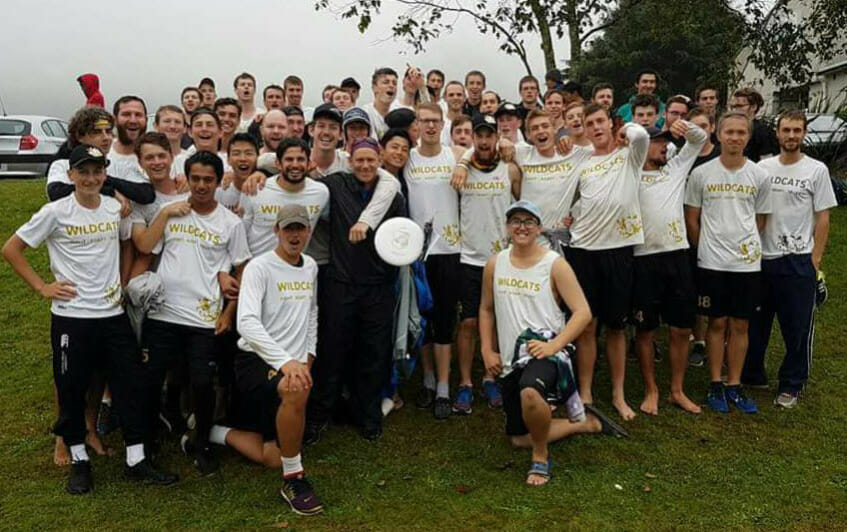 This article was written by guest author Jonathan Potts, president of the Australian Flying Disc Association. A version of this preview first appeared on the AFDA website.
On the other side of the globe,1 the Australian ultimate season has reached its climax. Over the weekend, the top 12 women's and men's clubs from Australia (and New Zealand) squared off in the 2017 Australian Ultimate Championships. After three days of competition in Gold Coast, Queensland, just two teams remain in each division.
In the tightest men's competition in recent memory, Sydney Colony Pillage and New Zealand's Wellington Wildcats have emerged as the title contenders. The Wildcats are the first New Zealand men's team in over a decade to reach the final of Australian Nationals; they come up against a team that has never enjoyed underdog status in ANY game of ultimate on Australian soil since it formed in 2009. Nevertheless, many teams have found a way to beat Colony.
Here's a look at each team heading into today's title game.
Sydney Colony
Colony was formed in late 2009 with an immediate view of sending the strongest possible Sydney club team to the 2010 World Club Championships in Prague. Before then, Sydney clubs had trained and competed separately in the domestic season, but usually competed internationally under a single banner — most notably as Feral between 1999 and 2002.
In their very first season, the two teams fielded by the Colony club were virtually unstoppable all season. That is, until the knockout phase of Nationals 2010, where both teams met their fate at the hands of a cohesive Newcastle I-Beam unit. However, that Colony club went to Worlds and took sixth place, exceeding even their own expectations. Since then, it has been de rigeur to witness a Colony vs Colony final at Australian Nationals — frustrating for everyone else in Australian men's ultimate, yet the climax of self-indulgence for Club Colony and its select group of local supporters. Nationals 2015 was the only time since 2009 that a Colony team has not made the final of Australia's top tournament. This year, Colony Pillage carries the flag.
Colony Pillage boasts three current World Games athletes, third-time veteran Peter "Tex" Blakeley, rookie Rob Andrews, and reserve Tom Tulett. Those three are the core of this Colony team — all three can change the game on either offense or defense with stunning execution. They are complemented by former World Games representative Gavin Moore, and current Mixed National team athletes Jimmy Tod-Hill and Thomas Vo. Rounding out the international experience includes current Irish Men's team rep Sean O'Mahony, and former Australian U23s Rory Connell, Will Norton, Reece Stewart, and Ng Yew Eng. They are a deep, formidable roster.
The men's division saw a reduction from 16 teams in 2016 to 12 teams in 2017, with a view to increasing the competitiveness of pool play games. That has certainly been the experience this year. In their pool of six, Colony Pillage had close wins against their brother team, Colony Plunder (13-11) and, unsurprisingly, the Wildcats (13-10). They did, however, suffer a defeat to arch-rivals Juggernaut from Melbourne (12-14) in their final pool game. Juggernaut has the distinction of having beaten both finalists in pool play, yet lost their three other pool games and are now fighting it out for ninth place.
Colony easily accounted for their quarterfinal and semifinal opponents. In their semifinal, however, they failed to clamp down on Brisbane's tall game for much of the first half; they traded with Mammoth to 7-7 before taking half and then absolutely dominated the second half in a totally different game of ultimate. The final score of 15-8 should be a boost of confidence to Colony.
Wellington Wildcats
Wellington has long been a center of expertise for New Zealand ultimate. A relentless wind tears across the Cook Strait, and the athletes who refine their throwing skills in these harsh maritime conditions are resilient to adverse weather.
The last time New Zealand had a men's team in the final of Australian Nationals, in 2003, it was led by a legendary Wellingtonian, Gary Jarvis. In his lengthy prime, Jarvis was one of the best offensive machines ever seen south of the equator. This current Wellington incarnation, the Wildcats, is a back-to-back New Zealand National champion and now competing in an Australian Nationals final; that they are coached by Gary Jarvis is no surprise.
The team was founded in 2011, making the final of New Zealand Nationals in its first attempt. It won its first title in 2014, while also competing at Australian Nationals and the World Club Championships for the first time. It has won three New Zealand titles in the last four years.
The Wildcats lineup includes a number of New Zealand representatives at all levels of the game. At the top, brothers Aaron and Andrew Neal have been among the best ultimate players in New Zealand for the last five years. Aaron Neal is one of the very few people to have ever taken part in the NexGen All-Star tour of North America, in 2012. Andrew Neal was recently crowned New Zealand's best player after an excellent season at all levels of play. Expect to see both brothers dominating the field.
Altogether ten Wildcats represented New Zealand at World Championships 2016 in the men's or mixed divisions; another four Wildcats were played for New Zealand in either U24 or U20 teams in 2015 and 2016.
A special mention goes to Aaron Neal and Richard Fernando who are celebrating their birthdays on the day of the final, with the team trying to give them a special gift of a tournament win.
Wildcats had a slightly more challenging path to the gold medal game than Colony. They lost their first three pool games (to Melbourne Juggernaut and both Colony teams), but then managed to scrape through to quarterfinals with double game point victories over Brisbane Mammoth and Adelaide Outbreak. Their quarterfinal and semifinal were competitive but comfortable wins, 15-11 vs Brunch (Sydney) and 15-10 vs Newcastle I-Beam. They clearly seem to be on an upward trajectory!
What To Expect
It is somewhat appropriate that on this ANZAC Day — where we celebrate the camaraderie between our two nations on the battlefields of Europe over 100 years ago — an Australian team and a New Zealand team face each other as foes. The modern-day embodiment of ANZAC spirit is the bitter but jovial sporting rivalry between our two nations.
Colony, as always, has the edge on paper. They have been here many times before, and they know how to turn it on when the chips are down (or even if the scoreline is too close). They have a number of world-class athletes who can single-handedly change the course of the game.
Wildcats are young, athletic, well-coached and will relish any kind of wind that comes to their aid. They have a core of international experience and the athleticism to pull out big plays when needed. In pool play, when these two teams met, it was a narrow 13-10 victory to Colony. Expect another tight game, especially in adverse weather conditions.
The big question, however, is where will the Australian Colony-haters turn to? Can they bring themselves to support a trans-Tasman raider against a home-grown team that has set the standard for domestic and international excellence in the men's game over the past eight years? All history suggests this will not be a problem.
The men's final can be seen via livestream on the Ultimate Frisbee Australia YouTube Channel. The first pull is scheduled for 1:00 PM local time, Tuesday, April 25 or, for those watching from the US, 11:00 PM Eastern Daylight Time, Monday April 24.
---
At least for most of you! ↩