Is this the year the Southeast finally produces a new representative at D-III Nationals?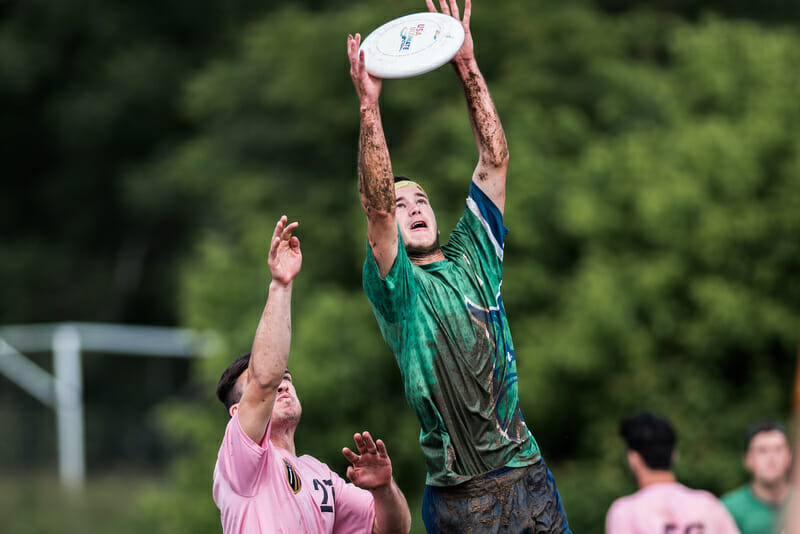 The final two bids to the D-III College Championships are on the line this weekend. Between a four-team bracket in a makeup tournament in Tulsa and the reigning national champs looking to escape a region where they are not favored to win the bid, there's plenty of excitement remaining headed into the final weekend of Regionals competition.
South Central (3 bids)
Due to thunderstorms and flooding, the South Central was unable to finish out their Regionals last weekend as scheduled. Enough games were played to determine the first two bids, going to #6 Air Force and #3 Colorado College, but four teams will be playing out a mini bracket this weekend in Tulsa to determine who gets the region's third and final bid.
Since teams were only able to get through one round of pool play last Saturday, the schedule was adjusted to put all eight teams in a championship bracket based on seeding. The hope was that all games could be played out on Sunday before more bad weather hit, but that unfortunately was not to be the case. Two rounds of games were played and, based on the format, Air Force and Colorado College had qualified for Nationals just by making the final. Official regional finishing order between those two teams will be determined in a game played between Wasabi and Afterburn tonight on Colorado College's campus.
This leaves #2 John Brown, #23 Missouri S&T, Truman State, and Rice left to battle it out for the third and final bid. The teams will reconvene in Tulsa to play out this bracket, everyone two wins away from extending their season. The only team this really inconveniences is Rice, who will be driving close to eight hours for potentially just a single meaningful game.
John Brown enters the small bracket as the favorite, having earned a bid for the region and boasting wins over the other three teams in attendance already this season. However, all three teams have played Ironfist to within one point at various points of the season, and weird things can happen in shortened formats. John Brown will need to come out focused and ready to play in both of their games in order to avoid any upsets and return to the big stage.
Southeast (1 bid)
Since the inception of Division III as an official part of the USAU College Series, Georgia College Disconnected has been the lone team to represent the Southeast at Nationals. This started with GC not even needing a postseason tournament to earn their bid, but the region has grown in strength and size every year. While Georgia College peaked by winning Nationals last year, the rest of the region continued to work to challenge Disconnected. This year, there's a new favorite in the Southeast and a couple of challengers who all feel like they have a shot at the lone bid to Lexington.
The #7 University of Alabama-Huntsville Nightmares lost in the game-to-go at 2016 Regionals, their second loss on the weekend to Georgia College. This year, they've added a strong rookie class and an strength & conditioning coach, taking their team to an entirely new level. The Nightmares put together an impressive regular season, winning Music City Tune Up in emphatic fashion and challenging themselves at two other tournaments filled with quality D-I opposition. They've yet to lose to a D-III opponent this year, and they've beaten three of their top five competitors at Regionals already this season. Led by coach Tom Radcliffe and captain Tannon Hedges, UAH plays a long, athletic zone that requires extraordinary patience and discipline to beat. On the offensive side of the disc, handlers Wes Seat and Danny Yates lead a ruthlessly efficient unit that doesn't get broken often. The Nightmares are the real deal this year and favorites to take home the Southeast region title.
It's no secret that depth is a crucial element for any team's success in ultimate; however, there's something to be said for having the best player on the field, and Georgia College Disconnected will have that advantage in every game they play this weekend. Nathan Vickroy put up unbelievable numbers during GC's run to last year's national championship, finishing the tournament with 13 goals and 30 assists. While he's battled injuries for a large portion of his senior season, Vickroy should be healthy next weekend and ready to try and lead Disconnected to a seventh trip to D-III Nationals. Assisting Vickroy are handler Jacques Perivier and athletic cutter Hal Robinson, who transferred to Georgia College this year. Disconnected are known to tighten their rotation as the stakes get higher; expect to see these three shouldering a heavy load as they get deeper into the bracket.
Other contenders to come out on top next weekend in Foley, Alabama are Berry Noble Savage, North Georgia Nighthawks, and #22 Union Jaxx. Berry are new to the D-III scene and their regular season results are up and down, but they showed at Conferences an ability to hang with everyone in the region. North Georgia are an athletic crew that rely on a few throwers to give their athletes chances at big plays. They've played UAH close already this year, and if they can put in a consistent, start-to-finish performance in bracket play, they'll have a chance at the upset. Union has already played the Nightmares four times this season, losing to them in all four matchups. However, the most recent loss was only by one point, and it's hard to beat the same team that many times in a season. The Jaxx are an emotional team capable of going on big runs; take them lightly at your own peril.
While all three of these teams have the capacity to pull off an upset, expect the championship game this weekend to be a rematch of last year. Will Alabama-Huntsville be able to dethrone the defending National champions? Or will Vickroy and company peak at the right time yet again?