Connecticut stuns an otherwise dominant Cornell squad and earns their program's first ever bid to Nationals.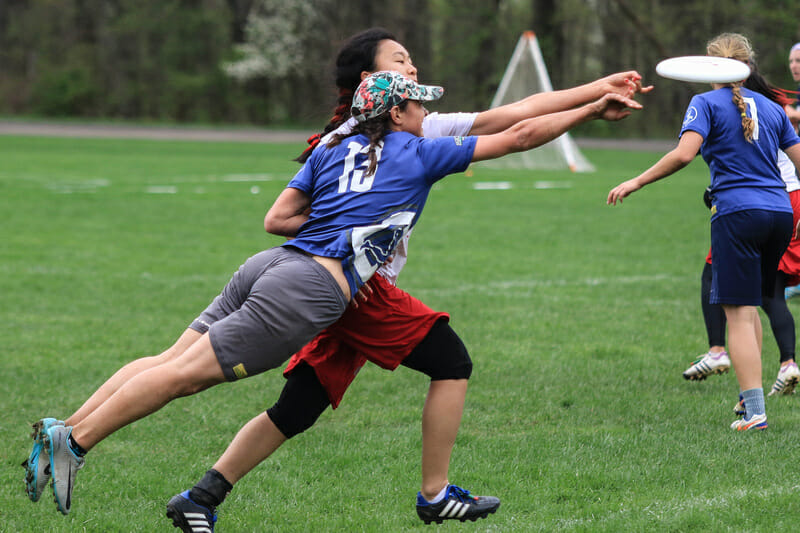 SIMSBURY, CT – White-panelled houses with their painted shutters and wraparound verandas lined the quaint streets of Farmington Valley. But really, nothing quaint was going on once you got to the fields. Nine teams in the Metro East were battling to qualify for one spot in the College Championships.
In a region that has historically kept prognositicators guessing, several teams entered the weekend feeling like they had a legitimate shot at winning the bid. Tournament favorite Cornell looked strong early in the weekend, but in the end it was fifth-seed Connecticut that was the last team standing, earning their first trip to Nationals.
Wild Roses Untouchable On Saturday
Tournament one seed Cornell Wild Roses dismantled everyone in their path during Saturday pool play. Not only were they winning games, it seemed like they were in a class of their own, with opponents even appearing too nervous to really try and take them on. Kimberly Brown's throws were unmatched all weekend, her hucks seemed effortless and impossible to stop. Cornell plays very good handler defense, and in a region where programs are usually limited to only a few strong throwers, this kind of coverage can totally shut down a team's ability to generate movement. Through three games, the Roses gave up only six total goals.
Elsewhere in Pool A, Princeton was also neatly putting away all other teams — Rutgers managed to put up four points against them, but that was the best showing until they matched up against Cornell. But even Lady Clockwork failed to put up much resistance against the Wild Roses. In a game peppered with a lot of mistakes and many long points, Princeton couldn't seem to navigate Cornell's handler slough, which slowed down Jane Urheim's initiating cuts and forced the throwers to use more vision. In the end, Cornell came out on the winning end of the vast majority of 50/50 plays and long points, claiming the pool victory with ease.
UConn's Exciting Style Earns Upset Pool Win
In Pool B, it did not take long for the Connecticut Huskies to stake their claim as a legitimate bid contender — and they were doing so by playing exciting ultimate. In their first round game Saturday morning against Columbia Pandemic, UConn's Ariel Virgulto climbed the ladder three times in a row for the goal, showing that this team had the right hype: they are tall, athletic, and fearless.
Going into the second half, Columbia amped up their defensive pressure and it definitely shook the Huskies: they started making more mistakes on offense and their own defense seemed timid. Marks started biting on Pandemic handler Steph Huang's fakes and she was having no problem firing her lefty breaks. The field felt frantic, but UConn was still able to close out the upset win 15-12 and put themselves in a strong position, having knocked off the pool's top seed.
UConn next lined up against last year's Nationals qualifier, Ottawa. The GeeGees opened up their weekend with a slow, low-energy game against SUNY-Binghamton; Binghamton zoned and Ottawa worked their way through it, but it wasn't the game to get them ready to play the fired up Huskies. As the second round began, you could see Ottawa trying to pick up the pace from their previous game; UConn plays a faster game, and Ottawa was trying to catch up.
Ottawa had all the pieces to make another deep Regional run with their quick receivers and their breadth of throwers — arguably the best in the region — but they couldn't seem to put it all together. Often, the handler would look upfield for too long and it wouldn't give the handler reset enough time to get open. Luckily, the GeeGees could rely on Marti Doucet to save possessions (like, a lot) and scoop up some garbage right before the handler would get stalled out. Ottawa's Anna Blinder and Connecticut's Montana Bertoli were a fun matchup to watch, both fighting for the stratosphere and loaded with huge throws. Arguably, Ottawa is a more skilled team than UConn, but the latter was more athletic and played with more spunk. In the end, the spunk won out. With Cornell players lining they sideline,1 the Huskies ran away from the GeeGees, winning 15-8 and claiming their second scalp of the day.
The Huskies looked impressive in winning all of their games in pool play, but had much closer margins than Cornell.
Princeton and Columbia Fight Way Into Semis
Princeton's second place finish in Pool A landed them in perhaps the toughest quarterfinal matchup, having to go up against reigning regional champion Ottawa. The GeeGees started out in a zone, which forced a turn while they were transitioning to person. However, Clockwork answered with a zone of their own, with Urheim herself setting up a big trapping mark in the coffin corner of their own endzone, eventually racking up a Callahan. It set the tone for the rest of the game.
While the score remained tight all the way up to 13-12, it felt like Princeton was in control throughout. Ottawa would patiently swing back and forth against the Clockwork zone, but eventually they'd try to squeeze a throw through the wall and it inevitably ended in a turn every time. Coco Giorgetti was working so hard — but almost every time she got the disc in her hands, she was given no options for continues or even a bailout. Ottawa clung on until the end, but eventually Princeton put the game away 15-13 to advance to the semifinals.
The difference between pool and bracket play was astounding for Columbia. Despite their 2-1 record, Columbia looked unpolished and desperate on Saturday. Throws were turfed or forced and cuts were not crisp. Reset handler cuts or attempts at give-gos were just crowding and yelling around the person with the disc. Emma Preston was taking some good shots, but altogether the offense felt like it was missing something. On Sunday, Columbia was playing with considerable discipline and seemed to generally be in a smarter headspace. Sophie Hulbert slid into a more consistent downfield role, and this helped with having a more continuous string of receivers. Despite losing rock handler Priya Medberry to injury, Columbia fought to an 11-9 quarterfinal victory over Stony Brook and moved on.
Cornell And Connecticut Continue Run
Continuing their dominance from the previous day with a 15-6 win over Binghamton Sunday morning, it wasn't until Cornell saw Columbia in the semifinals that the Roses came up against a squad that looked even remotely ready to challenge them. Columbia showed incredible patience working through the Cornell zone and the Roses at times struggled to slow down Pandemic's Hulbert. On the other side of the disc, Columbia's Jean Frazier earned a number of run-through blocks against Cornell's offense. But it just didn't matter. Cornell refused to let Columbia capitalize on their mistakes and converted their break chances when they had them. The Roses cruised to a 15-8 victory, easing into the final.
After dispatching NYU in the quarters Sunday morning, UConn's semifinal against Princeton became a showcase of Marissa Aldieri's considerable talents. She was clocking time almost every point, but you wouldn't know if she was tired. When the Huskies were running their vertical plays, she initiated every time and then looked deep, sometimes for Virgulto, other times for Montana Bertoli. On defense, Aldieri usually matched up on Jane Urheim — and she killed it. For every calculation Urheim made, Aldieri competed against it with sheer grit; that passion earned her many blocks.
Connecticut took an 8-6 lead into the break, but coming out of half, Princeton went on a wild three-point run and it appeared the momentum of the game had swung. Bertoli looked like she might be sitting the rest of the game — on the sideline and knee brace undone — but when she came back she had an absolutely filthy layout to toe the line. Although she was clearly hurting, every time she was on the line Bertoli was changing the field. On game point, when Princeton had to call an injury, the UConn coach strategically subbed Bertoli in, who threw the goal to move the Huskies on to the final.
Weather Delays Don't Dampen Fire In Final
Connecticut versus Cornell: hot fire. Things started off a little messy, it was pretty obvious that Cornell was used to playing a cleaner game with less physicality than the Huskies' style. Both teams had bigger rosters than most of their opponents on the weekend, which likely contributed to their longevity. UConn had a rowdy sideline with their men's team there to cheer them on, adding to the intensity of Sunday's final round.
With the game tied at 3-3, everyone had to clear the fields because of a lightning delay. When the game resumed, thankfully the unexpected delay didn't seem to have rattled either team or changed the exciting pace of the game.
Cornell's throwers clearly were more skilled than most teams at Regionals, but when UConn clamped down on Kimberly Brown's hucks, the Roses were forced to adjust. Instead, Brown began hitting a soft inside break to a cutter slashing to the weak side, which set up someone else with an easy huck — often lefty Sharon Chiu. Brown also began to strike deep and had the moves to put away goals.
Both teams were running a vertical stack to initiate, but it was bad news for UConn when Aldieri took an injury sub before half and for a hot minute it looked like she might not come back. Cornell took half 8-7.
In the second half, the teams kept trading. Connecticut was making plays: Emily Giampoli handblocked a hammer and Aldieri got a nasty layout block on an away cut. But the trigger-happy Huskies would turn it over and then have to do twice the work. Luckily, UConn's entire bench was ready to put that work in.
In the last minutes, Aldieri shut down back-to-back Brown hucks. Cornell called a timeout to try to calm things down. Immediately, Bertoli earned a handblock and shot it to Lindsey Bonitz, who toed the line to earn the first break of the half, UConn going up 12-11. On the game's final point, Aldieri again came to the rescue for Connecticut with a tumble and a snag, as the Huskies booked their first ever ticket to the College Championships.
Small Teams, Big Hearts
NYU was great. They may have only scooped up one win on the weekend, but the ragtag crew is a darkhorse pick for building a great program in the future. They were spirited towards the other teams, but they were rushing the field every point and their passion was clearly visible. Even playing against a superior Princeton squad, NYU was getting blocks and generating good offensive movement, they just couldn't finish things off. Once they develop stronger throwers, they'll be on the up. Throughout the weekend, they could be heard cheering "inch by inch, point by point" — that's how great programs are built.
Stony Brook closed out their solid weekend with a close placement game against Columbia. Jessica Jolley was an unbelievable deep-deep all weekend, getting huge blocks out of nowhere; any thrower who dared to challenge her speed and vertical with a deep look saw most of their hucks denied. Many teams flat out gave up on sending someone in their zone offense deep, instead trying to overload the front end of the Stony Brook zone.
—
If the Metro East were to get a report card, it would say that they're still not quite ready to impact the bid allocation. The athleticism and stamina on display in Simsbury were more than impressive, but connections were missing. Just like every other region, teams had stronger players and weaker ones, they had throwers that changed the field and defenders that made game-changing plays. But even in the final, there were ten minute points that were entirely due to poor decision making and a lack of discipline. That discipline will only be improved from playing at a level where a turnover means you get scored on. UConn plays with the kind of fire and determination that could get them places in Cincinnati, but they'll have to be ready for teams to capitalize on their mistakes.
---
On a bye, they seemed to know that this game would set the temperature for the rest of the weekend. ↩