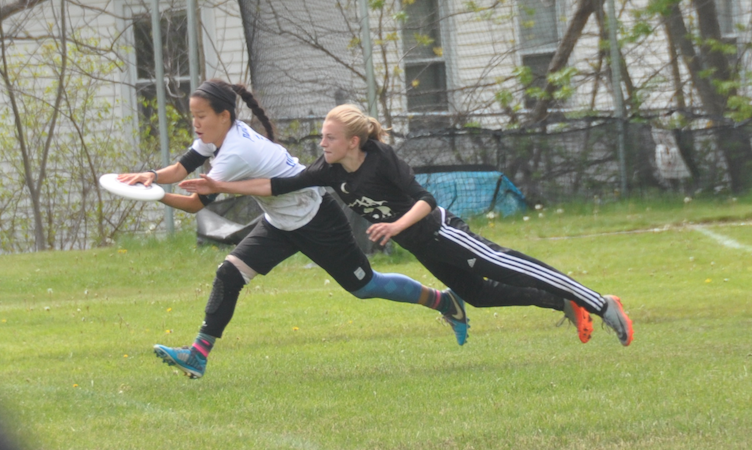 This recap was written by Josh Seamon. Ultiworld's high school tournament coverage is presented by CUT Camps! All opinions are those of the author. Support the brands that make Ultiworld possible and participate in CUT Camps.
While watching the Girls' Division final at the 26th annual Amherst Invitational, it was immediately apparent that there was something new about the game. Paideia (GA) and HB Woodlawn (VA) were putting on a clinic of patience, gritty horizontal aggression, execution, and dynamic on-field decision making, but those aspects by themselves weren't what was new.
Paideia's Hannah Neiditz (Amherst College '21) dominated the skies with her impressive speed and timing, and Sarah Jordak contributed a string of defensive stops. On the other side of the disc, HB Woodlawn's Kristen Knisely commanded a relaxed zone offense, while also lancing 30-40 yard backhands through the middle of the flexible Paideia zone defense.
Despite less than ideal conditions, both teams played clean ultimate, earning defensive stops in wet and windy rain instead of waiting for turns to materialize. As the game remained close through the first half, the lingering feel of "this is something new" remained.
That was when Leila Tunnell leaned over and said, "This is what all high school girls' ultimate will look like in five years."
That's what was new. We were all seeing the future. Programs like Paideia, HB Woodlawn, Amherst, Northampton, Westfield, Neuqua, and many others are now at the forefront. It's during games like the finals at the Amherst Invitational, the oldest HS Ultimate tournament in the country, that we get to see clearly where the sport is headed.
HB Woodlawn played hard throughout the rest of the game, relying on their patient zone offense while smoothly transitioning to horizontal in red-zone situations. The conversions didn't fall their way and Paideia calmly worked in a string of goals to win 15-8.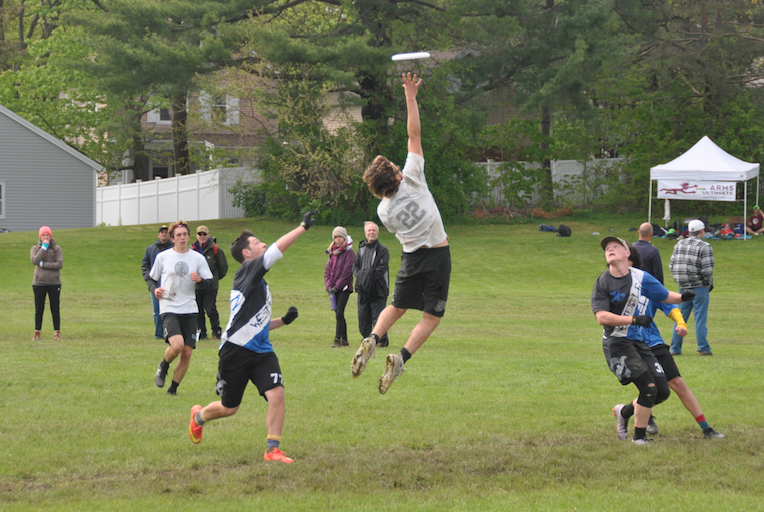 The vision into the future continued as two similar teams took the field for the boys' division final. Both Amherst (MA) and Westfield (NJ) field deep rosters whose core players have been playing together since early middle school. They both play a fast, cerebral, crisp game centered around aggressive resets and infrequent yet punishing deep shots. Their pool play game was relatively close with Amherst winning 13-10.
The game started off fast with Amherst's Ryan Dinger (Univ. of Vermont, '21) leading the Canes to an early break and a 4-2 lead. Westfield's zone defense continued to oscillate between sag and a more rigid 1-3-3 that stymied Amherst into a few uncharacteristic turns. Combined with two well-timed deep catches in traffic, Westfield put together four unanswered points to go up 6-4, led by Jack Liebling (UNC Wilmington, '21). Amherst next converted two Westfield drops to tie it up at six, which Westfield answered by bringing down a 50/50 shot in traffic and then punching in a short field turn to take half 8-6.
On the strength of a crafty IO backhand and more timely receiving, Westfield climbed to an 11-7 lead. Amherst earned a score off of a short field turn and Amherst's Harry Wolff Landau (Carleton, '21) pulled down a big mid-field reception to key another goal. Ryan Dinger, Orion Cable, Ben Goldman (Univ. of Colorado, '21), and James Cairn continued Amherst's momentum, calmly solving Westfield's zone with the help of a few deep shots. Another long reception by Harry Wolff Landau teed up another Amherst goal to tie up the game at 11 as time ran out and brought the game to hard cap.
Despite the growing Amherst momentum, Westfield's impressive handling core buckled down and slowly marched the disc down the field, walking it in for their 12th and tournament-winning goal.
Notes
The Four Rivers JV girls gave Paideia a tough game in the quarters, losing 6-9.
Westfield is only the 7th team to win the open division of the Amherst Invite.
The Amherst Girls had won the last eight Invites and have won every year except for 2017, 2008, and 1997.
Full tournament results are online.