Franciscan are certainly capable of running away with the pool, but there is plenty of talent and experience ready to usurp the top spot if Fatal slip up at all.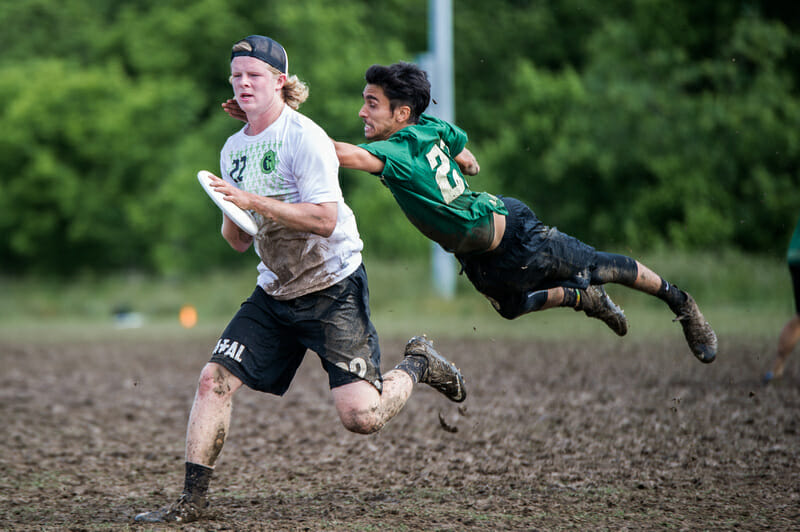 Ultiworld's reporting on the Men's division of the 2017 D-III College Championships is presented by Spin Ultimate; all opinions are those of the author. Please support the brands that make Ultiworld possible and shop at Spin Ultimate!
A rarity for D-III ultimate, every team in Pool B was in attendance at D-III Nationals last year. All of these teams will know what to expect; the veterans have been there before, and they will have their rookies in the right mental space. The nervous excitement that comes with being at Nationals will still be there, of course, but in a much more focused fashion than other pools. This should lead to exciting games played at a high level, with teams trying to out-execute each other rather than capitalize on the sloppiness of their opponents. Let's take a look at the four teams.
Franciscan Fatal
Seeding: B1, Overall #2
Power Ranking: #1
Overall Record: 31-0
Against the Nationals Field: 0-0
In 2015, Franciscan Fatal came into Nationals with an undefeated record; they went on to maintain their perfect season as they won a national championship. In 2017, Fatal again enters the tournament without a loss. Will history repeat itself?
Franciscan will certainly hope so. Beyond the desire that all teams have to win a national championship, Fatal is operating under the additional pressure of knowing that this will likely be their last chance at winning it all for a few years. Franciscan's core of Dom Schuster, Stephen Babcock, JP Bort, and Jay Ratajzcak are all playing in their final season for Fatal. While Franciscan boasts talent throughout their entire roster, these four undoubtedly take Fatal to a championship-caliber team.
The most noteworthy name from this group, and one you've heard from us before, is Dom Schuster. A finalist for the inaugural Donovan Award, Schuster has made his presence felt since his freshman year. His poise with the disc in the national championship game in 2015 was the foundation for Fatal's success, and he's only improved as a thrower since then. In one of the most impressive individual performances we've seen this year in all of college ultimate, Schuster threw 12 assists in Fatal's victory over Ohio in the finals of CWRUL. Having graduated a year early as a junior, this will be Schuster's last dance with Franciscan; expect him to go out shooting.
But don't be mistaken: Fatal is much more than a one man show. Babcock, Bort, and Ratajzcak are all fantastic players who would start on any team in the division. Franciscan's D-line is filled with athletes to get the disc and attack the deep space for Schuster's hucks, highlighted by rookies James Downs and Louis Heisler. "James has a gear that is superhuman," said Fatal's assistant coach Ian Gill. "Louis is the athlete-turned-ultimate player that any coach would love to have, with speed and hops."
With a superstar Donovan finalist in Schuster and a loaded roster behind him, Fatal is primed to not only win the pool, but to make a run at a national championship.
Colorado College Wasabi
Seeding: B2, Overall #7
Power Ranking: #3
Overall Record: 24-5
Against the Nationals Field: 4-4
Last year, in their first year competing in Division III, Colorado College Wasabi fell short of their national championship expectations when they lost to Franciscan in prequarters. Having lost only one senior from that team, Wasabi is back this year with even more experience and the same high expectations.
Wasabi look and feel a bit different than many of their D-III peers. An established program that, until last year, competed at a high level in D-I, Wasabi have a confidence and structure that distinguishes them from the rest of the field. This structure can be seen in the depth of their roster; at Nationals last year, all but two players recorded either a goal, assist, or block. They don't just play their entire roster — their entire roster contributes.
This same depth holds true for the 2017 iteration of Wasabi and was on display in their tournament victory at DIII Midwestern Invite. Colorado College won the entire tournament, finishing the job with a big 15-7 win over regional rival Air Force. "We were missing several important players and some younger guys stepped up in a big way," said team captain Phillip Korolog. "It showed us that when we play together in our system, it's the best iteration of our squad."
Wasabi's depth doesn't mean that they lack top-end talent. Shane Eckert, Isaac Rubenstein, and Korolog make big plays on defense. Jason Bair, Grant Mitchell, and Donovan nominee Perry Fitz are the cogs that make the O-line run. Mitchell, in particular, is a player to watch. Two years ago, he was named Freshman of the Year for the entire region, and he led Wasabi in assists at Nationals last year as a sophomore. Now a junior, expect an even bigger performance from him in Lexington.
Colorado College will be hoping to avenge their loss from last year to Franciscan in pool play on their way to taking the pool; however, even if they fail to beat Fatal on Saturday, their depth should come through in prequarters and Wasabi will be looking to make some noise in the bracket on Sunday.
Wheaton Mastadon
Seeding: B3, Overall #11
Power Ranking: #18
Overall Record: 21-3
Against the Nationals Field: 0-1
Last year, Wheaton entered the D-III College Championships as a relative unknown, earning and keeping the second of three bids in the Great Lakes. This year, they enter again as a relative unknown, but this time as a dominant regional champion looking to prove that last year was no fluke.
The big question that Wheaton has to answer this year is whether or not they can actually beat Nationals-level competition. The Great Lakes region as a whole took a big step back this year, falling from a three bid region to one where no team finished above the bid cutoff. Wheaton won a lot of games this year, and they never lost to a team that finished below them in the final rankings. However, they also never beat any teams ranked above them. In their two games against top-end D-III talent, the Mastodons got blown out 13-7 by Nationals-attendee St. John's and lost a close game 16-14 to Brandeis, who lost in the game-to-go at New England Regionals. If they want to make it into the bracket on Sunday, holding rank will no longer be good enough; the Mastodons will need to pull off an upset.
Wheaton are led by a strong core of nine seniors, highlighted by Skyler Aspegren, Don Gates III, Colin McLaughlin, and David Barbalas. The Mastodons also return junior cutters Laramie Aspegren and Jonah Karls, their top two goal scorers from last year's Nationals. When asked about rising players on the roster, Skyler Aspegren highlighted the play of sophomore Andrew Reay. "His high school experience coupled with his outrageous tenacity make for a player that is super dangerous to other teams," said Aspegren.
As a unit, Wheaton are a tall, athletic team that like to play a lot of zone. The forecast for this weekend bodes well for their style of play. Expect the Mastodons to keep all of their games close; whether or not they can finally pull off some upsets remains to be seen.
UNC Asheville Bulldogs
Seeding: B4, Overall #14
Power Ranking: #14
Overall Record: 15-9
Against the Nationals Field: 0-3
The UNC Asheville Bulldogs entered Nationals last year as the No. 14 seed and the bottom seed of their pool. By the end of the day on Saturday, they found themselves second in the pool and up 4-0 on eventual semifinalist Air Force. A weather delay slowed Asheville's momentum, and they eventually lost to Air Force 12-10, but the Bulldogs proved that they belonged in the conversation of the country's elite teams. Returning in 2017 as the No. 14 seed for the second straight year, Asheville will be looking to prove their worth once again.
This year's Asheville team believes they have the perfect combination of veteran experience and youthful potential to achieve success at Nationals. The team is led by fifth year seniors Charlie Bridger and Donovan nominee Chad Gerber. Both are tall, versatile players who start downfield and have no problem filling in behind the disc. The backfield is run by sophomore Ethan Cole and senior Cory Oskardmay. The Bulldogs defense is anchored by junior Jacob Warshauer and freshman Dean Merritt. Merritt in particular has been a revelation for Asheville this season; his talent was apparent from day one, but it's his maturity as a decision-maker that has seen his game take a step forward this year. "He thrives on both sides of the disc, and with a little practice and coaching, we've reigned in his trigger-happy forehand to acceptable levels," said Asheville's coach Kyle Silva. "When we need a big stop and conversion, Dean goes on the field."
Coach Silva is the other major ingredient for Asheville's success. The team's leadership points to Silva for taking their team to the level of a Nationals program, crediting him for helping break through the Nationals ceiling last year and keeping them at that level this year. Silva's training as a Marine comes through in the Bulldogs' execution on the field, as he's instilled a gritty, hard-working mentality that permeates through the entire roster.
"We know that as a four seed in the pool, we're the underdog in each game and we'll have to fight for every inch of the field," Silva said. The Bulldogs will be well prepared for all of their games this weekend; if they execute their gameplan, they have the talent to hang with every team in the pool.
Predicted Finish
Franciscan
Colorado College
UNC Asheville
Wheaton