Brute Squad's defense ruled the weekend.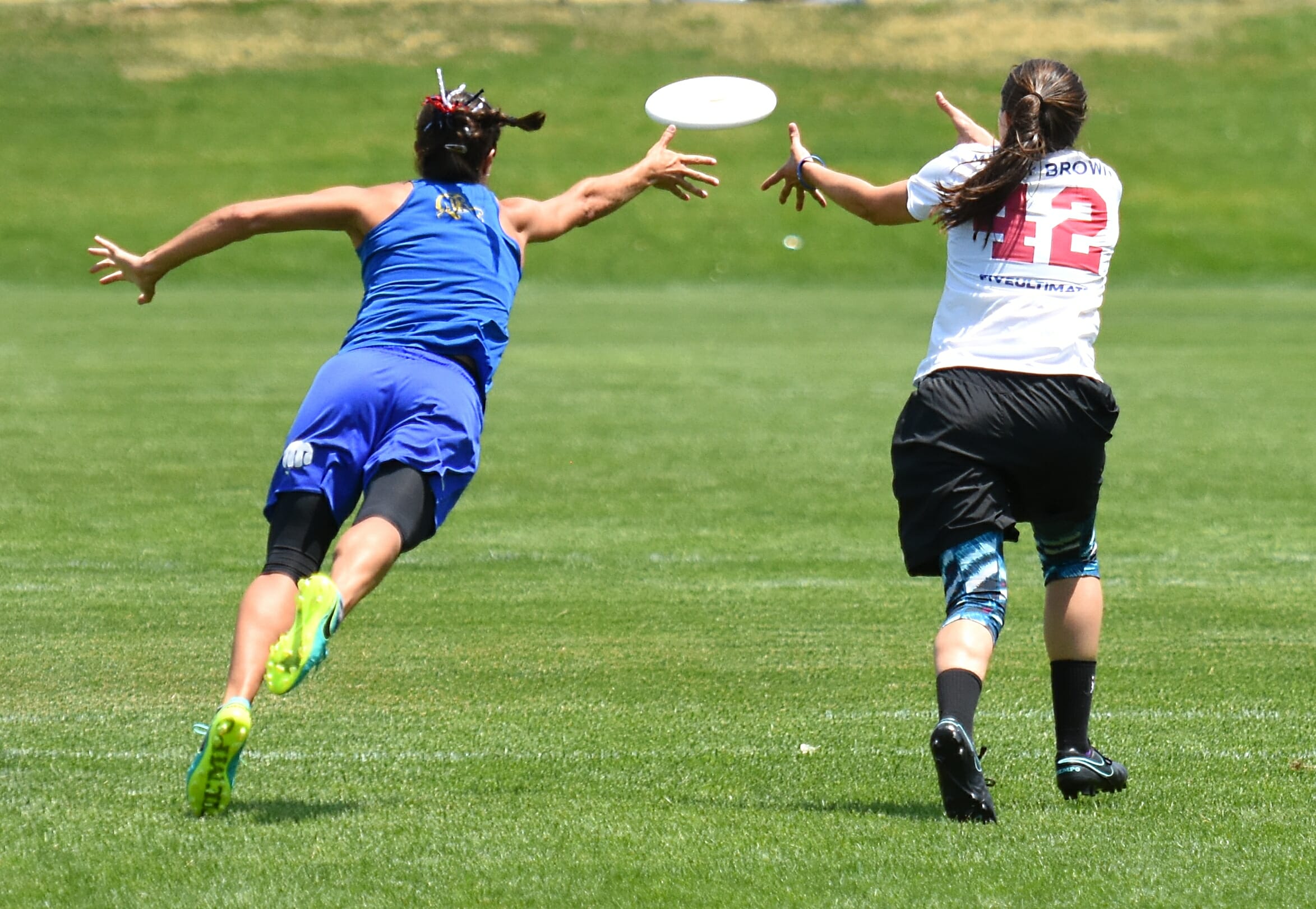 Ultiworld's reporting on the Women's division of the 2017 Pro-Elite Challenge is presented by VC Ultimate as part of their year-long support of our women's coverage. All opinions are those of the author. Please support the brands that make Ultiworld possible and shop at VC Ultimate!
DENVER — The Pro-Elite Challenge this past weekend at Aurora Sports Park marked the season opener of the Triple Crown Tour and promised to be an educational weekend for many of the nation's top women's club teams, all of which were eager to acclimate to new lineups, systems, and strategies. With the bulk of 2016's Club Nationals field in the mix, there promised to be plenty of high-level action as well.
While it's still early, this weekend's tournament (hosted by Colorado Cup) provided an early idea of what can be expected from the top tier of women's club ultimate in the coming months.
Brute Squad Solidifies Spot As Early Favorite
Entering the 2017 season with high expectations as the two-time defending women's club national champion, Boston Brute Squad didn't waste any time reasserting itself as the favorite to win it all for the third year in a row.
Kicking off their season this weekend, the reigning champs looked dominant on their way to finishing undefeated in a field that included 12 of last season's Club Championships qualifiers. Further cementing its early-season frontrunner status, Brute Squad capped off the weekend with a dominant 13-8 win against 2016 runner-up Seattle Riot in the championship game.
Coming into the season third in the Ultiworld Preseason Power Rankings, the Boston squad spent the weekend answering more than a few questions about how it would respond to roster turnover and improved challengers in 2017.
"Our first tournament of the year was cancelled so this was the first time we were all together as a team," Brute Squad captain Amber Sinicrope said. "Our goal for the weekend was to get better and to focus on the things we can control. We made a lot of progress in terms of strategy and skills and learning each other, and now we have a lot of data on what we need to work on moving forward."
After a 13-10 victory over Schwa in the team's first game of the new campaign, Brute Squad didn't allow more than eight points to any of its final five opponents. The defending champions downed seventh-seeded Atlanta Ozone in the quarterfinals 13-6 on the strength of four straight first-half breaks and beat San Francisco Fury in the semifinals 13-8 with Kami Groom throwing five assists and helping to lead a game-ending run of five straight breaks that broke an 8-8 tie wide open.
In the championship game – a rematch of last season's national title game – Brute Squad rallied out of an early 4-4 tie to score five consecutive points thanks to their crushing defense. Riot responded with a three-point run of its own but Brute Squad's Angela Zhu tossed back-to-back assists to push the lead back up to 11-8. Two points later Brute Squad recorded the game's final score with the game-winner from Shellie Cohen to Groom.
"It's always a battle with Riot and they brought it, as usual," Sinicrope said. "I think we did a pretty good job of capitalizing on turns and not giving the disc back when we were able to take it away."
After breaking a 9-9 tie to beat Denver's Molly Brown, 13-10, in the semifinals, Riot had 15 throwaways in the finals while Brute Squad totaled six blocks and three hand blocks (and also forced a stall). Sarah Griffith led Riot with three goals and a pair of blocks in the final.
"In the first half, we weren't generating enough pressure on defense and we weren't getting any breaks," Riot coach Andy Lovseth said. "We thought there were opportunities against them and we were very close on a bunch of plays, but we couldn't pull through. They're a tough matchup for us. They play aggressive, physical defense and I don't think we were prepared for the physicality. But also, the story of the game for us is just too many giveaways to them that they didn't earn."
Brute Squad's offense wasn't perfect — no surprise given the turnover of some key pieces of last year's O-line — but their defense looked better than ever as their speed stifled cuts both under and deep and forced numerous high stall situations against even the tournament's most experienced offensive units.
Molly Brown Emerges From Thrilling Third-Place Game
Early in the season, there already appears to be a clear delineation between the top four teams – Brute Squad, Riot, Fury and Molly Brown – and the next tier of clubs.
At the Pro-Elite Challenge, the "Big Four" got their first look at one another. Seeding-wise, there weren't any surprises. As far as entertainment value, however, Sunday's third-place game between hometown Molly Brown and Fury stood out.
Falling short of reaching the championship game, neither Molly Brown nor Fury mailed in the consolation game. The game was tied 11 times – including after a Callahan from Fury's Katie Ryan tied the game at 10-10 – and nearly a third of the points ended with a layout catch for a score before Molly Brown got its third break of the game to win 13-11.
"That was awesome," Molly Brown captain Claire Chastain said. "It was a great display of women's ultimate. We came into this game wanting to play it and not treating it as a consolation game. We wanted to end the tournament on a win."
Chastain, who led all players with six assists in the game, said she was proud of the way Molly Brown allowed just one break against Fury after allowing three against Riot in the semifinals. Fury's Cree Howard scored five goals and threw two more.
"We love where we are at this point, and they looked really good too," Molly Brown coach Joe Durst said. "We're going to see each other again and winning these types of games are flat-out critical to having a mindset of moving up and being third instead of fourth, second instead of third, and hopefully, in the end, first instead of second. It's nice to see all the top teams playing for that."
Underground, Nightlock Earn Pro Flight Finale Bids
The lowest-seeded team to reach the quarterfinals at the Pro-Elite Challenge, Seattle Underground entered the tournament seeded No. 14 and played its way up to sixth by pulling off upsets against Wildfire (11), Heist (6) and Ozone (7), before losing 11-9 to Scandal (5) in the fifth-place game. Boosted by strong debuts from Katy Craley (USA WNT) and Taylor Hartman (SE College POTY), Underground shocked a number of teams with their depth of skill and athleticism.
This year's Pro-Elite Challenge was the new qualifying event for the final two spots in the 10-team field at the Pro Flight Finale on Sept. 2-4. With the two highest-finishing teams at PEC other than those having already accepted spots (the top eight Pro Flight teams have all accepted) earning the final two bids to Pro Flight Finale, Underground's performance was enough to lock up a bid despite being a Select Flight team.
Since the Pro Flight Finale will be held in Burlington, WA., this year, Underground is likely to accept its earned bid. The Seattle club's strong start could end up having major strength bid implications for the Northwest Region.
"It's fun to come into a tournament where people have low expectations for you and to make some waves," Underground captain Molly Sinnott said. "We just came in trying to play our game and not paying attention to what sort of talk is going around. I think we surprised a lot of people and the opportunity to play a super strong local tournament is really exciting."
Losing 12-11 to Ozone in the seventh-place match at PEC, Nightlock held its No. 8 seed and earned the second and final bid to Pro Flight Finale.
"That was our goal for the tournament so we're really excited about that," Nightlock captain Claire Sharman said. "You just get so much high-level competition at that tournament. Our focus now is to not be satisfied with that and to keep going."
Ozone Has To Battle To Hold Seed
Sixth in the Ultiworld Preseason Power Rankings, Atlanta's Ozone entered the month of July as a popular pick to take a big step forward this season after placing seventh at nNationals in 2016. An upward move is still very much in the cards but the Atlanta club found itself fighting just to stand pat in the standings at the Pro-Elite Challenge.
Finishing with a 4-3 record for the tournament, Ozone held its own during a 13-10 pool play loss to No. 2 Riot but only beat No. 14 Underground 10-9, later losing to the latter in the fifth-place semifinals. Ozone captain Emily Lloyd said the team was pleased with its ability to hang tough, but while its person defense was as strong as expected, the team has work to do on the offensive side of things in order to convert forced turnovers into breaks.
"I think that we knew this was going to be a learning opportunity and the first time we were going to be challenged this season," Lloyd said. "We're really pleased with the battle we showed, particularly against Riot and in pool play. But we need to be more consistent moving forward."
Katherine Wooten started off the season doing the usual Katherine Wooten things, and Kate Travaglini proved to be the multifaceted addition the team had hoped she could be.
Notes
No. 5 Scandal – another Pro Flight team looking to challenge the "Big Four" for at least a semifinals spot at Nationals – held seed by defeating upstart Underground, 11-9, in the fifth-place game. Jenny Fey and Amy Zhou were at the heart of the action.
Despite an impressive showing from Robyn Wiseman, a shorthanded Heist team struggled. With a 1-2 record coming out of pool play, the Madison, WI., club lost to No. 14 Underground in prequarters and ended up placing ninth (after coming in seeded sixth) after defeating Showdown (9) in the ninth-place game.
Despite losing nearly half of its team from last season, Boston Siege (15) and their combination of downfield defense and methodical zone offense broke seed and ended up defeating another seed-breaker in BENT (13) for 11th place.
The No. 10 seed coming in, Columbus Rival didn't finish the tournament as strongly as they would have liked. They went 2-1 in a round-robin with Pop (16), Wildfire (11), and Schwa (12), winning a tiebreaker for 13th place.