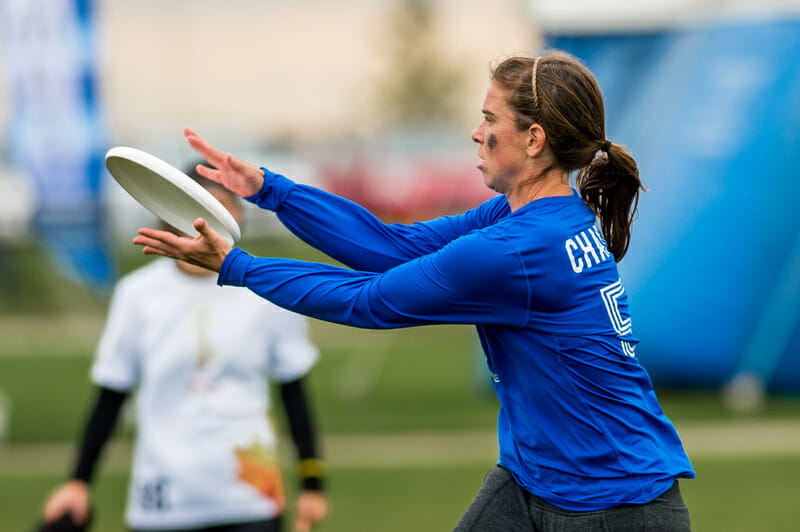 Welcome to the 2017 Women's Division Club Mega-Preview! This is a wide angle look at the competition this season, plus a preseason ranking for the top 25 teams.
Remember that Ultiworld will be filming club games all season long and you can get access to every game with a Full or Plus subscription!
Major Storylines
1. Which team is the favorite right now?
With many departures from the top teams in the division, the 2017 club season feels a little more open than in recent years. Boston Brute Squad, Seattle Riot, San Francisco Fury, and Denver Molly Brown all lose significant members of their teams. Of course, they also all added elite players to replace the ones they lost, but with such an unsettled landscape, the top of the division hierarchy promises more competitive balance than it has in the last few seasons. Any of the top four will feel like they can win a title this year.
Brute Squad suffers the biggest losses of the top three title contenders and refills those spots mostly with youth. But they're clearly a well established program plenty capable of developing young players; they should still have their trademark, suffocating defense; and coach Ariel Jackson is one of the best strategic minds in the game. Boston's losses may have opened the window for another team to win a championship, but they are still squarely in the race.
Will this Riot team ever be able to win a championship? They have the talent, but they've had the talent for years. Two seasons ago, Riot was finally able to break Fury's voodoo, so they have demonstrated an ability to snap out of a mental funk, even if they haven't gotten past the most important one yet. To Riot's credit, they have also played second fiddle to some true dynasties. With Brute Squad taking a step back, perhaps this is the year Riot finally becomes the bride.
Fury hasn't won a title since 2012 after winning seven in a row. It has been four seasons since they've been atop the division, their longest drought in the club's history. But San Francisco loses little from a season ago relative to their chief title competition and adds a number of shiny new weapons — Opi Payne, Bethany Kaylor, and Yelena Gorlin. With Matty Tsang returning as full time coach, Fury looks to have their best chance at a championship in years.
For the past two seasons, Molly Brown has felt like the definitive fourth team in the division. Certainly a step or two above the next tier of teams but not quite a true title contender either. With some elite players moving to the Denver area during the offseason, it seemed like Molly was primed to truly challenge for a championship this year. But come roster announcement time, their roster losses were at least as heavy as any of the other big four teams. Jesse Shofner, Liza Minor, and Hannah Leathers1 are all exciting additions, but they lose their luster as replacements for their outgoing players, rather than coming in as added depth.
2. Can Ozone make the big step forward?
Each season, there's about one team to be ordained a challenger to the elite tier of the women's division. Atlanta Ozone may fit the bill in 2017. They've been on the fringe, but there's a vacancy in the ranks this season and they've added enough pieces to fill it.
Perhaps even more than who they added, it's who they didn't lose. While Hannah Leathers doesn't return, their core contributors from last season are all signed on for another go. Mira Walker, Emily Lloyd, and the infinite entity that is Katherine Wooten are back. Lesser known but key contributors like Marissa Hicks, Sam Stovall, and Anraya Palmer are too. They have a balance of impressive handlers and downfield playmakers.
They shouldn't have much trouble integrating their experienced new acquisitions. Paula Seville slots right into the Paideia-laden backfield with Sophie Darch and India Stubbs. Kate Travaglini reunites with former college teammate Meg Harris and players she's familiar with from years of southeast competition. Kayla Emrick is a rock solid handler. Katie Franchot, a speedster from Bucket, will fit in easily.
Ozone has the tools to improve from last season. They had a middling regular season performance before delivering a disappointing 0-3 pool play showing at Nationals. Their 4-0 bounce back in Pro Flight bracket play got them into the Pro Flight, ending the season on a high note.
The opportunity is there. Traffic and Scandal lost major contributors. Regional rival Phoenix is in the throes of major turnover. With a wealth of experience, a large crop of returners, and plenty of talent, Ozone has the pieces necessary to take advantage.
Getting the next level, however, is a whole different beast. They are 0-9 against the top four teams over the last two years. But if they can get within striking distance, this team might have a shot.
Players Who Will Define This Season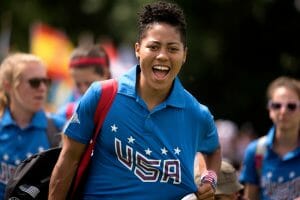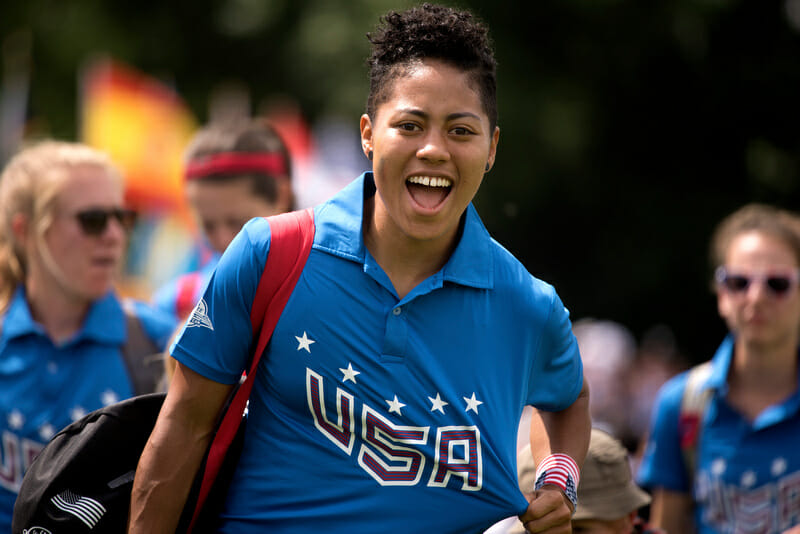 Opi Payne (Fury)
There are few more exciting weapons in the game than Opi Payne. She is arguably the most athletic player in the division, capable of making plays that most others couldn't dream of.
With the best handler corps in the division already at Fury's disposal, Payne should be free to do what she does best: make jaw-dropping, game changing plays. And with Matty Tsang back at the helm, Payne — along with fellow newcomers Bethany Kaylor and Yelena Gorlin, and all of the incumbent Furies — know they'll all be put in the spots to give Fury their best shot at returning to the top of the division.
That's why Fury adding Opi is such a massive addition. Not only does her arrival weaken one of their rivals for the crown, not only is she simply the best new addition for any of the top four teams this year, but Payne is going to a team that should maximize her skillset and impact. That should be a scary thought for the rest of the division.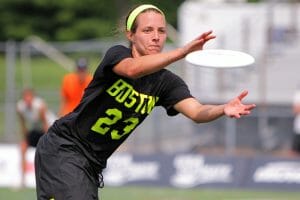 Emily Baecher (Brute Squad)
Emily Baecher will be making her return to ultimate this year after taking last year off to become a first time mother. It's an exciting addition for Brute Squad who needs some added fire power with the departure of Leila Tunnell and Laura Bitterman, among others. Baecher brings speed and throwing depth that could help replace those losses but it remains to be seen how effective she can be to fill those holes. In the past, she has been a rock on the D-line taking hard matchups and then marching the disc down the field on offense, but the bigger gaps for Brute seem to be on the offensive line.
What we do know this year for sure is that this will be a new looking Boston team with far younger players taking significant roles than in the past. Rachel Kramer, Jojo Emerson, and Tulsa Douglas highlight the new recruits for Boston after each had a successful college season. You could easily imagine Baecher stepping into an O-line role to complement the likes of Lien Hoffmann and Becky Malinowski while the young guns get the keys to the defense. Or she could step right back into her traditional role. No matter how Boston chooses to use Baecher, it will be exciting to have such an powerful player returning to the division.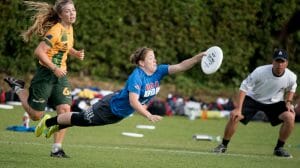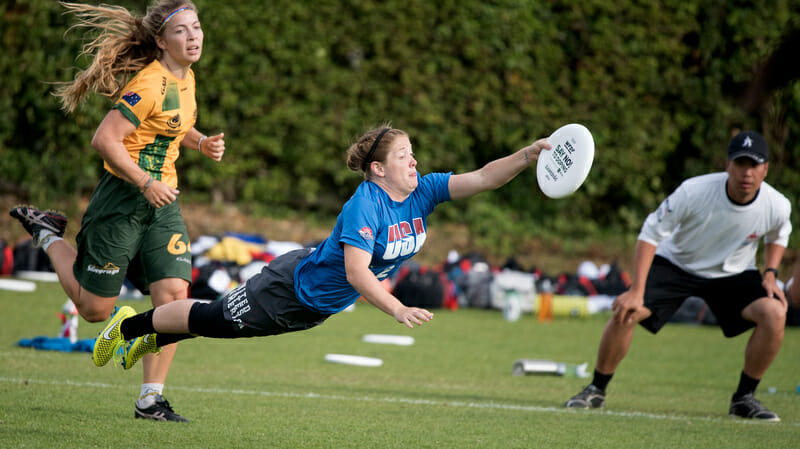 Jesse Shofner (Molly Brown)
Off the top of your head, name all the ladies in the AUDL. It's a very short list but the one person on it has proven herself on the ultimate field time and time again. Jesse Shofner knows her limitations in the men's game, but in women's, they're basically nonexistent. Jesse can plug any hole that a team needs her to fill and is clearly one of the hardest women to mark downfield. Going to Colorado to join Claire Chastain puts two of the best give-and-go players on the same team.  While the loss of Opi is clearly a blow for Denver, Shofner is about as strong a player as you'd hope to get in return. She has also played before with Megan Cousins and Lisi Lohre on the 2015 u23 squad: there aren't many teams in the Women's Division that seem as built to cater to Shofner as MB seems to.
Since Shofner is coming off of a season with the AUDL's Nashville Nightwatch, it's a safe bet that her fitness is already in a tip-top shape. This will serve her well on a team that will likely ask her to play on both O and D-lines.
Still, the question will be asked whether she alone can keep Molly in the title conversation. The answer is no, but she doesn't have to. Molly has lost a large contingent of strong players but those that they have gained (and retain) are more than enough to raise the team to new heights. What many players will attest to is that one of Shofner's strengths is elevating the game and intensity of those around her. Her experience will be useful for much of the young talent Molly has and her reckless abandon on the field has the ability to fundamentally alter games.
Molly has in the past allowed games to get away from them, games they probably should have won. In Shofner, the team gets a player that can rally those around her and won't shy away from big game situations.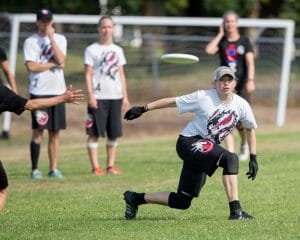 Sarah Anciaux (Heist)
One of the most exciting roster moves from this Spring came from Madison when Heist released announced the addition of Sarah Anciaux. One of Drag'n Thrust's top players for years in the Mixed Division is now set to compete in Women's. She is a dominant cutter who can do it all and will easily slot into any role for Heist. It seems like a liekly that they will play her on their O-line as she can stretch the field while outmatching the other team's best defenders deep or come under and do it with her throws. If not, she can certainly contribute a lot on defense and will be able to take big matchups and dominate the cutting lanes on a turn.
Anytime a star moves from one team to another it's exciting news, but a star moving divisions adds a whole new layer of intrigue. As one of the Mixed Division's top player, she has the potential to make an immediate impact and bring Heist from a prequarters/quarters level team to one with a chance of knocking off the top four. The switch from Mixed to Women's could take a little getting used to for some, but Anciaux played for the US Women's national team last summer and is certainly prepared to step into the spotlight on the new stage.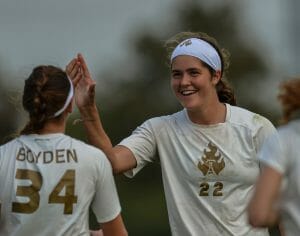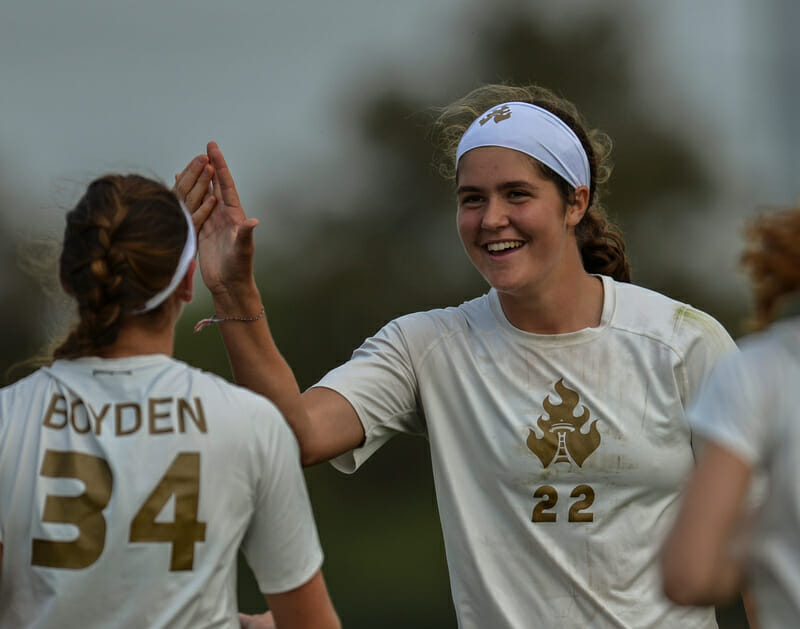 Jaclyn Verzuh (Riot)
Verzuh is coming off one of the most dominant college season performances in recent memory. As a sophomore.
She's already been one of the top players on Seattle Riot for a couple of seasons, but this year could be the one in which she really emerges as an unstoppable force on the club scene. Verzuh brings a special skillset and physicality to the game that, as her ultimate IQ increases, should eventually be as equally unstoppable at the club level as it has been in college.
Additionally, with her championship with Dartmouth in May, Verzuh joined the growing group of young, college title winners on Riot's roster. For a team that is looking to break its Club Championships curse, a culture of winning transplanted from the college game could be what the team needs to get over the proverbial hump.
If Riot finally does win that title that has eluded them for so long and Verzuh plays a significant role in that success, then 2017 will go down as the Year of Jaclyn Verzuh. And will probably mark the official start of the Decade of Verzuh.
Preseason Power Rankings


1. Seattle Riot
Riot loses a pair of stalwarts in Rohre Titcomb, who is in coaching role to start the season2, and Hana Kawai, who has chosen to be a practice squad player this year. Still, they add some exciting pieces like Steph Lim and keep the vast majority of their roster from last year intact. They were the best team in the regular season a year ago and were squarely in the driver's seat to win the final over Boston before a late collapse. Riot is always talented enough to win the title, and that certainly remains the case. But will they be able to get over that mental hurdle that has held them back for so long?
2. San Francisco Fury
Opi Payne is the biggest offseason addition any team made this year. On an incredibly deep roster, Payne should be able to pick her spots and make game-changing plays without having to carry too much of a disc-moving burden. Oh, and they added Bethany Kaylor and Yelena Gorlin, too. But none of those additions may be as important as the return of Matty Tsang to a full time coaching role. Fury does lose Steph Lim and some other important veterans, but with what they add this year, many will count them as the favorite to return to their title-winning ways in 2017.
3. Boston Brute Squad
The two-time defending champions lost a lot this offseason. Leila Tunnell and Laura Bitterman are the the most impactful departures, but they also drop several important depth pieces as well. Emily Baecher's return will help alleviate the loss of Tunnell, but their other additions are mostly young, untested college players. Brute Squad's defense, its biggest weapon on route to their 2016 title, should still be a dominant force, but they will need some of their new talent to handle the pressures of a late season run if they are to complete their three-peat.
Much of the looming questions surrounding Molly Brown centers on their large pack of departing players. Key pieces of Molly's 2016 class will not be returning, signaling a major restructuring for their roster. Bastions of MB Ultimate such as Tina Snodgrass, Lindsey Cross, and Alicia White have all opted out of the team for various reasons, not to mention Opi Payne's move to California. In response, Molly has embraced youthful talent to bolster their team. They currently have four women from the 2015 USA U23 team rostered and three more who were invited to U24 tryouts this year. Of their incoming class, look for Jesse Shofner and Liza Minor to have an immediate impact.
5. Washington D.C. Scandal
With a comparatively small turnover in their roster, expect Scandal to solidify the talent that they have shown in 2016 and build upon it in the upcoming season. Obviously, the loss of Jesse Shofner is a blow for any team, as there are few people that can jumpstart an offense like she can. Scandal may be hoping to fill this role with the newest star to rise from youth ultimate, Ella Juengst, who dominated at the inaugural High School National Invite. She'll have to fit into an efficient system headlined by the deadly combination of Jenny Fey and Sandy Jorgensen, both set to return and anchor the offense. In order for Scandal to break into the top four, their hope should be that the chemistry and experience they have together will overcome teams who have been in greater flux.
6. Atlanta Ozone
Ozone looks a team that is primed to take a step up this year. Paula Seville, Kayla Emrick, and Kate Travaglini are three major adds, and high schooler Marie Pervier adds a bit of unknown excitement to the roster as well. The only major loss from last year's pro flight qualifying squad is Hannah Leathers, whose playmaking ability will certainly be missed. But there's no doubt that Ozone's offseason was a net positive for the talent on the roster. In an offseason that saw lots of transition and turnover across the division, Ozone's stability should give them a good chance of locking up a spot in that second tier of top teams behind the big four.
7. Vancouver Traffic
2017's Traffic roster shows their trust in Canada's youth. Traffic loses two incredible veterans in Ashlee Davison and Danielle Fortin, both of whom were instrumental in every game Traffic won at Nationals. Along with them goes Mira Donaldson and Kate Scarth, two rising stars in Canadian ultimate. Traffic is combating this by doubling down on their youth. In 2016, we saw the Canadian U20 women beat Team USA, and Traffic saw it too. They have four players rostered from that squad. Traffic is thus a curious balance of crafty veterans and youthful grit. For a team that delights in persistent person defense, the young legs on Traffic should suit them just fine.
8. Madison Heist
A year after qualifying for the pro flight for the first time, Heist suffers some major roster turnover. Budding superstar Liza Minor traded Madison for Denver Molly Brown. Both Jessica and Becky LeDonne are gone, as is Kayla Emrick. In all, Heist loses 15 players from last year's team. But it's not entirely doom and gloom for the Madison club. Drag N' Thrust transplant Sarah Anciaux is one of the most exciting offseason additions in the division and Robyn Wiseman returns after missing Nationals with an ACL injury last year. It will be tough for Heist to live up to their top eight finish a season ago with so many roster changes, but with the talent they do have, don't count them out.
9. Austin Showdown
While there aren't many roster changes for Showdown, they do return Julie Malacek and the players they do lose were role players. Where Showdown's hope for improvement this season lies is in its younger players. Current Texas Melee players and recent alumni make up a significant portion of the roster, and, after a very strong college season, a lot of those players will look to continue their improvement on the club scene. If strong college players like Dre Esparza and Julia Schmaltz can improve the top of the roster, then Showdown has a chance to solidify its spot in the middle tier of Nationals teams and perhaps earn pro flight status for 2018.
10. Portland Schwa
Last year, the narrative around Schwa was closely tied to their Fugue stars not returning. This year, Schwa is even more removed from Fugue with only breakout star Ella Hansen featured from the Oregon roster. Instead Schwa is consolidating the team that they retain while adding key pieces such as Tina Snodgrass and Mariel Hammond. It's not wrong to assume Chelsea Twohig will continue to make her presence known on the field after an impressive gold medal with the Mixed Masters team at WUBC. Schwa is no longer in a rebuilding phase; expect them to assert themselves in an already stacked NW division.
11. Seattle Underground
Another year, another round of major turnover for Underground. Such are the trials of the #2 team in a city. UG lost Maddie Gilbert and Aimee Kawaii to Riot, Abbie Abramovich and Ari Lozano to Mixtape, and Andi Coleman to BFG. Despite losing 15 of 26 from their 2016 roster, they do bring back almost all their assist leaders, including initiating cutter Lindsey Wilson and handler corps of Hallie Dunham, Emma Kahle, Jess Spaulding, Cate Roscoe, and Tiffany Phan. To supplement leading goal scorer Molly Sinnott downfield, they added USA WNT player and former Riot player Katy (Butters) Craley; former UG, Fury, and Riot player Hannah Kreilkamp; and SE college POTY Taylor Hartman. Also, for the first time, they brought in two rising HS seniors in Carly Campana (USA U20) and Stephanie Phillips. Despite all the changes, UG looked strong at Solstice, with two wins over both Schwa and a Fury-boosted LOL, while splitting with Nightlock for their only loss.
12. San Francisco Nightlock
Of all the teams coming from a quarterfinals berth at 2016 Nationals, we know the least about what to expect from Nightlock. Despite the team posting an impressive performance last season, Nightlock has lost a full thirteen players from last year's roster. Notable losses are Briana Cahn, their lead goal-scorer at Nationals, along with their two Oregon stars Bethany Kaylor and Hayley Wahlroos. The new roster features a lot of recognizable names from the college division, although many of them are still unproven at the club level. It would not be presumptive to assume this to be a rebuilding year for Nightlock, but if they figure out their cohesion early, they stand every chance of returning to the championship bracket.
13. San Diego Wildfire
2016 was Wildfire's first showing at Nationals and there's no way to get around the fact that many of the steadfast veterans that carried them there are not returning. San Diego has long had a tight core of women who had played together long before Wildfire. Losses like Brittany Cabriales, Jane Carlen and Sarah McNees signify a passing of the torch to the next generation of San Diego women along with their important returning contingent that resides in LA. Last year, Wildfire had an impressive regular season before burning out at Nationals. This year, expect Captains Sharon Tseng and Kristen Pojunis along with the likes of Erin Crider and Vivi Mai to help Wildfire build upon their previous season pressing for new heights.
14. Columbus Rival
Rival attended Nationals for the first time in 2016, and their roster looks capable of emboldening their position as the top team in the midwest in 2017. Goal scoring machine Sophie Knowles and assists leaders Sara Scott and Hannah Henkin are back, but they do lose a chunk of their supporting cast. A big part of their core consists of recently graduated college players, though, so that portion of the roster should still have plenty of growth left in their careers. Look for this young roster to build on the club's first two seasons and to be right in the middle of the race for another Nationals berth.
15. Minneapolis Pop
It's a good year to get on the Pop hype train, as they will have the biggest buzz of teams that didn't make Nationals in 2016. Courtney Kiesow, a Callahan winner at Wisconsin and a former O-line starter for Brute Squad during their 2015 title run, joins the roster, lending a jolt of experience and talent. But she's not alone, with Chip Chang and Emily Regan coming from Mixed division titan Drag'N Thrust, Frances Tsukano dropping in from Showdown, and Holly Denecour (formerly Greunke) signing on as well. The recruiting class is strong and can help fill in for the team's turnover. This is the best looking roster Pop has put together in quite some time.
16. Raleigh Phoenix
Major personnel changes are going to drastically change the look of Raleigh's roster. 15 players from last year's team are gone, including last year's breakout star Kate Travaglini, long-time captain Michelle Ng, and veteran Heather Zimmerman. The incoming class brings with it very little elite club experience. Young stars Jenny Wei and Linsday Soo are going to have to step into bigger roles alongside vets Jessi Jones and Rachel Johnson. Nationals is no guarantee.
17. Boston Siege
Siege parallels Underground in major losses to their city's top team, as Rachel Kramer, Jojo Emerson, and Tulsa Douglas all depart for Brute Squad, while Amy Broom moves to Cosa Nostra. They mostly fill the gaps with youth. Perhaps the most significant addition is to the coaching team, now featuring Tiina Booth plus Nikki "Tucker" Ross, focusing on player development for this young team.
18. Chicago Nemesis
After missing Nationals last year, Nemesis is set up for a strong comeback in 2017. They've added Dori Franklin (All-Star Tour 2015, Molly Brown) and Julia Butterfield (Notre Dame, OPOTY Runner-Up 2017) to their roster this season, and they're returning all of their biggest playmakers in Carol Li, Katie Dyer, Emilie Willingham (D-III Player of the Year runner-up), Emily Hadel, and Sara Miller. They've already traveled to Solstice, where they went 4-4, but they have all the right pieces to build their way back to dominance in the Great Lakes region.
19. Quebec Iris
Iris will be a team to watch this year. For the past three years, they've been working to create a franchise and a system to outlive their current roster, but where will the Quebecois all stars be this year? The provincial team relies on pod-focused growth, meaning they depend on training camps and regional leaders for their success at tournaments. Jessie Grignon Tomas and Audrey St-Arnaud will be in Poland with Team Canada, and their diminished roles on Iris could be nothing short of devastating. However, with gritty defensive players like Corine Masse and Marie-Eve Beauchemin to keep their opponents on the back foot, this season may be no different from the last. As a team that was decisive in their 2016 Regionals victories, it would not be too extraordinary to see them with a Nationals berth again.
20. Toronto 6ixers
The revamped Toronto system likely surprised everyone with their dominant first regular season in 2016, but after losing to Iris in a Regionals shootout, they are out for blood. They've done nothing but pad their roster this year with more young talent, and every player has earned their spot with speed and athleticism. The youthful team boasts an entire line of U24 2018 players, not to mention another line of WCBU 2017 players. Dangerous downfield cutters Sarah Bobak and Jordan Meron are flanked by shooters like ex-Traffic Lauren Kimura and Iris import and rising youth star Anouchka Beaudry. Laura Kinoshita can jumpstart a stagnant offence or make tremendous defensive plays to save a point. The 6ixers squad looks to overwhelm opponents with their energy, so expect the Canadian team to come out with speed and something to prove this season.
21. Philadelphia Green
Philadelphia's Green Means Go dropped ⅔ of their name and even more of their roster going into 2017. Major losses include Amel Awadelkarim and Casey Gorman to Scandal, Danielle Walsh and Anna Thompson to AMP, Kat Ritzmann to Drag'n Thrust, and Yolanda Scarpati to LOL. Having lost players accounting for 80% of their recorded assists from last year, Malti McKinnon and Nichole Smith will have their hands full trying to keep the team at the elite level this year. Presumably in recognition of this, Green dropped from the Pro-Elite Challenge, where they were replaced by Pop.
22. New York Bent
Bent's biggest move was acquiring a new head coach: Jeff Babbitt. While the team hopes he will be able to add a lot, it's important not to lose focus of the strength of the women themselves. Megan Randall, Sophie Hulbert, and Martha Gregory all performed well last season, and Bent will be looking to return to Nationals after a year away. Bent has a strong identity and plays best when they do not allow themselves to be flustered by the opposing defense. With their new coach and added pieces, Bent hopes to return the program to previous heights.
23. Pittsburgh Hot Metal
Pittsburgh may still be a few years away from a return to the National Championships, a trip that would be their second ever and their first since 2012. They lose some of their O-line going into this year but reinforce their depth with a contingent of Pitt Danger players led by Caterina Pagano and Sarah Russek, who finished their senior year along with rising juniors Linn Bjanes and Hannah Blizzard. Ben Banyas returns as coach and will be able to integrate his younger players in perfectly since he is also the Pitt coach. Also look for captains Sharon Yee and Natalie Barnhart to play significant minutes and carry the load for this team young team.
24. Oakland LoL
As a brand new team, there is a lot of uncertainty about LoL's potential. What is known about them is that they have plenty of experienced and capable players on their roster, even if it is not fully consolidated. LOL is predominantly made up of Masters level players. Many of their rostered players are stalwarts of the Bay Area ultimate community. If they can fill out the rest of their squad, they could pull out of couple of surprises over teams seeded above them. Watch out for Lauren Casey and Chelsea Putnam, who would be dangerous on any team that they played for.
25. Winnipeg Fusion
More neighbors from the North! This Winnipeg-based team traveled south of the border to attend the U.S. Open last year, where they lost to most of the field, excepting close wins over Iris and Showdown. Fusion won the 2016 Canadian Ultimate Championship over the Sneaky House Hippos through strong play from Alexa Kovacs and Carmen Lee, and both women are returning for the 2017 season. They struggled against the top teams at Solstice, but they could still pose challenges to American counterparts this season.
---
if she's able to play through her labrum injury ↩

though she may return to the playing roster later on ↩