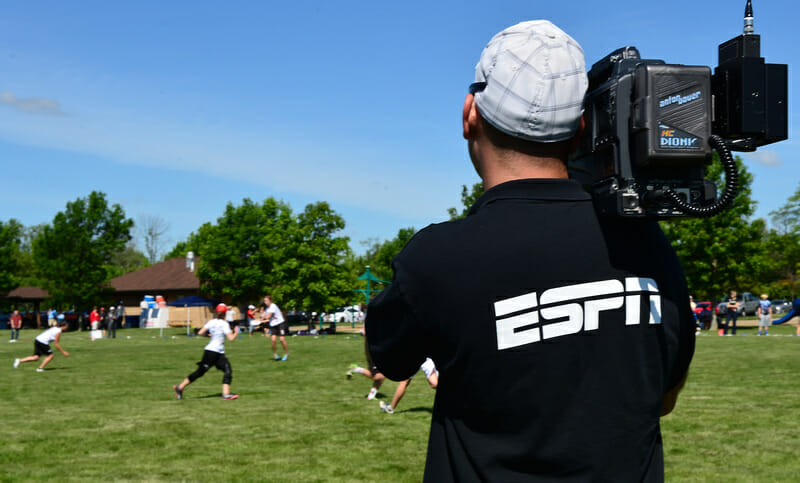 Earlier today, USA Ultimate announced the ESPN broadcast schedule for the 2017 club season, including the announcement that the Mixed Final at the US Open will be broadcast live on ESPN2 on Sunday, August 6th, at 7 PM Eastern.
ESPN will broadcast a total of seven games from the US Open over the course of Saturday and Sunday, including all three Championship games and four of the six semifinal events (two Women's, one Mixed, one Men's). The other two semifinals will be recorded by Ultiworld.
USAU also announced the full semifinals and finals broadcast schedule at the 2017 National Championships in Sarasota, FL, as well as the new ESPN-streamed finals matches from the Pro Championships (formerly the Pro Flight Finale) over Labor Day weekend.
RELATED: USA Ultimate Signs Historic 3-Year Deal With ESPN; Live Games On ESPN2, ESPNU
Ultiworld will continue to cover pool play and early bracket games as well as select semifinals throughout the 2017 season.
Below is the full schedule of ESPN/Ultiworld coverage of semifinals and finals at the three major events this summer and fall.
***
U.S. OPEN
*All Times CDT
Saturday, Aug. 5
2:00 PM – Men's Division Semifinal #1 (ESPN3)
3:30 PM – Men's Division Semifinal #2 (Ultiworld — Tape Delay)
4:30 PM – Women's Division Semifinal #1 (ESPN3)
7:00 PM – Women's Division Semifinal #2 (ESPN3)
Sunday, Aug. 6
10:00 AM – Mixed Division Semifinal #1 (ESPN3)
10:00 AM – Mixed Division Semifinal #2 (Ultiworld — Tape Delay)
12:30 PM – Men's Division Final (ESPN3)
3:30 PM – Women's Division Final (ESPN3)
6:00 PM – Mixed Division Final (Live on ESPN2)
PRO CHAMPIONSHIPS
*All Times PDT
Monday, Sept. 4
10:00 AM – Mixed Division Final (ESPN3)
12:30 PM – Women's Division Final (ESPN3)
3:00 PM – Men's Division Final (ESPN3)
NATIONAL CHAMPIONSHIPS
*All Times EDT
Saturday, Oct. 21
11:30 AM – Men's Division Semifinal #1 (ESPN3)
12:30 PM – Women's Division Semifinal #1 (Ultiworld — tape delay)
2:00 PM – Women's Division Semifinal #2 (ESPN3)
3:00 PM – Men's Division Semifinal #2 (Ultiworld — tape delay)
5:30 PM – Mixed Division Semifinal #1 (ESPN3)
8:00 PM – Mixed Division Semifinal #2 (ESPN3)
Sunday, Oct. 22
10:00 AM – Men's Division Final (ESPN3)
12:30 PM – Mixed Division Final (ESPN3)
3:00 PM – Women's Division Final (ESPN3)