A landmark media deal for the sport.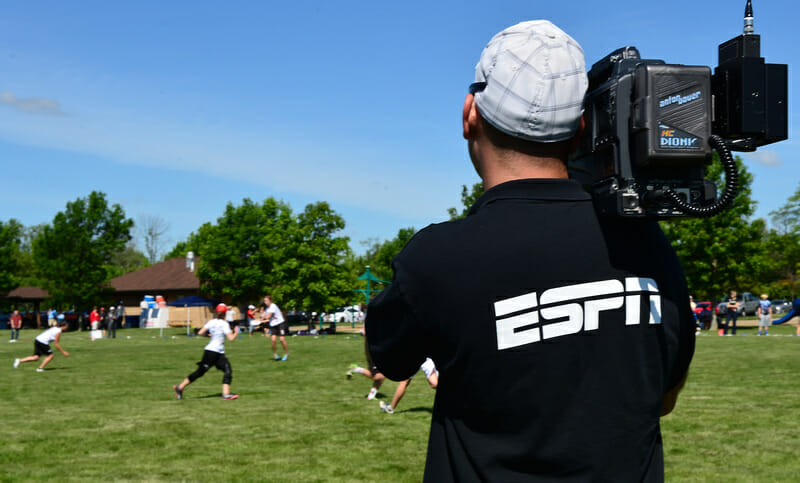 USA Ultimate has re-signed a historic deal with ESPN to air live games on ESPN2, ESPNU, and the ESPN app from college and club tournaments through 2019. This weekend's College Championships will mark the first time that USAU competition will be aired live on a cable network as both the Men's and Women's finals air on ESPNU in real time.
The US Open will also feature select finals games aired live on ESPN2, making this easily the most substantial media deal in the sport's history.
"We've got to drive interest and viewership over these next few years," said USA Ultimate CEO Tom Crawford. "This is a big test."
After an 11 month negotiation, USA Ultimate reached an agreement with ESPN to broadcast 69 games over the next three years. The large majority of games, including those from the Club National Championships, will air live on the ESPN app and at ESPN.com/watch.
ESPN has also added a live broadcast from the finals of the Pro Flight Finale, which will be rebranded this year as the Pro Championships.
"We spent the last four years very carefully building a relationship with ESPN," said USA Ultimate CEO Tom Crawford. "So when we sat down with them a year ago, we felt like we had a completely different relationship with them than the first go-round."
That relationship allowed USA Ultimate to address many of their goals with a new streaming deal: accessibility, production quality, and, perhaps most importantly, equitability.
Crawford said that in early renegotiation meetings with ESPN, the network's programming team in the meeting were sitting at laptops looking at viewership numbers from the various divisions.
"We asked them to close their laptops and just listen to what we have to say because these are really important values," said Crawford.
The result is a deal that achieves full gender and divisional balance: there will be 26 men's games, 26 women's games, and 17 mixed games broadcast. Within the context of the club division1, there will be 17 men's games, 17 women's games, and 17 mixed games broadcast. Given that only four semifinals are broadcast from each of the major club tournaments, any given year will not be able to have complete division balance, but the organization will get to an even split over the life of the deal.
"Our goal is to wait as long as possible [to select the semis for each event]," said USAU Director of Communications and Marketing Andy Lee, noting that they hope to select the most compelling matchups at each tournament.
USAU has also added a partnership with TSN, Canada's biggest sports broadcaster2. All of the games will be available on the TSN Go app, said Crawford, and many of the games are expected to be aired on tape delay on the network's linear cable channels.
Lee and Crawford also emphasized that they have heard the feedback from cord cutters and others who do not have traditional cable subscriptions that include ESPN. Historically, those without such a cable deal have not been able to access USAU's games that were streamed on Watch ESPN or the ESPN app.
"ESPN just did a deal with both YouTube TV and Hulu Live to offer all of their programming through those new over-the-top services," said Lee, adding that they expect access to ESPN content to get increasingly available to cord cutters.
Although the AUDL signed the sport's first-ever live cable deal earlier this year with Eleven Sports Network, the scope of the USA Ultimate deal with ESPN, the biggest sports media brand in the world, makes this a landmark moment for the sport.
Despite underwhelming raw viewership stats for ultimate, Crawford said that ESPN was attracted to the millennial demographic that ultimate's audience offers as well as the engagement from fans.
"We got ESPN to focus on a few things that are big advantages for us," said Crawford. "When people do watch, they watch for a long time relative to other sports. Once they tune in, they stick with it. They're interested to see if that continues on the live linear programming."
Though USAU could not share specific details about the financial arrangement with ESPN due to confidentiality agreements, Crawford said that the renewed agreement is very similar to the first.
"It's a barter deal," he said. "It's a mixture of sharing expenses and sharing commercial inventory."
USAU was in discussion with at least two other undisclosed media companies who showed interest in adding ultimate to their properties but opted to return to ESPN for another term.
Crawford reiterated that the organization is thrilled to be working with ESPN because of the doors it opens when talking to athletic directors, youth programs, and others, noting that having live games on ESPN2 and ESPNU will make it even easier to legitimize the sport.
"I think that it really helps to continue the image of ultimate as a really special sport with a special set of values," said Crawford.
---
There is no mixed division in college ultimate ↩

ESPN owns a minority stake in TSN ↩