USA Ultimate announced today the first iteration of the Club Division Rankings that will eventually determine the Regional bids to Nationals after the conclusion of the regular season in September.
Below, we offer a snapshot of the current top 20, the bid allocation were the season to end today, and analysis of where we stand and what might be coming as more teams enter the rankings and more games are played.
The small sample size of games at this point in the season means that the rankings should still be considered preliminary and highly variable.
Men's Division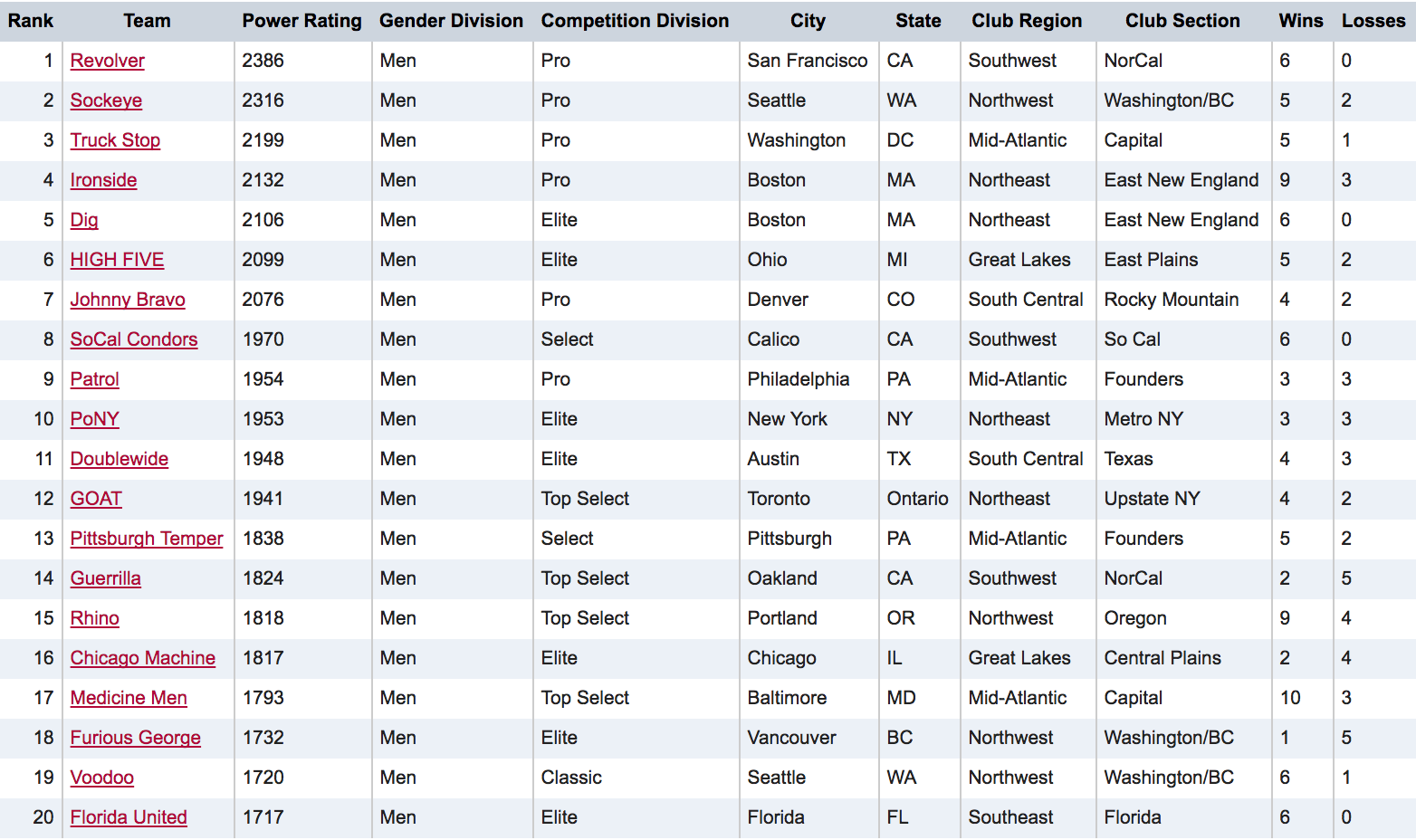 Implied Bid Allocation
GL: 1
MA: 3
NC: 1
NE: 4
NW: 1
SC: 2
SE: 1
SW: 3
Analysis
Before we begin, note that Ring of Fire and Sub Zero have yet to enter the rankings but will after this weekend when they compete at the US Open.
There is a degree of stratification already in the rankings, with a clear top two in the division (Revolver and Sockeye), followed by distinct clusters of teams in the 3-7, 9-12, and 13-17 ranges.
The Condors have made a strong play for the bid-starved Southwest by (barely) emerging undefeated at the Select Flight Invite, where an upset loss might have doomed them (any of their three universe point wins would have cost them ~40 rating points had it swung the other way).
Currently, there are no Southeast or North Central teams in the top 16 (#19 Florida United and #22 Madison Club are their respective highest ranked teams). Even a strong showing from Ring or Sub Zero won't deliver more than the autobid as it currently stands.
Right now, the vulnerable teams look to be Temper (MA) and Guerilla (SW). Below them, Machine (GL), Rhino (NW), and Medicine Men (MA) lurk within arm's reach, and Furious George (NW), Florida United (SE), Voodoo (NW), Chain Lightning (SE), and Madison Club (NC) are within easy striking distance1. 
Mixed Division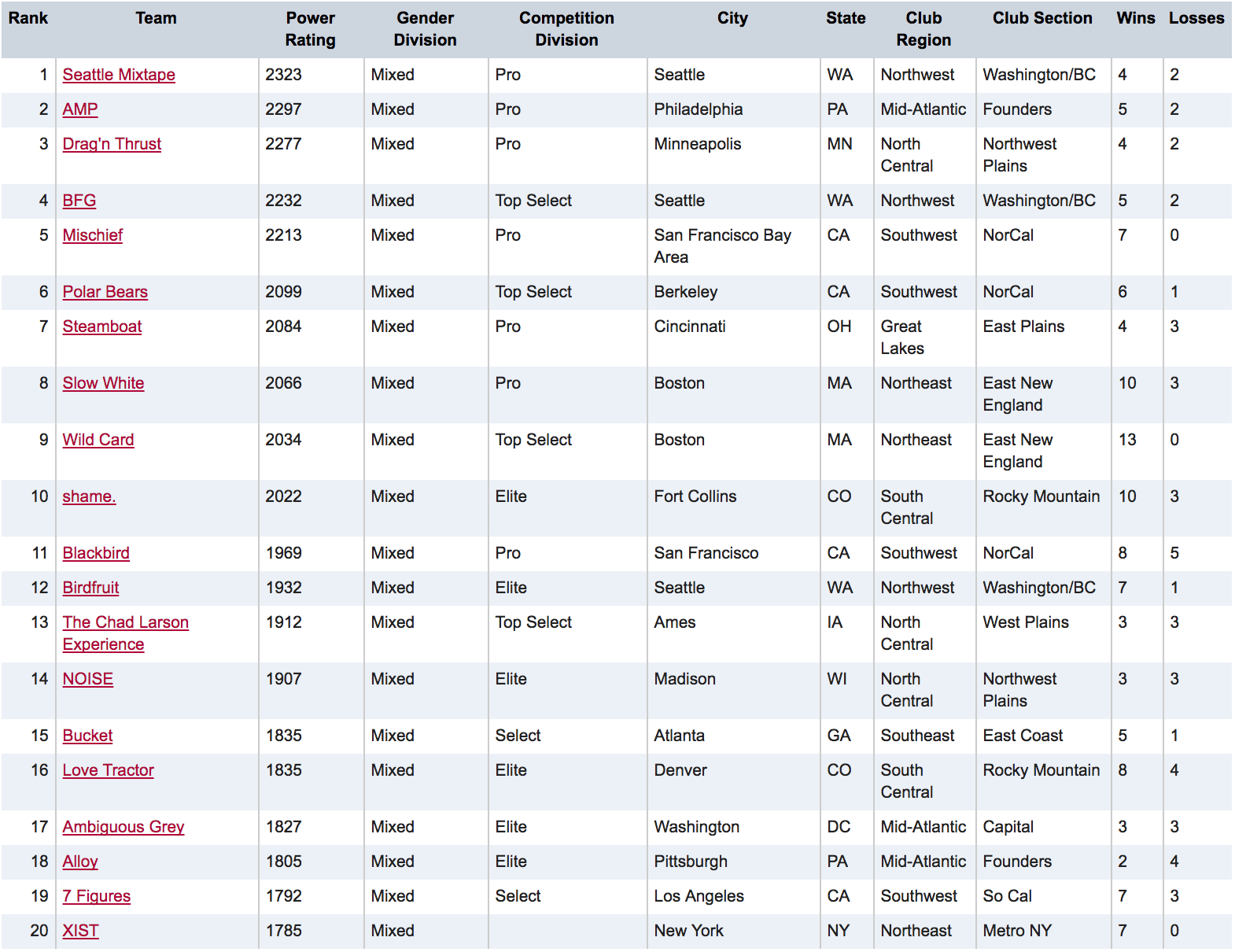 Implied Bid Allocation
GL: 1
MA: 1
NC: 3
NE: 2
NW: 3
SC: 2
SE: 1
SW: 3
Analysis
The top tier in Mixed is five-deep, with another close grouping of five just behind them. The top 16 winds down with a gradual rating decline. No region is absent from the top 16. The team closest to the cutoff is Love Tractor (SC), with challenges looming from the Mid-Atlantic's Washington DC Ambiguous Grey and Pittsburgh Alloy, the Southwest's Los Angeles 7 Figures and San Francisco Donuts, and the Northeast's New York XIST and Somerville Snake Country Bromance, as well as Boise BoyShe (NW), Durham Toro (SE), and Dallas Public Enemy (SC).
No perennially elite team is missing from the rankings, and Mixed boasts a higher sample of games than the single-gender divisions, so these rankings offer a relatively clearer look at the future bid picture.
Women's Division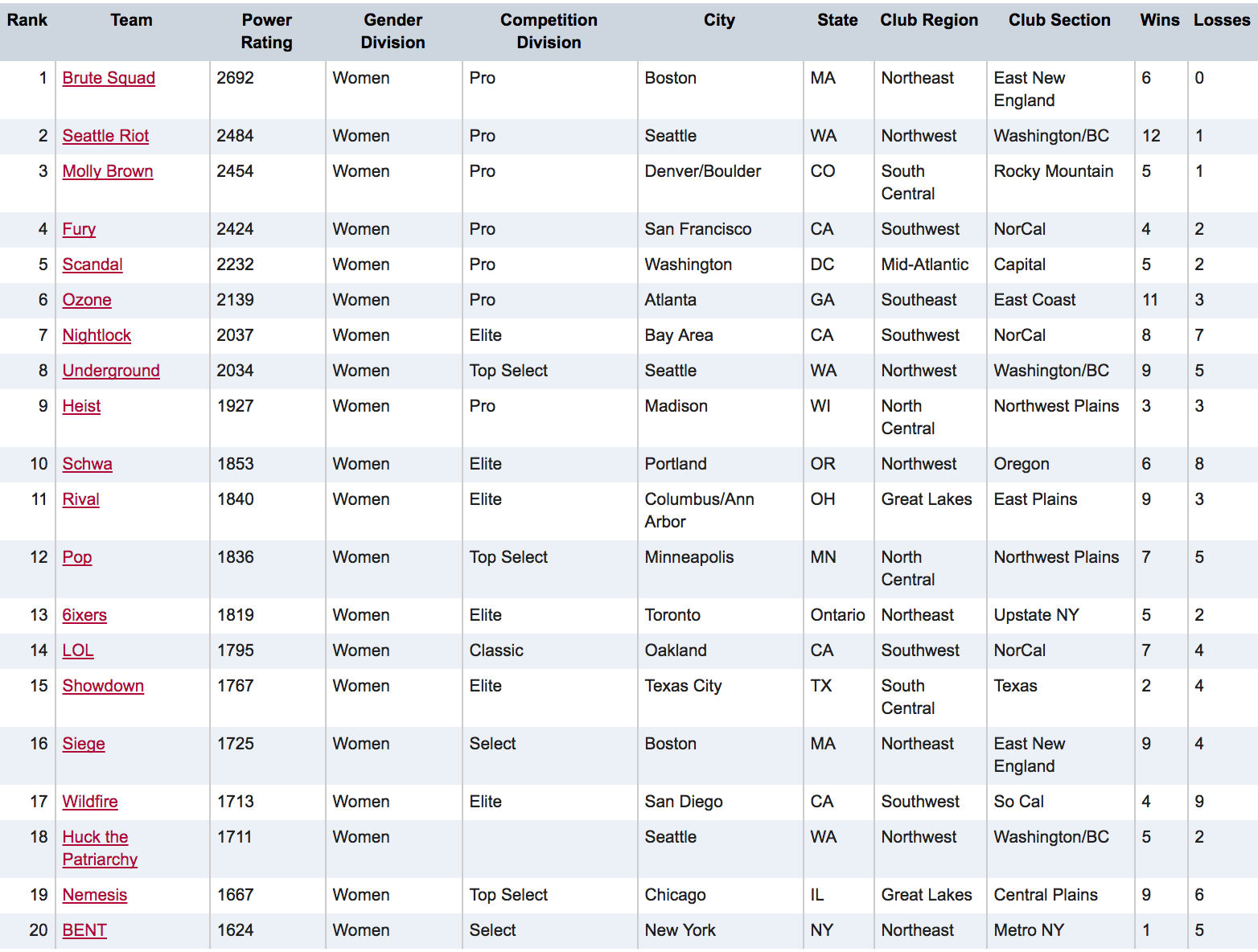 Implied Bid Allocation
GL: 1
MA: 1
NC: 2
NE: 3
NW: 3
SC: 2
SE: 1
SW: 3
Analysis
The top grouping teams in the Women's Division are, in order, the same four teams that finished at the top of last year Nationals. Washington DC Scandal and Atlanta Ozone appear to be the clear #5 and #6, with Seattle Underground and San Francisco Nightlock tied at #7 (an impressively high placement for a pair of teams who hail from cities that already boast top-four sides in Riot and Fury). Madison Heist is the clear #9, followed by a tight cluster of teams in the 10-13 range. The Bay Area's LOL (a new team with a number of Fury alums) and Showdown sit a cut above the bubble at 14 and 15, followed by a logjam of three teams at the bubble spot.
The fighting at the bubble may be for naught, as Vancouver Traffic are likely to enter to the top 10 after this weekend's US Open. It's also worth noting that Huck the Patriarchy is a team made up of women from Seattle mixed teams, who, once having played in the Mixed Division, will be ineligible to return to HtP, meaning they will likely fall short of the required 10 sanctioned games.
The current outside-looking-in bid contenders are San Diego Wildfire (SW), Chicago Nemesis (GL), and New York BENT (NE). Once Traffic enters the rankings, Boston Siege (NE) will also likely be relegated to contender status.
---
However, Chain and Madison Club are currently already "bid earning," so their entrance into the top 14 would not change the distribution ↩