Key factors included a strong community and inclusiveness.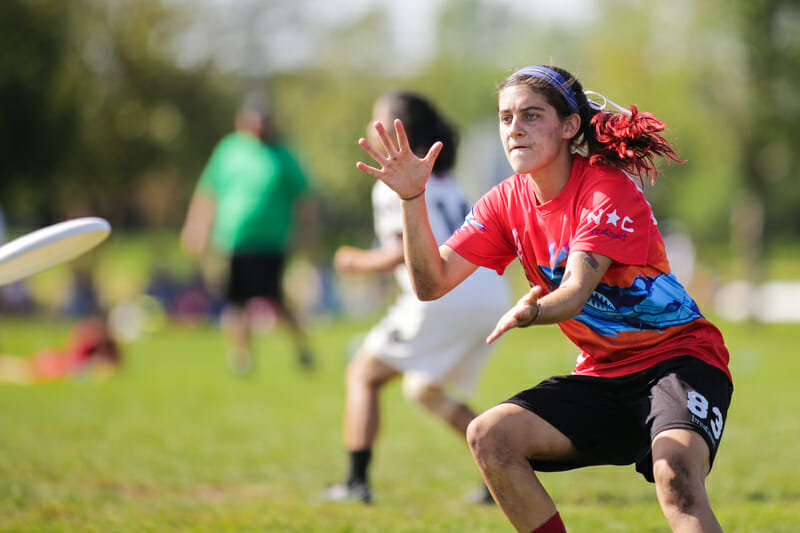 Disclosure: This article was written by Kim Manturuk, a member of the Board of Directors of Triangle Ultimate. She is also the parent of a player on the YCC Warhawks and East Chapel Hill HS teams. The views expressed here are entirely her own and do not reflect those of Triangle Ultimate. 
In 2014, USA Ultimate added a U16 girls division1 to the Youth Club Championships (YCC) for the first time. That August, I chaperoned nine mostly middle school aged girls from North Carolina on their first trip to YCC to complete as the Space Cats. Most of them had been playing ultimate for only a year or so; at least two of them had never played on a team before starting to practice three months prior. That team ended up winning just one game – a pool game on the first day – and went on to finish dead last in the tournament with a 13-1 loss in bracket play.
Three years later, I felt a lump in my throat as I watched four of those original Space Cats – now players on the U20 North Carolina Warhawks – rush the field to celebrate being the first non-Seattle team ever to win a girls YCC national championship. They were joined by 19 of their teammates, most of whom had similarly inauspicious beginnings in ultimate. At an age when many girls leave sports, what kept this group of players not just playing ultimate but training at the level that would eventually bring them to a national title? The answer to that question is a combination of single-gender playing opportunities, a strong and supportive community of coaches and mentors, and an athlete culture that emphasizes an inclusive team-first mentality.
Investing In Girls Ultimate
As long as there has been youth ultimate in North Carolina, there have been efforts to grow and support girls ultimate. These efforts were typically a labor of love on the part of a few dedicated individuals, but in 2015, Triangle Ultimate (TU)2 started a coordinated effort to grow girls ultimate across the region, starting by creating a girls-only high school league. This gave teenage girls a place to play where they didn't have to worry about getting skied by a six-foot-tall guy or navigating the sometimes-awkward social interactions that come with playing mixed-gender sports. The following year, TU started a similar middle school-based girls program that focused on teaching the basics of how to compete.
Some of the players and parents involved in the NC ultimate scene at the time – myself included – worried that promoting single-gender play would diminish support for girls in ultimate. After all, basketball fans profess to support the WNBA, but, in reality, only men's professional basketball fills stadiums. Maybe people only watched girls playing ultimate because they were playing on mixed teams. I was thrilled to be completely wrong about that. The single-gender playing environment gave girls the confidence to step in to roles on their teams that they might never have sought or been afforded on a mixed team. I don't know any teenage girls who want to practice laying out while being guarded by a really tall 17-year-old guy, but it's a whole lot of fun when you even the physical odds. The result is a group of young women who play some pretty darn exciting ultimate.
Coaches and Mentors
It would be difficult to overstate the important role that supportive coaches and mentors played in building girls ultimate in North Carolina. When current Warhawks coaches Brian Dobyns and Mike Shyu decided to give their players more competitive opportunities by starting a youth club team called the Tourists to compete at regional college tournaments, they rejected the typical youth sports "travel team" model of selecting only the top players to travel. Any girl who wants to travel with the team is welcome to play, regardless of experience or ability. There are no tryouts and no cuts. This inclusive approach to mentoring players is nothing new to North Carolina ultimate.
Years before TU formally began efforts to grow girls ultimate, Josh Hartzog and Suzanne Derby-Wright, two local players and coaches, set the tone for what girls ultimate would become in North Carolina. They coached SAGA, a youth team that would eventually win back-to-back southern regional championships. However, from the outset, they emphasized that Saga was for all players, not just girls who routinely generated UltiPhotos-worthy layouts.3
Josh and Suzanne both saw SAGA as a way to help players develop the skills they needed to move towards whatever the next step in their playing career was. For some girls, that was trying out for the Worlds team after they finished high school. For players like my then-thirteen-year-old daughter, it was just learning how to throw a flick. My daughter had played just one season of middle school ultimate4 when Josh noticed her wearing an ultimate t-shirt on the sidelines of a game in which her older brother was playing. He not only invited her to join the team, he encouraged her to play at the team's next tournament. She went to that tournament wearing a borrowed jersey two sizes too big, but every player on the team treated her like she belonged there. She even got to throw the last point of the last game that clinched the tournament win for SAGA. It was a flick.
Athlete Culture
The third crucial factor that helped build girls ultimate in North Carolina is a culture that emphasizes putting the team ahead of any individual player. The vast majority of high school girls teams in North Carolina play open lines during pools at all tournaments because playing the strongest seven players on every line might win a game, but it won't help newer players learn the game. One of the reasons that the 2017 Warhawks was such a deep team (in Ultiworld's words, they brought "wave after wave of defenders," and 12 different players scored the 15 points needed to win the championship game) was that every player had been given significant high school playing time from the day they started playing.
The players themselves internalize this culture, and it is one of the reasons that girls ultimate in North Carolina will continue to grow and flourish long after the players from 2017 championship team have moved on. Almost all the Warhawks players are active volunteers in the North Carolina community, recognizing that the best way to keep success going is to pass it along. Many of them started ultimate teams at their high schools where, more often than not, they were one of only a few players who had ever touched a disc before. They help TU with strategic planning around girls ultimate, volunteer at Learn to Play clinics, coach instructional summer league teams, and help organize tournaments. These off-the-field activities are the things that ensure there will be Warhawks on the field for a long time to come.
The 2017 Warhawks made ultimate history as the first non-Seattle team ever to win a girls youth club national championship. Maybe this is the start of a new dynasty in girls ultimate. Maybe five years from now, people will be asking if 2022 will be the year that someone finally beats North Carolina. Maybe not; I don't know.
I do know that somewhere in North Carolina right now, there is a 12-year-old girl who learned how to play ultimate at camp this summer. She's getting ready to start middle school and instead of hearing that "girls don't play sports," she's going to hear about 23 young women who didn't just play ultimate, they made history.
You'll have to ask her what North Carolina's chances look like for 2022.
---