Raleigh downs strong Boston and DC squads to claim title.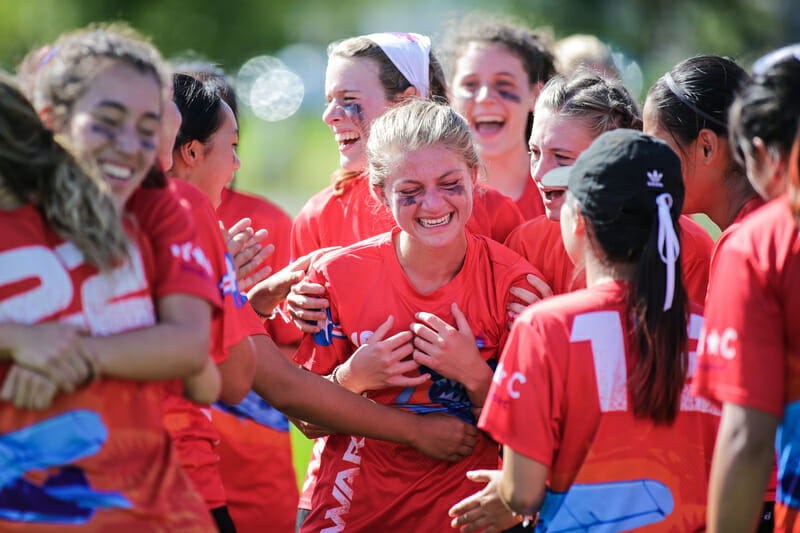 Ultiworld's reporting on the 2017 Youth Club Championships is presented by CUT Camps; all opinions are those of the author. Please support the brands that make Ultiworld possible and participate in CUT Camp!
BLAINE, MN – Heading into the final day at the 2017 Youth Club Championships, we already knew that for the first time, there'd be a new U20 Girls champion. Four teams remained alive for the division crown, each with aspirations of lifting the trophy and plenty of reason to believe they had an opportunity. In the end, the Raleigh Warhawks were the last team standing. Here's the story of how it happened.
Rogue Stars Overpower Belle In Semifinal
After escaping a brutal pool1 just to earn a spot in the championship bracket, Washington DC Rogue entered Monday morning riding high from a stunning upset of tournament favorite Seattle Narwhal, a program that had never lost a game at YCCs in more than a decade of competing. But in their semifinal matchup with Cincinnati Belle, Rogue came out slow, giving up two quick breaks to start the game.
As would be the case throughout the day — and weekend — it was Ella Juengst who took over to turn momentum DC's way, bookending a block and a goal to get Rogue on the board. DC then earned two breaks of their own through the confident backfield play of Caroline Tornquist and Rachel Hess. Now back on serve, the teams traded to half, though DC's holds looked far easier than those earned by Cincinnati.
While the first half saw each squad get relatively balanced contributions from up and down their rosters, the second half was all about the stars. Coming out of half, Rogue threw a zone to try to catch Belle off-guard but, not for the first time, Abby Swensen utilized her height to sky for the goal on a hanging pass into the endzone, getting Belle back to even at 8-8. On the next point, Tornquist ripped one down over two Belle defenders; Swensen followed with another sky of her own. Juegnst then owned a D point with multiple athletic grabs in the air to earn Rogue a much deserved break at 11-9.
Now brimming with confidence, Rogue pressured every throw, forcing Belle to try to squeeze throws into tight windows; after several turns each way, DC broke again, finding Juengst in the endzone once more. Cincinnati was unable to close the gap and eventually fell 14-10, as Rogue advanced to their first final.
Despite their obvious chemistry with each other — a majority of their roster played together in high school at Holy Family Catholic — Cincinnati looked overmatched by the top end talent from Rogue. Juengst, Tornquist, Hess, and Kat Sanz were simply too much for Belle to handle. It would not be the last team this quartet would run all over an opponent.
Raleigh Outlast Boston To Earn Final Berth
The other semifinal would see a similar story line unfold, as the teams traded throughout much of the first half. For Boston, these holds looked relatively easy, as Renata Pepi and Kate Nelson showed both skill and patience marshaling BUDA's split stack offense. On the other side, Warhawks needed big plays to complete their holds, typified by a huge layout grab from Margaret Barry to notch Raleigh's first point.
Perhaps unsurprisingly, BUDA managed the first break to go up 4-2. Boston hung onto the two point lead until 6-4, when Dawn Culton produced a layout block, followed by Alyssa Ehrhardt toeing the line in the end zone to pull the Warhawks back within one. The big plays sparked a four-point Raleigh run into halftime, punctuated by bookends from Sydney Rehder.
Pulling to start the second half, BUDA desperately needed a break to stop the bleeding and get back on track; once again, Nelson obliged with a nice grab in the end zone.
As the game wore on, Raleigh's defense — like Rogue a field over — began ratcheting up the pressure on each throw, earning another break to take a 12-9 lead. Boston worked hard to keep energy up as their season slipped away, screaming and cheering from the sidelines, but it would not be enough. Despite a heroic endzone block from Pepi to keep Boston alive, Karen Ehrhardt eventually squirted free to receive the winning score, 15-12, and push Warhawks to their first ever YCC final.
Swensen And Sieber Come Up Big For Belle In Third Place Game
In the third place game, Boston and Cincinnati both looked a little disappointed to have come up short of their goal, but still battled for pride and to go home on a win.
As the wind picked up slightly in the early afternoon, the game turned sloppy, which suited Belle's 6'0″ receiver Abby Swensen just fine. Swensen absolutely owned the skies, routinely cleaning up lofted hucks and racking up the goals and blocks. Late in the first half, BUDA threw zone to try to limit Swensen's impact, but the strategy proved futile as US U20 National Team member Cara Sieber went to work, collecting every other pass up the field and leading her team into the break with a one-point lead.
The soft cap came on just as the teams came back out after half; with Belle holding, the game would be played to 11. Swensen continued her antics, skying a pile of overmatched teammates and defenders to bring Cincinnati to the brink of a bronze. BUDA managed a absolutely absurd layout goal to tie the game at 10 and stay alive, setting up double game point. With both teams' stars on the field, Sieber again came up big for her squad, going over Pepi's shoulder for a layout block on an in-cut. After a nice grab on a swing pass, Belle put up another huck to Swensen, who came down with the game-winning goal.
Warhawks Wear Down Rogue For Title
With a large contingent of parents and fans crowding the sidelines to watch, the final pitted a deep, talented team from Raleigh against a short-rostered DC squad carried by a quartet of stars. While many of the girls on Rogue had been on this stage before with Swing Vote, it was the first time either program had reached a girls final at YCC.
The first point saw nerves from both sides, with loads of turns as the teams felt each other out. Eventually the Warhawks held on the first of Karen Ehrhardt's four goals.
Raleigh then came out on defense with a sag into the lanes of Rogue's horizontal offense to try to disrupt flow and force the disc out wide and out of the hands of Hess in the backfield.
"We changed a little bit this morning to start poaching lanes, trying to make people go side to side," said Raleigh coach Brian Dobyns. "It worked very well against Boston, which was a very tough game. Then we started using it against Rogue, but they didn't respect it too much."
Hess shepherded a patient DC offense up the field, bypassing the poaches by knifing pinpoint throws through to Juengst, Sanz, and Tornquist. But after a quick hold, Warhawks nabbed the first break of the game at 3-1, capitalizing on a missed throw to an in-cut from Rogue.
The early deficit didn't seem to phase the ladies from DC, who confidently went about their next O point, scoring from Hess to Sanz. Both teams settled in and rattled off a series of efficient holds, before Rogue got their only break of the game. Juengst ate up a stall 9 huck from Raleigh and three passes later, the game was tied at 4.
That would be the last time the game was on serve, as Raleigh immediately broke back with a huge layout grab from Dawn Culton in the end zone, under heavy pressure from Tornquist. When Warhawks switched to zone on defense, DC turned it over on an unforced throwing error which Raleigh converted to take half up three breaks at 8-5; it was an advantage they would not surrender.
With their backs against the wall in the final half of their season, Rogue increasingly leaned on their stars. The quartet of Hess, Juengst, Sanz, and Tornquist — all of whom moved over to the girls division after winning back-to-back mixed titles with Swing Vote in 2015 and 2016 — played nearly every point of the second half and combined accounted for 19 of DC's 20 goals and assists.2
"We knew the four of them were going to be the anchors of our team," said Rogue head coach Jenny Fey. "They did a really great job all weekend keeping our O-line set and coming in to get some big breaks at times."
But in the end, their heavy usage rate meant they inevitably tired as the championship game wore on. Rogue saw the first break opportunity of the second half, but had trouble stringing together completions, looking very fatigued. It was a battle for Fey, who tried to find opportunities to rest her stars while also keeping the game in her top players' hands. "It's a tough balance — you don't want to ride anyone too long. But they got hungry. All of them wanted to keep playing, so you've got to give them a chance to see what they can do. I could tell they needed a rest, but they didn't want it."
As DC kept trotting out nearly the same lines throughout the second half, Warhawks were able to wear them down with wave after wave of defenders and tireless cutting from Culton, Margaret Barry, and Karen Ehrhardt. "I honestly didn't think about the score at all," said Ehrhardt. "Every point was just a battle. They were a fun team to play against, it was really spirited."
As the game slipped away, Sanz heroically dug out a low pass in the endzone to keep Rogue alive at 12-9. But exhaustion led to more and more miscues from DC, while Raleigh racked up the blocks and confidently moved the disc up the field. A bookends break from Connie Cui to go up 14-9 ended any notion of a comeback and put the game out of reach. Rogue held on their last O opportunity, but could not stop the Warhawks from completing their victory. On the game's final point, Margaret Barry unleashed a huck from half-field toward her sister Abigail; Juengst was once again in the area and went up big for the block, but the disc sailed just over her outstretched fingers and into the waiting arms of the older Barry sister.
Raleigh had earned their title by utilizing their depth. While there were certainly standouts — Ellen Yu and Kate Lanier both notched four assists, Culton and Ehrhardt led the way in scoring with three and four goals, respectively — 12 different Warhawks recorded a point in a game where they never trailed.
"By the time today came around, we just really felt we were the best team on the field," said Dobyns. With the talent at his disposal, Dobyns asked a lot of his team throughout the weekend, who answered the call every time and finished with a perfect 6-0 record.
"We really tried a lot of new things this weekend," admitted Ehrhardt. "We were able to adjust well to the teams we played which is a big reason why we were able to win."
It was not a complete loss for Rogue. "We changed history this weekend by beating Seattle and that just blows me away," commented Fey after the loss, trying to put the tournament in perspective.
For Warhawks, they're hoping the YCC title is just the start of big things for the future. "Success breeds success, it always has," said Dobyns. "We've got some young players coming up; we're losing some very talented players, but next season, everyone will walk in with their heads held high because they know it can happen."
---
Both Utah Swarm and Atlanta cATLanta looked like very strong squads on Saturday, despite their seeding in a lower pool. ↩

Even on the 20th, Hess got the hockey assist on Kirsten Knisley's lone goal-scoring pass. ↩