An enormous addition for the postseason.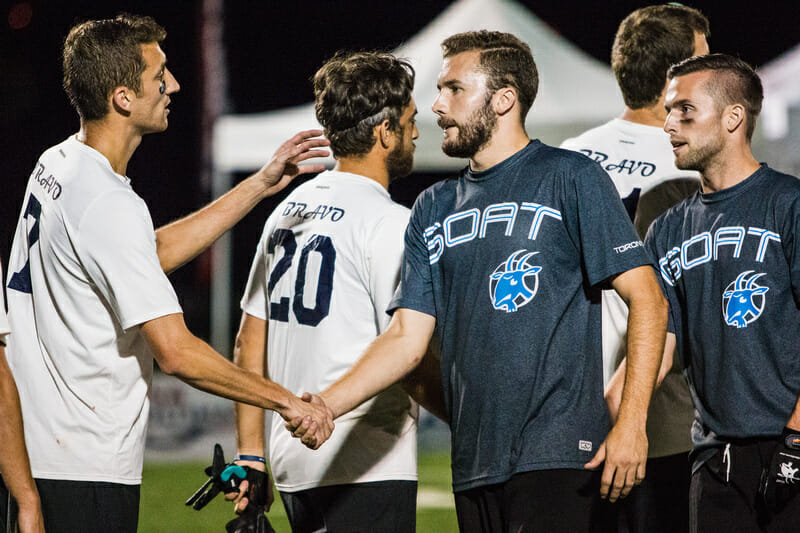 In a surprise development just before the USA Ultimate Series roster deadline, Mark Lloyd, a long-time player for Toronto GOAT, has taken his talents to Denver to compete with Johnny Bravo in this year's postseason.
The news "broke" in a tweet from Bravo, a kernel of truth embedded in a sea of jokes:
Mark Lloyd's name appeared on the official Johnny Bravo roster and multiple sources have confirmed to Ultiworld that he is in fact joining the team.
"Mark and I have matched up against each other for a long time," said Bravo captain Jimmy Mickle. "Always thought it would be fun to play together. Tried to get him out here earlier in the year but with World Games, AUDL, and life commitments, it wasn't possible. We thought the dream was dead but managed to pull it together at the deadline. Definitely excited — he will bring some extra firepower and big game experience."
Lloyd is coming off of a tremendous performance at the World Games competing for Team Canada and at the AUDL Championship Weekend, where he helped lead the Toronto Rush to an upset win over the Dallas Roughnecks in the semifinals.
His addition to the Johnny Bravo roster adds another star to the #5 ranked team that has been strong but has gone 1-4 against #1 San Francisco Revolver, #3 Seattle Sockeye, and #4 Washington DC Truck Stop.1
Lloyd had said earlier this year on Ultiworld's Sideline Talk podcast that he would not be playing with GOAT this season and was planning to step back from competition.
Perhaps Lloyd's most recent tweet should have suggested this was coming all along:
---
They have not played #2 Raleigh Ring of Fire ↩