Brute Squad v. Molly Brown. Fury v. Ozone.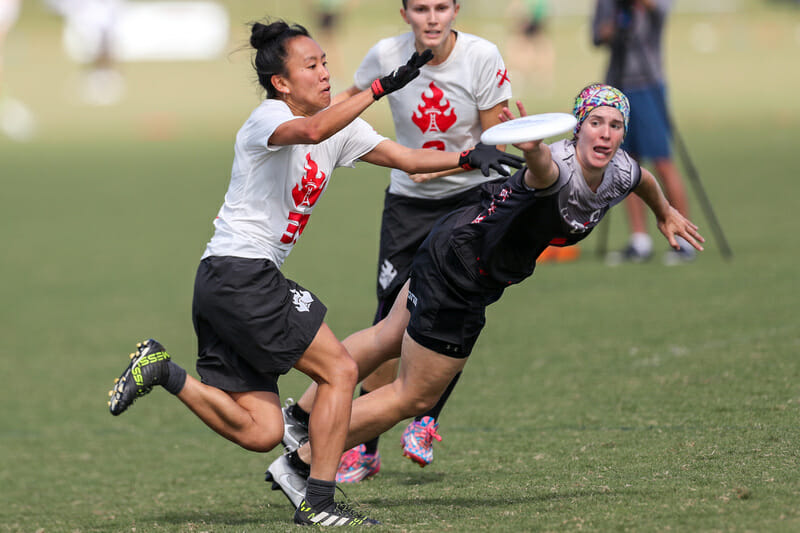 Ultiworld's reporting on the Women's division of the 2017 National Championships is presented by VC Ultimate as part of their year-long support of our women's coverage. All opinions are those of the authors. Please support the brands that make Ultiworld possible and shop at VC Ultimate!
The four semifinalists in the women's division include three of the top four seeds, and one very surprising lower seed. Atlanta Ozone shocked the tournament with an come-from-behind victory over Riot in the quarterfinals. Molly Brown survived an effort from Scandal that took them to the edge. Meanwhile, Brute Squad and Fury dismantled their opponent.
One matchup is just like we drew it up. The other is one nobody projected. Everyone has their chance at the final.
Boston Brute Squad v. Denver Molly Brown
Head To Head: 1-1 (Molly Brown won at the US Open 17-15, Brute Squad won at the Pro Championships 15-12)
How They Got Here:
– Brute Squad 3-0 in Pool B (44-17), d. Nightlock in quarterfinals (15-6)
– Molly Brown 3-0 in Pool C (45-24), d. Scandal in quarterfinals (13-11)
Line: Brute Squad -2.5
Game Time: Saturday, Oct. 21 at 2:00 PM Eastern
How To Watch: ESPN3

For the third straight year, Boston Brute Squad and Denver Molly Brown will square off in a national semifinal. The past two confrontations have gone Brute Squad's way – Boston routed Molly Brown in 2015 and won 14-9 in 2016 – and the reigning champions are 6-2 against Denver in their last eight meetings. Brute Squad has been the more dominant outfit, with a dramatically better point differential.
There are plenty of stars to watch in the game and how they matchup will be crucial. Claire Chastain (Molly) and Kami Groom (Brute) are the biggest names, while Jesse Shofner, Manuela Cardenas, and Liza Minor have been on a tear for Molly Brown and Caitlin O'Connell, Angela Zhu, and Lauren Sadler are in good form for Brute Squad. Boston's defensive depth has been the difference-maker in past matchups and should be a factor again. And in the Sarasota gusts we've seen this weekend, you can expect Boston to have some defensive looks to mix things up.
Molly Brown's offense has been their strongest unit, while Boston's calling card during their back-to-back title wins has been their defense. The matchup will be one of strength on strength. Denver's shown the propensity to bring the intensity, and when Boston catches fire, they can incinerate the opposition. This game will most likely go to whichever team can find their energy soonest and keep it the longest, despite the best efforts of their opponent to wrangle the momentum into their corner. Whoever can grab that elusive advantage will have a big edge in advancing to the final.
San Francisco Fury vs. Atlanta Ozone
Head To Head: Fury (1-0), 15-11 win at Pro Championships
How They Got Here:
– Fury 3-0 in Pool D (45-18), d. Traffic quarterfinals (15-5)
– Ozone 2-1 in Pool B (36-33), d. Schwa in prequarters (15-9), d. Riot in quarters (12-11)
Line: Fury -5.5
Game Time: Saturday, Oct. 21 at 12:30 PM Eastern
How To Watch: Ultiworld Subscription (Tape Delay)

Atlanta Ozone did the unthinkable. They unsettled the top four by defeating no. 1 seed Seattle Riot in a stunning performance. Ozone has already demonstrated a lack of fear when it comes to playing the top four, and they've also shown a true ability to game plan for each opponent. Truthfully, that will be their strongest asset against Fury. Against each opponent thus far, they've come out with specific game plans to give them their best chance to win that one game, while Fury was almost certainly planning to play Riot before the tournament even began.
Against Riot, Ozone excelled in attacking the deep space, and they'll likely look to do that against Fury as well. Paula Seville put on a masterclass in their quarters game, and how she plays could determine how late into the game Ozone is able to hang around.
Fury, on the other hand, has not even been challenged this weekend. They are clicking on all cylinders and playing their best ultimate of the season by a significant margin. They seem to have no concern for whom their opponent is at the moment. They're enforcing their strengths in games and bending opponents to their will. There seems to be little danger of Fury overlooking Ozone as a challenger based on how they've dispatched their opponents thus far, and that's likely Ozone's best chance. On paper, Fury is the best team in the division, and for the first time this season, Fury is playing close to that potential, if not fulfilling it.
Ozone has had an impressive tournament, and their upset of Riot is a hell of a statement. But it would be a real surprise for them to match that performance and for Fury to match Riot's. Atlanta has shown they can prove the doubters wrong, while Fury has shown they are a dominant force. Only one will confirm the narrative they cultivated this weekend.