Can Doublewide do it again?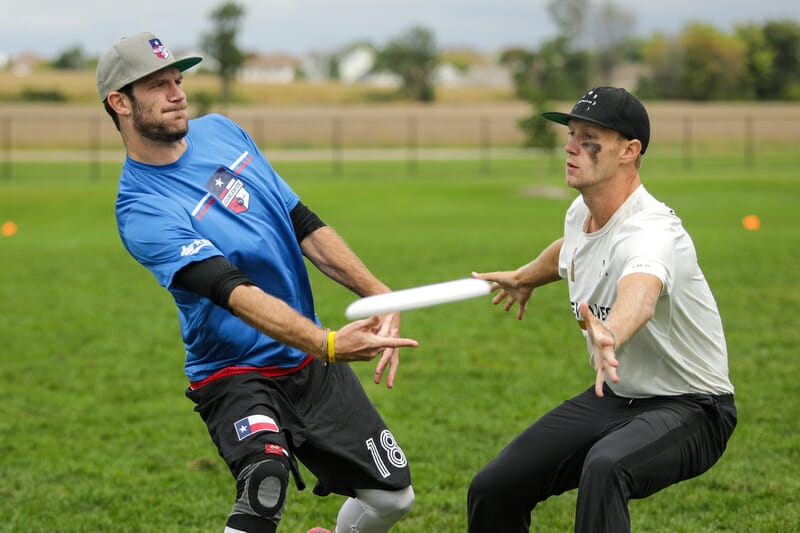 Ultiworld's coverage of the Men's Division at the 2017 Club Championships is presented by Spin Ultimate; all opinions are those of the authors. Please support the brands that make Ultiworld possible and shop at Spin Ultimate!
The universe has a way of coming full circle, and the 2017 Men's National Championship game is a testament to that. This year, Nationals returned to Sarasota for the first time in five years, and the title game is a rematch of the last final that took place here—a windy affair that Doublewide won 15-12 to capture their first-ever title.
Game Profile
Head to Head: Revolver 15-10 over Doublewide in Pool Play
Line: Revolver -4.5
Game Time: Sunday, Oct. 22 at 10:00 AM
Video: ESPN3
The two have already met this weekend, with Revolver notching a comfortable 15-10 win in pool play, which is itself another strange redux of 2012: five years ago, Revolver beat Doublewide 15-6 in pool play1. Notably, Doublewide mailed in the second half of that game to save themselves for later in the tournament (the last to use the grueling power pool format). This year, however, Doublewide was certainly trying to win for the entire game.
They threw all sorts of defenses at Revolver in an attempt to slow them down, including a four-person cup, a shifty diamond zone, one on one, and handler lane poaches. The junk got one break on Revolver but nothing further, and SF cruised against regular sets, yielding only one additional break. On offense, Doublewide looked their best when they were connecting on their deep game, which they went to often. Revolver countered by playing force middle and was able to generate blocks on the longer flight path hucks. They used their potent D-line offense to efficiently convert their breaks. They took half 8-5 and never lost control of the game as they closed it out 15-10.
So with all that said, this final is chalk, right? Not so fast. This isn't the same Doublewide team from just two days ago; this tournament has been a growing experience for them. As noted before the tournament, they were a dangerous three-seed. While it was appropriate for their regular season results, their roster has been stacked with talent from the outset. They combined last year's quarterfinalist team with qualifier HIP and took two of the best players from qualifier Prairie Fire, which makes for a compelling collection of talent. Because of their relative youth (14 players on the roster are 24 or under), the need to combine the divergent play styles of three teams (their starting O-line has five new players), and their atypical practice schedule due to their distribution of players from around Texas, Doublewide has needed room to grow, and Nationals has been their best opportunity to do it.
The Doublewide that showed up to the semifinals against Truck Stop looks much better than the team who lost to Revolver in pool play. Not different, but better. Their hucks, even in the wind, are hitting (particularly from Matt Bennett and Brandon "Muffin" Malacek, who have both been shooting deep like Steph Curry) and their defense, both person and zone, looks athletic and formidable. Those strengths are what powered them to eight unanswered breaks against Truck in their semifinal.
On offense, Abe Coffin (5G/10A) and Dalton Smith (7G/11A) lead the way from the handlers set, with Malacek crossing over on some upwind points. The O-line cutting corps is tall and talented, particularly Kai Marshall (4G/7A), Chase Cunningham (11G/6A), and Jay Froude (8G/10A). Doublewide's M.O. is to go deep, and when they're connecting, it can be hard to stop. Revolver's resident tall-guy defender Nick Stuart (7D) is going to have his hands full. The goon squad doesn't end there; big man Dan Emmons has been roofing people deep all weekend while Kaplan Maurer has been a layout block machine (7D). Do not sleep on Doublewide.2.
But lest we forget, they are playing Revolver–arguably the best men's roster ever assembled. It's been said before, but Revolver is incredibly deep. They have two D-line of (literally) world class defenders and one of the most decorated O-lines in the world3. The defense has been money for the vast majority of the year. The stable of athletes earned their share of blocks, and five former O-line players help bolster their conversion efficiency on the turn. Perhaps the only knock on the D-line has been their lack of strategic variation, but they've answered that critique at Nationals by flashing force middle, transition junk, and a trap zone set.
The offense has been maligned for being vulnerable to junk looks in the past but they have been more than equal to the challenge this tournament. They've only yielded five breaks — total — in Sarasota (two of which came against Doublewide) but just one has been against junk (and they've seen a fair amount of it). The concerns about the zone offense have been largely allayed. BUT– it was certainly windier today, and will be on Sunday, than it was Thursday morning. We can be pretty sure that Revolver will be deadly against standard defense, but they will absolutely be made to show that their newfound zone offense can withstand the tests of wind. They acquitted themselves well in that aspect against Ring of Fire, who tested their ability to grind in the wind.
Revolver started the season as the favorite to win it all, and remain the favorite as they stand on the doorstep of their fifth title in eight years4. They are deep, they are well-coached, and they have the right mentality. All that's left for them is to demonstrate that one last time.
Few people had Doublewide beating Doublewide in 2012, and fewer will have them pick tomorrow, but let me leave you with a couple lines I wrote earlier in the tournament that I still believe:
"At the end of the day, Austin feels like a team that could score an upset or two if they get hot. They have a lot of raw talent and athleticism and if they air it out and start coming down with some shots, they could be dangerous. It's a longgg shot, but they're the kind of team I can see beating Revolver."
"But Revolver can be a bit stubborn when it comes to changing their defensive tack; they are an athletic team and seem committed to winning by underscoring that athletic advantage. They are reticent to alter the strategy in response to a hot hand. I am by no means saying that that will happen; my money is on Revolver to win this tournament. But I could definitely see a team…airing it out and shocking them with the upset."
---