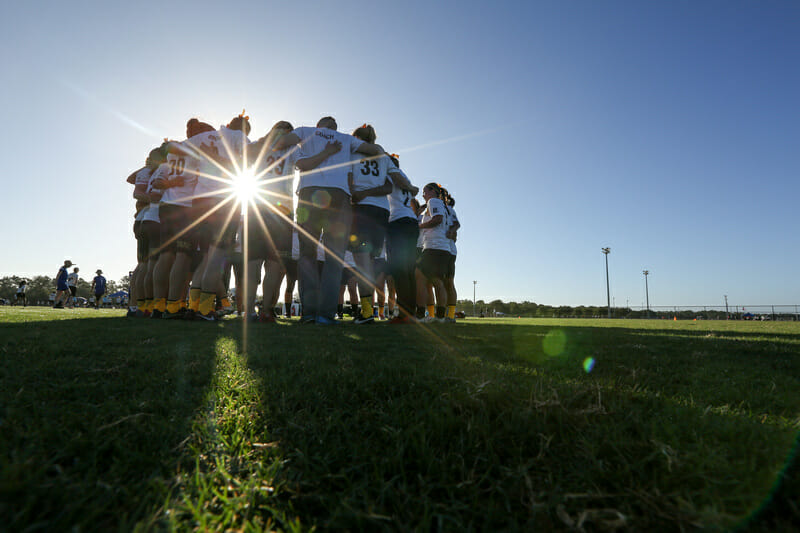 I decided to pretend I was a college professor for this report card, knowing that they most often are allowed weeks to turn in grades. When I was a high school teacher, we were lucky to have a full weekend to read and grade and figure out averages. As always, there is no data here, just my impressions based on what I saw and heard from others. Feel free to create your own categories and grades in the comments.
1. Parking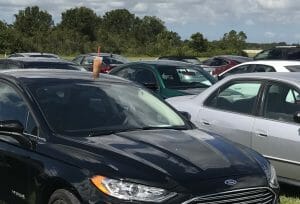 Very easy to park on a nice grassy lot. I arrived at different times during the tournament and there was always room. And my iced coffee was still on the roof of my rental car when I returned after four hours of spectating, although it had turned into a hot coffee in the Florida sun. A
2. Arrival and Welcome
USA Ultimate folks were out in force and were kind and welcoming. The free stuff at the info table seems to double at every major tournament. I took, with permission, some extra "Support Women's Ultimate" buttons as souvenirs. A+
3. Venue
Once again, I am naively surprised at the sheer amount of land many states allocate for mega athletic complexes. (We battle regularly with the Amherst Soccer Association for access to four smallish fields near my house.) The Premier Sports Campus at Lakewood Ranch was no exception. Huge, well-designed, clean and did I say HUGE?! I was nursing an injured Achilles and was told to stay off my feet and I did not. Luckily, the accommodating USAU staff was giving rides from field to field for us old folks. A-
Ride with this guy: priceless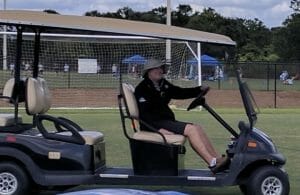 4. Fields
Beautiful, flat fields with plenty of room between for tents, chairs, and the pop-up day care centers at the mixed fields. For those who didn't have tents, however, there was very little shade. Hiding out under the bleachers became popular. A-
5. Signage
USAU and Discraft banners saluted us every day as we entered the complex. Low signs on the fields were well anchored and did not fly away. In 2014, I wrote about Frisco: having signs on the busy roads outside of the stadium could bring in non-ultimate fans. I am now ready to retire this suggestion. It seems that we have decided that we are not going to try anymore to attract non-ultimate players or fans to our national events. My guess is that even the kids who were attending the Learn to Play clinics were there because family members were playing. It may have been a futile effort from the beginning, but I always hoped in some way that locals would discover us. I did see a TV van at the venue, but I don't know if anything was produced. B
6. Announcers
Announcer was easily heard. Violin player faded in and out. B-
7. Bathrooms
Believe it or not, I did not visit any of the port-o-potties at Club Nationals. There was a fine bathroom at the stadium that was rarely crowded. Since the complex was so huge, there were portables spread throughout but some fields seemed to be in a dead spot, with no close options. Suggestion: how about springing for some of those real nice portable bathrooms, with AC and real toilets, like those you find at outdoor weddings? I was not the oldest or most feeble person there and I cringe when I think of grandparents trying to navigate these potties in the hot Florida sun. C+
8. Uniform Compliance
There is nothing new for me to say here. I stated my position in one of my daily recaps and on Twittter. Short version: make better rules. Don't choose every battle. Don't fuel your personal agenda with issues that may not be connected to it. Incomplete
9. Food-Retail
The people who worked there were very nice and helpful. The menu left much to be desired and the lines were long at times. However, I heard they set up a satellite food station on the far fields, which I love. Again, food trucks would be better but I am sure they were not allowed per rental agreement. B
10. Media Access (Written by Ultiworld Editor Charlie Eisenhood)
Little has changed for the media in the last few Championship cycles: a dedicated tent for press with some access to power is still a guarantee, as is a place to work during the semifinals and finals in or near the stadium. Unfortunately, in Sarasota, that stadium setup was back away from the field a bit, rendering 50% of the field hidden behind bleacher seating. The ability to watch and report from the stadium varies a lot from field site to field site.
On the huge plus side, we were able to set up our livestream from the press box on Thursday and Friday, which meant air conditioning, power, and hardwired Internet were all available. Those are luxuries I simply do not expect, and they were gladly welcomed.
Press passes were ready for us upon arrival Thursday morning and, as usual, the USAU event staff were helpful in providing what we needed when asked.
Livestream Setup: A+
General Media Access: B
11. Food-Tournament
So much wasted food from what I heard. I didn't go back for the late Mixed semifinal game. Someone estimated that 75% of the player dinners were left untouched, because teams predictably went back to Siesta Key instead of staying for the later games on Saturday night. The complex was about 45 minutes away and it was easy to watch the games on TV. Question for discussion: if the semis shown at night were men's or women's, would more people have returned?
Suggestion: if we ever return to Sarasota, take some of the money for food and put it into golf cart shuttles.
I did hear the food was good, however, with burgers, grilled chicken and vegetarian options.
Planning for tournament food: D
Quality of food: B+
12. Observers
I am happy to say that I watched none of the contentious men's games, except for 11 seconds of the Sockeye/Florida United game on video at home. Until we can clone Mitch Dengler, we are going to have uneven officiating with uneven teams. It feels like another watershed moment in our sport, but not as much fun as Vermont recognizing ultimate as a varsity sport. Best of luck to those who make improving these games a priority. Incomplete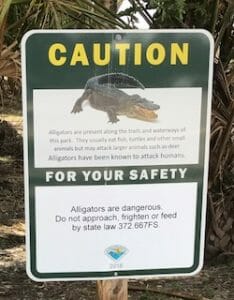 13. Level of Skill
The wind. The wind. The wind.
Sure. It was very windy most of the tournament. It was not the most skilled ultimate I have ever seen, but those great moments of offense were all the better because of the conditions. I saw the best moments in the women's division, as it seemed that most teams had game planned for how to throw and strategize in different conditions. In particular, Brute Squad's quick little IO backhands into the wind were a thing of beauty.
Overall level of skill: B-
Ability to accept difficult circumstances and adjust game play: C/D (depending on the team)
Ability of certain throwers to holster risky throws in the wind: F
Fury's decision to practice at 6 AM in SF to compensate for the time change: A+++
14. Level of Thrill
I didn't go to the Men's final. I don't think it was bad for Revolver to win easily. They continue to be one of the few teams who set the bar of excellence quite high. Good for them. The mixed final and women's final were exhilarating. A special thanks to USAU for going back to a rotation for when these finals are shown. It matters.
Men: meh
Mixed: A
Women: A
15. Overall Evaluation
Charlie already has the Ultiworld Airbnb, a house in La Jolla, booked for 2018 Club Nationals in San Diego. Barf. He said on his podcast that we should not return to Sarasota. I disagree. I want to be back there in 2020, in the same condo, with the same beautiful ocean and wildlife, watching teams who have smarter throwers and who game plan for the conditions. Or maybe coaching one of those teams… B+