Testing out a pair ultimate shorts made specifically for women.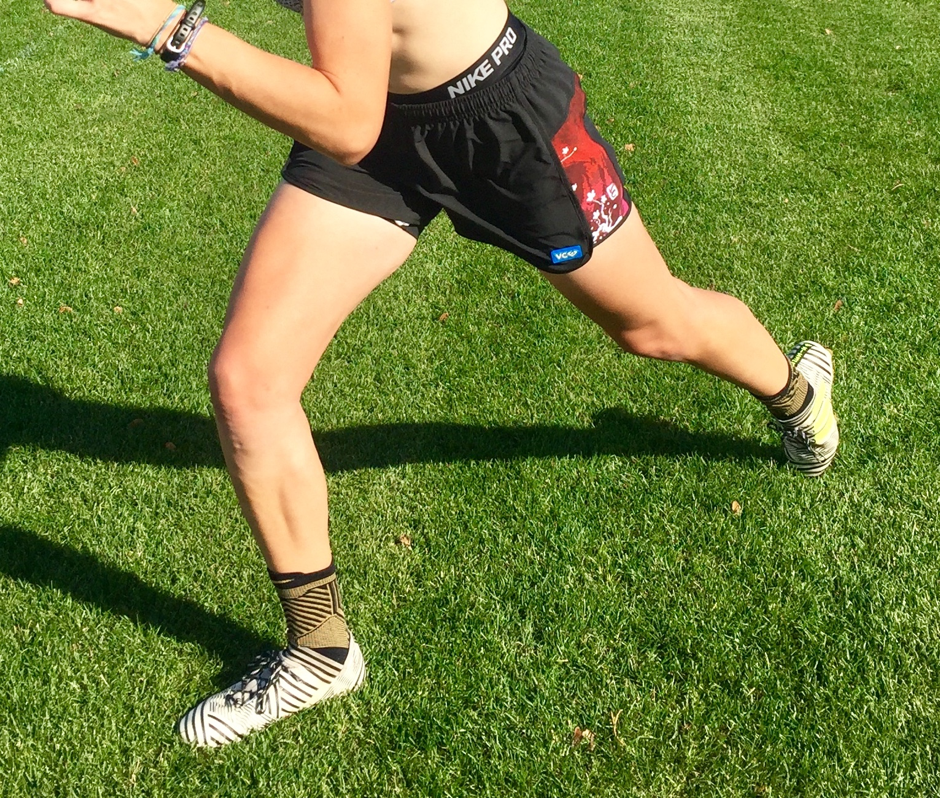 Disclosure: Ultiworld was compensated for writing this product review. All opinions are the reviewers' own and are not subject to approval from VC Ultimate. 
With their new Shorty Shorts, Toronto-based VC Ultimate has entered the market of the lightweight, mobile, track-style shorts that have become a favorite in women's ultimate in recent years.
Over the last few weeks, I've tested these shorts in the gym, during daily life, on the track, and most importantly, on the field. Here's how they fared.
Material: A
I am a big fan of VC's take on a track short. From seam to fabric, VC did a great job putting together a short made with women in mind. The microfiber fabric is lightweight and mobile without feeling flimsy. The seams didn't call attention to themselves (thank goodness); instead they blended into the short and were crisp with no hanging strings like you sometimes find with other ultimate brands. The shorts had some stretch, particularly on the side panels, but never lost their shape.
One of the best parts of the Shorty Shorts in comparison to other ultimate shorts is the lack of fabric. It's nice not to feel swallowed by a pair of shorts or deal with extra fabric bunching around the groin. After a workout in the rain, I'm happy to say these shorts didn't hold water or feel heavy, which is a big win compared to shorts made of thicker fabrics. The Shorty Shorts also dried quickly and didn't hold odor, making them a great buy for all of us laundry procrastinators out there.
Features: B-
One of my favorite features about these shorts is their customization versatility, allowing players to be as flashy as they like. In store, VC carries the shorts with several sublimated side panel options that range from a calm black SOTG siding to a rainbow geometric style. These shorts are available with side panel sublimation or full sublimation which is a nice option for teams looking to customize their kits with their own designs and logos.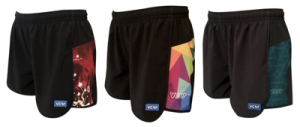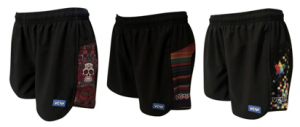 While VC offers many options for customization, the shorts are only sold in black and charcoal on the VC store page (but you can custom order them in black, charcoal, or white). The VC logo is as defined, but I didn't notice it while wearing the shorts. The choice of a bright blue tag is fun, but I'm not crazy about opting for brand advertisement above color matching.
Outside of the amazing stretchy fabric and customization opportunities, the biggest feature to note is the long white drawstring on the inside of the shorts. The waistband has an elastic base that will stretch up to eight extra inches and the drawstring allows for a more comfortable fit for a variety of waists. The string itself is a little thick, which has durability benefits but ends up being bulky when tied. The white string on black short contrast definitely adds to the bulky feeling.1
While I like that VC provides a longer string to cater to women of all sizes, it was way too long for me. I found myself worried about the strings end hanging out of the bottom of the shorts. That said, I think the benefits of inclusivity outweigh the five seconds it took me to snip the strings with a pair of scissors.
Another detail I appreciate about the Shorty Shorts is the simple, clean design of the waistband. Many brands put their logo and name on the inside waistband of the shorts, which is a cool hidden feature until you go to roll the shorts over and the name and logo are upside down. It's a small detail but one that typically drives me nuts, so I'm glad not to worry about that with the Shorty Short.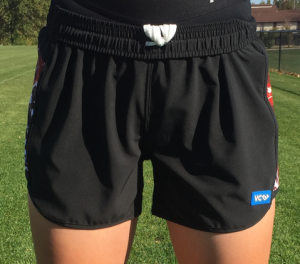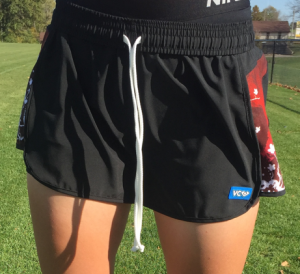 Sizing: B-
I wear a medium in pretty much every athletic bottom so I ordered a medium Shorty Short. Overall the shorts fit well, but I would consider going up a size in the future. The waist fit me perfectly (5'9"/140 lbs female), so I didn't need to use the drawstring or roll the waistband. These shorts are named the 'Shorty Short' for a reason—I liked the length but couldn't have gone any shorter. I don't typically roll my shorts, but if that is more your style, you might consider ordering a size up.
I love the way the shorts fit everywhere but the butt. The medium shorts were pretty snug around the widest part of my butt, not normally an area I would like highlighted. The tightness of the shorts did not affect my play or ability to move, but I don't think I could add layers under these without feeling like the shorts were as snug as my tights. With the fit and limited fabric the mediums gave me, these are great shorts for the warmer months, indoor workouts, or lifting. If I needed to match my team and have the ability to layer, I would need to size up.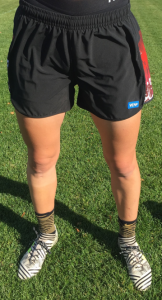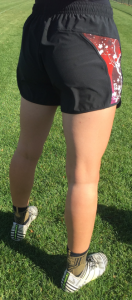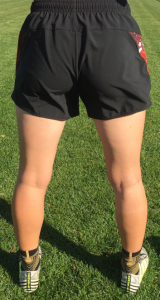 Training Performance: A
These shorts were some of the best ultimate shorts I've trained in, mostly because these shorts are made for women. That's no small accomplishment.
Unlike most ultimate shorts, I never felt the Shorty Shorts were in my way during lifts or agility work. In fact, I hardly noticed them at all during my workouts — what more could you ask for from a short?
The only time I found myself thinking about the shorts was during my squats and deadlifts, but not for reasons you might think. The shorts did not restrict my movements during these exercises, but I did feel the snugness of the shorts putting my butt on display. Snugness played a role in how I rated sizing (above) and did not affect my workouts so I won't rate them lower for training performance.
On the whole, VC's shorts were mobile and agile without all the flopping of extra fabric I usually associate with ultimate shorts. Excellent training short.
Price: B
These microfiber shorts are on the pricey side for ultimate shorts on the market. You can purchase them from the VC Store for $35.50 in black with a range of sublimated side panels. You can order custom shorts (five-unit minimum order) with side sublimation or full sublimation between $39-$59 depending on design with a 4-5 week turnaround.
The price does seem to reflect the quality of the shorts. The fabric is better than any ultimate short I own and the stitching has yet to fray. If you're looking for a high quality short with optional flashy design, look no further.
Durability: INCOMPLETE (but looking good)
I've had these shorts for two weeks so I don't think I can fairly assess their long term durability. However, since I've had them, I've put them through a ringer of workouts and washes and they are yet to show any distress in fabric or seams. By now most ultimate shorts would have a loose string here or there but not the 'Shorty Shorts.' Due to limited exposure, I will leave this section as an optimistic incomplete.
Overall Grade: B
VC's take on a woman's ultimate short performs well, has a high quality make, and can be as fresh in design as you'd like. I received tons of compliments on the Cherry Blossom side design and felt comfortable wearing the shorts to a workout or class.
Why B? (Quick Hits)
Pros: Shorts made for women, no extra fabric, excellent quality, clean design, awesome fabric, unique design opportunities
Cons: Tight fit around the butt, nearly too short, limited in-store base color options, hefty price
---
As of press time, VC has switched all Shorty Shorts draw strings to black. ↩