The newest version of The Heckler can withstand a bucket of water, but can it handle all the gear necessary for a long tournament weekend?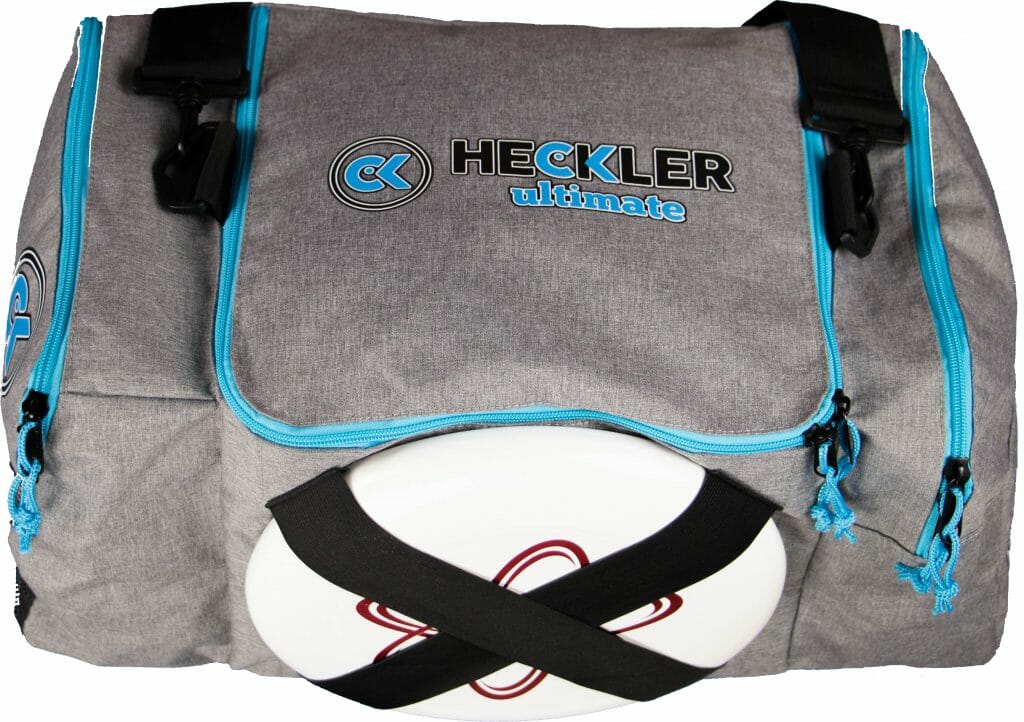 Disclosure: Ultiworld was compensated for writing this product review. All opinions are the reviewers' own and are not subject to approval from Hucket. 
With their latest design for the Heckler Ultimate Duffel 2.0, the minds behind the Hucket Bucket are trying to find the perfect balance between ultimate convenience and mainstream appeal. With all of the bag's features —some new, some improved— there was a lot to review.
Material 9/10
This is my favorite feature of the Heckler 2.0. While I've liked the glossy texture of the original Heckler, it felt a lot like a bag geared for athletics and the outdoors. They stuck out for any occasion outside of sporting events. Heckler's new, sleek pastel grey design has just enough elegance that I didn't feel weird bringing it into my office at work. It's also not too bulky to seem out-of-place, although I did receive compliments from those that noticed.
Even if you're only planning on using it for lugging around sports equipment and apparel, the Heckler 2.0 still works well. It won't tear or fray at the seams and the material of the bag seems to hold well under duress. It does not stain easily, something perennial ultimate players should value for every season.
The Heckler team has improved upon their waterproof design. I took the bag to a beach tournament and tested it out by the ocean for fun. Apart from the mesh cleat pocket getting drenched, the bag held up fairly well, it's no longer fully waterproof but definitely still water-resistant. A welcome surprise was how little sand clung to the bag after the excursion. It also withstood this:
While the material itself has held up well so far, I've got a gripe with the color scheme. It's fairly limited and plain in my opinion. The new bags are mostly grey on the outside, featuring a variety of different zipper and track colors around the seams. The inside of the bag matches the zipper color. Grey feels unimaginative and doesn't do a great job of complementing the vibrant colors of the lining.
I was impressed by the previous Heckler bag's color scheme so it could just be disappointed that the colors seem 'safe' rather than bold. My bag's blue and grey design is among the more complementary color schemes and even it feels a little uninspired. The more vibrant color schemes of the old Heckler were more my speed.
Features 7.5/10
The Heckler 2.0 really builds on the success of the first Heckler with the available features. The clips for the backpack and shoulder-straps are sturdy and to handle stress well. The main pocket of the bag itself is well insulated. Inside the stash pockets, none of my valuables were touched by sand at the beach tournament. The internal and external stash pockets are easily accessible, the side zip is a nice touch if you're hoping to have quick access to your valuables although I did not use it much for fear of sand infiltration.
During my time with the bag, no pocket was affected by water. As this storage space is obviously tailored for phones, wallets, and other valuables, I'm happy to report that they were all kept well away from the elements while I've been using the bag. The stash pockets are well sealed without being unreachable. When using the bag outside of ultimate, these side pockets could hold two of my standard Nalgene water bottles. The pocket scheme felt very convenient.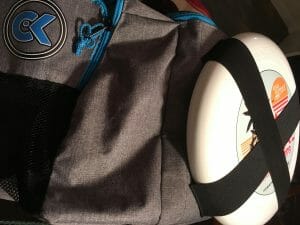 The disc straps were great and my two discs fit snuggly. The shoulder and backpack straps were convenient and interchangeable. My girlfriend said I looked kind of ridiculous wearing the Heckler as a backpack, but it was comfortable and didn't shift while bicycling. This was particularly impressive as I have a 40-minute work commute while cycling and, when strapped tightly, the bag hardly budged. The straps are also fairly comfortable —they aren't just two lines of nylon. The sideways clipping of the backpack straps gave even weight distribution and didn't have all my clothes and equipment pooling together on one side of my bag while in motion. I've always had a problem with single shoulder-strapped bags shifting due to movement so I appreciated the option of both.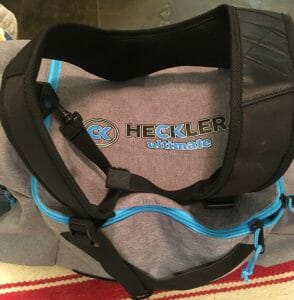 The cleat pocket is a nice touch, but it's a tight squeeze for cleats and shoes above size US 11. I'm wear an 11.5 shoe and had to wiggle my boots to fit in. Fitting my stiffer exercise shoes in and closing the pocket entirely was nearly impossible. I had to be content to leave the pocket mostly-closed, which meant it could not fully accommodate a stiffer shoe. The pocket could fully unzip from this position if put under strain. Nevertheless, I could fit my cleats in, which is the most important aspect.  A little bending may be necessary, but cleats put up with more stress on the field.
I had one major problem with my testing experience. The small zippers jumped their path. A lot.
The zippers left their path under any sort of strain to their route. Once I was aware of the problem I adjusted, but it occurred the first time that I went to pack my bag and that was a bad start. It would often reoccur if I was in a hurry and didn't take the time to carefully zip up the bag. The square path of the zipper seems to create weaknesses at the corners, which I'd like to see addressed in the Heckler 3.0. I do have a tendency to overpack, so this could be a fault of my own making, but it still irked me.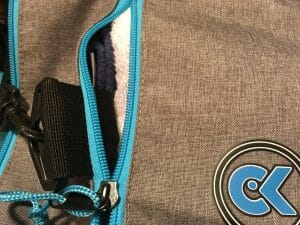 Practicality 8/10
I found the Heckler 2.0 to be super light and portable. When it arrived in the mail, I thought they had delivered the wrong product because it had such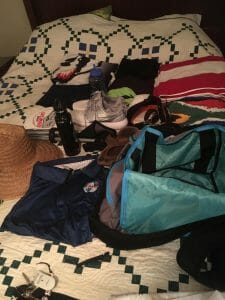 small packaging. The bag's weight, coupled with its durability, is a great feature. It does not come without drawbacks though. Part of this trade-off is that the inside space of the bag feels very limiting. The measurements of the bag itself, 22″ x 12″ x 10″, do not exemplify how compact they have made the bag.
The main compartment is a little more than a disc's length in width order to accommodate larger side pockets. While I'm a huge fan of side pockets, I would have preferred a larger space for the main compartment. There are items that I could not fit in, such as my hiking-stool and larger tripod. For my work commute, it was a tight squeeze for my admittedly oversized laptop. The Heckler 2.0 errs on the smaller side of duffel bags. It could fill out a bit more to match airline carry-on dimensions. As it is, the bag fits overhead storage very easily, you will never find yourself in trouble at the airport.
The Hecker 2.0's size makes it the perfect bag for a two-day weekend tournament. Due to the bag's smaller dimensions, it doesn't really meet the standards I find necessary for an extended trip. Anything longer than two days means you'll have to be careful with packing. I tend to pack for every situation no matter what tournament I attend. That meant the bag was a little stuffed. If you're not looking for a bag that can accommodate a week on the road, I can attest that the Heckler 2.0 would be just right. Between the beach tournament, a camping trip, and my daily commute, the Heckler 2.0 held up well across the board.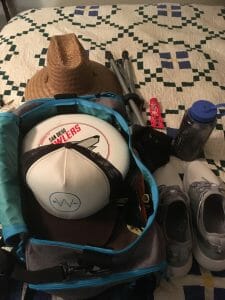 As a reference, at the US Beach Open, I packed four jerseys, two water bottles, two casuals shirts, three pairs of ultimate shorts, four pairs of socks, a towel, a hat, my sandals, my Ultiworld jacket, a disc, three pairs of compression pants, and snacks.
This filled The Heckler 2.0 out completely. It may seem like a lot, but I had to leave out important items like sweatpants and a hoodie because they wouldn't fit.
Price Point 7/10
Whereas their first bag was a hefty $100, The Heckler 2.0 sells for a slightly more manageable $80. This is cheaper than some competing duffel bags and Heckler has the advantage of being tailored for ultimate players. It does lack a few of the bells and whistles featured on the first Heckler, like the bungee clasp and ykk zippers, but the $20 price drop-off more than makes up for it.
Now that Heckler has begun to make a name for themselves, it appears that they're heading towards a bag design that can appeal to all levels of ultimate players. The dropped price, features and 90-day guarantee all are big selling points for me. Most importantly, the bag still feels personally crafted to suit my ultimate lifestyle: the smaller design makes it very portable, if I forget my cleats in my bag, a common occurrence, it's not a trainwreck. The backpack straps and internal design are other small features that really justify the price for me.
Would I Recommend It? (Overall 8/10)
Yes, but not for all tournaments and trips. The Heckler 2.0 Duffel feels like an upgrade from the first version of the bag and has been excellent for everyday use.
For me, this bag is geared well for two-day tournaments. It doesn't have the size to accommodate a longer event. I'll pack the Heckler 2.0 frequently for everyday use or as my practice bag, but not for the larger tournaments that I attend. Its size does make it an easy fit for air-travel and perhaps a more efficient packer than I could fit more in the space provided. This is assuming the zipper can handle the strain. The interchangeable shoulder-strap and backpack-straps are a good touch for mass appeal.
With Christmas approaching fast, The Heckler 2.0 is a gift that can appeal to anyone, ultimate player or not.