Team chemistry isn't an exact science.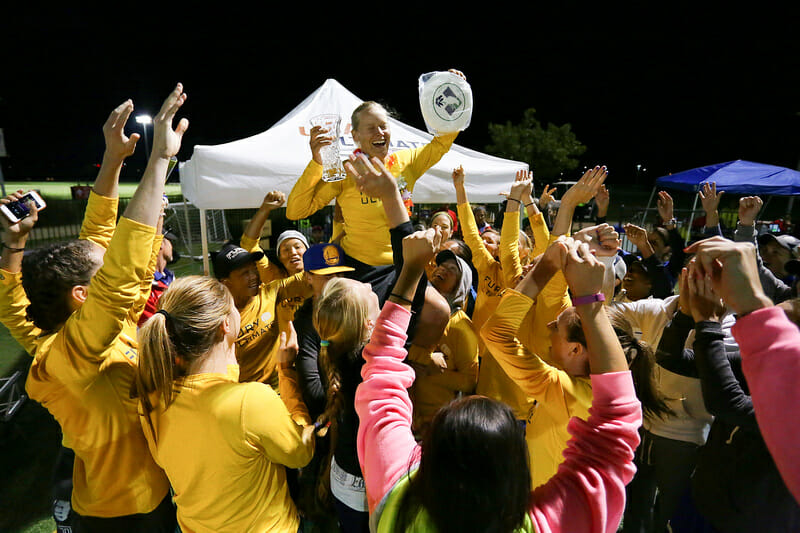 This article is presented by Spin Ultimate; all opinions are those of the author. Please support the brands that make Ultiworld possible and shop at Spin Ultimate! 
Chemistry separates great teams from good ones. It's the age-old tale about the fantastic team of superstars without cohesion that couldn't quite finish off the scrappy bad news bears that somehow banded together to win. Chemistry is the thread that weaves together epic sports tales —it's what can push a team to greatness and make them untouchable.
What exactly is chemistry? It's something that's hardly nailed down to a science. I like to think of it as an aggregate of many efforts that can be expressed in many ways.
Having chemistry means that you have a better understanding of what makes your teammates tick, and this closeness changes how you play with them. It might mean that you intuitively lay out for your pal's below-average pass, or that you know exactly where to put out a throw for someone's pending cut. Regardless of how it translates into games, chemistry is rooted in the strength of relationships on your team.
What makes team chemistry so special is that there isn't a formula. And you can't fake it. Gelling effectively is a subtle balance between a prescribed agenda and spontaneity. It's important that teams that want to improve this aspect of their game have a plan for how they can generate stronger relationships. Creating opportunities for players to better understand their teammates is the first step towards solidifying a framework. Having a stable team identity and making sure people want to commit to growth in the offseason are the first steps to developing chemistry within it.
Here are five tips to help create team chemistry during your next offseason.
Set The Mood
To develop chemistry in the offseason, some sort of motivator from the regular season must already be in place. Most importantly, there needs to be a team environment that players want to dedicate time to. Naturally, it's common for players to want to step away from their ultimate entourage after the rigors of the season, but forging a strong sense of belonging is something that will encourage them to come back and stay involved.
Before you dive into the offseason, take some time to assess the current climate of your team's chemistry. Being self-critical is challenging, but investigating the player environment is key to improvement. For example, did your new talent feel included and integrated? Were your offensive and defensive lines always separated or did they interact? Does your bottom player feel just as much a part of the team as the top? Building chemistry is going to be a team effort in the offseason, so inspiring a positive culture and identity in the regular season lays the foundation to move forward.
Have A Plan
It sounds simple, but it's true: chemistry is built by hanging out. Sharing space, time, and stories allows people to get to know each other beyond the superficial. "Hi, I have been playing for five years and I'm a cutter" doesn't build relationships.
As a leader, it can be all too easy to brainstorm a million ways to hang out in the offseason. However, to actually be effective, you will need to put some timelines in place. Try to think of events that are somewhat spread out over the offseason that involve everyone. These activities can be dual-purposed for the team's benefit too, like volunteer coaching or fundraising events.
Beyond your plan, make sure to leave room for some fun. Instead of orchestrating a schedule for the entire winter, consider planning a few big events that most of the team can join and then find ways to build in more spur-of-the-moment gatherings. This might be as simple as going out for lunch or going to the gym together, but it's time spent bonding nonetheless.
Don't Play Ultimate
After spending the last six-odd months together, give it a rest! You've all been practicing, training, and traveling, which means everyone is tired. The offseason is a great opportunity to not only rest your body but to give your mind time off from all things ultimate.
If you want to hang out and be active, try joining an intramural sports league, lifting weights together, or taking a class like yoga, pilates, or water aerobics. It's great to get to know your teammates in a different capacity, and trying to incorporate skills you have from other sports back into ultimate later can bring cool new insights. We put our bodies through so much stress during the season. It's important to try doing something different.
Play Ultimate?
Think of chemistry as being two-tiered. Part of it is solely based on the relationships you have built with the people around you. The tighter the relationship, the stronger the sense of dedication and responsibility to that teammate. Bonds like this usually translate to playing harder. This part of chemistry is instinctual: it's what makes you want to do anything on the field for your friends, it's why you cry after a hard-fought games, and it's why people keep coming back to play.
The second tier is the inherent understanding you have of your teammates once you play with them a lot. You know their shimmy moves, their faking sequence, and their go-long eyes. This second part is why it's a great idea to play over the winter.
Aside from being a chance to perfect that thumber you've been coveting, getting a chance to experiment and gel with your teammates at a recreational level can be really rewarding. When you have more exposure to their tendencies, they become ingrained in your mental map and you can develop those sought-after instinctual reactions. The less-structured environment might allow you to find some new creativity together, too.
Diversify & Accommodate
Chemistry's development begins on the small scale. For a variety of reasons, it's natural for friend groups to emerge on a team. It might be a leadership contingent, age group, or neighborhood commuter squad. Think of a team as a series of Venn diagrams–although there will naturally be smaller circles, there will always be a connector between different groups. Finding ways to exploit these connections can be a way to bring your small scale to the whole team.
One of the reasons why teams prevail is the diversity of people. However, having players coming from all walks of life, careers, and education means that just one chemistry-building activity won't appeal to everyone.
Try to create opportunities that include as much of the team as possible, and find ways to accommodate everyone's goals and interests. For example, a boozy bar crawl might be great for some, but it's not everyone's scene. Pottery nights, escape rooms, or board game cafes could all be alternatives for a wider audience. There is no right or wrong to what people are interested in or what they feel comfortable doing. Creating lots of options to spend time together is the best way to up the enthusiasm and attendance. And you can ask your teammates to help you brainstorm ideas.
***
Chemistry is about development, not achievement. It's not an ideal that can be perfected, only a concept that can be grasped and improved. However, teams that legitimately plan to spend time together in the offseason–and in a variety of settings–are the ones that will see results in the spring. A sense of casual spontaneity is also key to prevent this development from beginning to feel too systematic or artificial. Finding ways to foster a positive team environment during the regular season is how to inspire players to be more connected once it's all over. Chemistry-building is not an obligatory requirement for players, it's a choice to participate in because they care.