A new model for college ultimate?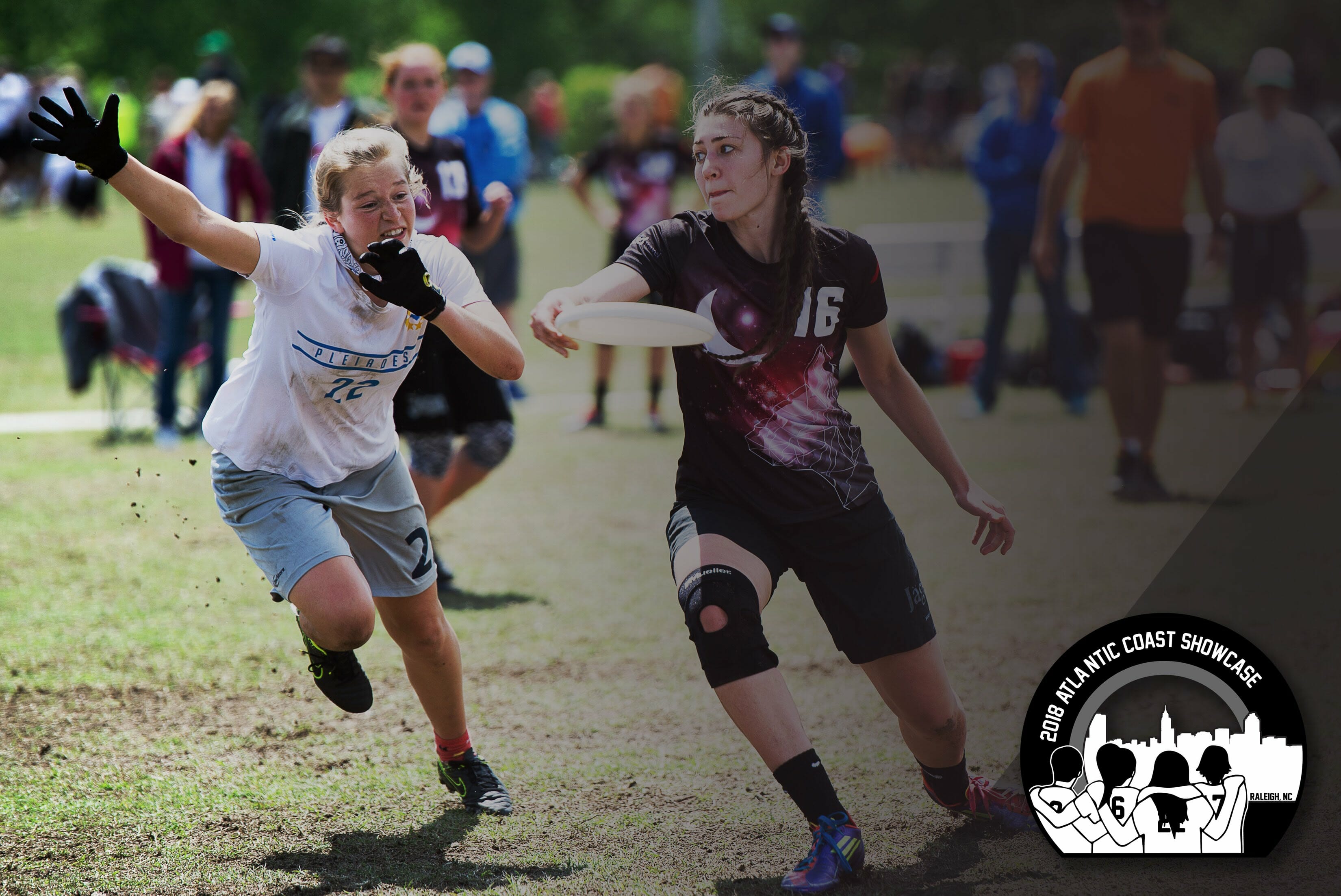 This article was written by Charles Kerr, the NC State assistant coach. He was the head coach from 1991 – 1997. He is also the co-author of the Callahan Rules and the "Callahan Goal," the founder of the Callahan Award, and the primary developer of the JinxCam elevated camera system.
The North Carolina State club ultimate teams — working in conjunction with USA Ultimate, NC Ultimate, Triangle Ultimate and Ultiworld — are pleased to announce the 2018 Atlantic Coast Showcase.
The Showcase will be a series of weeknight college ultimate games to be hosted on the campus of NC State, featuring men's and women's doubleheaders against Atlantic Coast regional rivals.
All games are at 6:00 PM ("the Dinner Game") and 7:45 PM ("the Nightcap") and will feature observers, five minute halftimes, and WFDF +1 cap rules. The 2018 Showcase schedule is as follows.
February 22nd: Duke University (Men 6 PM/Women 7:45 PM)
March 1st: UNC Wilmington (W/M)
March 16th: University of Virginia (M/W)
March 20th: University of North Carolina (W/M)
Each game will be streamed via Facebook Live, featuring experienced commentators and a multi-camera production with slow motion replay. The NC State JinxCam will provide tactical view footage from behind the end-zone.
All games will be sanctioned by USA Ultimate (i.e. they are official games that will count for regular season rankings) and will feature some of the best college teams and players in the country.
The on-site game coordinator is Ken Randby, the director of NC Ultimate. Marketing and event management are being handled by NC State students Bri Campbell ('18 Economics) and Kevin Harrow ('18 Textile Engineering).
Additionally, the men's and women's ultimate teams at NC State, working with Triangle Ultimate, will be hosting a series of youth clinics around the NC State area in support of the Showcase.
Kids under 18 years old, along with current college students, can attend the Showcase for free. Adult tickets are $7.50 or two for $10.00.
There are over 1,200 kids currently playing in various Triangle leagues and events, along with over 4,000 current and former adult players. We want to encourage the growth of youth ultimate in our area, and they're all be invited to attend the Showcase.
Food will be available for purchase during the 6:00 Dinner Game.
Savage Ultimate will be the official Showcase apparel provider and fans can purchase team merchandise at each game. Discraft is assisting in sponsorship and the Ultrastar is the official Showcase disc.
This initial Showcase will be used to help prove the viability of individual college games for the promotion of college ultimate. If the Showcase proves to be a success, USA Ultimate is looking at regional showcase events as a future part of the college season. It could prove to be a great opportunity to support college programs, youth programs, and promote the sport to a growing audience.
In 2020, could a college ultimate fan attend a Friday night game under the lights featuring local teams? Or sit down on a Thursday night and watch a series of high level streamed games from 6:00 PM to Midnight as coverage switches from Raleigh/Pittsburgh/Boston/Atlanta to Palo Alto/Seattle/Los Angeles?
For additional information, check out collegeultimate.com